| | |
| --- | --- |
| | BLUEGUITAR's Recent Blog Entries |


Saturday, November 23, 2013
today is the challenge of wii boxing between my husband, son and myself, 2 out of 3 matches. the loser of the first round boxes the third person, the person who wins that one will play the winner of the first match . I think that's a fair way to play it. then the winner gets a prize just not sure what it is yet. lol but it will be fun no matter what anyway. other then that I took yesterday off. I didn't even go for my walk. but that's ok I will make up for it by doing some dance time. today is a day to smile, God bless everyone




Wednesday, November 20, 2013
Well yesterday was the second day of restricting our eating to a proper plan, but I was up until 3 am feeling hungry and not being able to sleep. I finally had to get up and eat something, then finally went to sleep. hoping to night will be better. only got 6 hours of sleep, but it's enough to keep me going for the day.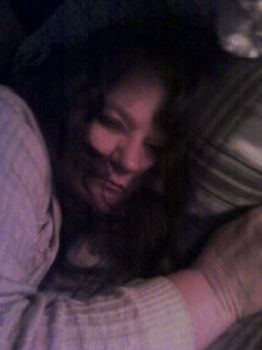 see me going to do more of this tonight. lol wish me luck. hubby took this while I was just starting to wake up. the goof ball scared me some. lol I hate when people stare at you when your sleeping wakes me up every time.





Monday, November 18, 2013
I moved so things got derailed and I lost interest in everything. to much work and worry over the move, but I am back to try again. what ever I lost before I gained back. so I am starting from square one. my family and I are competing for 8 weeks, all you have to do is exercise for 30 min's a day you choose the activities. you mark it down , weigh in yourself to keep track of weight goals. every two weeks we get together over internet or phone, call are markers in and see who has the most min's and who lost the most weight, that person gets a ribbon , we keep going for 8 weeks and the one who lost the most weight is the winner of a trophy witch I still have to make. lol but on top of that the winner of each house hold gets to give the losers penalty cards. like a to do list. example would be rub my feet for a week, or clean house for a day, or feed the animals for a month. you only get one monthly card but you can choose up to 15 cards total, I brought it down to 10 cards, but might go lower to 5. so each week you win you get to choose a card anyway, I don't have all the details figured out but thought it would be fun anyway. I did a walk already today for 38 min's and will work out some more later today, but for now I need to get to the kitchen and make some healthy turkey meatloaf that;s so good and I have some canning to do. wishing everyone who reads this a healthy and happy day, stay safe and God Bless





Tuesday, January 01, 2013
Well this is my fourth day of blasting and I must admit I do feel better, more energy. not as bloated so that all helps. So far it does just what it says it will, so every morning I have one for breakfast. can't wait for long term results to see what will happen.





Sunday, December 30, 2012
after I started back up I was doing fine for awhile then wham, back went I waited 3 days for it to go back to somewhat normal before I went to the chiropractor. but the pain just kept getting worse so broke down called my doctor, he put me on steriod pills for the next 10 days. get the inflamation down if that don't help he's talking getting more x-rays done and then if needed talk about surgery. but I am 2 days into the pills and things are already starting to get better so that's a good sign. but no excercising for me right now, no excessive walking, still hurts just to walk around the house to i am taking it easy, but since my surgery back in September I have gained most of my weight back, these pills are suppose to pick up your hunger so I have to be aware of that so I don't over eat. and i'm thinking oh great, thanks that all I need. lol but santa brought us a Nurtablast for christmas and I have started that; today will be my second day with it, will let you know how it does in a weeks time. If anyone else out there has one and been on it for awhile, please let me know what you think. thank you
Hope everyone else had a great christmas and that santa was good to you. take care and God Bless


1 2 3 4 5 6 Last Page

Get An Email Alert Each Time BLUEGUITAR Posts