| | |
| --- | --- |
| | BLUEDIVA76's Recent Blog Entries |


Saturday, November 02, 2013
So this week, I weighed in early @ WW because I will be busy tomorrow. I lost 4.6 pounds. Normally I would be over the moon. I guess I just expected more. You know watching the Biggest Loser...I want double digits every week. Yes. I know it is not healthy. Yes. I know it all. But that is what I wish would happen.

In reality, I am 14 pounds lighter than I was 2 weeks ago and it is amazing how your body really embraces the difference. You move a little quicker, you have more energy. Just 14 pounds made a difference. I will take it.



So...As I started off saying...Challenge Accepted...guess I should mention what it is.

This week I picked up a basket of fruit and vegetables from an organization called Growing Power www.growingpower.org/ which really encourages healthy food within communities that may not have access to it.

Well, I am not sure if I have ever stated this, but I hate veggies. There are some that I will eat, but I am not always happy about it. I know that fruits and veg are an important part of just staying healthy in general. So I thought, invest in an organization that was really making change and challenge myself to find ways to add more things I need into my daily routine.

So in the basket there were:
Micro Greens
Kale (I am pretty sure)
Green beans
Beets
Broccoli
Celery
Radishes
Jalapeño Peppers
Onions
Carrots
and an unknown squash.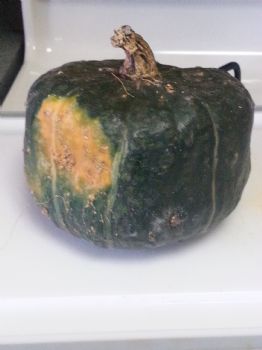 I have been searching for recipes....but I will hopefully have multiple updates on how I used the veggies. If anyone knows how to use micro greens or the unknown squash...please let me know.





Monday, October 28, 2013
So I probably should be writing a cheery, happy blog, but I am not in a happy place right now. So I weigh in with WW every Sunday and this past Sunday, I lost 9.2 pounds. On Sunday I was elated. On Sunday I was over the moon and pumped. Today...today I am grumpy.

I wanted to eat out in a restaurant so bad tonight. I could literally taste it in my mouth. I even did this weird thing that I tend to do and drive in circles...trying to fight off the craving for a juicy, greasy burger.

One would argue that you must live life in moderation. And I will. Just not now. I know me, if I fall off in the early stages, I will be setback a good month. First I have to jump start and detox myself, then I can be trusted to eat a burger with no fries.

To make matters worse, my BF, whom I love to death, order Chinese take out for his dinner. But I did it, I made it home and I made an omelet...Okay scrambled eggs with spinach and mushrooms.


and had that for dinner. However, as the fried food smell wafted through the air...I became so cranky.

But you know what, I made the choices to put me in the position and it is up to me to get myself out of this position. One choice at a time.

In case you are wondering, I decided to have one square of chocolate. It was a nice small indulgence. Then I banged out my issues to my anonymous friends. Now I am relaxed and content again.

Night All





Thursday, October 24, 2013
My life...my life should be a sitcom. I know a lot of people may say that, but my friends will be the first to tell you that the most dramatic things happen to me. I promise. LOL!

So last night, I received my official letter. I have been accepted into an MBA program at Alverno College where I received my undergrad. This has been 7 years in the making and one day...much like trying to get healthy, I decided to get up and just flippin' do it already.

Well this awesome news was overshadowed by the fact that my BF doesn't think things through and when he went to go bring in the groceries from my car, he left the gate open and my escape artist puppy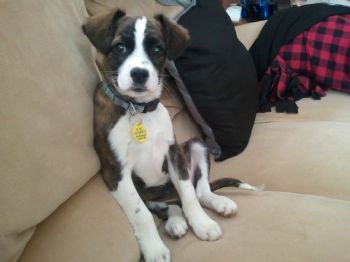 ran FREEEEEEEEEEEEEEEEEEEEE.

Even though he is almost one...he is the most spazzy, timid, chicken butt dog I have ever seen. Oh, did I mention he doesn't come when called...EVER! We have taken puppy class, clicker training, personal coaching, doggy therapy. Nothing.

So there is my boyfriend, who is a large guy with joint issues, out chasing this dog over a 2 block radius. Weaving in and out houses. Cutting through yards. Playing hide and seek. Just as you thought you lost him...through the blackness two glowing eyes.

After 2 hours, we finally got him in the house. Drama.

So after all that...We get to bed and I am off this morning to do a stress test. I wasn't having chest PAIN, just chest FULLNESS. I guess either way, they wanted to make sure I was okay.

So I prepared...new walking shoes, workout clothes, MP3. Ready to get a good walk in. What they don't tell you is they are going to put that sucker on an insane incline and crank it up. Now I can easily do 30 minutes on the treadmill at 1.8 - 2.2 and get a mile in. Uh Uh...I was holding on and I heart rate shot up in 30 seconds. I went from 99 to 180 in 1.5 minutes. Literally.

Apparently while I am gasping for air and cursing people in my head...my legs were dragging a little. They thought I was going to fall...Which I wasn't, I was just tired. So they slammed the red button. I jerked, flew back and yelled at them all at the same time.

Apparently...in my fit I screamed, "Never hit the red button. Do you NOT watch movies. NEVER HIT THE RED BUTTON!!!!"

Dramatic. HAHAHAHA. I look back now and think Good Lord....why are I so dramatic???

On the good news I have no blockage at all and my heart is wonderful. The bad, and obvious news, I need more cardio in my life.

Guess I should utilize my gym membership huh. :)






Tuesday, October 22, 2013
Today will be my 5th "Fear Factor" swim class. For my readers that assume that it some sort of cool class that teaches you how to dive with sharks or swim with jelly fish, you would be sorely disappointed.

It is a class for people TERRIFIED

of the water. To help them over that fear and teach them how to swim. Now, I have been working on my water issues for awhile and will get in water willingly. However, I won't get into water that is higher than my chest and I am 5'9.

Last week the instructor took the class over to the deep end. Well, took everyone but me. I got close to the edge and sheer panic took over. I will save you the re-enacted drama. Suffice it to say there was lots of tears, sniffling and shaking.

Eventually, they left me alone and the other instructor/life guard came over to assist me and calm me down. I felt like a big ole baby. But, after I calmed down and relaxed I managed to get one foot over the black line to where there was nothing under me. This was while holding on to the wall, a life guard noodle and the life guard was glued to my hip.

I don't want to go tonight. So why am I, because I made a promise to myself to finish the class and eventually learn how to swim.

I grew up in such a negative family that was literally gripped with fear. I am afraid of everything and most days it is an absolute struggle not to let that fear overtake my mind. This swim class will be...I hope...the first of many fears that I can conquer. My bucketlist is growing and I want to be able to cross some things off.

Just Keep Swimming....






Monday, September 30, 2013
Sigh. Just sigh.

Two years ago, I started a journey. I managed to lose 33lbs. And then it happened. I fell in love and fell into stretchy pants. Both were completely forgiving of my love of all things decedent. In fact, my BF is more overweight than I am with his own set of food issues. But together...for the past two years, we have indulged. Not in life...But in calorie laden road to an early death.

I am not saying that I plan to cut off all indulgences. I personally think having a 5 course tasting menu paired with rich wines is perfectly acceptable if done once every 4 months. What I am saying is that something needs to change.

At this point...anything needs to change for the better. I will take anything.



1 2 Last Page

Get An Email Alert Each Time BLUEDIVA76 Posts