| | |
| --- | --- |
| | BLUE42DOWN's Recent Blog Entries |


Tuesday, September 18, 2012
( Questions from TANYAP71's blog: www.sparkpeople.com/mypage_public_jo
urnal_individual.asp?blog_id=5038746 )

5. What is your weight history like? How old where you when you first 'went on a diet'? Have you lost and regained? How is this time different from others?

I don't recall ever having much concern about weight growing up - especially not in the earlier years (until about 12). We were all very active children, climbing trees, riding big wheels and bikes, piling leaves and leaping into them at the park, walking to school, playing a tag variant at recess. I remember being active more than I remember being still.

One memory I also have is of my mother's brother and a couple of her older kids coming to visit and all of us running around the block. No reason. Just an abundance of energy to burn off.

There's a picture of me around 12 or 13 when my father married my step mother - just before I hit puberty. I actually look scrawny. At a guess, I'd just gone through a growth spurt and gained an inch or two, but had no girly curves yet. Then poof, seemingly overnight, I was being teased at school. I'd had another growth spurt as it were, going from flat-chested to filling a C cup.

I think that and seeing the difference in the size of my bones compared to classmates was what taught me that I was literally "big-boned" and not just saying that to excuse away gaining weight. (Bangles / bracelets that easily slipped on and off other girls' hands and wrists sometimes couldn't get past my thumb or were too snug at the wrist bone.)

I also got lucky and somehow the beauty magazine I was most exposed to was Glamour, which had long had a leaning toward more diversity in their models. So I avoided the worst of the body esteem issues in that regard.

I started putting on some extra pounds after I moved out on my own. One of the biggest changes was what I was eating. Most of my meals came from fast food joints, and that meant sodas with them. I also walked a LOT, so it didn't pile on too fast - just a bit here and there.

My early response to it was actually things like control top panty hose, girdles, and the like. I'd eat a few less treats through the week if my clothes got too uncomfortably snug. I never thought about it as dieting and really didn't think about the connections between food, activity, and weight.

Then I got pregnant. Weight gain was normal, but sort of meaningless because it was part of carrying a baby to term and not directly tied to my food / activity level. I do remember my surprise at my high - 198 or 199 pounds - because I was able to say to my mother that I'd never weigh 200 pounds or more, not even pregnant. (Little did I know.) When DDb was born, she was 8 lb 15 oz, and I was immediately dropping weight from walking and eating my mother's cooking rather than fast food. So again it never really entered my mind to diet.

I soon was married and pregnant twice more, having marital trouble, and finally separated then divorced. My weight was really mostly a background concern when I'd have to buy clothes. I hated things like company Christmas parties or my EX's family barbecues because I felt the clothes I got made me look matronly. I contented myself with the fact they weren't from "fat people stores".

A few years after the divorce I was finally breaking free of my EX's ongoing lies that he still loved me and wanted us to eventually fix things. I tried dating once, but obviously wasn't ready, and I couldn't handle guys hitting on me - so I made my screwy decision to become invisible by gaining weight.

Long story short - I never intentionally dieted with a goal weight. I knew plenty about diets from others around me, from articles, from books, from the internet. But the closest I ever came was a while that my brother and I tried to follow the Zone diet (40-30-30? I don't remember exactly, just the higher protein percentage). The goal was feeling more alert - though we both figured a little weight loss wouldn't hurt.

Nor have I really ever considered this past year a "diet" in the sense of some specially restricted eating method. I knew I was eating too much. I was eating a LOT just to maintain and keep gaining. I was eating more than anyone could or should deceive themselves into thinking was normal for one person.

My weight has often fluctuated up and down through the years. Whether I had a car, how much money I had for food, whether my kids were living with me (I ate their leaving rather than store leftovers), and other factors had direct roles in my weight. I think a large part of my consistent success has been that very lack of yo-yo dieting history.

This time is different because I actually took off the blinders and really started paying attention to connections and details.

I read nutrition labels very thoroughly. What's the serving size? How many servings in the container? How much am I likely to eat at once? How much sodium? Is that natural or added?

I watch my totals in a variety of nutrients as I add and remove foods from each day. I finally understand the egg white "nonsense" even if I won't change my mind and do it - because I could see how much cholesterol two eggs versus one egg added to my day. I swapped to no-salt-added cottage cheese because the amount of sodium added "for flavor" is absurd.

I see the direct benefit of a focus on muscle development - not just to weight loss, but also to general body fitness and functional strength. When we get injured or have joint pain and a doctor assigns us physical therapy, what is it but a variation on strength training of the muscles around the affected area. I knew it generally from my ankle. Often sprained, it was strongest when I was ice-skating regularly because that strengthened my calves and the tendons of my ankle.

I also recognized the foolish connection I had created between a sort of social (relationship) anxiety and my body - one that had no positive benefit. I snapped that connection and go out of my way to avoid other connections. I'm eternally grateful that my only real food issue is my sweet tooth and really wanted to enjoy certain flavors to their utmost. I'm learning how to fulfill that with higher quality treats rather than higher volume treats; heck, higher quality foods not just treats.





Sunday, September 16, 2012
That's right. Today is what I count as my

!

Yes, my SparkPage shows my original start date as 2 June 2011, but I didn't really do more than create a login so I could see if the Meal Planner was anything like what I was looking for. It wasn't, so I logged out and moved on.

Three months later, I was finished with a move, no longer feeding, housing, and supporting my adult children, and ready to make more changes in my life. JAHCANNON, whom I knew from another forum entirely, mentioned there how much success she was having on SP in her own health / weight loss journey. I remembered having made an account, but now I was coming back wanting the things it actually offered - food tracker, fitness tracker, information, ideas, and so much more.

Starting off @ 250.5 pounds on 16 September 2011, the highest number I'd ever seen on the scale: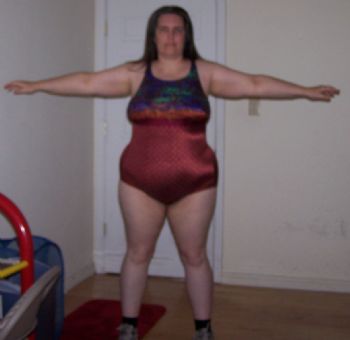 I started walking every day, at least a mile. After a couple days I added some simple Strength Training - crunches the first day, a few things like Boxers and Skater Squats a couple days later.

I also started tracking every food I ate. I'd already cut down to more "reasonable" amounts the first couple weeks of September, but tracking got me seeing things I didn't even realize about serving sizes. I knew that a huge mug of milk thick with chocolate mix wasn't good, but measuring and seeing what actually made one serving of cereal with milk was a real eye-opener.

Right before my 1-month mark, I did my first 5k - Oktoberfest - and got hooked on the challenge of doing better.

One month in @ 240 pounds on 16 October 2011:



Two months in @ 234 pounds on 17 November 2011: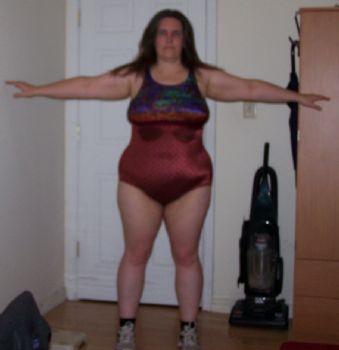 Three months in @ 224.5 pounds on 17 December 2011: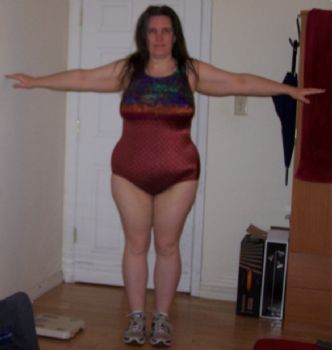 Four months in @ 217.5 pounds on 16 January 2012: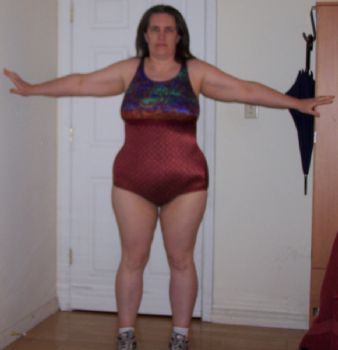 This is about the point where I actually started feeling like I could really see a difference. Prior to that, I would think it was the lighting, how I was standing, how zoomed in I had the camera. I didn't feel like I was really visibly seeing changes. I could feel it in pants that had gotten too loose, but that four month picture is when I suddenly could really tell excess fat had melted off my hips.

This is also the point where trouble with my left foot (swelling of the plantar fascii) was causing me trouble and I was feeling limited by my lack of workout equipment at home for progressing in my ST. I walked into the gym I passed every day on the way home, took a tour, and paid for two years.


Five months in @ 210.5 pounds on 16 February 2012: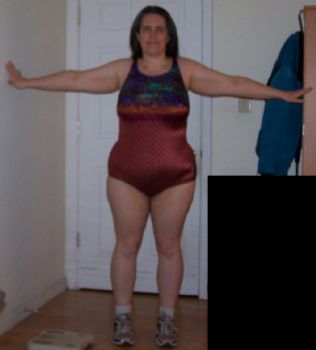 Six months in @ 204.5 pounds on 16 March 2012: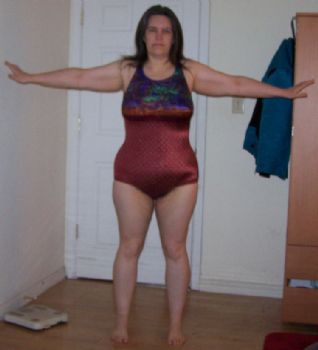 Seven months in @ 196.5 pounds on 16 April 2012: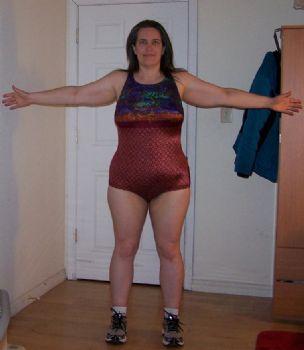 Eight months in @ 191.5 pounds on 17 May 2012: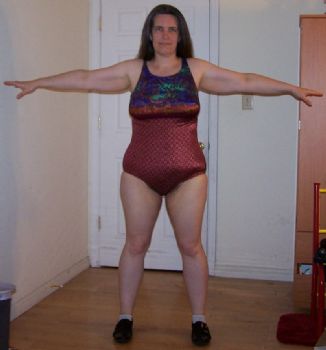 Nine months in @ 186 pounds on 16 June 2012: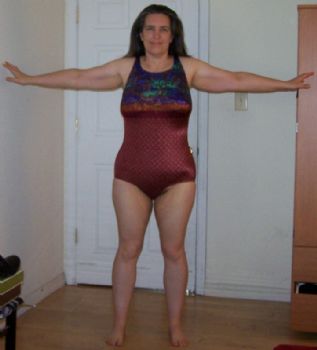 Ten months in @ 183 pounds on 17 July 2012:



Eleven months in @ 180.5 pounds on 17 August 2012: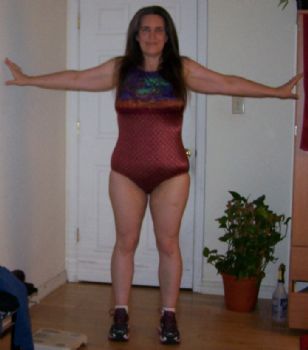 And finally, twelve months in @ 176 pounds on 16 September 2012: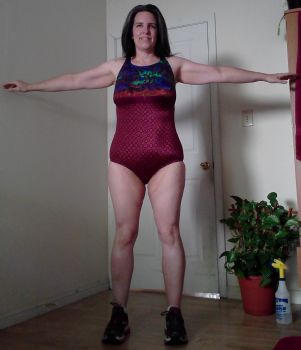 (( Sadly my usual camera has decided to become immensely troublesome. It sees the memory card as set to read-only no matter what and to get the cable, I have to order it online as it's a special end just for their cameras. So the last picture is taken with my smartphone. The angle is different - a good two feet lower and closer as well - which makes my legs look proportionately longer. ))


My journey isn't done, and I expect it to be around February or March that I'm swapping to a maintenance calorie range as I continue to tone up my muscles.


What would have happened if a year ago I looked at how long it would take to lose 90+ pounds? I wasn't going to be "skinny" by my birthday or even by the end of 2012. Looking at that from the viewpoint of September 2011, it might have been easy to just say forget it, it'll take too long.

BUT, if I didn't do it then, when?

What if I'd kept eating the way I was to gain? Maybe I'd be looking at 260 or 265 on the scale. I'd also be looking at mid-2014 to lose it all.

Every day we avoid starting because it's going to take too long is just one more day (or two) longer before we live the life we deserve to have.

Every day we make poor choices and use those as an excuse to give up and make worse choices, that's another day on the end.

I'd rather have the maximum number of days living healthy and with a body that doesn't hold me back.





Sunday, September 16, 2012
( Questions from TANYAP71's blog: www.sparkpeople.com/mypage_public_jo
urnal_individual.asp?blog_id=5038746 )

4. What are (or were) your fears about weight loss?

When I first started out, one fear was that it would be harder than it has been. Unlike many others, I hadn't dieted multiple times over the years. I'd never focused on trying to lose weight ... ever. But I'd had people around me who did. I actually knew people nutty enough to do the cabbage soup diet. I saw others yo-yo, I saw them lose a lot and then stall or regain.

Another fear was that I'd have to surrender to eating "health food". My variation on this is a bit strange, though. I differentiate healthy food from health food. One is simply nutritious things - such as vegetables I've always loved eating. The other is bending over backwards to try to eat just right - such as freaking out if food has sugar or HFCS or adding powdery/gritty stuff to food (bran).

I understand better now why even SP's meal plans throw egg whites in rather than simple eggs, for example, but will never make that my style of eating. Thankfully this fear is gone because I've proven I can eat good food, delicious food, and meet my nutritional needs while losing weight.

Another residual fear is that I have to hit a dreaded plateau. I've somehow managed to avoid one until now. Sure, I've had points where my weight trend flattened out, but every single time it followed directly on the heels of eating more which my tracker showed me clearly. I haven't had a legitimate plateau in which I'm actually "doing everything right" and my body has simply decided to stall.

The next fear is that I won't be able to tell when someone cares about me as opposed to how I look. It's not just weight I used to hide for all these years. I haven't worn a skirt or dress in many years. The heels I bought earlier this year are the first I've owned in a long time. I can't remember the last time I wore more makeup than some color on my lips.

There's another fear behind that one. I lived a really bad way for a little over a year. I knew I had to get out of living that way. Yet there remains a part of me that craves part of that life. I keep that part suppressed most of the time, but it's there when someone pulls over and offers me a ride. I hate the attention; I crave the attention. I'm afraid I'm not normal enough to have real relationships with people. Even my best friend and I aren't "normal" when I let this side of my mind natter.


While I do have these fears, at the point I decided to work to be strong and fit I decided that I wasn't willing to continue harming my body and my future in it over fears. I looked at what the "worst case scenarios" were for each of the fears and realized I'd rather deal with those than with aching knees and clothes that looked dumpy and wore out quickly, not to mention spending more than twice what I "should" on food.





Saturday, September 15, 2012
( Questions from TANYAP71's blog: www.sparkpeople.com/mypage_public_jo
urnal_individual.asp?blog_id=5038746 )

3. Who have you shared your weight loss goals with? What has been good about sharing your goals?

Early on, I didn't share them with anyone outside of SP other than my best friend and my kids. I've shared that I'm working to lose weight and get fit with a couple of my co-workers, but mostly keep my mouth shut about it. I don't exactly share my weight loss goals, but I do share things like new pictures and information about 5ks that I walk with siblings.

I think the best result from sharing where and what I have is the positive result on those I share with.

My best friend was also trying to lose weight, but has moved into doing a 5k, sadly missing out on a Zombie run because it was sold out and now signed up for a half marathon. One brother plans to get back into P90X, though his schedule was a bit too wild to be consistent for a while. Here on SP I see the community enthusiasm for setting and meeting goals, not just weight loss ones, around me and it's extra energy and motivation to succeed.


I know it's not really asked, but I'm still really resistant to talking about "weight loss goals". Then again, outside of SP ... I don't talk about ANY of my goals really. When I accomplish things, I like knowing I did it under my own power without help. That's the cussedly independent side of me in control.





Saturday, September 15, 2012
(( For those who don't know, BLC stands for the Biggest Loser Challenge. Round #20 started just this week on the 12th of September. Entry is closed at this point, but I'm pretty sure it is possible to join the "Mailing List" team if interested in getting announcements when BLC#21 is coming up. ))

=======================
Blog your 12 week plan for success. Be specific. Don't limit yourself to minutes of fitness and calories consumed. Really think about it! How can you fit in the minutes that you need in your busy day? How will you be sure to have quality food options? How will you reward yourself along the way? Post your 12 week plan in a BLOG entry to receive 150 points. (complete any day, receive one time points)
=======================

FITNESS:
- To work toward a full military pushup, I'm going to add doing 3 sets of modified pushups one of my three ST days each week.
- To lose my pound a week, but also look toward future maintenance, I will be decreasing my cardio on my ST days and adjusting my fitness minutes to get an updated calorie range.

NUTRITION:
- Space out my snacking at work more. They're becoming more habit than just available if I get hungry. Some days I seem to be eating so much that dinner is really small to compensate.
- Expand my lean protein options beyond beef, egg, tuna, and the rare chicken breast.
- Look at more slow-cooker recipes to see if it's an option worth considering.

PARTICIPATION:
- Check in with the team at least once a day - looking for new posts and blogs by teammates.
- Don't back down from a challenge just because it's uncomfortable. Push my boundaries a bit every time. (In fact, if a challenge is "too easy", try to find a way to go one step beyond.)
- Live by the rule "If you can't say something nice, don't say anything at all" and expand it to saying something positive and encouraging.
- HAVE FUN! If this isn't fun, MAKE IT FUN!

REWARDS:
- Make actual plans for New Year's Eve, solo or with someone is not important. Just do something other than be at home and text my kids.
- Tickets for something more than movies - Sharks game? Opera in SF?

BACKUP PLAN:
- Never let one bad decision become two bad decisions. Fight it with two good decisions.
- Injury? Find what I can do and drop my calorie range pronto.
- Health is a necessity, not an option. Live that truth.



First Page
1
2
3
4
5
6
7
8
9
10
11
12
13
14
15
16
17
18
19
20
21 22 23 24 25 26 27 28 29 30 31 32 33 34 35 36 37 38 39 40 41 42 43 44 45 46 47 48 49 50 51 52 53 54 55 56 57 58 59 60 61 62 63 64 65 66 67 68 69 70 71 72 73 74 75 Last Page

Get An Email Alert Each Time BLUE42DOWN Posts