| | |
| --- | --- |
| | BLUE42DOWN's Recent Blog Entries |


Sunday, August 26, 2012
Hehe, silly to do this right after a blog in which I talk about how the look of the body isn't what matters.





It still isn't the priority, but it is fun to feel like I can find clothes that are reasonably flattering. Heck, the fact I could wear the new jacket and feel playful is a big win! I put a couple of the photos in my album:

1) This one that shows my trimmed hair rather well (most of the sun-bleached blonde on the ends is gone for now)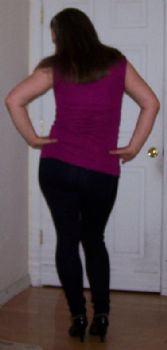 2) This one where I wish I had a helmet and my brother's Yamaha R6.



And then there's a couple others:

3) Side pose that rocks the T&A (LOL) but makes my whole abdominal area protrude (maybe I should learned to suck in for pictures?)




4) Hmmmm, wow ... okay, I think I need to remember this pose.




5) Lastly - this one's a bit blurry, but it's the third of four new shirts. (The fourth is a simple black ribbed tank.) The difference with this one is no scoop at the neck - instead, it's loose and full right where I fill it most.





The NEXT new shirts I will have? One will start out white, but how it looks at the end will be anyone's guess. The other is black with the race logo.

COLOR ME RAD!

It's so close! Packet pickup is the 30th and 31st and the race is on the 1st of September. It's being held out at our county fairgrounds.

Fun fact? My very first job ever was at 15. We raised rabbits and showed them at the fair (I had French Lops, Angoras, Miniature Lops and Netherland Dwarves at various points. While there, I saw a Help Wanted sign on one of the "carnie" areas. They had animals such as chickens in enclosures and when someone put in a quarter, the animal would perform a trick of some sort - such as "counting" how many of something by pecking. (Of course it was all about pecking to get feed/treats, but people paid to see it.) My job was making sure they were watered, enclosures kept clean, and they looked healthy and presentable throughout the day.

Many good memories I have of those fairgrounds. Watching local tribes do dances, a hypnotist demonstration on a stage, the horses and other animals, the incredible creative and artistic work on display - quilts, afghans, cross-stitching, and so much more.

It will be neat to be back out there, even without the fair going on, and then multiplied into awesome fun being the Color Me Rad 5k!

Team SPARKLERS is a GO! (Even if it is a one-man team. I think it still is ... er ... maybe I should see if anyone "found" me and joined me. *cough*)





Sunday, August 26, 2012
I know I sometimes make comments about having the batwings - those flaps of fat and skin hanging on the underside of the upper arm. I wanted to make it clear, though, that I don't really worry about them much.

In terms of body aesthetics, I have stretch marks on my stomach and sides of my hips. I have a tiny patch of veins (varicose? I don't know) on the back of one calf. I may be keeping my DDD-cup fillers, but age and gravity will win the war no matter how strong I battle. My torso, waist and gut are thickened. I've definitely got crow's feet. I'm hirsute (hairy) and not just the LOT of hair on my head. (I swear sometimes I get 5 o'clock shadow on my legs it starts growing back so fast.) I'm big-boned enough that even when I wasn't chubby, my ankles were too large for jewelry. When I look at my hands, I can tell I'm not young. I don't know yet, but I may end up with some loose skin (maybe not given I'm only 20-ish pounds out, maybe so given I still have fat to muscle composition to adjust after that.)

Much of that won't change. Some may. No matter what does change and what doesn't, this is my body and I'm both content and happy with it. It has carried me 43 years and has the genetics to carry me another 50 or more. (My mother may have died "young" in her 60s, but that was from a brain tumor. My grandmother lived into her 90s, at least one of her aunts made it past 100.)

Back to the batwings. My take is that they don't really matter. They might be a permanent reminder of a bad decision made. They might become flappier as the fat within them burns away and the skin remains. They might shrink a bit as the skin's natural resilience gradually adjusts to the new muscle/fat combination beneath. No matter what will happen, I don't expect there to be some magical trick to reducing them.

There is no exercise that burns away fat in a specific area.

There are plenty of exercises that strengthen and tone the muscle UNDER the fat.

If I can feel the muscles under the fat, if I can measurably tell I've strengthened the muscle, THAT matters.

Burning away all excess fat through ongoing muscle development and activity, repairing the body overall by making sure I'm meeting all my nutritional needs - those are things I can and will do that matter.

My body will do the rest in its own time and manner as best can happen with my age and genetics and level of nutritious eating and activity.





Saturday, August 25, 2012
This weekend's training challenge for the BLC 20 includes one of my trouble areas ... coming up with a visual representation of my goals. But I'm determined to at least do the best I can with it.

Where do I want to be in 12 weeks (well, 14 really since we have the two training weeks before the official challenge start)? I'm supposed to "find one or more images that depict the changes YOU want".

I started just doing some searches trying to find pictures that didn't make me cringe. See ... obviously if we want to see a strong fit healthy woman doing a pushup, she has to be wearing as little as possible, be oiled up, hair just so. Maybe she ends up looking just a little rough to add some flavor to it, a snarly expression on her face like this is the last one with good form she can do after the last couple hundred. You know the pictures I mean.

Then I found this: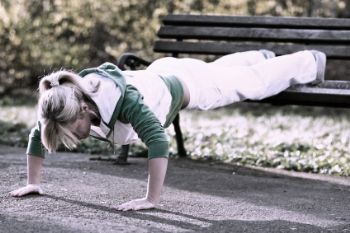 (image from http://waitetraining.com)

Now, no, I seriously don't think I'm going to be pulling off THAT sort of pushup in 12 weeks. But I do love that, from the image, she looks strong and capable without having to bare lots of her muscles ("sexy") or grimacing at the camera like what she is doing is unbearably grueling. I want that kind of strength and form. I want to feel closer to the dream of doing full military pushups. Heck, there's plenty of reason to believe that someday I WILL be strong enough to pull off a pushup like that.

A little more looking and I added this: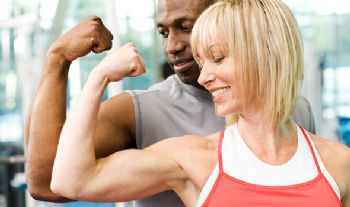 (image from life.dailyburn.com - the article that came from actually was worth reading, in my mind: Why Women Should Weight Train.)

I don't expect to lose the batwings in 12 weeks. I don't expect anywhere near that kind of definition in 12 weeks. But, I can work toward the next weight up for my dumbbell bicep curls, seated tricep dips, lat pulldowns, and more.

These words, quoted in the article, could so easily have come from my lips:

=================
I find that the lifting makes me feel strong and gives me definable goals to reach (since there are specific weights/number of reps to strive towards). The muscle I've built has helped me burn more fat ...
=================


So, maybe they're not exactly a collage. They are, however, pictures that well represent the idea of what I want to achieve. I'll put them together as a background on my computer. (I don't hang pictures where I live or work.)





Tuesday, August 21, 2012
BLC#20, mentioned in my status today, stands for the 20th Round of the Biggest Loser Challenge. (You can probably learn more checking the SparkTeam board used for registering if you weren't part of BLC#19: www.sparkpeople.com/myspark/groups_i
ndividual.asp?gid=57490 )

I mentioned some time back in another blog that until recently I hadn't really thought about joining a challenge like this.

One reason is because I somewhat equated it with the TV show "Biggest Loser". I don't watch TV, but I've seen a few comments here and there by people about the show which makes it sound too rushed (losing huge amounts of weight) and too cutthroat (stuff about voting people off or them having to go home and maybe earn their way back?)'

Another reason is because I tend to be a loner. I'm fine being social, but given a choice between doing something alone or with a group, nine times out of ten I will choose alone. (I have no considerations about eating alone in a restaurant, watching a movie alone, or going out to a night club alone, dancing all evening, then going home alone.)

And lastly, I tend to avoid competition. I prefer games and challenges that are either a chance for everyone to win or a personal competition only.


BUT, I've seen people who did past BLCs and decorated their page for their team, talked about stuff that the team challenges had them discuss and so on ... and had a growing temptation to try it out. I believe it was from THETURTLEBEAR that I learned it was possible to do these challenges even as a Maintainer, so it couldn't be all about fast weight loss.

Which all leads to me having joined a SparkTeam to receive notice when BLC#20 was opening up for registering and taking the plunge.

I'm really looking forward to it, in fact. Whether we end up teammates or competitors, it promises to be a lively and active group!

===============

I also wanted to make a few comments related to the bit of sunburn I got on Sunday.

One of my little quirks is that I don't feel pain from sunburns. I can feel heat radiating out from my skin and it is sensitive to pressure, but it doesn't hurt. These burns aren't even as bad as some I've had. (I've had some where warm water in the shower was uncomfortable to lightly painful, like trying to wash dishes after burning a fingertip while cooking.)

Also, while I am pale, I don't actually burn all that easily. What I do have is a very narrow window between comfortable sun exposure levels and burning. I remember as a teen trying to tan in the back yard and not doing very well. Not because I'd burn easily, but because 30 minutes on each side barely did anything. Hit 45 minutes and bang, a few hours later I'd notice that I had a light burn.

Unless I burn badly, it fades quickly to a tan. In fact one of my legs already looks slightly mottled because some is tan and some is reddish. I think the only times I've burned badly were when I took young DS and DDa to the beach, coated them in sunscreen ... and forgot myself. Several hours later, I had lobster shoulders. I know way way better now. They may not hurt, but the skin does get tight and itchy and near impossible to sleep on.

So what happened Sunday? Well, when I left the gym, I grabbed my post-workout snack and lunch then went to the theater to see what time the movie I planned to see would start. Sadly, one had just started a few minutes before, but I wasn't willing to scarf my food - so I had a 2:45 wait for the next. I wandered over to a nearby park to read as I ate and spread out a little. The sun was up and to my right in front of me.

And then reading got me distracted. Somewhere between 45 minutes and an hour later, I turned around so the sun was more at my back and on my left. I read for another half hour, then picked everything up and went for a stroll through the downtown businesses - all shady areas with trees and skyscrapers.

Hehe, I even ended up in one place buying a small bamboo plan in a very pretty cobalt blue vase. (More like a glass cup - clear and solid glass base, deep blue cup area.) That brings the number of plants in my room to seven.

Anyway, watched the movie and headed home. I only discovered the burns when I went to change to jeans rather than capris to do laundry. Without the capris concealing the change in skin color I suddenly had white legs with pink-red rectangular patches. It's only burn from the top along the right hand side, from the top of my ankle socks to the bottom of my capris. The top is more toasted than the bottom and the right leg more than the left.





Yes, I'm kooky enough I'm mostly fascinated by how uneven the burn is.

I do know better now. If I'm out in the sun, I won't forget to keep track of time.





Saturday, August 18, 2012
16 September 2011 to 17 July 2012 - 10 months of progress

Starting Weight = 250.5 pounds
Current Weight = 180.5 pounds

Yup, got to claim my 70 pounds lost award early this month! So so hard to believe at times. And only 20.5 pounds to go until I reach my original goal. I can definitely see where it needs to come off. One thing losing all the hips shows is that I've got definite middle thickening (part could be age, but I'm concerned it's more the organ fat deposits - which may be take the longest to burn away).

Only 2.5 pounds lost in the past month, but that's wholly attributable to my eating. I've been on the high end more often than not and had more days over than usual. In fact, I was down to 179.5, but the last few days I've bounced back up to 180.5 which is a pity.

One thing I have been doing these past couple weeks is taking a Google Docs spreadsheet another Sparker (4A-HEALTHY-BMI) uses, copied it, replaced all the information with mine, updated calculations where I felt that was needed, and added a few things of my own. Seeing it more in black and white my calories in graph normally had a spike, but not too terrible, about every two weeks or so when I'd eat out with my children. This past couple months it has been spiking up and down badly.

I'm already in the process of tackling that. One of the big problems was changing up snacks at work so I don't get bored, leaving out a couple, and ending up with a mental idea that I didn't have enough. Even though I had plenty of snacks (obvious by the calorie counts), I was eating more of them and even hitting the peanut butter jar when I didn't take it back to the kitchen right away. Once I let myself think of that as okay one day, it was like a free pass to do it any time - and that is not healthy in any way.


Without further ado, the latest pics:



Front




Side

And because I keep talking about my arms and trying to strengthen them - my goofy mini gun show. Unfortunately, I don't know how to take these pictures better to make it show as well - but I can see the muscle peeking upward as I flex which pleases me: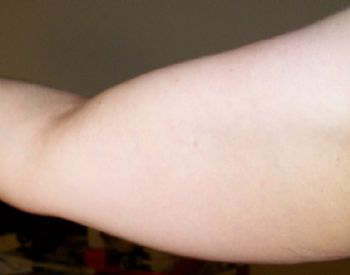 Not flexed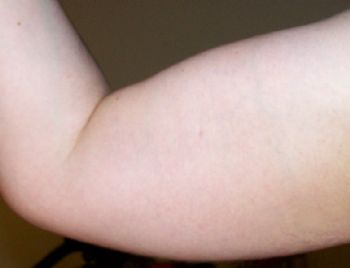 Flexed

Much work still to be done, but being able to do even a couple of real (not machine) curls with 25 lb dumbbells had me grinning. I did two on the left, five on the right, and one more on the left before switching to 15 lb dumbbells (all the 20s were in use) and doing a full 3 sets of 12 reps. Might not be much, but it makes me feel strong - especially considering in January I was struggling with 10 pounds on a machine.





=======================

Going back to say something about this hiccup in my journey. I'm not calling it a plateau, but I hit 179.5 for the first time on 2 Aug 12 and have bounced between that and 180.5 for two weeks now. As mentioned above, I can easily look at my calories in and see why.

One thing I've been watching more closely on the spreadsheet this last week is the sum of calories over. Three weeks ago = almost 1800. Last week = 965. This week = 600. Yeps, in three weeks I ate enough to cancel the 3500 deficit planned into my calorie range for one week.

I'm going to try linking this just in case anyone else uses Google Docs and is interested. (NOTE: It is definitely customized to me. That means some calculations are based on my height and age and gender.)

https://docs.google.com/spreadsheet/
ccc?key=0AsoSfUoSKdVWdGhFSWFvc2M5QzZBQ
XFSd3FMUjFncUE

A copy of the graph showing my calories in over these 11 months: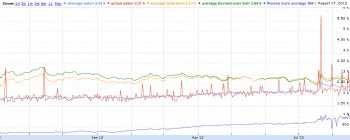 Not sure how clear that one will come out, but the red line is actual calories eaten. The blue sort of following the red is the trend line based on averaging it out. Those wild spikes on the right in the red ... that's my eating these last few weeks. Definitely not nicely within a reasonable calorie range.

So, not a plateau. (And an important part of why tracking is so vitally important to me.)


Now it's time for month twelve to begin. Knowing where I've gone off the rails somewhat, I'm realigning myself and will reach my 1-year Sparkversary (16 September - for when I actually started using the site) with my graph looking much smoother!



First Page
1
2
3
4
5
6
7
8
9
10
11
12
13
14
15
16
17
18
19
20
21
22
23
24 25 26 27 28 29 30 31 32 33 34 35 36 37 38 39 40 41 42 43 44 45 46 47 48 49 50 51 52 53 54 55 56 57 58 59 60 61 62 63 64 65 66 67 68 69 70 71 72 73 74 75 Last Page

Get An Email Alert Each Time BLUE42DOWN Posts