| | |
| --- | --- |
| | BLUE42DOWN's Recent Blog Entries |


Saturday, July 07, 2012
I'm a numbers person. I love math. I love algebra. I love (and work with) geometry. I've done blogs on the numbers, the stats, the calorie calculations.

BUT

Yes, there's a big but to go with my big butt.



The body is so much more complex. The basic equations give us an approximate answer, not an exact answer.

The most basic equation of weight loss is the calories in must be less than calories out. And it works - to a degree.

It is troubled by the inexactitude (yes, it is a word, even though the spell check doesn't recognize it) of knowing exactly how many calories out occur. It can also be troubled by the small inaccuracies of calories in.

BMR (basal metabolic rate) is a good general idea of how many calories we burn without taking activity into account. But it does have flaws. One of those flaws is that a number of people are higher or lower. (I personally think of it like those bell curves - the kind some teachers graded with. The most people are pretty much right on, a smaller number are a little over or under, an even smaller number are notably over or under, and the most rare people are way over or under.)

Add to the BMR the activity level - sedentary has a multiplier of 1.2 or 1.25 depending on where we look, and people have varying levels of sedentary lives depending on the demands on them to walk, carry things, get up from a chair frequently or not. Add again the deliberate activity - 30 minutes of activity can burn more or less depending on our current weight, fitness, what we do, how intensely we do it, and so on.

We don't really know our own personal EXACT "calories out" number. (The best ways to get close are found in the sort of equipment used in the research studies around which the basic BMR equations are generated. Some equipment can give us a closer answer, assuming all conditions are met for accuracy.) Which means we have to use the general equations to even get a starting point.

What happens if a truck driver knows the average truck is 12 feet tall and so drives under a freeway overpass that says there is 12 feet and 6 inches of space when his specific truck actually happens to be 13 feet tall? He sheers off part of the truck's roof in a very damaging manner. Unfortunately, while the truck driver can know the exact height of his truck (in fact, it is often posted prominently on the truck and the trailer), we don't have that luxury.

Next, take those nutrition labels we rely on. Numbers are rounded for convenience. If something has 1.82923 grams of protein, we see 2 grams of protein. Every time something is rounded and the result used in later equations has small hidden errors built in.

2 + 2 = 5

No, it doesn't, you say? But if 2.47392 is rounded down to 2 because it is less than 2.5 and 2.49248 is rounded down to 2 because it is less than 2.5, adding the rounded values together and getting 4 is less accurate than adding the real numbers together to get 4.9664 and rounding that up to 5.

Every food package and nutrition label we get has those sorts of errors built in. For a little fun, take a variety of nutrition labels and do this math:

grams of Protein times 4 =
grams of Fat times 9 =
grams of Carbs times 4 =

Add the results together and compare to the calories. They "should" be equal. And they might be in many cases. But even the calories might be rounded, now that I think about it - or why would everything seem to have an even 10s amount (150, 130, 270, 90)? Y'know, I actually wonder about the 4s and 9 now - are those rounded from actual numbers that aren't exactly 4 and 9?

Things can even say there are 0g of something ... so long as there is less than 0.5 grams. Never mind that 0.4555 is more than nothing, it shows up as 0g. (Or from those trying to be a little more accurate, they actually say "less than 0.5g.)

So we can't be 100% sure of our calories out or our calories in. (And I wasn't even including the little extras - stuff like whether we lick the bowl clean or not, when we pace a room rather than sit, and so on.)

If we focus too much on that, we can go crazy in the details. If we use that as an excuse to give up, we forget that the basic equation is still accurate to a degree. There IS ALWAYS a point where too many calories in consistently equals weight gain. (And a point where too few consistently leads to malnourishment.)


What is the answer? Learning our body and learning our unique needs. We start with the numbers, because those are reasonably accurate for enough people. We watch the actual results compared to the expected results. We make minor adjustments. We watch the actual results for changes.

How does this work in practice?

Using myself as an example, when I first started out I aimed at about the middle of the calorie range SparkPeople came up with. My goal was set to a date that gave a pound a week loss. In three months I lose 24 pounds. That was nearly 2 pounds per week.

What did that tell me? That I was burning more than the average. My calorie differential was never more than 300 average throughout those months (less, in fact) yet I was losing as though I had a 1000 calorie differential. I now eat closer to the top of my range and allow myself more leeway to go over if I'm truly hungry (like yesterday when I went about 500 over).

And the results tell me that's working fine. Another 40 pounds down in 6 months (a 1.5 per week average) and 3 more pounds in the last couple weeks. In fact, contrary to what many people might expect, eating 500 over yesterday didn't show up as a gain on the scale. Instead, after three days at 183.5 the weigh-in this morning gave me 183. (Bearing in mind that I didn't go 500 over on "junk food". Ice cream, sure, but otherwise just more of my normal snacks / foods and keeping the nutrition balance in-line and sodium respectable.)

Today I'm nowhere near as hungry. Doing my Strength Training at the gym, I felt up to raising my weight amount on quite a few machines and did quite well. Looking at those results, I'd say my body needed the food for some muscle repair and building - and NOT eating when I felt that hungry would have done me a disservice.


Unfortunately, I can't promise others that they can eat the way I do. In fact, I know most people cannot.

What each person can do is start listening to their own body. My body can't tell YOU how to eat, work out, and achieve your goals. YOUR body has to do that.

In addition, the more honestly and accurately you view YOUR eating, YOUR working out, YOUR goals, the more clearly YOU can see whether the current path is working well for you.

Always hungry, real physical hunger? Check your critical numbers to be sure you aren't actually starving yourself.

1) Goal. Check the goal amount and goal date. Look at your current weight. How many pounds per week will that take? Try calculating the date for different pounds lost per week - 1 pound, 1.5 pounds, 2 pounds. Could you be happier taking twice as long but not feeling hungry all the time?

2) Fitness. The fitness tracker expects a certain number of calories based on how many days and how many minutes. If you've never set it or you're routinely doing more or less, try adjusting it. Personally I've had to up the number of calories burned to keep up with my increased ability to burn - which means my calories in goes up even as my weight and my BMR goes down.

3) Start tracking different nutrients. Blood sugar low is only one possible reason for hunger. Another is a need for certain nutrients. If I don't get enough iron around that one time a month, I get hungry at odd times such as right after finishing a meal. By tracking and paying attention to how your body feels, you might learn that you feel more alive if you get more of something or feel duller if you're not getting enough. (My mother many years ago learned that she needed more than the recommended amount of vitamin A - her eyes would ache and blur easily if she didn't get the extra. If she got enough, she felt great.)


In other words, accept that things may not be completely accurate and experiment a little. LITTLE! This isn't an excuse to double your daily calories, after all. It is a freedom to test bit by bit and see what works best for you, what fits your life and your efforts to achieve a greater level of health and fitness.





Friday, July 06, 2012
Online.

...

Okay, so that wasn't a joke with a punchline. I hope that's pretty obvious.




I've mentioned my best friend in the past. Last night I mentioned a second friend. What isn't always obvious in the way I talk about them is that I've never met either in person. I met them in the online game WOW, one among the many friends I have made there. I talk to them via IMs and phone calls.

The last real-life friend that I met and knew face-to-face was someone I first met when I was 19. He remained a friend until sometime not long after my divorce when a specific situation brought it to my attention he was doing drugs. (He was a recovering addict when I first met him, but I'd believed he was staying clean until then.) Whooeee am I leaving out a lot of story ... but that isn't the focus of this blog. Ultimately, I don't regret walking away from that friendship.

Before that ... hmmmm ... I sort of had a "best friend" before I went to school, but it was more that she was my age and our mothers were friends, so we always played together. I started 1st grade and she got put in kindergarten, and we rarely saw each other after that even though we only lived a few blocks apart.

Now, I'm not shy.

I had MANY acquaintance-level friends, people I'd eat lunch with, play games with, talk about all sorts of things with, meet at the park, etc. In high school I didn't belong to any of the cliques, but I hung out with people in all of them. I knew people who were jocks, cheerleaders, druggies, brains, geeks, special ed, and was friendly with all of them. I was on the outside by choice, not because I was excluded.

I still have no problem walking up and talking to people, being personable, "making friends" with folk I may never see again. I am perfectly capable of being friendly and tend to draw people in that manner.

Nor am I anti-social.

I don't hate others or lack some sort of conscience when it comes to how my actions or inactions affect others. I don't feel some burning need to escape society or hide away.

Sure, yes, I gained weight to be "invisible". That was focused on avoiding male attention - something that gets annoying when the ones most likely to approach and be vocal about it are pervy old guys (*SIGH* and weight doesn't work to stop those guys anyway). And I did withdraw from real life more and more, but from pure laziness and lack of funds to do anything or have decent clothes for going out anywhere rather than an actual aversion to people.

Which is why I call myself non-social. I could live like a hermit as long as I had the internet for interaction. Unlike a hermit, I'd be friendly and hospitable if people showed up.


Now, the internet. Social EXPLOSION of a sort. I find it very very easy to be friendly online. I've made friends in every forum, every circle, that I've moved in online. But there's whole different friend distinctions. Everyone gets called a friend, but obviously everyone isn't on the same level at all.

And here we loop around to my two friends.

As I said, I've never met either in person. I've seen pictures, I've talked to them via phone and chat. For the most part it is like a long-distance friendship. I know one heck of a lot about them and they know more about me than others. Yet it lacks that "we went here together and did this" history. (Unless you count "we did this dungeon together in WOW". Yeah, yeah, didn't think that counted the same way.)

They are the only two people outside of my family or coworkers who have my phone number and are likely to call it. They are as close to "real-life friends" as I have. But somehow there's a distinction.

Expand beyond them and I have a lot of friends - from the game, from a variety of online forums, even random people who would IM based on a Yahoo! profile page back in the day. Only three ever have been given my phone number - well, four if I count the aborted attempt at online dating back when I was getting divorced that lasted 6 weeks before I broke it off. Maybe a dozen have ever had an email address or IM.

The problem I run into is that "online friends" can be anything from someone who added me to their list or circle that I added in return up but have never actually "talked" with all the way up to the two friends I talk to all the time about all sorts of things.

Making friends online is easy. Maintaining and building past a certain point ... not so much. Even the two closest friends have a certain distance, not just physical, but emotional.

In the rare times I actually feel lonely, that is the lack that I feel without being able to express it well. In the few times I ponder what it would take to someday meet a Mr. Miracle, I wonder how I'd make the leap beyond that distance.

After all, where am I meeting men at all so Mr. Miracle stands out? Most people I meet are online. I'm not meeting people at work. I'm not really interacting with people at the gym beyond the greetings to those who are more regular and those who work there. I'm not interacting with people beyond employees of stores and businesses I go to. I cringe away from the typical men who hit on me at bus stops or on the bus (and can get pretty rudely abrupt when they don't back off).

Heck, where am I meeting ANYONE in person that I'd ever build more than the two key friendships I have?

It's worse than that, really. I blame myself, but both key friendships don't just have a perceived distances, but they are imbalanced. I'm the ear, the vent, for their issues, troubles, and problems. I give advice when asked or just support when advice isn't needed. I'm the rock in their chaotic, drama-filled lives. I cannot IMAGINE meeting someone and telling either of them anything about it. Both know I'm losing weight, eating right, working out, but unless they specifically ask me about it, I volunteer nothing about my progress.





... I now have a tune playing in my head. "I am a rock. I am an i-i-island."

===========
I've built walls,
A fortress deep and mighty,
That none may penetrate.
I have no need of friendship; friendship causes pain.
It's laughter and it's loving I disdain.
I am a rock,
I am an island.
===========

Not quite, but my best friend often claims that he has broken down a lot of my walls. All I can think when he says that is I've let him get through the ones I felt were safe enough to let him past and he can't even see the highest wall between us. Some walls I let him past with a gate rather than letting the wall be battered down.

ACK! This has gotten way way too long and somewhat mopey almost.

(For what it's worth, this isn't a cry of needing friendship or hugs. It's a delving into my screwed up psyche trying to figure out what I really want.)

The conversation with my friend last night had me realizing I'm not doing anything to meet real people. I'm so social online that I'm not befriending people offline. Most of the time I avoid any interaction with those online that could potentially extend to meeting offline. Any activity where I might be social with people offline, I don't open myself to trying to build something more than polite and friendly chit-chat.

In those rare moments that I want something more, want a best friend that I can gripe and vent and complain to, want a romantic interest, want something more social, I think up a goal like "Get involved in a hobby or activity that encourages or requires social interaction". (And, yes, there was a point just before 1 am that I actually had that typed in ... and then deleted it before posting the update that I did.) The rest of the time, I'm sure I'd be as likely to accomplish that goal as sleeping eight hours every night, getting up at 5 am daily, cooking every meal from scratch, and becoming a vegan. In other words ... not at all.





Coming nearly full circle, I ask myself the question "How do I be the kind of friend it would take to build the kind of friendship that wouldn't feel like something was lacking?" The answer, sadly, isn't 42.





Thursday, July 05, 2012
Seems I got a little sidetracked after doing my State of the Blue and didn't come back to setting my July goals. So here I go ...

The first is easy - I always set it to a goal of the next 5 pounds down marker just to make sure I'm moving along smoothly. The last is a redo of the one I didn't remember to focus on in June. But I feel like I still need at least a couple more to work toward. Hmmm ...

== July goals ==

1) Weight stably at or below 180 pounds.
2)
3)
4) Complete the exercises for the 1st Habit - Be Proactive.

....

Okay, I've had this blog entry open for 6 hours now. Admittedly I'm at work, but two breaks and lunch have not cracked my mental shell to decide on July goals. I'm posting it now incomplete and will have to edit in the goals when I can decide on them.





Hehe, home from the gym at last and time to put some more thought to this.

As an aside, I was talking briefly to the gym's manager this evening about how far I've progressed in the 6 months I've been a gym regular. She happened to ask me how much more I planned to lose. I honestly didn't know what to answer. My original goal that I put into SP was 160. I've put 155 on the ticker, I think.

But to me those are complete guesses and don't mean much. I have no idea what I'll weigh, nor do I ever plan to focus my "maintenance" around a weight range. I'm aiming for functional fitness. I want to be fit enough that my physical condition is never a limitation in my choice of activities, whether that's a night-club for some salsa or sky-diving or staying up half the night for a gaming (or anime or sci-fi) marathon.

In fact, as we moved on from that, she asked if I did weight training. I told her I did and that I actually am more excited when I can up my weight on a machine by 5 pounds than I'll ever be seeing that the scale has gone down another 5 pounds. I was thrilled on Wednesday because I finally completed all three reps on a Preacher Curl machine at my latest weight.

ANYWAY ... rambling and meandering ... and still not coming up with anything particularly meaningful.

Of course, I've been distracted through much of the evening by a friend. Oy, my history of friends is a story in itself and it's not getting me any closer to figuring out some goals either. And here it is edging on 1 am. I don't think this blog is going to see more than the two goals. If something comes to mind this weekend, great. If not, at least I have a lot more mental focus on being proactive.





Monday, July 02, 2012
I wish I knew an easy way to link one of the SparkPeople Inspirational messages right into my blog. Gonna try something and hope it works.

I don't typically go through the motivational quotes page. But I do the SparkPeople Web Search for the SparkPoint every day and there's always a different Healthy Inspiration. I'm silly and usually use one of the words for the search, such as "desire" today, so I always read it.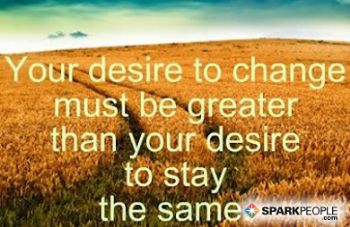 Okay ... so I hope that works. This was the one I saw today.

This quote made me think about something - dare I say motivation again?

What is the "desire to stay the same" but a motivation? It is the motivation behind habits, it is what drives us to detour into a fast food drive-thru on the way home from work, it is what pushes us toward the couch to watch our favorite shows. It is what keeps our current (or past) lifestyle stable and routine for us.

Thinking about lifestyle for a moment - I looked back at what "staying the same" might have meant for me.

I could make a full package of Hamburger Helper and not have to worry about putting away leftovers. I could eat that with a 32 oz mug of milk with about 2-3 times the normal amount of chocolate powder mixed in or multiple scoops of ice cream mixed in. I could work 8 hours on a computer, walk home, sit down at my computer and go right to playing WOW for the next 8 hours, getting up to make dinner, use the restroom, and maybe get a chore done here and there. Then I got up to go to bed and started it all over. I literally logged over 40 hours a week in-game.

For a long time, I thought that was what I wanted, what I really desired.

When I set about making changes in my lifestyle, I had to consider what parts of those desires were healthy for me. I had to recognize that EXACTLY "the same" wasn't ever going to be healthy and narrow down what pieces of "the same" I really desired, which would continue to motivate me.

I wanted to eat whatever I chose. I wanted to spend at least as many hours of my life playing as working.

I ~STILL~ eat whatever I choose. I just limit the portions and the timing so I'm not over-feeding my body. (For example, I had a double decker taco and caramel apple empanada from Taco Bell yesterday. Loved every bite - it was fresh and delicious. I also had a mini ice-cream shake - a cup of ice cream and a half cup of milk mixed together. All while meeting all my nutritional needs for the day and staying within my calories.)

I ~STILL~ spend many hours "playing", but I consider my workouts and walks part of the play, I add fun activities like reading at the park or my planned ice skaing, roller-blading, and hiking. I play a computer game no more than 2-3 hours in any single night and usually only play a couple nights a week - and find I enjoy it more because I'm not just logged on to avoid life and real people.

In a way I've turned my desire to stay the same into part of the desire to change. I have to eat well in order to eat what I choose. I have to broaden my play in order to actually enjoy the time I spend playing the game more - as I only log on when I really WANT to play that game.





Sunday, July 01, 2012
Another three months of 2012 completed, so another review of where I've gotten to fitness-wise.

My 1 April 2012 update is here: www.sparkpeople.com/mypage_public_jo
urnal_individual.asp?blog_id=4815690

My original 1 January 2012 starting point is here (including comments on some of the measurements): www.sparkpeople.com/mypage_public_jo
urnal_individual.asp?blog_id=4648619

Height = 5' 7.75"
Weight = 200 pounds TO 184.5 pounds (15.5 pounds down)
Body Fat % = 42% or 27.89% TO 38% or 27.47% (or 33.1% per hand sensor)
BMI = 30.63 (Obese) TO 28.26 (Overweight)
BMR = 1641.325 TO 1573.9

Forehead = 23.75" TO 23.5"
Neck = 15" TO 14.5"
Shoulders = 44" TO 44'
Chest = 40.5" TO 39"
Bust = 46.5" TO 45"
Ribs / Strap = 38" TO 36"
Bicep = 14" TO 14"
Forearm = 11.25" TO 11.25"
Wrist = 6.75" TO 7"
Waist at Navel = 40" TO 39"
Hips = 48" TO 45"
Seat = 46.5" TO 45"
Thigh = 26" TO 24.5"
Calf = 16.75" TO 16.5"
Ankle = 9.5" TO 9.5"


Fitness testing:

Resting Heart Rate = 61 bpm (machine) TO 54 bpm (in bed) or 64 bpm (machine)
Target Heart Rate = 124 - 150 bpm
Blood Pressure = 115/75 TO 109/64

(Using www.topendsports.com/testing/hometes
t.htm for instructions and scaling)
Situps = 31 (Good) TO 34 (Excellent)
Modified Pushups = 4 (Below Average) TO 5 (Below Average)
Squats = 22 (Good) TO 40 (Excellent)
Step = 145 bpm (Very Poor)* TO 96 (Good)
Vertical Jump = 8" (Below Average) TO 9.5" (Below Average)
Sit and Reach = +1" (Average) TO +0.5" (Average)

Aerobic fitness check:

Heart rate before walk = 90 bpm TO 60 bpm
Time for 1 mile brisk = 15:10 TO 13:53
Heart rate after 1 mile brisk = 127 bpm TO 140 bpm
Time for 2nd mile brisk = 14:45 TO 13:48
Heart rate after mile 2 = 140 bpm (original) TO 135 bpm
Time for 1 mile normal = 17:02 TO 16:07
Heart rate after 1 mile normal = 109 bpm TO 103 bpm

Comments:

It shows in the numbers, but I do really feel I've gotten into a groove (a positive one, not a rut) with my fitness progress. I haven't mentioned it here, but the gym manager has more than once stopped to tell me I'm doing great and one of the personal trainers regularly comes by to high-five me when I'm on the elliptical. They've seen these 6 months of progress happening day-to-day.

I may only have gone from 4 to 5 knee pushups, BUT I seriously felt more able doing the fifth than I had last time forcing the fourth just so I could do better.

The situps ... I feel like I could have done more, but I did my crunches and obliques yesterday instead of Friday and upped my weight on the ab crunch machine Friday, both of which led to a small amount of pulling under my left rib about halfway through. Having the number I did be in the "Excellent" range was a pleasant surprise!

Squats was definitely a surprise. I knew I was doing more on the Leg Press, Calf Raise and Leg Curls, but wasn't connecting that to doing squats. I think I could have done 5-10 more, but really don't want to mess up my knees by pushing, and apparently the 40 I did is already in a good range.


Physical / injury comments:

My left foot has definitely been feeling better. The most annoying aspect is when it is more sensitive and feels like my sock is crumpled under it when it isn't. It actually has felt notably better since the Packard Summer Scamper and all the walking before and after rather than worse, so that's promising.

I've managed to avoid any other injuries, thankfully. I do notice a lot of things here and there like my left calf is tighter than my right even after all my stretching and my upper left arm does have a bit more limit to motion than my right, but all within livable parameters.

All in all, a very good six months of progress - making me quite pleased and determined to see just how much further the next 3 months will take me.



First Page
1
2
3
4
5
6
7
8
9
10
11
12
13
14
15
16
17
18
19
20
21
22
23
24
25
26
27
28
29 30 31 32 33 34 35 36 37 38 39 40 41 42 43 44 45 46 47 48 49 50 51 52 53 54 55 56 57 58 59 60 61 62 63 64 65 66 67 68 69 70 71 72 73 74 75 Last Page

Get An Email Alert Each Time BLUE42DOWN Posts