| | |
| --- | --- |
| | BLUE42DOWN's Recent Blog Entries |


Thursday, June 21, 2012
Yesterday the gym was having a special theme day (summer) as well as their first Zumba class. To get interest up, the class was offered for free just last night - members will have to pay $5 per class and non-members $10 in the future. So I figured why not - can't lose with something free.

Yuck. I walked out after around 10 minutes.

Now before you leap in because you love Zumba, please understand that this was purely MY opinion of this class / instructor combination. The Yoga instructor was far better - even if I found Yoga not to my tastes.

I was spending more time shuffling side to side, arms not moving much because I was trying to figure out what my feet were supposed to be doing, but most didn't last more than 4-8 beats which meant by the time I started to move, it was a new move in some other direction.

I can salsa. I used to head out to Latin clubs at least one night a week just for the energy and the dancing years ago. Heck, my music player that I had going while doing my weights before was playing J.Lo, Enrique Iglesias, Pitbull, and more. Latin dance pop. I stand at bus stops and dance.

This ... did not feel like Latin dance with the energy turned up. It felt like an old-school aerobics class with a dash of Latin music, hip thrusts and shimmies and an outfit that maybe is supposed to be Brazilian-inspired. (Maybe the expectation I had of high-energy Latin dance was part of the problem. *shrug*)

I think I went to my first aerobics class back in the mid-80s. Leg-warmers and leotards, big hair, and 80's pop music, gratingly smiley instructors. But at least those instructors got involved and made sure everyone knew the basic steps and gave people time to do them AFTER showing them the step. This class, this instructor ... not so much.

The warmup was done (with the only named move being a grapevine), some time had been spent standing as she fast-forwarded to the next song in her list, and a few minutes were spent shuffling to keep up and try to get at least one step right here and there. My heart-rate might as well have been resting. It was beating faster when I was doing my preacher curls! I wanted cardio ... not what I would get standing and dancing while I waited for a bus.

I'm glad it was free. If I'd paid $5 for it, I would have been miffed walking out at the waste of money. Instead, I slipped to the back and out of the room, got my phone (with music) and headphones out of my locker, and was onto the elliptical in 5 minutes. Bam! My heart-rate was quickly back up into a respectable range - and I kept that up until about the same time the class ended.

=======================

Another thing they offered free was a "body composition test".





It sounds like more than it was. It was the hand-held body fat % device. According to that, I'm now at 33.1% body fat. (According to my scale at home which uses a foot sensor, I'm 39%.) Of course, now I don't remember what it read back in January when the personal trainer was doing the initial evaluations, so I don't have a reference for the change. Hmmmm, maybe I blogged it.

=====================

StairMaster / Step Machine

So, first time I tried it I did 10 minutes. Last night I did 15. This was before my strength training on the weight machines, which I finished just before the free Zumba class would start. I swear it's easier to climb at a reasonable pace (... okay, I don't know if my definition of reasonable is the same as others - hehe) than it is when it slows down. It acts like slowing down is the easy part.

I definitely feel this more in my quads than the elliptical.

Next up? Maybe the rowing machine. I don't think the motion would aggravate my arm.

=====================

Upcoming 5k this weekend - Packard Summer Scamper out at the gorgeous Stanford campus. (Seriously, if I came into money, that's where I would go to school given a choice. Loved it when I was a teen, love it now.)

The difficulty is ... I don't live that close to Stanford and I don't drive. Race is Saturday at 8:10, though I have to show up early for my packet. The closest bus / shuttle that runs Saturday morning is 1.7 miles from the starting line. (The cost of a taxi to get there from home is $80-ish.) Add it all up and I will be waking up around 5:15 am to catch the bus, walking those 1.7 miles, getting my packet and setting up, walking the 5k, walking those 1.7 miles back to the bus stop and riding home ... for around 6.5 miles of walking.

In addition, I don't have a backpack or running belt right now. I have to go buy a cheap pack tonight - and probably some small safety pins in case they don't provide any with the bib. If I don't, I'll have no easy way to carry the liters of water and bus pass and other related items.

Methinks I didn't plan this very well.

But I'll have fun. And that is what is important.

========================

Don't really like the new fitness page changes. Mostly because it didn't carry over the list of ST machines I do ... and has no easy way (other than going to the old page) to set them up. I'll have to either buck up and spend the time to search for each and every one to add to a Grouping or just quit tracking them on SP and use the JEFit Pro app only.

While I understand the desire to have the time spent doing ST count as fitness minutes, I was also amused to see that the changes means I supposedly burn 300+ more calories those days. I wonder how many people are going to see their calorie range go up and freak a little.





Wednesday, June 20, 2012
Today is the Summer Solstice (or Winter Solstice for those below the equator). That means it is the longest (or shortest) day of the year and the official beginning of the new season.

While I have yet to do one of the seasonal 5% challenges, I do mark each season with some goals for the coming months and a review of the previous season's progress. So here it is:

== by Summer ==

1) Replace all my old shirts. Not only are they now pretty much too big, but more than a couple have been really shabby for quite a while now. It's long past time to change it up.




Heh, got this one done in April because I mistakenly thought it was an April goal rather than a "by Summer" goal. I've bought a couple shirts since then (workout ones) and also recently ordered a couple of shirts from SparkPeople. I finally have more shirts than workdays. (Yes, it was that bad at some points ...)


2) Workouts maintained. Minimum of 30 minutes cardio (usually 40+) every day, though two "rest" days of lower intensity / effort. Three days weekly of Strength Training (full body for now, split if I get to point of needing more rest between.)




Haven't missed a day yet. It's such a habit right now and so convenient on the way home from work or first thing on the weekends that there isn't even a question of whether I'll do it.


3) Increase non-workout walking such as to and from transit and work, using stretches and paying close attention to how my foot feels.




I'm coming to believe my foot may never be 100%, but is rarely an issue. (Mostly when it is more tense or inflamed, it feels like my sock is rumpled when it isn't.) Stretches, particularly calf and achilles tendon keep it from getting worse and I keep the ice ready if it ever feels more swollen. I'm actually scheduled for a 5k walk this coming weekend (the Packard Summer Scamper out at Stanford University).


SUMMARY? Met them all. Really, though, they weren't challenging goals - just reminders of things I wanted to make sure to accomplish within a "reasonable" amount of time or reminders to keep doing something.

Onward to the next three months:

== by Fall ==

1) Roller-blade at least once or twice. If I decide I really want to get back into it, get the protective gear (elbow, knee, helmet) and possibly arch supporting inserts. If not, donate or dispose of the skates.

2) Walk two more 5k races after the Packard Summer Scamper. One is the SP virtual race. The other is, as yet, undecided.

3) Talk to a career counselor / college counselor. No decisions have to be made yet, but I need to start figuring out "what I want to be when I grow up" so that I can make goals to move me in that direction.

4) Make it happen! I miss hiking. A lot. While I'm not keen on hiking with someone, that is better than NOT hiking. Call my brother (who I've lived with and hiked with in the past) and plan some hiking out at Big Basin or Castle Rock. It'll be good for him too!





===============

Quick comment on not having done any of the 5% challenges. I'm actually considering doing one, but I feel like my reasons are kind of screwy.

I haven't done any because I didn't really want to put any pressure on losing a certain number of pounds. My goals are and have always been more loose on the weight and more focused on the actions / habits and the fitness level.

I haven't done any because I'm already working to keep SP time from becoming overwhelming. I'm here more for others than for me. (I could track my food, my fitness, and my other goals anywhere. It's the interaction with SparkFriends and SparkTeams that hook me and keep me here.)

I haven't done any because I don't want to feel obligated to a Team or like I'd be disappointing a Team if they set a goal or challenge I won't do (e.g. get 8 hours of sleep every night or don't snack after 8 pm).

All that said, I'm really starting to want to do one because of the blogs from people in challenges - the interesting stuff that they seem to do as a group.

I think I need to just do one (Summer Challenge, Fall Challenge, hmmm) and see how it goes.






Tuesday, June 19, 2012
I have two pairs of black slacks I wear to work. These two pairs of pants caused me some confusion. The 18s, even when I bought them, were snugger in the hips/waist than the 16s, though the 16s were snugger in the calves (skinny jean snug).

The confusion came when I realized it was the 16s that were getting "too big". Like ... pull down without undoing the button and zipper big. But the 18s were still a comfortable fit, if starting to get a little loose. That was around a month ago. I couldn't decide if that meant the 16s were stretchy and generous or the 18s were incorrectly marked ... or what the heck size I'd be wearing.

Figuring out the size would help in trying to decide where to go shopping for pants. I honestly had this idea that there was a size gap between women's clothes in a department store and the clothing sizes in a plus-size store. It has been many years, but that's just the memory I have ... of outgrowing 16W at my normal stores and not being big enough for 16W at Lane Bryant and being frustrated even more by shopping than usual. These two pairs came from Torrid, so I figured I'd be 14-16W there.

Before I went shopping I decided I wanted to figure out what size I am.





Okay, I knew SOME things about clothing sizes, but I learned a good bit more trying to research that. (Good old wikipedia!)

I knew that sizes have been fudged upward over the years - vanity sizing. No big deal to me since I'm not aiming at a clothing size number. I'm too big-boned to ever wear the smallest sizes. (As in ... I don't think my skeleton could fit in size 0 - 2.)

I knew that sizes varied some from store to store, brand to brand, catalog to catalog, and style and material could even affect it. My way-too-big 16s were a victim of style and material, being very stretchy and probably intended to be worn more on the hip than at the waist - or by a wider-waisted person than I am.

I remembered being able to look at a chart with chest, waist, and hip to get sizes to order.

So, it shouldn't be too hard to find a few charts and decide what size I am.

Right?





Uh-huh ... sure. *heavy sarcasm*

After a few hunts, some not all that successful, for said charts, I wasn't any closer to figuring out what size I'd be wearing. And then one of my searches landed me on Wikipedia. ( en.wikipedia.org/wiki/US_standard_cl
othing_size#Women.27s_sizes )

To summarize, men's clothing sizes were standardized in the U.S. as far back as the American Revolution. Chest size was used and the rest of the body was assumed to be proportional, with pants being easily altered for length. And this mostly worked. (Though I am sure plenty of men have been frustrated by being broader shouldered or small-boned.)

Women's bodies didn't settle into anywhere near that simple a breakdown. In the 1940s, a team measured nearly 15,000 women, and based on the diversity proposed a sizing system that would have 3 heights, 3 widths, and a chest measurement. Manufacturers didn't like that because they'd have to make too many different sizes. The "standards" have ended up being mostly voluntary and thus catalogs and stores and sizes that don't seem to make sense sometimes. (Worse, reading elsewhere, that study of women tossed out any non-white measurements and offered a small cash payment for getting measured, potentially bringing in more poor and malnourished women.)

All coming down to ... no freakin' wonder things don't fit well just because they're the "right" size. Somehow in 43 years, I never really thought past there being a certain size of clothes I would fit into. I even took a sewing class in junior high and never thought past patterns having those same sizes to the ability to let out or take in clothes to make them fit better.

Much of that I learned a few weeks ago.

I hadn't yet pushed past that and gone to get new pants.

Today I was wearing those 18s, doing the regular tug to keep them up. I got off a little late which meant walking to the train rather than waiting on the next bus. I put my phone in my pocket for a moment so I could adjust my gym bag ... only to have the pants almost get tugged down by the weight.





Thankfully, I knew there was a Dress Barn, a Ross, and some other stores in the general vicinity. The closest was Dress Barn, so in I went. Comforted that the sign outside said sizes 4 to 24 - I knew I'd be able to find something.

The store was split down the middle - Women's to the left and Misses' to the right. Now, my understanding of misses' clothing is slimmer - not busty and hippy - so Women's it was.

They didn't have a lot of pants, but I did spot a pair of 16W capris and a pair of 14W capris, scooping them both up and heading for the fitting room figuring that would let me know which to look for.

I don't know why it surprised me as much as it did, but the 14W fit just fine. If anything, they'll be getting loose more quickly than I'll be happy with. I couldn't find any 12W, so I just went with those and got permission to change into them after buying. Whew!

This weekend I'll have to see about getting more pants. Even those gray jeans are getting looser. Or maybe I just need to invest in a belt for the first time in forever.





Saturday, June 16, 2012
16 September 2011 to 16 June 2012 - 9 months of progress

Starting Weight = 250.5 pounds
Current Weight = 186.0 pounds

In addition to the photos on my main page, I took this one of me being a goof: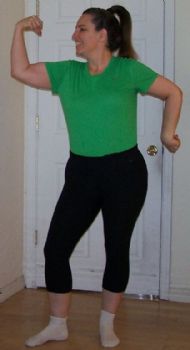 I finally feel like I can see some progress in my arms - and the measuring tape agreed in the realm of an inch down from 14.5 to 13.5 *DANCIE DANCE*. (Yes, other spots are obviously shrinking too, but I like seeing the biceps and triceps making themselves seen and less flap.)

In fact, it seems strange because I'm not really a lot lighter in this past month - just 5.5 pounds down - but I feel sleeker through much of my body. And that's showing in an inch or so down from just about all major spots. I remember back in November or December trying to decide whether joining the community center or a gym would be worth it. Now I'm so so glad I did so in January and have stuck to it consistently since.

It's not for everyone, but I love daily workouts and really love weight training. I love seeing the results as I up the pounds here and there. The one I accidentally had a 7.5 pound add-on the other day was my seated leg press. Since I got through all 12 on the first set, I kept it on there - completing my remaining two sets. Admittedly the last two were slow and careful, but I did them and with good form. Up from 155 lbs to 162.5 lbs. Which really means I should be able to do squats rather well when I update my fitness testing at the end of this month for my 6 months on that.





==================

I finally went and bought a few treats from the SparkPeople store. A couple of shirts - one that I know I can wear to the gym right away (XL sleeveless navy workout shirt) and one I'm curious to see how I fit into and work toward (L green T-shirt) - and a blue mug. I can finally replace the one I use at work with my own!





Time to veggie it up for dinner - JUDYPOPPINS mentioned it is National Fresh Veggies Day!





Friday, June 15, 2012
There were quite a number of very interesting responses to my recent blog about motivation ("Even world-class athletes have meh days" www.sparkpeople.com/mypage_public_jo
urnal_individual.asp?blog_id=4918524 ).

What comes through loud and clear is that we are all unique. What works for one person might work even better for some people, similarly for other people, worse for still more people, and not at all for another group of people. Being unique doesn't mean others aren't the same in some ways -- as it became clear that I'm not the only one who just does rather than needing some clear "motivation". It just means that the whole sum of who we are and what works for us isn't easily defined based on what worked for someone else. As said elsewhere - "we are all an experiment of one".

(This isn't to say there's a magic trick to things; there are natural limitations. Eat too little and our body will suffer malnutrition and starvation. Eat too much and we will feel poorly and gain weight. There's just a very broad range between those points and our exact position is unique to us, but being a special snowflake doesn't mean the sun won't melt us like every other snowflake.)


A new bit of information came at me from an unexpected source today. I usually spend a little time collecting all the "easy" SparkPoints each day – the articles, poll, trivia, quiz, and so on. One of those is the SparkPeople WebSearch. On the page I do the search from, there is a new motivational poster each day. Today's:

== If ones motives are wrong, nothing can be right. - G.W. Carver ==

Ouch ... am I the only one who cringes copying something with a grammatical error? I wanted to put (sic) in there. ANYWAY ... until I read that, I had not thought about the fact that the root of motivation would be motive. That sent me looking up the definition of motive to see what more that could add to my understanding.

I admit - I can be rather excessive about definition lookups when I'm trying to really make sure I understand a word. First there are the basic definitions:

** Something (as a need or desire) that causes a person to act ( www.merriam-webster.com/dictionary/m
otive )
** An emotion, desire, physiological need, or similar impulse that acts as an incitement to action ( www.thefreedictionary.com/motive )
** Something that causes a person to act in a certain way, do a certain thing, etc.; incentive ( dictionary.reference.com/browse/moti
ve )
** The reason or reasons one has for acting or behaving in a particular way
-OR-
** Special Usage: the general desire or willingness of someone to do something (The New Oxford American Dictionary on my Kindle Fire)

Now, the interesting thing about definitions is that they change over time. Sometimes we get the mistaken idea that a dictionary definition is it. But if that were true, there wouldn't be many different dictionaries and many shades of meaning between them. Just looking at those above, it's easy to see that the meaning isn't quite as clear as "sun – that big yellow round thing in the sky during the day".

Words do lose hold of their original meaning or gain meaning as people use (and misuse) them. In fact, that definition about motives being reasons directly contradicts other references I found that bluntly stated, "motives are not reasons".

There's two other parts of many dictionary definitions that I go to for further clarification, especially when the definition alone isn't enough.

First there's the etymology:
www.etymonline.com/index.php?term=mo
tive
mid-14c., "something brought forward," from O.Fr. motif (n.), from motif (fem. motive), adj., "moving," from M.L. motivus "moving, impelling," from L. motus, pp. of movere "to move" (see move). Meaning "that which inwardly moves a person to behave a certain way" is from early 15c.

Then there are the synonym studies – comparing it to words such as Incentive, Inducement, impulse and even reason:

* Motive is applied mainly to an inner urge that moves or prompts a person to action, though it may also apply to a contemplated result, the desire for which moves the person
* Motive implies an emotion or desire operating on the will and causing it to act; Impulse suggests a driving power arising from personal temperament or constitution; Incentive applies to an external influence (as an expected reward) inciting to action; Inducement suggests a motive prompted by the deliberate enticements or allurements of another
* A reason is an explanation of a situation or circumstance which made certain results seem possible or appropriate; A motive is the hope, desire, or other force which starts the action (or an action) in an attempt to produce specific results.





That very last one comparing it to Reason made a light-bulb go on for me.

Goals, whether they are a number on the scale or a measurement or a clothing size or a physical ability or the elimination of a disease / medication, none of them are motivation. They can be what gives us the hope, desire, urge to work toward that result – what "sparks" our motivation – but they are not actually the motivation itself.

"I want to go to Disneyland next year." There's a goal. Without motivation, we don't save money, we don't schedule vacation time, we don't get flights scheduled, and we don't go to Disneyland.

"I want to go to Disneyland next year so I can have my picture taken with Mickey Mouse." Now we've included a reason. But if we're still lacking motivation, it's a pipe dream.

Similarly, we can have many goals and reasons for losing weight, getting fit, getting healthy, but people have spent YEARS wanting to be skinny without having the motivation to get there. And certainly the vast majority of those who show up here at SparkPeople are burning with motivation to make it happen this time when they first arrive, but somewhere along the line even if the goal is still there, even if the desire is still there, something isn't providing the push.


At the same time, some of those things DO give people the motivation they want. Maybe we stick a picture of Mickey in our wallet and easily turn away from the Starbucks to save that $4.00 toward our trip. Every time we open our wallet our energy to make that trip happens is boosted.


Which kind of brings me full circle to that inner motivation – and not knowing how to explain it well. The same goal that drives one person leaves another shrugging.

Not once along my journey have I felt that giddy bubbly excitement at lower numbers on the scale that I've seen others express. Sure, the numbers are fun, but it's just not the same. (I passed into Onederland with scarcely a murmur. I'm almost to what I'd call my start-point on gaining years ago – back to my "normal" chubby range of 165-185. And yet they're just numbers.)

What does make me bubbly? I can do two 30-minute sessions on the elliptical with stretches in the middle, resistance set to 5, with the incline doing a full hill through the session. Wooohoo! I'm doing 50 pounds on the seated bench press in 3 x 12 reps now – having started at 20 or 30 in January. *happy dances* I'm doing 155 on the seated leg press without my knees or ankles doing more than an occasional tendon snap (not painful or a problem – just proof they don't slide as smooth as when I was younger). All stuff that would seem terribly droll to some people.





That may be the real issue. Motivation isn't an unchanging object. We can't look at it, touch it, step back and see it as part of the bigger picture, compare it to images and descriptions, and say "Yep, THIS is what motivation is."

It's as complicated as love. We just know when we are motivated. When we have it, we're sure of it. When it weakens or slips away, we question whether it was real and bemoan its loss. We seek it, but more often find it when we aren't looking.

Signing off on an overly long wall of text. What on earth motivated you to read this whole thing?








First Page
1
2
3
4
5
6
7
8
9
10
11
12
13
14
15
16
17
18
19
20
21
22
23
24
25
26
27
28
29
30
31 32 33 34 35 36 37 38 39 40 41 42 43 44 45 46 47 48 49 50 51 52 53 54 55 56 57 58 59 60 61 62 63 64 65 66 67 68 69 70 71 72 73 74 75 Last Page

Get An Email Alert Each Time BLUE42DOWN Posts