| | |
| --- | --- |
| | BLUE42DOWN's Recent Blog Entries |



Friday, June 01, 2012
I'm tired and it's only 11 pm, which is a bit unusual. Not sick, though - just drained, achy, and tired. So, for once a blog that isn't a complete wall of text.




== June goals ==

1) Weight stably at or below 185 pounds.
2) No more than one fruit bar and one fiber bar per day.
3) Find out likely cost of dental visits (consult, X-rays, fillings, etc).
4) Figure out a workable way to keep up with Friend Feed.
5) Complete the exercises for the 1st Habit - Be Proactive.


The second is partly from the granola bar blehs from this past week, but also because I've noticed I'm buying less variety in snacks and more of the bars. Yes, they tasted good. Yes, I'm staying in my calorie range with them. But that's not the way I want to be eating long-term and I noticed that I was starting to have trouble fitting in my REAL treats like ice cream because I'd had two or three fiber bars and one or two fruit bars some days.

The third has been needed for a long time. I had my wisdom teeth removed over a decade ago because they got really bad cavity / decay. Sadly, I've known for a couple years now I have issues with my back molars, but I've managed to keep them from becoming bad enough to demand care. Now that the finances are settling down, it's a health issue I ~MUST~ stop putting off.

The fourth ... I hate not getting to everyone's status and blogs within a day, but I'm getting overwhelmed by the volume. There's times where I spend 2 to 4 hours on the feed, come close to being caught up, and by the end of that time, there's been so many more I just don't want to look at it. I may start ignoring the SparkPoint ones if that's possible, though I don't know how much time that will save. I have all of June to figure out something.

The fifth is from The Seven Habits of Highly Effective People. One exercise is to spend 30 days focused on working in what Covey calls my Circle of Influence - those things that I actively can change (which starts with me and who I can be). Another is to listen to my language and that of others for "If only ...", "I can't ..." or "I have to ..." - recognizing them as reactive. So June will be my 30 days to focus on this chapter, on trying to change situations in which I'm reactive.

One area I really want to try to make a change is work. I've been recognizing some things about how my boss and I interact, what I do on work time, and so on. Rather than complain at all about his management style, I'm going to be focusing on where I know I can and should do better, on being a better employee. I can't change him. I'm nowhere near ready to consider changing jobs. But I can change my behavior, my attitude, my diligence, my slacking, ME.


So there's June.





Even tired I guess I can't do short and sweet.


Oh, little random points:

Read an SP article on building up to doing pushups and, from that, learned I would probably need to be able to bench press about 85% of my weight to be able to do a military pushup. I currently manage 45 pounds on a seated bench press for 3 sets of 12 (struggling, but keeping form on the last couple). No idea how much I could do on a free weight version, but I'd be likely to suspect less rather than more. That's not quite 25% of my current weight. I'd have to get up to something like 135-160 pounds (depending on what weight I'm down to by then). No wonder I can't seem to manage pushups. Someday I hope. But that's nowhere near as soon as I could hope.

Saw an ad on the TV at the gym that, for once, is something I want. Rollercoasters! Season passes for Great America are available through late June for about the price of a single visit. I grew up with summer passes, getting in lines over and over. At my current weight, I can ride though I'll be a bit cramped. But ... I WANT!!!! I haven't gotten to in so long. Even if I only go once a month, it would be worth it, and I can see going every other Sunday.

SQUEE! *dance dance*

Okay, brain shutting down. Good night, Sparkers!





Thursday, May 31, 2012
I know there's still tomorrow, but not much I can or will do that will change these, so here's my review of my May goals and results on them:

1) Weight stably at or below 190.



I've tapped 189.5 and am in the bouncing zone of 190 and 190.5, so I'm calling this met quite satisfactorily.

As I've mentioned before, I weigh daily. My normal pattern is a sudden drop to a new low, a bounce back up maybe just under my prior range, then a gradual drop until I'm stably at the new low. I'm so used to it, I don't think twice as long as my trend line doesn't go flat more than a week. For fun, here's my chart from the other site I log my weight on (https://www.fourmilab.ch/cgi-bin/HackDiet
).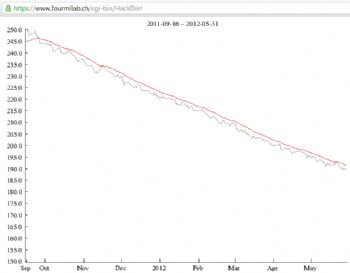 The gray line bouncing up and down is daily weigh-ins. The red line is the smoothed trend line that I mentally go by when deciding if I need to make corrections. The bottom horizontal is set to 150 pounds. That's just below the 155 to 160 I'm aiming for to give an idea of the total range of change.

2) First chapter of The Spark read.



The way I am with books, I've actually read it through completely, including the appendices.

I've actually set The Spark aside for now because of the way I very thoroughly went through the Spark Diet Stages (I did blogs on them). I may come back to it at a later point, but I am working slowly through exercises in 7 Habits that I feel are more applicable to the far broader life changes I'm making.

Finances are well under way, health and fitness are now well under way, but one thing I'm realizing is that while I'm doing good with the moderate goals - I'm lacking the biggest pictures. I don't have "dreams". I have comfortable goals. I don't have a vision statement / mission statement of what I want my life to mean. I have a strong ethical sense and idea of where I don't want to be that keeps me off the wrong track. That's what I'm working on now.

3) Begin to clear out old statements.



I've gone through the two boxes in my room that I had in mind. Bank statements and other stuff from 2006 forward have been tossed out, but I did actually hang onto several things that I may need to seek a little financial advice on. Oh, and my divorce papers. The divorce was such a non-event for the most part that I never remember the month and year (Feb 1996). I remember when we married and that we separated for the last time before we'd been married 5 years (Mar 1995, not long after my birthday, I moved out permanently).

Anyway, back to the financial advice comment. I learned recently that there is an actual statute of limitations on debts. The majority of what I owe is from the period of 1991-1996 when I was married to my EX. The Statue of Limitations in CA is at most 10 years for judgments, less for written contracts and open accounts. I need to see an attorney to determine what that means with respect to any remaining obligations - before I toss some of the really old account papers.

4) Sodium intake kept at an average of 2750 or lower for the entire month.



My monthly average as of tonight is 2,102. Quite unexpectedly low, in fact, but I'll take it. My highest day was only a smidge over 3,000, so I think I've pretty well worked out how to keep it in balance day to day.

I'm trying to decide whether to track other nutrients at this point or leave that for another time. Don't think I need to keep this as a goal any more, but I'm leaving sodium tracked so I don't get carried away.

5) Get to bed before 1 am at least 5 nights a week.




Well, did so good on the other four that I can really only laugh at myself on this one.

Seriously ... the first week had one night at 12:45 am and another at 1:00 am exactly, and the rest later. The second week had two nights at a minute or two before 1:00 am and one at 12:48 am. At that point I shook my head and knew it wasn't even worth fighting with for now.

Just watch me. Now that I'm ditching the goal, and it's not a "have to", I'll probably just decide to go to sleep earlier and shut off the laptop and Kindle.

=======================

Summary? Good month.

I've learned there are certain areas I'm nowhere near ready to even consider fighting myself (recipes, bedtime) but none of them are roadblocks. I just had to detour and find other routes.

I definitely have some thoughts for June goals, but I'll leave that for tomorrow's blog as I ponder which ones encourage me most to continue my progress.





Monday, May 28, 2012
As I've mentioned before, one of the books I'm (re)reading at the moment is Stephen Covey's "The 7 Habits of Highly Effective People". The chapter I'm on starts off with an exercise the I've seen in many places and only haphazardly done. I still need to take the real time to do it for this chapter. But, even without doing it fully, it did bring up something really interesting that I think is a very important fact to realize.

The exercise takes many forms, but a simple version:

+++++++++++
Imagine into the future, specifically to the day of your funeral. Imagine watching as the many people you've interacted with in your life enter the room.

Think about the various people who might be attending. Family, close and extended? Friends? Neighbors? Co-workers, bosses, employees? Fellow church-goers or volunteers in causes you worked for, or even people whom you've helped?

Imagine one person from each group (family, friend/acquaintance, work, service) standing up to speak about what sort of individual you were, what made you YOU, special and unique and valued to them.
++++++++++++

The point of the exercise is to uncover the principles, the character traits, by which we inherently desire to define our lives. (And I remember that The Spark also has a chapter in which there's a list of character traits. It's a common enough leadership / motivational action to find the underlying push in our lives.)


Anyway, the interesting thing that put in my mind:

Weight has nothing to do with it. Weight is not a character trait. Weight is not a principle of existence. Truly, NOTHING about the body is. Skinny or fat, short or tall, beautiful or ugly, male or female - what the body was does not define the person nearly as much as what they did while alive.

When we lose someone we loved, we don't spend our time thinking "wow, she was special because she weighed ### pounds." We don't eulogize them saying "I'll always remember the way his gut hung over his belt."

Even U.S. President William Taft, who was known for being obese (though he lost around 80 pounds after leaving the presidency), has that more as a footnote than a statement of his life and who he was. I remember it from the pictures - not because it was part of what we studied about him.

In fact, about the only time someone dead gets "defined" by a body feature is when their actions in life seemed to extend out of that. Perhaps it is when they define themselves by that during life. For example, we know Napoleon was short. But there's millions of short people in history and they aren't all Napoleon. We know he was short because his very behavior and actions were, at least in part, an effort to make up for his height. Had he been average in height, we'd hear more about the other aspects of why he acted as he did.


Then I thought about it from the other side. For those who get completely wrapped up in losing weight, maintaining weight, eating just right, controlling their food and weight to the near exclusion of other things in their lives.

How often, at a funeral, are people talking about how slim or healthy the deceased was? Do we want that to be the focus at ours? "She had an obsession with healthy food and her weight. You couldn't talk about much else with her, but she could give you a great recipe or three for cooking some exotic vegetable." "He ran and lifted weights in his later years. He kept that six-pack in tip-top shape."

I have a feeling most of us would feel a bit under-appreciated if that was all our friends, family, and wider circle of acquaintances could think of to describe us. I know I would.

I don't want to be remembered for the body I occupy in this life. I don't want to be remembered by any physical / material possessions.

I want to be remembered for who I am as a being and what I do, my self and my actions.

Of course, now I really need to do the exercise properly and figure out the principles and character traits that I center my life around. That's why I'm rereading this particular book. I want to grow past the steps I did before half-arsed and really work out my dreams.





Monday, May 28, 2012
I hadn't realized MIB3 was out, so Saturday evening I spontaneously decided to head out and watch it. I also had managed to get all my nutrition in nicely with some calories to spare. So I picked up a child popcorn with butter. I ate less than half of that - but totally enjoyed what I did.

I also picked up Junior Mints. It was pretty funny because I read the nutrition data. Mkay, 16 pieces. I can do that. I counted out 4 and nommed those through the previews. (Is it just me, or do previews really not make the movies look as appealing as they think?) I counted out another 4 and nommed those as the movie was getting started. About halfway through the movie, counted out another 4 and nommed them while closing the box with the idea in my head that a serving was 12 pieces.

When I got home later and went to log it in, that's when I discovered I still had 4 more to eat. Hehe. Delicious!

The movie was as corny as could be expected. It'll be a while before I stop chuckling about all the chocolate milk I've drunk in my life.

Came in nice and clean on my nutrition for Saturday.

Today not so good, but I did it deliberately in the evening. I was fine earlier in the day. Problem #1 was that I had the remaining two servings of those Junior Mints in the morning. That chewed up a chunk of the day's calories without providing much nutrition. Even so, I had other things that fit in with it and was cleanly in range. Problem #2 was that I ended last week with a higher deficit than planned (was 400+ over my planned Fitness calories burned - got the little warning). And I was feeling that with a bit of hunger.

So I packed a few bars as I headed off to the laundromat for a couple hours. I could have packed just one and been fine, but made the choice to pack three - one fruit bar that I know usually isn't very filling and two of a new natural granola bar I picked up with a coupon to try. Sadly, not at all enamored of it. Almond honey, but I really don't taste those - it's just a sticky and chewy bar.

I ate all three and while I feel fed, my tongue is still wanting something. Not going to be buying those granola bars again.





Thursday, May 24, 2012
I'm definitely not one to buy into superstitions. This doesn't mean I have no belief in what might be outside of our ability to measure, but it does mean I won't be found knocking on wood, avoiding black cats or tossing salt over my shoulder.

Now, that said, one superstition I learned about from my EX's family was about palms itching. If the left palm itches, some expense is about to come up - you'll be paying out money. I've since heard others say you have to avoid scratching it. If the right palm itches, some money will soon be coming in.

Even if I don't think there's anything to it, a few days ago my right palm was itching. Today I was going through my budget (the site I track my accounts on had a glitch a few days ago and I'm having to fix duplicates and wrong payees). In the process, I noticed a charge near the beginning of the month. Last month the same company double-charged me. So 30 days ago I filed the paperwork to get a refund of the double charge that was done against my card ... and their email confirmation said I should see the refund "within 30 days". So off went an email to them with their confirmation attached to make sure it happens properly.

Do I think there's any connection? No, not at all. However, I do think that having the idea in my head about money led me to looking at my budget which led to me remembering the money owed me.

Of course, those very sorts of coincidences are exactly why people end up with all sorts of good luck rituals and superstitions. Silly superstitions.



First Page
1
2
3
4
5
6
7
8
9
10
11
12
13
14
15
16
17
18
19
20
21
22
23
24
25
26
27
28
29
30
31
32
33 34 35 36 37 38 39 40 41 42 43 44 45 46 47 48 49 50 51 52 53 54 55 56 57 58 59 60 61 62 63 64 65 66 67 68 69 70 71 72 73 74 75 Last Page

Get An Email Alert Each Time BLUE42DOWN Posts