| | |
| --- | --- |
| | BLUE42DOWN's Recent Blog Entries |


Monday, May 21, 2012
Last night got a bit too late getting caught up on statuses and SparkFriend's blogs, so I didn't get this written earlier. I've been thinking lately about how different my workouts are than I originally had planned and how much I'm enjoying them.

It's funny because it doesn't really feel like all that much when I'm doing it routinely, but whenever I go to mention the gym to others, it sounds like a lot more. I'm also not "consistent" in the sense of always doing the same things. If I can't do my ST on a scheduled day, I just shift it a day later, keeping them alternating days, then get it back on the normal day the next week. With my cardio only days, at least two are "push" days and up to two are "rest" days.

On push days I try to really challenge myself. I might try a minute of a much higher level or five minutes of the next level up, I might go a full 60 minutes. I might increase my strides per minute. On rest days I keep it low and steady, enough to keep my heart-rate above the 60% point, but relaxed. Which days are which is really dependent on how I feel as I get going.

+++++++++++++++

Here's my week in workouts:

Monday, Wednesday, Friday
=========================
Cardio - 30 minutes
ST (weights) - 60+ minutes
Cardio - 15+ minutes
Cooldown - 5 minutes
Crunches - 10 minutes
Stretches - 10-15 minutes

Tuesday, Thursday, Saturday, Sunday
==========================
Cardio - 40+ minutes
Cooldown - 5 minutes
Stretches - 10-15 minutes


*Cardio* can be treadmill, recumbent bike, stationary bike (rare), straight elliptical, or elliptical with incline. Treadmill is usually faster than 17 min/mile, sometimes with 5% incline. Recumbent bike is mostly about upping the level of resistance. Ditto for stationary bike, but I use that rarely as posture and seat just don't jive for me well. Straight elliptical is one I don't use much any more - more than 20 minutes usually has my feet tingling - but it's good for some quick cardio to really get my heart going. Elliptical with incline has become my favorite, but I swap around regularly just so I don't get too efficient on any one machine.

The gym has four other cardio machines I have not tried yet. There's the rower. Just one, which amuses me because some twenty years ago the gym I belonged to had an entire line of them and with much more sophisticated monitors. Ah, how things change. There's the ergometer. I think that's the name. It's the hand-bike machine - this one with an adjustable seat for position. There's a variant on the recumbent bike with moving arms similar to the straight elliptical. I had tried that once, but the heart-rate monitor on it wasn't working, so I gave up at the time. And there's the stair-masters. Those look seriously daunting, but at some point I'll probably get on one for the glute workout. Probably when I'm much more sure of my knees.


*Cooldown* is on the same machine, just slowing down, lowering intensity, getting my heartrate back down. Not counted time, but I also do sometimes walk around to my next activity by the long route - sometimes looping an area slowly.


*Strength Training (ST)* involves a variety of the weight machines. This is the big reason I ultimately went for a gym membership. Buying dumbbells was an original thought, but in the long run I would have more clutter in my room as I had to graduate to heavier ones. (And I'm lousy at reselling stuff, so it would collect dust until I dropped it in a dumpster - what a waste.) I discovered that I could pay two years in advance, have the membership fee waived, and the per month cost lower, so the price was quite right.

I've developed my own full-body routine by trying to pick one exercise per major muscle. Originally I started with 15 reps as the routine on SP defaulted to 12-15. The brand of machines I like using the most said 10-12 reps. Trying to research, I didn't really find anything definitive saying some number of reps made more sense, so I've stuck with up to 12 reps in 3 sets.

The "up to" has to do with graduating to a new weight amount. When I can do all 3 sets of 12 reps and feel like I could probably move right into another set without much trouble, I go up in weight. Sometimes that means I only manage 6-8 reps in a set. I just do as many as I can. Over time I build back up to doing 12 with some effort and eventually 12 with relative ease.

(More on what exercises after this.)


*Crunches* are mixed in with my stretches. I also do ab machines during the strength training, but add these in because I like the extra core work. I do 3 sets of 15 crunches with my legs up on a stability ball as well as 2 sets of 10-12 obliques - either rolling the ball left and right or doing crunches where I lift left and right.


*Stretches* are something I will not short-change or skip. I credit a lot of the improvement in my foot to learning good stretches for calves and achilles tendon. I usually start with most of the leg stretches, then do my crunches, then do the arm and core stretches. (In fact, I need to see if there are more arm stretches that might be helpful to me.) By the time I finish this whole routine, I usually have a lot of energy and skip up the stairs to the locker room.


Weight Machines:

Seated Bench Press (Pectorals - chest)
Shoulder Press or Lat Machine (Deltoids - shoulders)
Lat Pulldown (Latissimus Dorsi - I call it upper back)
Arm Curls (Biceps)
Arm Extensions (Triceps)
Seated Leg Press (Quads)
Prone Leg Curl (Hamstrings)
Standing Calf Raise (Calves)
Glutes ( =P Butt)
Hip Abductor (Front - Knee Lift)
Thigh Abductors (Inner and Outer Thigh)
Lower Back
Ab Machine
Seated Leg Tuck (Abdominals, does good getting the lower area)

I do swap around a little on which machine I use, with more focus on making sure I target each muscle. I'm thinking to work into the free weight area before the end of the year for at least some things, but will probably pay for a couple of Personal Trainer sessions when I feel ready for that. I'm defining ready as the point I feel I have enough basic strength in both the muscles and the surrounding bones, ligaments, and tendons, to have the control necessary for good form. Weight machines have the benefit that most can force correct form to some degree.


Weights are a fun area in which to really see progress, particularly as I up the weight amount or even just feeling certain ones become easier. The only "annoyance" is that different machines for the same muscle can make a lot of difference in the weight I can lift, so I can't easily compare some.

For example, when I started out, I was doing 15 pounds on biceps and triceps. I got up to 25 pounds on biceps (easy) and 20 pounds on triceps (with a little struggle). Then I switched machines, and on the new machines I can do 35-40 on triceps, but am slowly struggling back to getting 25 on biceps. I know I'm making progress, but it's not a nice linear graph.

Others are more obvious. When I first did the seated leg press, I could only manage about 75 pounds and my knees were cautious at best. The last few times I've done 135 pounds and was still able to do a single set of 5 lunges on each side later (just before stretches) with minimal knee trouble. Similarly, my hamstrings started at 25 pounds and are now at 50 pounds.

+++++++++++++++

When I first started out on SparkPeople, I was mostly walking and doing a list of about 6-8 strength training exercises that I could do at home with body weight only. A few months later I started adding some ankle and wrist weights I had from the past and had done some 5k races. I joined the gym in mid-January and don't regret it one bit because it fits my style of working out.

Long-term I'm not entirely sure what my plan will be. I did pay for 2 years at the gym (in advance avoided the membership fee and gave me a deal I'm happy with), so I know I'll be there until January 2014 for sure. Given that this isn't my first gym membership and I like the routine of it, it may very well last longer. Far better for me than equipment I have to haul around and the variety available ensures I'm not getting into a fitness rut.


I should also mention what the above workout doesn't reflect - a general level of activity the rest of the time. I use public transit - no car. Weekly that means I buy groceries and tote them home. I've weighed myself carrying that and it runs from 30-50 pounds. Weekly I do my laundry which involves carrying the bag of clothes and detergent to the bus stop, from the bus stop to the laundromat, and back home after. That usually weighs around 25-30 pounds. Every workday I carry my gym bag which has 1-2 liters of water, sneakers, and clothes. On Monday morning it also holds the groceries I take to work for the week. Sometimes I don't have to walk very far from the bus stops, a block or so. Other times I miss a bus or take a different transfer and have to walk about 3/4-mile. On Friday I usually head to the bank, which is another 1/2 mile each way of walking. When I go shopping at the Great Mall, there's 2 flights of stairs each way and at least a mile or two of walking. And I still love to walk. See me close to getting bored on a weekend with the weather too nice to sit and read, and I'll just head to the park for a walk.

In other words, I move a lot. They're not workouts, they're not at all focused on fitness. But they are regular parts of my day. I honestly believe a lot of my success thus far comes from not limiting my vision to workouts and meal plans. A healthy life isn't just the 10 minutes or 40 minutes assigned to a workout and the 15-30 minutes of each meal. It is 24 hours of the day. Nor is healthy only physical; it is physical, emotional, mental, and spiritual. Choices I make including what time I go to sleep (*COUGH* er ... definitely not great choices there), how much energy I put into cleaning, using stairs rather than elevators, what I do to fill free time, even who I spend my time with -- all of that has a bearing on how healthy my life is for me.






Sunday, May 20, 2012
So, the mini-ugh first.

Without getting into all the details, BFE (bestest friend ever) and his recent love-of-his-life are having troubles. Problem is ... if they're fighting and not talking, he turns to me both because he's bored and wants someone to talk to (oh, I feel special now) and because he wants someone to complain and rant to and get commiseration from (whoops ... I don't pick sides).

Which means what little conversation we had this evening ended with him logging off.

What little conversation we had before this latest fight of theirs involved his plans for an outing in which I am supposed to go to a bar with them, all of us drink, all of us get drunk, and call that having fun.

Sadly, this even predates her, but it is becoming more noticeable. We're really close friends in some ways, but far too often he just blithely ignores things I consider part of me. It has to be the worst thing for one of my inner demons - the sense that I keep up so many masks that I never let anyone close enough to really see me.

When you look at me
What do you see?
Do you see me
Or do you only see what I want you to see?

I wrote that many many years ago, long before I'd met him. But it's a recurring theme in my life that even with the people who know me best, they still don't really REALLY know me that thoroughly.

*SIGH*

We'll get through it. We've certainly been through a lot already. For now it's just an annoying "UGH" in my life.

====================

Shopping fun? What? Who am I? Okay, okay. So not exactly fun in that sense, but I did get a nice compliment.

Picked up a couple more casual shirts, a couple more workout shirts and pants, and bras.

Ah, back to Lane Bryant to buy more bras.



As expected, my cup size ain't goin' nowhere, but my band size is down another 3 inches. Yeesh. (VERY annoying too. Only some of their styles go this low in band size. And stores that carry the smaller band size almost never carry the cup size. So fairly soon I am likely to be forced to head online in a hunt for good fits.)

So, you know how quite a few stores offer a discount if you apply for (or are accepted for) one of their store cards? I have not had one approve me in years because I had a delinquent student loan from the late 80s in garnishment and my employer was way late on payments. The garnishment stopped in September 2011, my final payment went to them in March 2012. I figured I'd still get turned down.





Approved. For just barely enough to cover my purchases that day after the discounts. Amazing. Of course, I immediately paid the balance on the card while there, too. It's not like I actually planned for or expected to be approved. But it is a very good thing. Why? To rebuild my credit requires having credit. It may be a minor store card, but that's more than having nothing but the student loan show for the next seven years.

So, in talking to the cashier after the approval, I said something to the effect of how I wished their shirts and pants appealed to me more. She just boggled at me and said she didn't even think they had anything small enough for me to wear. I laughed and told her I'd been in 26/28 back in September, and what I had on were 16s from Torrid, but thank you!





So, two parts fun out of that shopping trip.

It was also a reminder that I am wearing XL from normal stores for my workout clothes and the shirts. (Though I do have to be picky about shirts. An XL with buttons down the front will NOT work, nor will an XL in a fabric with no stretch or give in the chest. Oy.) I'm comfortably in 16s from Torrid. One more size down is 14s ... and that actually means back to normal stores for everything but bras. *BOGGLES*

=======================

I was going to make it part of this blog, but deciding to write about it tomorrow. Working those workouts. I've been thinking about my mindset about workouts and want to write out what I do, compare back to pre-gym and when I first started at the gym. So tomorrow sometime I'll do that.

In the meantime, I will mention this. Memorial Day (US) is coming up. My gym has flyers up that they'll only be open 8am to 2pm that day. I happen to think I'll be working normal business hours.

Does that derail me? Not at all.

I immediately thought about my options. I could put in a request to take the day off, whether paid or unpaid. Nah, that's being silly. It's sunny later into the evening and my foot has been fine with 5ks on the treadmill. I can go walk the creek trail after work. Then I thought about my roller blades tucked away in a drawer and the fact I still haven't gone ice-skating and the skates are sitting in my room. I have PLENTY of options.

I never once thought of it as a day I wouldn't be able to do a workout. I simply redirected my thoughts and energy toward finding alternative solutions.

I just need to apply that "just do it" mentality to certain other areas in my life (non-food/fitness areas).

=======================

Oh, and I will end with a link to a SparkFriend's blog that I just loved reading today. It fits into the idea of redirecting thoughts and energy, though in her case it's about stressful moments:

www.sparkpeople.com/mypage_public_jo
urnal_individual.asp?blog_id=4889162





Friday, May 18, 2012
Moving right along, my eighth month of healthier living sees me at 191.5 pounds. Having started at 250.5 pounds, that is 59 pounds (as I called it in my previous blog - on the cusp of 60 pounds). Pretty crazy to realize my original goal of 160 pounds is only 31.5 pounds away. That means I'm coming right up on being about 2/3rds done with that small part of getting fit.

I've posted it on my SparkPage as per usual, but here's the comparison:
Tonight at 191.5 pounds


Starting at 250.5 pounds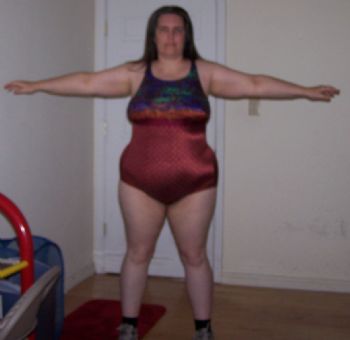 I remember how those first few months it was soooooo hard to see any change, but now it's hard to find much that has stayed the same.

And having talked about my weights in many years past - here's a few oldies:

This is me at 16 or 17. I'd won a free portrait at the county fair. The curl in my hair is the remnants of one of my step-mother's perm attacks, mostly grown out.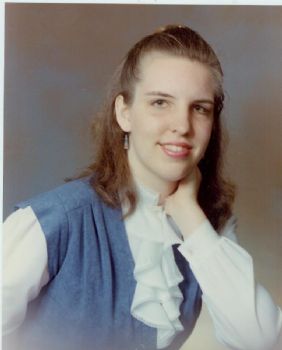 This is me at 22 with my DS (maybe a month or so?) I guess it's not really visible, but the jumpsuit I have on was pre-maternity and looks loose on me there.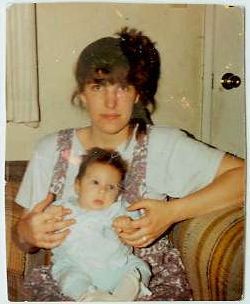 A few years later. Yes, he's quite the handsome little fellow. Again, not easy to tell due to my position, but this is my chubby (165-170) range.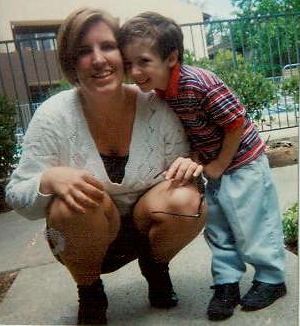 And one at my higher weights (185, perhaps). The key thing I remember was my neck getting to the point the smaller necklaces acted like chokers. I'm definitely not comfortable here, but it had little to do with my weight. Instead, the dress and such had me feeling "matronly" and I was in my mid-20s.



I honestly have no idea if I even have pictures of me during the majority of the time I deliberately gained. I never was comfortable in pictures, even when I was scrawny from growing inches overnight it seemed. The portrait above is one of the rare times I really liked the look in a picture, and even now looking at it, I notice things like the lipstick color not going with my skin instead of me. (Hehe, well I do still get a kick out of my crooked smile. Try as I might, my lips lift different on each side, more on the right.)





Thursday, May 17, 2012
I'll be taking and putting up my 8-months along picture tonight after I get home from the gym. Tempted as I may be, I won't flex these biceps because then the pictures wouldn't match.





Having gotten close to 190, I'm suddenly thinking way back and remembering little things. See, up until a little over a dozen years ago when I made the screwy decision to gain weight, my "I'll never get heavier than" number was 200.

I was 150 in my junior year of high school, without any real excess on me. (I might edit this blog or add another with some really old pictures of me, in fact.) The reason I remember 150 so well was my driver's ed teacher talked about blood alcohol levels and the effect of our weight on how much we could drink and be in range. He asked if anyone weighed 150 and I answered that I did. Sure, there were some who were shocked. Girls weren't supposed to be willing to admit how much they weighed, for one, but I wasn't chubby at all and I really truly had no consideration about my weight at that point.

I did gain weight once I was living on my own. I'm sure the 32-64 oz of soda amongst other things helped. Not a lot of weight, though. I remember 160-165 being my usual range and mostly be annoyed by the small bulge of my belly. Amusingly, this was the only time I did things like wear those shape-enhancing girdle contraptions or control-top pantyhose.

The next time I remember actually having a known number was late 1988. I had done the ASVAB (Armed Services Vocational Aptitude Battery) because I really didn't know what sort of career path I wanted to take and figured that a test that told me where my aptitudes were could point me in the right direction. Going over the results, I could choose any branch, any field (so much for narrowing my choices) ... but I was 5-10 pounds over their top limit for my height and would need to lose that to join. Turns out I was a couple months pregnant already at that point but didn't know yet. I don't remember the number, but I think it was 175.

The next number was the day before DDb was born (that same first pregnancy). I was two weeks late, she was definitely big, and they were talking about inducing labor. I weighed in at just under 200 (198 or 199). I think this is where my stated limit of 200 came from. If an 8 pound 15 ounce baby couldn't knock me over 200, I could definitely get active or eat better to keep my weight below it otherwise.

From the time I met my EX (probably around 165) until we were divorced (probably around 180-185), my weight mostly fluctuated depending on such things as when I had a car and when I didn't, whether I belonged to a gym or had time to take off and go hiking, pregnancy gains and losses, and the like.

There were a few times in those years that I considered diets or other things, but I'm a skeptic - particularly of any form of marketing. The moment any ad or food product included "along with a healthy diet and exercise", I refused to consider it. I already knew that healthy diet and exercise would help me drop the weight, so what benefit was the product? If the product actually DID anything, I wouldn't need to change how I eat or work out. (Thankfully I did listen enough to improve what I ate and work out more ... for a while each time. Never a diet, but enough healthier behavior to stay a good ways under 200.)





Honestly, it was that stubborn streak of mine and attitude about advertising "promises" that were usually lies that saved me from the Yo-Yo dieting nightmare.

After making my screwy decision, I gradually gained over the years - seeing 195, passing 200, seeing 210 for a while, passing 225 and sitting at 230, eventually hitting my high of 250.5 when I started here. I weighed periodically, and recorded them over the years in various places without really worrying about the number.

I've mentioned it elsewhere, but I pulled out my state ID card the other day - I'm the loon who lied UP about my weight. It says Wt: 255. I never weighed that much. I got this ID over 6 years ago - when I was more commonly in the 225 range. By some old records, I was fairly steady around 235 - 240 in late 2010 to early 2011.


Soooooo, what I've been realizing is that I'm actually below the Start Point of my deliberate gain now. I see myself in the mirror and I'm seeing two things at once.

One is how much slimmer I look. Side views, front-on views. I definitely have less gut and less hips. Those are two that are super obvious. Even away from the mirror I notice little things. My DDa and I were noticing that I look like I have bonier wrists than her - even though I'm carrying more fat. It even feels bonier, like a thin layer of skin wrapped around there and nothing under but bone. Shaving my legs gives me a lot of visual reminders of how they're changing. I laugh to say I can actually FIND my hip bones now. Yes, they were there before but under a thick enough layer I felt like I was digging around to decide where my hips where. They're still under some fat, but it doesn't take much to find the edge.

The other is how far I still have to go. I'm at the upper end of what used to be my "I'm fat" compared to my "I'm normal, if a little chubby", and I'm seeing and remembering that. This is a weight that would, in the far distant past, have me walking more and eating less sweets - my standard of non-diet normal behavior when I saw my weight creep up. One of the things I mentioned above had recently come to mind - that it was only when I was thinner that I used body-shaping clothing. I have no real desire to right now, but it came to mind seeing a body in the mirror that in the past I would have squeezed into smaller, tighter clothes.


IMPORTANT: No, I don't feel bad seeing that I still have a "long" ways to go. Self-esteem or body image have never really been a problem. Even the girdles were more about fitting into existing clothes than looking skinnier. All I'm talking about here is seeing things like the roll that shows up if I slouch or feeling the extra padding over my hip bones or jiggling the "bat wings" while flexing the bicep. (That last makes me chuckle. It will eventually go away, but having both tickles my funny bone.)


This is ME on the cusp of 60 pounds down.





Wednesday, May 16, 2012
As I'd mentioned in another blog, many many years ago (two decades or thereabouts) I had read "The 7 Habits of Highly Effective People". I'd gone to a seminar by the same name. I had purchased audio cassettes that I listened to a couple of times. I even had day-planners for a few years.

With the Kindle Fire, that is the first and only book I've bought so far.

Covey wasn't the only leadership and motivational speaker/writer I read back then. I remember Anthony Robbins as well as seminars on "How to Get Along with Others" and similar topics. I even got involved with a group around 15 years ago that is allegedly very "self-help" / "self-improvement" oriented. Allegedly, because they really get a bad rap from many and probably deserve most of it - even if some of the teachings can legitimately help people.

Why bring that up when my title only mentions The Spark?

Well, early on in his story, Chris talks about how he began to read goal-setting and leadership books. When I first read that, I just went on past without really thinking about it. It was just part of the narrative.

Then I started to recognize, in spite of the different words, very similar concepts. Things I'd learned, some even applied, over the last couple decades ... are also part of The Spark.

And then Chris brings up Victor Frankl's story. Victor Frankl was a survivor of the Nazi concentration camps - who during his time as a prisoner found that his circumstances didn't have to define him, that he could rise above them. Covey also refers to his story, with a little different slant.

Suddenly it clicked. I don't know or say that Chris specifically read 7 Habits as one of those leadership books. He may have somehow managed to miss it amongst the others he read and found Frankl's book via his own path. But what clicked is that certain core truths will continue to pop up in multiple places.

Underlying ANY effort we make to improve our lives are some very basic rules that can be applied to any other area of our life.

So by the time I was hitting Chapter 3 or Chapter 4, I was having some inner dialogues. Something would be said and I'd be thinking "Yeah, okay. I already do that. I did it before I read it here or on the website."


I had to shake myself out of that. Ever heard the phrase "There's nothing new under the sun"? Well, it's wrong. The moon may look like the moon every time someone takes a photograph of it, but every photo of it is unique. Just because we know something already does not mean we know all we could about it or know it so well we can't learn something new from the different perspective from which it is approached.

In fact, using Frankl as the proof of that:

Covey looks on Frankl's mental shift as a prisoner, the point when he realized that no matter WHAT was done to him, he remained who he was and decided his response to that.

Chris looks on Frankl's ability to dream of the future, the fact that no matter his circumstances at the time, he could think forward to teaching others based on his experiences.

Both presumably read the same exact book and got something unique from it. In fact, if any of you read The Spark or The 7 Habits of Highly Effective People, you may find that your take on what Chris or Covey got out of Frankl's story differs from mine. If I were to buy Frank's books and read them, I might find something else far more enlightening about his experiences. In fact, all of us would probably have a different take than Frankl himself did.

*BONK* (me knocking myself on the head for being a dolt)

Just because I already do certain things and know certain things does not mean there is nothing new to be learned. There is plenty to be learned. Heck, why would I have bought a book I read more than once in the past if I could get nothing new from it?

As Jerome Merlau (JMERLAU) said in his blog on the Daily Spark, we are an Experiment of One.

That goes far beyond experimenting with how much food and how much exercise to get our weight to drop. Every aspect of our life can be considered an ongoing experiment. Having trouble in a relationship with someone? Want to increase your net worth? Need a career change? Getting sick more often than you want? Feeling lost, like you're missing some greater meaning? Collect data to look clearly at the current status and the things affecting it, research the existing knowledge in the area, and make small experimental adjustments.

Well, reading all these books is my way of researching the existing knowledge. Commonly agreed on principles will show up - and hearing them from different perspectives provides more depth to my understanding. (I'm the same way looking up word definitions. I like using 2-3 dictionaries, researching etymologies - word roots - and really getting the deeper knowledge of how and why a word means what it does.)

Long story short (isn't it already too late for that?), I will certainly continue reading both The Spark and The 7 Habits of Highly Effective People, and even have my eye on one of Frankl's books. I wouldn't want to miss something important just because I got the boneheaded idea I already knew it all.



First Page
1
2
3
4
5
6
7
8
9
10
11
12
13
14
15
16
17
18
19
20
21
22
23
24
25
26
27
28
29
30
31
32
33
34 35 36 37 38 39 40 41 42 43 44 45 46 47 48 49 50 51 52 53 54 55 56 57 58 59 60 61 62 63 64 65 66 67 68 69 70 71 72 73 74 75 Last Page

Get An Email Alert Each Time BLUE42DOWN Posts