| | |
| --- | --- |
| | BLUE42DOWN's Recent Blog Entries |


Tuesday, May 01, 2012
Another month bites the dust, and another month down, and another month down, another month bites the dust. Time to take a look at how I did on my goals for April:

1) Weight stably at or below 195.
** Not quite. I saw 194.5 one day, then had Chinese with my daughter unexpectedly that very night. Chose to thoroughly indulge my chocolate love with a dessert that was amazing. So yesterday and today have been 195.5 - which is totally fine with me.

2) Sodium intake kept below 2800 at least 90% of the month, average ideally in the 1800-2200 range.
** 6 days out of 30 were over, so 80% were below. Not as good as I'd hoped for, but only one of those was way over and several days were in the 1600-1800 range. Plus the overall trend since the beginning of the month is downward. I'm improving this steadily.

3) Eat at least 1 veggie a day - baby carrots, veggie platter, stuff like that to work for snacks so I'm not procrastinating.



** This I actually did accomplish. Having the baby carrots and pre-cut celery at work for afternoon snacks made all the difference in planning. I'd like to vary it up more, and this week proved that sometimes I need to pay closer attention to the pre-cut food (the celery was bad).

4) April 1st do fitness testing and measurements to compare against 1 January.



** Done and posted in a blog. Definitely can see my progress, which is nice. I do love challenging myself in fitness.

5) Log my sleeping habits. Nowhere near ready to change, but it's time to track it.
** Didn't actually start this until the 12th. Originally I was going to do it on SparkPeople but flat-out could not figure out an easy way. Eventually made a new Calendar on Google and have been recording it there.
** I already knew this was an area I need to seriously work on. I got to sleep before 1 am ... once in three weeks. Some nights I slept through, some I woke up a couple times (always back to sleep fast, whether it's a potty need or just awake and roll over), but only three nights did I get 8 hours or more. The rest bounced between 5 and 7.

So 2/5 goals met completely, and all of the remaining 3 done at least satisfactorily. None too shabby at all.

Oh, and I somehow had the idea in my head that my Summer goal was one of April's:

1) Replace all my old shirts.



** Given how few shirts I had to begin with, this can be considered done already. (Seriously? I had one shirt for each day at work and a couple of ratty t-shirts for the weekends and a workout shirt.) Of course, I will end up replacing these - but for now I actually have a "wardrobe" of shirts.
First two bought on trip with daughter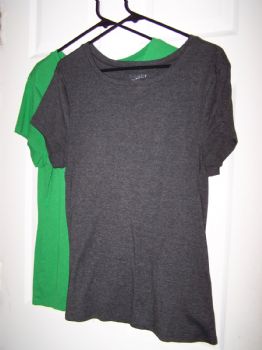 Next four (my "easter egg colors"):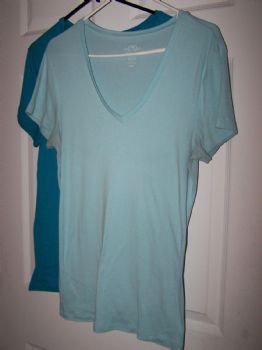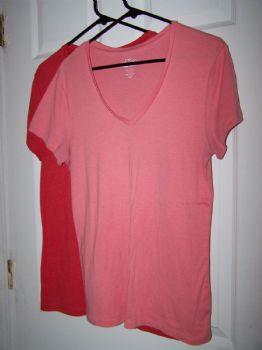 Bought this weekend: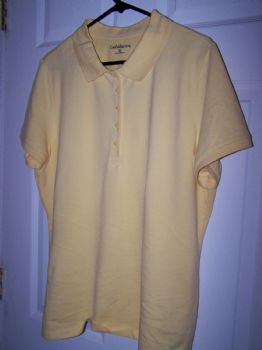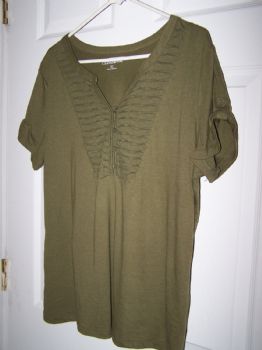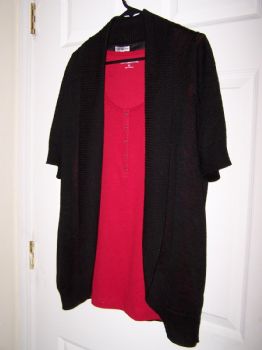 In looking at them and considering how my shopping went, I've realized I have something I'm calling negative style. My daughter is taking an art class and working on negative space - in which the background is solidly black and the item of interest is the "uncolored" area. My negative style is not defined by me having a clear idea what I want to look like; it is defined by the multitude of shirts I look at and go "ewwww, no way" and keep looking.

========================

Oh, so time to set my May goals.

1) Weight stably at or below 190.
2) First chapter of The Spark read.
3) Begin to clear out old statements. I have two boxes in my room and a filing cabinet in storage. I still have copies of 1991-1993 taxes, when my kiddos were babies. WHY!?
4) Sodium intake kept at an average of 2750 or lower for the entire month.
5) Get to bed before 1 am at least 5 nights a week.





Friday, April 27, 2012
I always loved math. I love tinkering with numbers and figuring out interactions between them.

Some numbers we often know if we're tracking our food:

Fat gram = 9 calories
Protein gram = 4 calories
Carbohydrate gram = 4 calories

All good. But one day I was trying to read a nutrition label that had gotten creased at the carbohydrate line and was nearly impossible to decipher. It wasn't until that day (only a few months ago) that I made the wild connection to the total calories in the food.

(Fat g * 9) + (Protein g * 4) + (Carb g * 4) = Total calories.

Well, close enough anyway. It's not exact because a lot of rounding goes on. The listed gram of something could be 0.5 grams or 1.49 grams or exactly a gram. But that variance is no more than 2 calories for protein and carbohydrates and 4.5 calories for fat, so it's close enough.

I have no idea how I went 42 years without catching on to that little fact.

=========================

The biggest number most of us deal with in one way or another is our calorie range. There are sometimes the craziest ideas about it - such as the idea that eating 400 over the range one day a week would be why we'd gain a pound or two.

I wanted to give my numbers and provide a general idea of my thinking when it comes to what I eat (and the exercise I do). And I do pull out a calculator when doing these. I could do the math in my head, but it's faster and less prone to error.

1) The basic information:

* I'm female.
* I'm 43 years old.
* I am 5' 7.75" (or 172 cm)
* I currently weigh 196.5 (or 89.1 kg).

The formula commonly used is:
BMR = 655 + ( 9.6 x weight in kilos ) + ( 1.8 x height in cm ) - ( 4.7 x age in years )

So, for me:
BMR = 655 + ( 9.6 x 89.1 ) + ( 1.8 x 172 ) - ( 4.7 x 43 )
BMR = 655 + 855.36 + 309.6 - 202.1
BMR = 1617.86

That's how many calories I would need to eat if I were bed-bound to maintain my weight and my body.

2) I multiply that by 1.2 to find out how much I burn with a sedentary life-style. Now, technically I could call myself moderately active or very active, given that I'm at the gym 7 days a week and never do less than 40 minutes of cardio. BUT I prefer to calculate for sedentary and then later adjust for the specific activity. It's too easy to err upward in what we consider our activity level.

BMR x 1.2 = 1941.432

So in order to maintain my weight with no exercise at all, just routine daily activity, that's how much I'd need to eat.

3) I add in the exercise I do. According to SparkPeople's calorie counters, I burn around 4200 a week. I divide that by 7 days in a week to get my daily burn of 600 calories. That gets added directly to the BMR x 1.2 number for my total daily calorie usage:

Daily Calories used = 1941.432 + 600 = 2541.432

That's how much I could eat to maintain, assuming all the numbers are spot-on accurate.

4) I need to create a deficit - eat less calories than I'm using so that my body goes to the fat reserves for energy needs. I'm in no hurry, so I believe I have my goal set to 1 pound a week. That's 3500 calories weekly, which is then divided by 7 days in a week to get a 500 calorie deficit:

Recommended Daily Calories = 2541.432 - 500 = 2041.432

Which is fairly on target with the range SparkPeople gives me (1810 - 2160, with 2060 being the rounded amount that is my target).

==========================

This is all fine and dandy, but it makes at least two assumptions that are not necessarily correct:

- That the BMR formula is exact. It isn't. In fact, there's a newer formula that is supposedly 5% more accurate and two other formulas based on lean body mass rather than total weight. The latter are considered likely to be more accurate for athletes than the original formulas.

- That the calories burned in activity is accurate. Not by a long shot. The simplest example to me is that I get the same calorie burn on SparkPeople for 40 minutes on the elliptical without any consideration for the incline and resistance I use. So whether I'm working easy at 1 resistance or at my top cardio HeartRate at 5 resistance, there's a set number of calories I've supposedly burned.

Oh, and one other assumption that isn't accurate, but I allow for - I am often more active than sedentary during the times I am not at the gym. Sure, I sit at work. But I get up and go to the kitchen for my snacks, down the hall for the restroom, climb the stairs to get to the office, walk from the bus stops - sometimes the near one, sometimes 3/4 mile. Sure there are nights I get home and settle down with my laptop. But there are days I go to the park or the mall or somewhere just to get out and walk over a mile - just because, some more actively than others.

How do I allow for it? Well, let's take a look at my calorie intake the last 7 days:

Fri = 2008
Sat = 2151
Sun = 1857
Mon = 2149
Tue = 2582
Wed = 1959
Thur = 2050
==========
Sum = 14756
Avg = 2108

I don't deliberately zig-zag my calories in like that - I just eat per plan, but only to meet hunger. Some days I'm just not as hungry. Other days I'm hungrier. And then there's the limited days I do something like have dinner with my daughter or splurge on a treat. In fact, until typing it up here I hadn't added the numbers up like that or even looked at them closely beyond knowing that one day was a good bit over.

Now, about that one "way over" day. Notice that number - 2582? I found it rather amusing that I was only 40 calories over my calculated Daily Calories Burned. That's right. One day out of seven was at a maintenance level, while the rest were at a deficit. That's pretty typical for the days I have "too much" - without counting in advance, I naturally seem to eat in that range. Looking at a report all the way back to when I started, I have two days that hit near 3300, both back in my learning days (learning how many calories things had), and never more than 2600 since on those days once a week or less that I eat out special.

=======================

Reminding me of the last little bit of math I tend to do - my height won't change, my age won't change more than 1, so the only difference in my current calorie range and my eventual maintenance range is ( 9.6 x weight difference). My approximated goal weight weight is 160 pounds or 72.6 kg. The difference between current and goal is 89.1 - 72.6 = 16.5. So, ( 9.6 x 16.5 ) = 158.4.

That's all.

My BMR will only shift by around 150 calories - or 190 adjusting for sedentary activity level. Since I currently have the 500 deficit, I could actually end up eating about 300 MORE calories than I do now. It's all in speculative fun, of course, but it's reassuring to see that I won't have any drastic changes to make.





Wednesday, April 25, 2012
Today's health news article for me was certainly of interest. ( www.sparkpeople.com/resource/health_
news_detail.asp?health_day=663963 )

I know. Sometimes I can seem to be ridiculously healthy. And even I don't think of tinnitus as a "disease" - though the article called it Ringing Ear Disease. O_o I sit here typing with them ringing pretty much non-stop and realize that it just doesn't bother me as much as it seems to affect some people.

I've had tinnitus for many many years now. The vast majority of the time it is something that I tune out and ignore. I would notice it most doing things like driving up into the hills at night to look at the stars. Without the constant drone of city noise, suddenly all I can hear is the high pitched whine. (And the fact that was back when I was driving means I've had it at least a decade - I lost my car at least 7 years ago.)

I'm actually tone deaf just below the range the tinnitus registers at, giving me slight issues hearing certain people talking. I can hear in a range slightly higher which is annoying. I'm one of those people who can hear when the TV or a monitor is on. And being just higher then my tinnitus, the two sounds mix with each other.

I figure I know what caused mine - years of excessively loud stereos in cars, years in nightclubs next to big speakers, years of Walkmans and MP3 players at too high volumes on songs I love. So I don't have any feeling of "It's not fair." But I did get curious if there was anything to be done about it.

Tinnitus is actually the reason I went and checked my blood pressure for the first time - not weight. In reading, I learned that tinnitus can be caused by other things than excessive exposure to loud noises. One of those is a symptom of high blood pressure. So off I went to the local pharmacy / store that has a self-use blood pressure machine. Normal. Whew!

I didn't bother to research it further.

So checking out the article above and the link to ATA (American Tinnitus Association) with tips was actually rather interesting and informative. I had no idea that my typical 6 hour nights of sleep might have an impact on the tinnitus - that getting more sleep could help in that area too. Add that to my list of reasons to get my bedtime earlier one of these days (yeah, yeah, I'm procrastinating on that one).

Other things I've done or am doing also seem to be positive. I'm not a regular alcohol drinker. (While not a teetotaler, I drink maybe once a year if it's part of a social situation. I only drink alcohol for flavor anyway, and food is so much better.) I've reduced a lot of stress-factors in my life. I'm slowly working my sodium intake down. I avoid artificial sweeteners in most of my foods. I keep my ears cleaned out. I have never smoked and I don't drink coffee or soda, so no caffeine.

None of those are things I did for my ears and tinnitus, but apparently they can be factors to aggravate the tinnitus (? make it louder, perhaps?)

Ultimately, of the limited health issues I have, tinnitus isn't the one I seriously wish there were a cure for. Would be nice, but I can live without.

The one I hate hate hate hate and have yet to figure out why everything says it is "incurable" ... cold sores. Ugh. (I actually read medical stuff trying to figure out why some virii are considered incurable - and others have millions put into finding a cure. Still don't know yet.)






Tuesday, April 24, 2012
Most likely not, but a good reminder that I do have that little insecure voice in my head somewhere. Thankfully she's never been strong enough to overwhelm me.

This came about tonight while working out at the gym. A group of three or four guys were walking from one area to another and stopped almost immediately behind me, started speaking in a language I don't know and laughed.

My very first thought was "What? Is my butt jiggling or something?" (And, yes, on occasion I wonder what I look like from behind in the gym, or what I look like through other's eyes.)

My second thought was "Why on earth would they care enough about that to stop, talk and laugh? Yeesh, I can't believe I'd even think or concern myself with that."

What I really liked, though, was the third thought. "It doesn't matter either way because I am doing exactly what I need to be doing to make it better!"








Sunday, April 22, 2012
First off, the elliptical.

I remember the first time I set foot on one. I asked one of the gym employees to show me how to get started. I wasn't even sure if it was going to work for me because of knees and ankles, but figured I would give it a try as a means of not impacting my foot.

I did this at the end of an evening's workout, so I was already running low on energy. I lasted all of five minutes on a cardio program that did nothing more than up the resistance to get my heartrate to the right range. And man was it up to that 142 with just the slightest amount of resistance. Then it did a 3 minute cooldown that made me laugh inside because my heart would not drop below about 128.

(For reference: I am 43 so my max heart rate is 220-43=177. Target Heart Rate range of 65% to 85% comes to 115 to 150. I think most of the machines use 80% which is 141.6 or 142.)

I tried again a couple times that week and was sooo proud when I managed to keep going for a whole 12 minutes plus the 3 minutes cooldown, though I was still having trouble going easy and slow enough "cooling down" for it to not still be a workout.

Some bit back I'd swapped from the elliptical that is just one height to one that adjusts incline. Part of the reason for that was because of the way my feet would start going to sleep within 15 minutes on the "flat" version. I laced my shoes looser, move my feet more, and swapped to the machine with incline - and the combination helped.

This machine has various programs for varying the incline through the workout and does a 5 minute cooldown. I got into the habit of doing 15 minutes plus 5 minutes cooldown after my weight training, having done 30 minutes on the recumbent bike before.

In the last few weeks I've been pushing myself more on both the recumbent bike and the elliptical. I've gone as long as 50 or 55 minutes (including the cooldown) on the elliptical. I started bumping up the resistance from 1 to 3 then 4. I swapped from a hill program that was milder (went between 1 and 16 inclines) to one that has a "big" hill topping out at incline of 20. I've gone from 110 strides per minute to mostly holding 120 strides consistently to pushing for stretches of 130 strides per minute and/or doing some arm moves for added cardio work.

It's hard to believe stepping on today and doing a 10 minute warmup (did the lower hill program and skipped the cooldown), stretching my calves, then doing a 40 minute program of the big hill at resistance of 5, keeping at 130 strides per minute for at least 3/4 of that, then 5 minutes of cooldown during which my heart rate quickly got down to 112, how far I've come.

I don't do this to burn more calories, even if that is an effect. I don't do this so I can eat more. I don't do this so the pounds will melt off faster.

No, I do this because it shows me just how capable my body is. I do it because it makes my legs and glutes feel strong and able. I do it because I can set tiny goals for how to up the workout the next time and do it. I ~LOVE~ the mental high from exceeding my own past ability.

======================

Now, a funny thing today happened while I was doing my elliptical time. Two girls came out from another area. One got on a treadmill and was sort of slowly increasing the walking speed. The other hung around a little then got on an elliptical but was going about as slow as one could go. At this point one of the personal trainers came out of where they'd been and made the one on the elliptical get on another treadmill.

Best I could tell, this was part of their session with him. He was trying to get them both to go a decent speed on the treadmill. (And I don't mean full out running. I mean that they were both walking well under 4 mph and from what he was saying, he wanted them running or jogging.)

At least one was complaining (even if in fun) and turning the speed back down every time he'd reach over to speed it up.

I had to really shake my head and laugh inside. Some people will pay serious money to have a trainer push them. (And, really? I've seen this guy with another group of four girls who work - he pushes just as hard as they need - varying it by their ability. But he does push.) If I was spending that money, I would NOT be complaining or saying I couldn't do something. I'd be at least putting my all into doing it and letting my body limit me rather than my mind.

Me? I won't pay a trainer because I'm regularly pushing myself. Not on my rest days like yesterday, but the rest of my days are about seeing if I can do more. I don't want to be pushed to the edge of my ability, but I'm not about to lighten up and take it easy on myself either. What I do want is to be always pushing to expand my comfort zone. If I'm comfortable, I'm not pushing myself enough.

=========================

This last is some thoughts that went rambling through my head while working on the elliptical after those girls and another pair he worked with.

I am not the sort to be suicidal. At all. Something dreadful could happen to my children, all of my family and extended family, my best friend, even to me, and I would absorb it and find a way to live with it and survive for me.

At the same time, I am the sort who does not want to live to be 100 unless I'm able to live an active and independent life. Something I've heard about in primitive cultures was the elderly beyond a certain point choosing a time to walk away, to stop being a burden on their village / people. That has a strong appeal to me. When this body is almost done, I don't feel vitally driven to keep it going longer.

Where is this going? Well, the main windows of the gym I go to face this wide walkway between two main streets in downtown, a theater being directly opposite. There is a LOT of foot traffic through there. The University is only about 6 blocks over, a main park and the convention center are a few blocks in other directions. The primary transit lines and transfer points are on either side of this walkway. So I see many people in all sorts of levels of fitness and health.

One fellow I've seen a few times now is missing much of his forearms and hands or they're small up near the elbow. I'm not close enough to know for sure, but it looks more like something he was born with. He doesn't hide his arms. He manages to carry what he needs. He looks healthy and fit. I see him and think what life might have been like born that way. I do this with many people who go past.

Never once, I realized, did I think that it would be miserable to live like that. Instead I was imagining the challenges involved.

So that sent my thoughts on what some might consider a morbid turn.

One of my unmentioned goals to finally get done this year is a Will, a DNR (do not resuscitate) order, and so on. My kids already know the basics - any organ donation possible, cremate what's left, ash disposal up to them. (I'm not at all concerned about what happens to the body once I've moved on.) But formalizing it is always a good idea.

The DNR order is one of those trickier ones. At what point of body damage would I want efforts to keep me alive to cease? Because, yes, I have a strong will to live. I can see myself in a wheelchair, paraplegic, and fighting to keep doing as much "normally" in my life as I can. I can't see myself happy as a quadriplegic with little control of anything but my head, driving my wheelchair with a joystick I manipulate with my head or mouth. I feel a very real horror at the thought.

Why?

Activity. The ONLY activity I'd be capable of would be mental. I may love reading and learning, but the idea of being unable to do any more than drive around on a sunny day just makes me cringe.

I'm not athletic. I'm not interested in being a runner or a bodybuilder or a fitness trainer. But I am and always have been active. Even when I made myself essentially a shut-in for a few years, I still walked to and from work, walked to the grocery store, went for late night walks for any number of reasons, went hiking when I had my car.

I love physical activity. I love the body in motion. It's a perfect balance to the constant mental activity going on. I cannot imagine losing that. I read about those with mobility issues or injuries, and I'm immediately trying to think of ways to remain active in spite of those. There are numerous Sparkers whom I respect immensely for the amount of fight they put up to be active, whether it's against pain or injury or illness or other form of disability.

So, really, as long as I have a body willing to move, and a mind and body capable of moving it, I'm going to be active. I'm going to make the time. I'm going to create the space.

I'm going to move it, move it, shake it, shake it.
Madagascar version: www.youtube.com/watch?v=VzSdPxlGGZc
Original version: www.youtube.com/watch?v=Dyx4v1QFzhQ



First Page
1
2
3
4
5
6
7
8
9
10
11
12
13
14
15
16
17
18
19
20
21
22
23
24
25
26
27
28
29
30
31
32
33
34
35
36 37 38 39 40 41 42 43 44 45 46 47 48 49 50 51 52 53 54 55 56 57 58 59 60 61 62 63 64 65 66 67 68 69 70 71 72 73 74 75 Last Page

Get An Email Alert Each Time BLUE42DOWN Posts