| | |
| --- | --- |
| | BLUE42DOWN's Recent Blog Entries |



Wednesday, April 18, 2012
It was brought to my attention that I didn't mention I'd put my new picture on my SparkPage (nor did I post it in my blog). *shifty eyes* No, I wasn't hiding anything!

So, without further ado - I did a hatchet job to put together my starting pic and my now pic. No fancy editing software to make them the same size, so the starting pic is actually a little larger. But even I can't ignore the changes and pooh-pooh them as the scaling difference. (Sad how small this will end up, though.)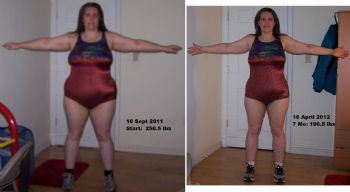 I like seeing the difference in my legs. I've always felt stronger there. Even with a badly sprained ankle in my teens (and many many milder twists of the same ankle), general knee twinging, twice-sprained calf muscle, and foot issue - my lower body is more "fit" in my mind than my upper body or core.






Tuesday, April 17, 2012
My SparkPage says "Member Since: 6/2/2011", but for everything that matters, my real entry and beginning on SparkPeople was 16 September 2011. On that day I posted my first blog and made some plans. On the very next day I tracked everything I ate, and have done so since.

A look at that first day (the 17th) that I tracked:

Breakfast - Raisin Bran and 1% milk
Lunch - Burrito
Dinner - Spinach Souffle' and 1% milk
Snack - Cucumber

Really low at 1263 calories, but actually typical for my weekends back then - I often was low on weekends because I'd get up pretty late and only eat when I got really hungry.

By comparison, today's food was:

Breakfast - Pineapple Orange Juice & String Cheese
Snacks - Fruit Bar, Cereal Bar, Carrots, Celery & Peanut Butter, Pudding
Lunch - Meatball & Sausage Marinara (packaged meal)
Post Workout - Protein powder, Apple Juice, Strawberries, Banana
Dinner - Lean Ground Beef, Green Peppers, Veggie sauce, Spinach

Right in the upper part of my range at 2109 calories, but since I tend to burn more calories than planned some days because I like pushing my workouts, it's fine.


My activity that first day was a 10 minute light aerobic session - I think I did one of the SparkPeople 10-minute videos that was very basic - and 15 minutes of walking to and from my storage space at a 19 minute per mile pace.

My activity today was 30 minutes on the Recumbent Bike, a full body strength training on the weight machines, 25 minutes on the elliptical, then crunches and stretching.

Even more exciting to me, I keep pushing myself a bit at a time, with things like the level of resistance on the bike and the elliptical, and I use the elliptical with incline now. I've been ramping up the weights little by little, so that I'm actually exhausting some of the muscles properly now. My knees do still twinge occasionally, but the improvement is incredible and continuing.


I didn't measure a lot of spots, but:

MEASURED ==== BEFORE ==== AFTER
Waist ========== 46.5 ======= 39
Hips =========== 55 ======== 48
Thigh ========== 29 ======== 26
Upper Arm ====== 16 ======== 14.5





Nineteen inches just across those four spots. That's honestly the first time I've looked back at those measurements back at the beginning. I can definitely tell the hip difference, especially in the fit of my pants. Not measured there, but I'm also down two bra band sizes (3-4 inches). I was wearing 22/24 clothing from Lane Bryant. I'm now in 16 (Lane Bryant/Torrid) and just picked up some new exercise clothes in an XL, normal sizes.


My BMI when I started (using 5' 7.75") was 38.37 - beyond simply obese. My BMI today is 30.1 - so close to slipping into the realm of just overweight I should be there by next month's check-in.

My scale measures body fat, though it's definitely questionable numbers. However, ignoring whether the numbers are accurate, more important is the change. I started out bouncing between 47-49%. I'm now bouncing between 41-42%. (Those are high compared to the results I get from handheld versions, but those are consistently measured on the same scale.)

Oh, and my SparkStreaks - just the three that it defaults with (I think):

Log in and spin = 214 days
Exercise 90 min = 31 weeks
8 Cups of water = 213 days


All in all a very satisfactory 7 months here on SparkPeople. Made 1000 times better by every fellow Sparker I have the opportunity to interact with in one way or another.

It's funny. I think I could easily have been doing the eating and working out part of this without SparkPeople. I did buy a menu planner that will track all my nutrition. I have a phone app to track my weight training.

But what really sucked me in on SparkPeople was People. I used to regularly check out New Blogs - reading and commenting. I try to make a point of staying active on my Teams, huddling regularly, checking for new members who have posted, giving birthday SparkGoodies. I feel the heartbreak every time I see a listed friend's name go black instead of a link, meaning their page has been taken offline. I get to know people's profile images from my friend feed and miss them when they're away awhile. And I feel the elation when things go right, when something just clicks and they find it easier to make the healthier choices.



to my many

s! You're why I'm here and I

you all.






Monday, April 16, 2012
So, yes, as per my status I went shoe shopping. My running shoes were bought in October right after the Oktoberfest 5k I did. I've been wearing them daily since - to work and to work out. (Thankfully not an issue at work that has come up.)

Turns out they were long past needing to replace. He showed me how to squeeze the ball of the shoe and see how much it gave. It's supposed to flex toe upward, but not the sides toward each other. My old ones were pretty much much and flexed almost in half. Given my usage, I was told I probably need to replace my shoes more at the 4-month mark.

Tried on a few different pairs, and ended up in the same shoe but different color and half a size larger. I have the unfortunate situation of having one foot (my right) a full half-size larger than the left. The fact that my LEFT toe managed to wear through the top portion of the shoe under a mesh was a pretty good indication they were a little small.

Sooooo, I'm wearing a men's 9 (US) shoe instead of a men's 8-1/2. The two primary things that put me into men's shoes are the heel cup (many of the women's shoes pinch the sides of my heel) and the width of the ball. Neither of those is weight-related - I've always had to be picky about women's shoes, leaning into 10W or 10-1/2 and avoiding certain styles. In addition, the position of the arch is better in the men's shoes.

Following that, I decided to go pick up some dressier shoes for work - to be able to use my running shoes ONLY for walking and working out. I didn't find anything quite that I had in mind, but picked up my first pair of cute heels that I've owned in ........... uh ....... I have no idea when I last wore dressier women's shoes. I hate nylons, so I nixed them many years ago.

I guess all my shirts are so colorful now that I went for very neutral shoes: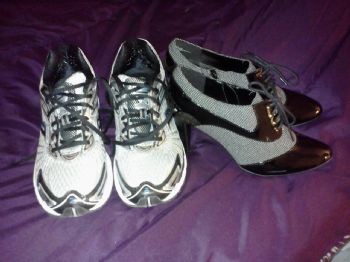 I have black dress socks and only wear slacks, so the plan is that combination at work with the running shoes in my gym bag.

*whistles innocently* I wonder who will be the first to notice my height. Of the others who work in the office regularly, one guy is taller than me, one guy is shorter, and the three girls are all notably shorter (even when they have heels on). The fun of being 5'7-3/4", which the heels will push past 5'10". Teehee.

I have another analogy idea percolating in my head for a future blog. A tree, of all things.

Oh, and a picture of me with my new glasses on and one of the new shirts. I don't even remember why I took this one.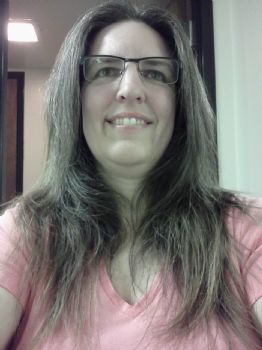 Back to trying to get at least somewhat caught up on blogs.






Thursday, April 12, 2012
So this actually happened on Friday, but it didn't sink in what the import of it was until yesterday.

We had a meeting in the office. That meant going into our main training room and sitting in the chairs in there. They're pink (more a hot pink than pastel) with black trim and arms. I remember when we bought them, they offered all of us one for our office if we wanted. I declined after sitting in one.

At the meeting I sat down and briefly had the thought that the chair was more comfortable than I remembered it being before.

Yesterday it click to me two key reasons why.

1) Arms. My normal chair is an office chair with no arms. These have arms with very little give to them. When I used to have to use one while helping someone else at their desk, I literally had to tilt my hips to squeeze in and they still pinched or I perched on the front edge. I have room to spare sitting in them now.





Made me stop and try to remember the last chair with arms I had. It was a big executive chair I had at my computer desk. Definitely wider. Every other chair has had open sides.


2) Cushioned seat. One would think with all my extra padding I wouldn't need the thicker cushioning, but the more extra padding, the more downward pressure. Less cushioned chairs (such as the folding chair I use at my home computer desk) tend to make my butt bones sore and I've even had parts of my leg go to sleep if I sit too long in them.





I didn't feel like I was flattening the seat cushion sitting in the chair on Friday. It was properly cushioning me. (I still like my chair better - the back has much better lumbar support - but these pink ones are no longer awkward and uncomfortable.

=======================

Wasn't nearly as badly scattered today as yesterday. Part of it was just being more aware. I agree that sleep is probably a contributing factor, but I also realized suddenly there is an emotional factor that may be involved that I wasn't acknowledging to myself.

My best friend took a trip in March to visit an old friend. Our usual level of interaction decreased some which was expected as he wasn't on his normal schedule and was being a tourist and guest. But it included them ultimately becoming a couple. We still talk plenty, but I can feel the difference in his divided attention at times.

Realizing that, I suddenly recognized that I have this obsessively independent side of me that is trying very hard to deny that I miss being his primary focus. I don't want to feel like I need more than I get. I can't let him know because he gets very sensitive to my moods and it would turn this into a me vs her situation. I refuse to do that to him. So I kind of withdrew in an odd way that I think is part of this.


Also, it may not be terribly obvious, but I do have real issues with being demonstrative with my emotions. In twenty years, I have probably broken down and cried all of 3 times. One was after my divorce was final and watching TV when they announced Princess Di's accident and death. I started bawling. I'm not into celebrities. There was no reason to cry that much for her - so I knew rationally that I was letting the emotions around the finality of the divorce free by choosing something "legitimately" sad that I could cry about. The other 2 were at work having to practically beg for a paycheck when they were doing so bad I was 6-8 weeks behind in getting paid and close to eviction more than once. I would cry when I reached a frustration level of trying to remain controlled and calm and failing.

(Okay, yes, I've cried a few more times than that. I can tear up over characters in books or particular news stories if I empathize too strongly. But not for me.)


Long story short - I think the sleep being off is as much a symptom rather than the cause, though it then contributes to the situation. The real cause I'm suspecting is that I've been avoiding feeling and expressing those feelings.


========================

Ending with a bit of good news. Back in February I tried to e-file my taxes. It got rejected as I had the wrong PIN from the prior year. I didn't immediately refile as I wanted to get a student loan in garnishment finalized so they wouldn't swipe my refund. Once I had that done, I tried refiling, but goofed and hit file before I changed the info. So I had to wait to try again. The next time I entered the gross income from the previous year and took off the PIN. It got rejected again. Today I found a way to get last year's PIN and refiled one more time. ACCEPTED!

So in about 6 weeks I should see that refund and be able to pay back my brother. Whee!





Wednesday, April 11, 2012
First off .... *BLUSH*! It was a couple of days before I even read enough of the comments to realize I had a featured blog, and I felt so completely overwhelmed and behind just trying to catch up with my friend's feed and teams, that I'm only now getting a chance to read the comments on the blog.

I'm glad so many were given new food for thought by my way of applying an analogy. My brain seems to run non-stop when I'm toddling along on the elliptical (or any other cardio, even walking).



and

to everyone.

======================

So, yeah, as the title says I have been feeling really scattered the last while. I've been trying to think back today to figure out when it started. Maybe as far back as when I paid for the glasses and then had three days of no cell service.

It's not notably affecting my health and fitness journey. I'm loving the gym, loving the workouts. It's not affecting my eating habits. Well, not for the most part.

I had to really laugh at myself last night when I finished tracking my food. See, many days I pre-enter the things I know I'll be eating, then know the room I have for snacks or fillers. Yesterday I had a decent amount of room and knew I had frozen veggies I wanted to eat at least one of. So I made a bag. It's a grocery store brand "Steams in the Bag". Absolutely delicious sweet yellow corn. I ate the entire bag.

Then I went to track it. Searched and didn't find, so entered the data from the nutrition label. Serving size. Okay. Servings per bag ... O_O ... 4? Eh, it's a vegetable. That's nothing to worry about, right? ROFL, well over I went. From eating corn. Unsalted, unbuttered, just simple natural sweet corn. Over 300 calories worth.

Okay, so I was only around 100-110 calories over the top of my range and maybe 30 over in carbs, but it just really made me laugh and shake my head at myself. If I had looked and tracked beforehand, I'd have known better than to eat it all.


Anyway, being scattered. I was consistently reading an ebook. I've been very spotty about doing that. I made a goal for April to track my sleep. I've thought about it maybe three times this month so far - only once on a night I was up past 1:30 am. I was keeping my room neat, doing my chores without fail, keeping close track of my budget - now there's a bit of disorder, I'm behind on laundry, and while I haven't had any major issues, I've three times forgotten about one thing as I spend money on another and had to juggle a little.

The last few days are bringing it to a head - I need to figure it out and deal with it.

Sunday night I decided to put laundry off until last night - just didn't want to be out that late with Sunday bus schedule. Monday I do my full body workout, so I get home later, so I delayed laundry until today. Guess what I didn't do tonight and delayed until ... well Wednesday is full body again, so Thursday? (Thankfully I have enough clothes to get by, but it will be a full heavy bag on Thursday!)

On top of that, I didn't update my bus card properly for April, so I'm using cash while I'm waiting for the electronic update to come through. Monday night I picked up a $20 from the bank so I'd have bus fare this morning. But getting home late meant I didn't break it and the buses don't make change.

All leading to this morning. I'd forgotten to turn my normal alarms on, so i was woken by my phone alarm which is my "finish up and leave" notification. Rush rush and out the door with change for the fare. Bus arrives, I'm plunking in $2.00 worth of change including pennies. Finally get seated, reach for phone ... oops! I'm not going to go the day without it, so off at the next stop where there's a store. I can break my ... oh, I don't have the $20 on me. Fine! I buy a water bottle and get $20 cash back, broken so I can buy a day pass. Back out, bus comes, day pass bought, and off to hurry home for the phone. Grab the phone and the other $20, back out to bus stop. Oh, I didn't mention that it's drizzling, sprinkling, raining throughout all this, but that's okay because I have the umbrella in my gym bag and pulled it out to use. Except, at some point between leaving my house the second time and getting off the light rail, I left it behind ... and it's raining harder.

Really, Jennifer, REALLY!?


So, something has got to change. It's not a funk I'm in. There's no moodiness, no depression, just ... scatter-brained. That's not even quite right because I'm clearly still thinking a lot and not brain-fogged. But even unimportant things like my game time have been scattered and unproductive.

On the plus side, even things I've been procrastinating on, I haven't let go too far. My taxes are now refiled with updated response to hopefully get the e-filing successful. My protein powder is ordered (I'm down to maybe three servings left - definitely like having it as an option). I'm even temporarily caught up on my friend feed and blogs from that, though I'm sure I've missed blogs from teammates.


Hmmmmmm ... I look at the time and suddenly wonder about my sleeping habits. I can think of at least two nights I've been up later than my usual 12:00 - 1:00 am, one of them the night I took an Aleve at around 5:00 am. Methinks it is bed time. I need to figure out a way to track this better. (Is it sad that I've been seriously thinking about one of the more fancy monitors for heart-rate, calories and such because it can track sleep?)


Good night Sparkers!




First Page
1
2
3
4
5
6
7
8
9
10
11
12
13
14
15
16
17
18
19
20
21
22
23
24
25
26
27
28
29
30
31
32
33
34
35
36
37 38 39 40 41 42 43 44 45 46 47 48 49 50 51 52 53 54 55 56 57 58 59 60 61 62 63 64 65 66 67 68 69 70 71 72 73 74 75 Last Page

Get An Email Alert Each Time BLUE42DOWN Posts