| | |
| --- | --- |
| | BLUE42DOWN's Recent Blog Entries |


Tuesday, March 06, 2012
I apologize if I miss any, but here's my attempt to answer the questions I saw to my last blog. (A couple are questions made out of statements that were made.)


** What is the health benefit of protein powder?

Not necessarily much more than the basic health benefit of protein. Protein is broken down into amino acids, which are then used to repair cells, maintaining our muscles, bone, tissues, and skin.

As long as we get sufficient quantities of protein from our food, we don't generally need to supplement it. (NOTE: Vegans do have to be especially careful, though, as most plant-based proteins are incomplete - meaning they don't individually contain all the needed amino acids. Eating the right combinations of complementary protein-rich plants can address that issue.)

Recommended daily intake of protein for healthy adults is 0.75g per kg of body weight. For me at 206.5 pounds or 93.66 kg that is 70g of protein daily. While I'm not trying to do any special protein-rich diet at this point, I did read and play with the Zone diet years ago and have a tendency to aim for a higher percentage of protein (80g is the goal I've been maintaining). That's entirely personal experimentation.

This is where protein powder comes in for me. Getting 80g of protein was sometimes taking some creative measures. Unless I'm very watchful, either fat or sodium seems to climb with many of the protein-rich foods I eat. What this protein powder does is allow me to get 28g of protein with only 110 calories and no fat or added sodium - giving me more leeway in the rest of what I eat during the day.

Some of the protein powder jars and websites will include claims of the benefits. I don't honestly know how much is myth and how much is fact. Just remember that claims on a jar of a nutritional supplement may not be as heavily regulated as claims on a package of food - which means they can say just about anything. If deciding whether protein powder (or protein shakes) are likely to help you, look for actual medical studies.


** Will drinking protein powder or protein shakes help me burn more calories?

Very simply ... No, not in any direct sense.

In an extremely indirect manner, adequate protein can be part of a program to increase muscle mass and thus increase our body's rate of burning calories.

Sufficient protein in our diet helps the body repair and build muscle cells. Of course, there's no need to repair and build unless we're working out - ideally both cardio and strength training. Won't matter how much protein we eat if we are a complete couch potato.

As more muscle is repaired and built up, the body's BMR rises ever so slightly - muscle being more active than fat. It's not going to be enough to do more than eat a couple more sticks of celery a day at first, but over time it can continue to increase and add up - BUT it requires regular ongoing activity.


** Why not soy protein?

This one is completely a personal choice on my part. One of my reasons for avoiding it has to do with history and my "wicked" stepmother. She got the notion that all dairy was bad and cleaned house, replacing it with soy milk (made from powder and water ... even worse than one can imagine), soy cheese, and the like. Now, I have no idea if it tastes any better today, but back in the late 70s and early 80s, it was gross and not at all a tasty replacement.

I conceived a great dislike of anything soy. Thankfully I was working at 15 and able to buy food at school or after and return to having dairy. After I'd escaped at 18, it turned out one of my brother's was allergic to soy. I don't think I am, but that certainly didn't make me any more willing to consider it. Tofu, the one time I've tasted it, I found disgusting. Again, very much a personal taste thing.

So, yeah, much of my reason is emotional and personal taste rather than any particular pros or cons of it. Soy protein powders may be perfectly fine for others.


** Where did you order yours from?

I happened to order it from NutritionExpress.com, but there are other online stores that carry it. (They just happened to be the first site to give me a legitimate result for "Whey protein unsweetened" - with the one I bought and another that was a concentrate.


** What were your main reasons for trying this in regards to the other Isoflex powders?

One of my personal requirements when looking for a protein powder is that I avoid all artificial sweeteners. Every single sweetened and flavored protein powder I could find used Sucralose or Stevia or some other variation.

In addition, some of what I was reading by others who use protein powders indicated that it was easy to get tired of a single flavor - but these come in 2 pound and 5 pound jars. So either 30 drinks all taste the same over a month or so, or we have to buy multiple flavors. And I realized that if it was pre-flavored, that would impact what I could mix it with.

Instead, I've bought unsweetened and unflavored. It can mix into yogurt and pudding and other foods without adding sweetness or flavors that don't mesh well. I'm still experimenting with it, but even "worst" case, I plan to use a tiny amount of sugar and some cocoa or pure vanilla extra (or maybe even some mint extract) and flavor and sweeten it myself - in a quantity I control 100%.


** I have to use 3 scoops with my p. Powder and it's hard to mix and only has 24 gms of protein.

I know, not really a question.

There's a lot of variety in protein powders. Scoops can be different sizes. (Mine says it is 30g.) The powder can be a concentrate (around 80% protein) or an isolate (around 93% protein) - which is based on how it was filtered and separated. The remainder is the fats, carbs (including natural sugars), minerals, and the like naturally in the source that weren't filtered out. When the powder then has sweeteners and flavors added, those take up some room too.

How well it mixes can depend on the protein type. Whey is very soluble, so is supposed to mix well. Casein (another protein from milk) is the opposite - not being soluble in liquids. Having to use three scoops, especially if they're each around 30g, could also make that difficult - there's a saturation point at which more just won't mix in well. (Something anyone who has ever scooped too much chocolate powder into milk has seen.)





Saturday, March 03, 2012


I was so so tempted to wait until I could think of a word that started with P for an alliterative title, but nothing was springing to mind.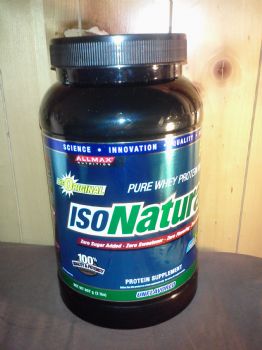 The Protein Powder I found and purchased is Allmax IsoNatural (The Original) Pure Whey Protein Isolate. They do have a promo product page about it on the manufacture's site (Allmax Nutrition), but don't sell it there. I had to find another site that sells the powders to order it from.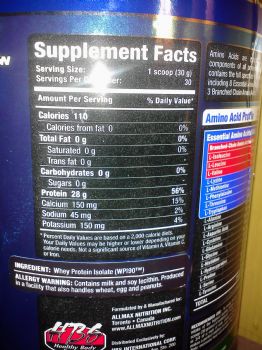 Might be too small to see well, but the important stats are:

1 scoop = 30g
Calories = 110
Fat = 0g
Carb = 0g
Protein = 28g
Calcium = 150 mg
Sodium = 45 mg
Potassium = 150 mg

Those are all directly from the whey - not added items. The Ingredient list as I mentioned in my other blog briefly is a single item: Whey Protein Isolate (WPI90™). That WPI90™ simply refers to their particular process for extracting the protein from the whey. Another small item to note is that there is a tiny amount of soy lecithin added, too small per serving to have it listed in the ingredients. It is there for the quality of keeping the powder from clumping, as I recall. (It does mention being manufactured in a plant that also handles wheat, egg, and peanuts - so those with extreme allergy issues may have to be wary.)


So far I have tried it two ways:

== Experiment #1 - mixed into a chocolate pudding ==
This was not the most clever of ideas, but I really really wanted to try it out the first day I got it. Why not clever? Well, the pudding cups are only 4 ounces. The recommended use suggests 6 ounces of milk, juice, or yogurt. The scoop looked about half the size of the pudding cup.

Worse, I didn't have a spare container to mix it in. So I was literally sprinkling what I could on top, stirring carefully, eating some, then adding more. It might have worked fine if I'd had a bowl to mix it in. As it was, the first half of the pudding didn't have much mixed in and the second half was almost more powder than pudding.

Not inedible, though not something I'd eat deliberately. I did finish it off. I even damp finger picked up some of the powder that poofed and spilled onto the desk. Tasting that, there really isn't much flavor - just a faint dry milk hint. It didn't seem chalky to me so much as not mixed as well and a little grainy.

== Experiment #2 - mixed in a blend with orange juice ==
Today's variation was to mix it into orange juice. I took my new toy blender to work along with a 10 oz bottle of orange juice.

Two things with this attempt. One was that I used all 10 ounces of the juice rather than measuring out 6 ounces because I wanted to drink the whole bottle of juice anyway. So it might have been a different consistency otherwise. The other is that the blender is a one-speed version. And I think I blended longer than absolutely necessary because I added the juice in two batches.

End result? FOAMY. The head was twice as tall as the visible juice mixture. The orange juice (and I tasted a tiny bit from the bottle - it was the juice itself) had a bit sharper taste than I care for in OJ, which the powder didn't help cut. It was well-blended though. I found it took me nearly an hour to drink it all, and it didn't settle and need remixing in that short a time period.

I did notice a small bit of an aftertaste, but not for long since I keep drinking water all the time.

Here's my baby blender. It holds up to around 14 or 16 ounces of liquid and the cap has a slider that opens a mouth to drink from: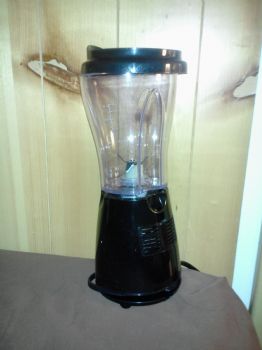 So it's an all-in-one blender carafe and drinking cup.)


I have milk, apple juice and strawberry yogurt to try mixing it with. My thought on milk, which I'll need to look up, is I don't know if there's a top end to how much protein should be consumed in one sitting. Milk might be pushing that - though it should be harder to digest.

I'm going to look for a small jar of pure vanilla extract and maybe a small container of unsweetened cocoa this weekend, as well as a small thing of sugar, and try some flavor creations as well. It can also be used in recipes, BUT does warn that excessive heat can break down the protein, though it doesn't clarify what is "excessive".


It's way too early yet to see how it affects my diet balance or my physical well-being.

Oh, last thing - this did cost me a little over $1.00 per serving. Isolates, because they provide more bang for the buck (greater % of protein) than concentrates, do tend to be more expensive. This 2 pound jar I go has 30 servings. So it would be in the $40 a month range including shipping if I use 1 scoop a day. (Not necessarily bad if I compare it to the cost of things that also provide that much protein - such as extra lean ground beef - that it could stand in place of. But certainly a direct and obvious expense.)

====================

And if you made it through all my chatter, here's a picture I'm trying to load to my photos and having trouble so far. This is the same exact shirt I am wearing in the first photo on my main page. Big difference in terms of it looking stretched / painted on in the start picture and a bit loose and wrinkly in the current one. Hard to see, but these are my new jeans too: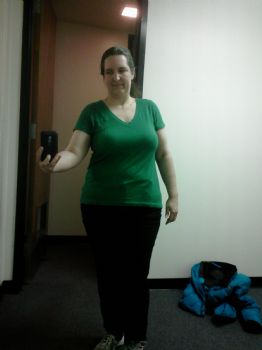 Thursday, March 01, 2012
Something came to mind last night when I was writing up my goals for March. Well, really, it's been slowly building itself piece by piece, but it burst forth into seed.

I do not have any vision of what my body "should" look like when I get near the milestone of "ideal weight" along this journey of life. I don't imagine myself in a bikini or a revealing outfit flattering my curves.

I consider this a very good thing.

Every single one of my fitness goals had to do with the ability to use a muscle group or be active. Whether I have bat wings or a muffin top or some other aesthetic body consideration was not relevant. Not one of my long-term health goals had anything to do with pounds or body shape either.

Thinking back, when I went to make my vision board as one of the Spark Diet Stage steps, I found it impossible to pick body images to represent "what I wanted". I can admire woman like Jennifer Lopez, Madonna, Angelina Jolie, and others near my age who look fit and comfortable in their skin. But even then, it's the amount of tone and effort they've put into being at that state of health that impresses me, not the exact shape of the body and how it looks in a sleek evening gown or bikini.

I've watched things like pole dancing competitions and been in AWE of their upper body strength, their flexibility, their control ... and realized that the body shape has nothing to do with those. Sure, there's a measure of sexy in the body shape, but the appeal of the raw ability and strength of the body is greater. (Though what is amusing? I don't find body-builders attractive. There's a point where it goes beyond someone looking capable and someone looking like that's the only thing they can do. =P Sorry guys at the gym with biceps bigger around than my thigh ... )

I do know the basic shape of my body, that which won't change dramatically. I'm big on top, narrower through the ribs and waist, wide at the hips. Beyond that, it is a more-than-capable body that has carried me everywhere (and even carried my sleeping DDa up until she was nearing 100 pounds). But the specifics of wanting a waist of ### inches or to wear a size ##? It's not even important enough to set goals or try for.

None of this was something I thought about and tried to do. It is simply there in the way I think and approach things.


Why do I consider this a very good thing?

Well, last night at the gym I was reveling in how I can feel certain muscles. I've mentioned before the fun of feeling my abdominal muscles firming up. The fact no one can see them under the fat still to be lost doesn't phase me in the slightest. I know they're there, both when I use them and when I probe the area. I can feel my triceps and flex them. I can feel the many muscles in the thigh and hip area as I do different lifts. Being able to FEEL them, especially at work, is so much more important to me than how the area looks in a mirror.

That means I'm constantly excited about every little change that occurs. Even if there is very little change in weight or inches, I can be a little giddy about my bicep standing out a little more or the muscle along the side of my calf feeling firmer under my fingers.

It is also a good sign that when I come near and pass that milestone of ideal weight, it will just be a marker by the road - not a distraction from my real journey. I won't be disappointed if I hit 155 and don't look like a model. But if I still can't do a military pushup, I'll continue doing what I need to do to build that strength.







===================

Oh, and a little comment about the article today on Artificial Sweeteners. I'd started to write a rant about using a lack of studies proving a negative to claim the positive. (We have no documented and verified evidence of a male calico cat, therefore all calico cats are female.)

Instead of ranting, however, I added it as a favorite and walked away armed with some wonderful information: every name under which these artificial sweeteners can be added into the food I eat, so I can eliminate all foods containing them. EMPOWERMENT!

==================




Just had a shipment brought to me. My protein powder has arrived!!

== INGREDIENTS: Whey Protein Isolate (WPI90™) ==

That is all; the only ingredient. SQUEEEE!





Thursday, March 01, 2012
Time to review my February Goals.

1) Weight stably at or below 210


I've been bouncing up and down between 208.5 and 210 for the past week, and my charted trend is at 210.6, so I call that a DONE.

2) Keep sodium consumption below 3200mg


I actually kept it a little lower than that - the highest day was 3037. Two days were as low as 1600. Ongoing project will be to keep it reducing little by little, since 3200 is obviously still high. But for February, this is a DONE.

3) Each week decide on one long-term goal each for health and fitness


Blogged these each week and am pretty darn happy to have thought through them. I was amused to see my fitness ones literally have one each for legs, arms, and core. This also reaffirmed for me how effective for me it is to focus on health and fitness and practically ignore fat loss. This one is a DONE.

4) On the last day, use the long-term goals to create at least two March goals


Done below in working out March goals.

5) Pick one other life category and work out a goal to work toward


Done immediately below.

==============

LIFE CATEGORY = "Retirement" planning

I honestly do not expect to be able to actually retire. However, I don't delude myself into believing I'll have a guaranteed job until my 90s either. I need to be making more realistic plans than shrugging and figuring I'll just have to live on whatever I can make or get.

One side of this is savings / investment. My budget has been a little out of whack so far this year, but will be settling down by the end of March. At that point I need to set up automatic payment on one loan and want to simultaneously set up automatic savings deposits. Once I get a decent emergency slush fund, then I need to start comparing investment companies and find out my minimum to buy in, costs to trade, etc.

The other side of this is career planning, which really is its own goal. However, when figuring out what to go to school for, I want to include the idea of it being something I'd want and be able to do well into later years.

=================

== March goals ==

1) Weight stably at or below 205
2) Sodium intake kept below 3050 every day of the month
3) Protein powder (once received) tried in a variety of ways and blog about goods and bads
4) Call at least two doctor's offices and find out their uninsured prices for a routine checkup and get details on what that includes and what more might be wanted.
5) Read up on planks and see where I'm at - as it sounds like they can help me build strength for a pushup
6) Up my fruit and veggie consumption by at least 2 per week over my current averages

================

And ... it's not Spring yet, but I am also doing fine on all three Spring goals. Because of how I had to modify them after the foot trouble, they all involve my gym workouts and those are such a routine that my DDa even knows that any plans she wants to make with me have to fit around those - and we often meet outside the gym or by the Starbucks next door. Time to think of some variety to give my seasonal goal for Spring to Summer, to be worked out by 21 March.

================

Separate from all that, if you made it this far, I participated in a Google+ project today to get as many people as possible to take a picture and post it publicly. Check out plus.google.com/10217003186853772202
2/posts to see some of the incredible variety.

I find it fascinating, not being a photographer except in the most amateur sense, to spend much of a day with a camera around my neck. Why? Even when there was no way I'd get the shot, my way of looking at the world involved thinking how that would look if I had been able to catch it.

For example, the bus I was on went under the freeway overpass. It was raining pretty heavy and a vehicle above hit a long puddle, flinging water over the edge to rain down as a sheet of water. It was only seconds long, but it felt like the bus was heading into a waterfall. Another was a particular house I ride past on the way home most days. The trees in front were blossoming, the house was bright shades of blue on white in what I'd guess to be almost a Dutch architectural style, and the trees behind were completely bare. It would have made a pretty neat image ... if I wanted to get off the bus and find a place I could stand without being in the road to get the shot.

Anyway, the two shots I didn't submit to that, just for fun: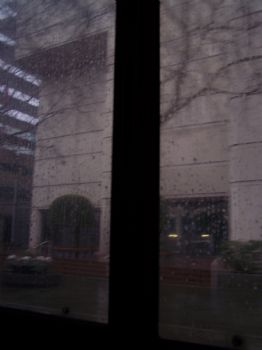 A shot through the bus window - more attention on the amount of rain than the buildings we were passing.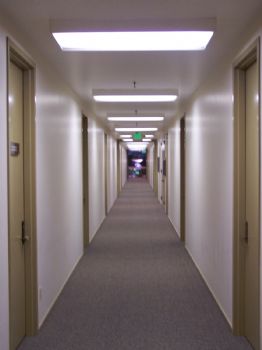 The office I work in is almost completely at the opposite end of this long hallway. Every time I have to use the restroom (which, given 6-8 glasses of water through a work day is not infrequent), I have to walk the entire length of this each way. I call it the optical illusion hallway. Something about those even beams, shadows, and light patterns makes people at the other end look too tall or too short.





Wednesday, February 29, 2012
Health
===========
Heal my foot as completely as possible. This does include seeing a doctor about it when I am able to afford that (after the complete physical, most likely).

I would say it is mostly healed, but perhaps babied too much. I don't know for sure. It could be that it's as healed as it will get. It could be that I need to be using it more to stretch it out for it to avoid healing poorly. Those are the pitfalls and dangers of self-diagnosing and treating.

I'm not walking as much as I used to, but neither do I avoid walking - so there's a mile or more at the mall, three-quarters of a mile between transit and work some days. When I do walk, I make sure to avoid any sort of protective behavior. That I learned from spraining my ankle more than a few times - to walk on it as normally as possible, to not shift weight too much to my other leg or I'd make my knees or hips hurt.

At this point there is no pain, just an occasional tightness in certain areas. Some "clumsy" massaging of the area feels good. All the calf and achilles tendon stretching feel good. But, of course, I'm not 100% satisfied because it is still there noticeable.

For long-term health, I need to address this and any other issues with someone actually trained in medicine rather than self-diagnosing and self-treating so much.






Fitness
===========
Build back into non-"workout" activities.

I talked about one of these in a past blog on rewarding myself - hiking. I have always loved getting out on a trail, losing (not literally) myself in nature. I remember trips to Big Basin when I was young where I'd leave behind the family and friends at the picnic areas and meander off following the trails.

Later years saw me heading two different directions - Alum Rock Park to the east and Big Basin or the nearby Castle Rock park to the west. VERY different eco-systems. Alum Rock is
hilly, grasses and sagebrush, ferns, and trees such as oak and maple. Big Basin is well known for the redwoods and other evergreens. It also have many trails, including some that take one out toward gorgeous views of the Pacific Ocean from the Santa Cruz Mountains. Castle Rock includes multiple rock formations popular with climbers.






Another activity I've meant to get back into but got side-tracked from is ice-skating. The San Jose Sharks have a practice rink that is open for public skating. There's another rink I "grew up" skating a bit further away, but a single bus so it would take only about 15 minutes longer to get to. So I have access. I'd even picked up my hockey skates out of storage and they're sharpened. Then the whole foot problem came up and sidelined my plans. Now I'm back to looking at the schedule and trying to decide what day and time.





Right now I have less access for hiking, but the cost to hike would be nothing (already have shoes, don't need more for basic hiking). I have more access to ice rinks, but the costs add up ($9.00 or $10.00 for 2 to 3.5 hour sessions).


For my long-term fitness, though, I see those and possibly other activities taking the place of daily gym time.



First Page
1
2
3
4
5
6
7
8
9
10
11
12
13
14
15
16
17
18
19
20
21
22
23
24
25
26
27
28
29
30
31
32
33
34
35
36
37
38
39
40
41
42 43 44 45 46 47 48 49 50 51 52 53 54 55 56 57 58 59 60 61 62 63 64 65 66 67 68 69 70 71 72 73 74 75 Last Page

Get An Email Alert Each Time BLUE42DOWN Posts