| | |
| --- | --- |
| | BLUE42DOWN's Recent Blog Entries |


Wednesday, February 22, 2012
Health
===========
Expand beyond macro-nutrients to ensure I'm getting enough of other important building blocks.

Vitamin A for the eyes, for example, is something I was told by my mother that we seem to have a hereditary need for more. No idea of the truth of that, but I don't even know if I get enough in my day to day eating.

Part of this will happen when I start to migrate off tracking on SparkPeople to using the recipe, menu, kitchen inventory, menu planner, grocery list software I bought. Another part will depend on when I move into a place with a more full "my kitchen" setup and cook more from scratch rather than depending on boxes and containers that only have to give basic info.

I do take a multi-vitamin sporadically. I don't consider that a good replacement. For optimal health, I need to know where I might be coming up short in my nutrition.






Fitness
===========
Being able to do normal situps as well as crunches in proper form.

I've always had trouble with situps and crunches hurting my neck. I eventually learned to do crunches with my arms stretched straight out above me rather than crossed at my chest or behind my neck. It forces me to lift my shoulders using my abs only. Weight machines help as well in the same sense, as long as they "force" use of the correct muscles.

I would like to get to a point where I could do situps or crunches for a full 30 seconds or minute without having any issues with form because my abdominals and obliques are strong enough.

I already feel pretty good about my progress. Even with laughing at myself for how week I am on the machine, I've been really feeling the difference in the lower part of my torso and my posture. My gut will take a long time to burn away, but if I can get that underlying tone, that will be a good sign of my fitness.








Monday, February 20, 2012
I'm trying to catch up on responses to some of my recent blogs. I started writing an answer to this set of questions by ANGELWENDYMAMA and it's long enough I decided it would just be easier as its own blog.

== Just curious, are you still follow the Jehovah's Witness faith? I am not judging you in any case, I'm just wondering. It sounds like it may have been hard as a kid to feel like an outsider. Did you feel that way or if so, did it bother you or not? ==

No, I'm not a Jehovah's Witness any more. I think by the time I was in my mid-teens, I knew I didn't believe in the teachings at all. Even knowing that, I went through the process to get baptized because it got my father to ease up on restrictions and trust me. (Jehovah's Witnesses do not get baptized as infants / children. It is meant to be a conscious decision of dedicating one's life to Jehovah God - and the baptism the public demonstration of that.)

I was disfellowshipped (their form of excommunication) about a year after I'd left home for having pre-marital relations – aka I got pregnant out of wedlock – and having absolutely no desire (or feeling any need) to "repent". (( NOTE: I've made my choices and actively. I will never try to tell anyone that their faith is wrong, because if they honestly believe in it, it is RIGHT. I simply don't share the same belief. ))

I suppose in some ways I felt like an outsider as a kid in school. I was an oddity with not standing to salute the flag or sing the national anthem. (Jehovah's Witnesses are absolutely neutral. They follow the laws of the nation in which they live, but don't show reverence to the government or patriotic symbols – reserving that for Jehovah God.) And certainly when the holidays came around and I didn't do the class activities, it made them curious and made me "different". I didn't get my first vaccinations until I was around 10 or 11 because of the way they were made which involved blood - and Jehovah's Witnesses do not take in blood in any form.

But it was never really a negative situation that I recall. I was precocious (reading at three), so I could remember and quote scriptures and explanations of why we did or didn't do things. So any attention I got for not doing things was a way to tell someone about it. That same witnessing about it was highly thought of in the Congregation, which was its own reward of sorts.

I think being a cussedly independent personality was key to that. Recess would often find me off doing my own thing, playing some game in my imagination such as caring for my horses in the stable I made with fallen leaves. I bumped into one of the boys one recess, had him say "Jenny Germs!" and try to wipe his sleeve, and instead of being mortified that turned into a recess game for weeks - a variation on tag in which I chased a group of them around to smear germs on them and any I caught were also it and trying to smear the germs onto someone else. It was hilarious fun for me ... but easily something that could have had another kid in tears.

I'm also a loner by nature. Most loners who are such because of social difficulty are lonely. They want human connection and contact and miss it, feeling almost a pain for the lack of it. Me? I am often happiest somewhere that no one can reach me, alone in nature. I love the night sky and how it is just me and stars that are so many light years away. I love hiking alone. I've gone to movies alone and preferred the peace of my own thoughts and reactions to having a companion to discuss it with and mesh our opinions. I feel lonely only very rarely. (My version of lonely is a craving for someone to share my space with, like sitting next to each other on a bench, cuddling in bed, just someone I'd be 100% comfortable with.) Most of the time I'm more likely to feel the opposite - oversocialized.

So feeling like an outsider, different (weird was my usual term for me, still is), hasn't ever really been a bad thing. It's, for lack of a better world, natural and as it should be. I am different. I am unique. I am an outsider. I like the perspective that gives me.

Hope that made sense.





Sunday, February 19, 2012
What am I talking about?

Yesterday at the gym I had my usual strength training. I used a machine I'd never tried before and didn't use another that has been part of my normal routine.

See, if you go around the internet or even just here on SparkPeople reading articles, there's sometimes little warnings that this or that weight machine isn't good, you can hurt yourself, the motion isn't natural, etc. One of those is a "Rotary Torso" machine. (While I don't buy into every "this machine is bad" comment out there, there is definitely some concern with this machine and the kind of pressure on the spine from rotating too far with that kind of pressure. I do obliques already, so it's not a necessity.)

Well right next to that machine at the gym is one that is designed for crunches that target the abs and some of the obliques. It has me lie on my back, feet between a pair of rollers so knees are at a 90º angle. Then I grab handles above my head with elbows on pads so they're also at a 90º angle. Weight set, I have to pull my knees toward my elbows. Typical crunch, but on a machine. ( www.youtube.com/watch?v=x2gKm6k411c This isn't the exact same machine, but close enough to give an idea.)

I get all set up, low weight of 10, and start ... and oh my goodness was it not as easy as I was expecting. I did manage to complete one set of 10, laughing at myself after every 2 or 3 because it made me feel sooooo weak. (The other ab machine I use I can normally do 3 sets of 12 with 35 pounds. But that has me sitting rather than prone like this one and is a lot harder to be sure I'm not "cheating" with other muscles.)

I also do 3 sets of 15 crunches with my feet up on a balance ball during my stretching session at the end of the workout, and I did those as well.

Today ... I'm feeling my abs. Really feeling. Not hurting or anything like that. But when I use them naturally, like doing post- cardio stretching of my achilles tendons/calfs today, they remind me that they worked hard yesterday.

So I'm now sitting at my laptop and I sneezed. You never realize you use your abs when you sneeze until you do and immediately follow that with a surprised OW! Which made me laugh at myself. Oh, and you never realize how much you use your abs when you laugh until you do and follow THAT with a second surprised OW!

Yes, I'm laughing at my pain. At the same time as I'm really looking forward to getting stronger and better on that machine.





Sunday, February 19, 2012
So today I got up early for a Saturday (9am ... early), had a cereal bar then hit the gym for a couple hours and showered after. Grabbed a strawberry milk after the gym, then met up with DDa and DS. We ate lunch at Johnny Rocket's then headed to the mall. Got him a matching phone to ours, then wandered the mall for her to buy him a birthday present and him to spend a gift card he had still from Christmas. Wandered so much I think we went around the whole place twice. Dinner at Jack in the Box, and finally home after 11 pm.

The big shock, what has prompted my blog title?

I ate "in range" today. I even have calorie room for a veggie to up the carbs if I wanted ... because they were somehow low. In fact, the only thing over was fat. Without trying, I'm normally mid-range on fat, so one day over won't kill me.

How in the blazes?

AHA! I forgot something.

Turns out I'm around 500 calories over. Cold Stone ice cream is not "cheap" in the budget.

But that isn't worrisome at all ... because somehow I did more cardio than I thought this week and was almost 750 burned over my planned cardio. (Not to mention the hours of walking today that I'm not counting as "exercise".)

What a fun day, and meals well enjoyed with water aplenty. That I managed to stay under my sodium goal (higher than the recommendation, but lower than I've averaged in the past) and rock my protein goal easily without doing any planning or tracking until I got home makes me smile. Not a normal day at all and yet I managed to do quite well by my reckoning.






Oh, yeah! One last super fun thing to have come up. My DS when he got off the train and saw me was all "OMG, you look so much thinner." He and DDa were agreeing that every time they see me, they can tell I've lost some more.

them!






Friday, February 17, 2012
Well, almost a week old now.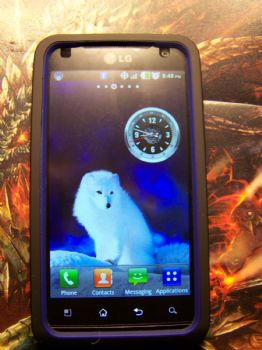 It takes considerably better pictures than my previous phone. These three shots were with the old phone, all about the same time of day (morning on the way to work) back in late November to Early December: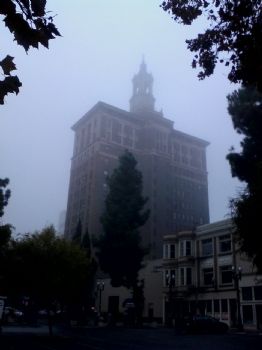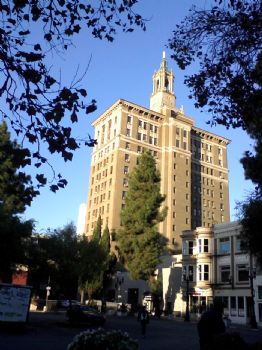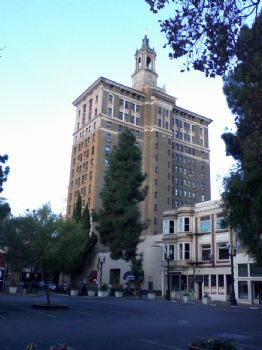 This one is from the new phone, same basic location, this week: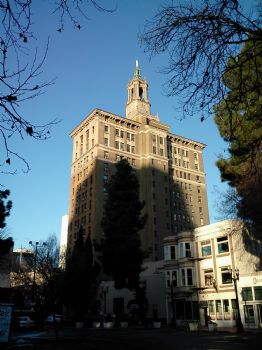 I think the difference is pretty notable.

This picture I took yesterday with the new phone. This is what my desk at work looks like. Yes, I actually manage to keep it that clean or cleaner - the vast majority of my projects are sent to me by email or over the server, so I don't have a lot of "paperwork". And I work best with a clean spaces.

You can see the mug for water on the left, the water filter and the gallon jug in the middle. By having water that easily accessible, I usually have 6-8 glasses during my workday.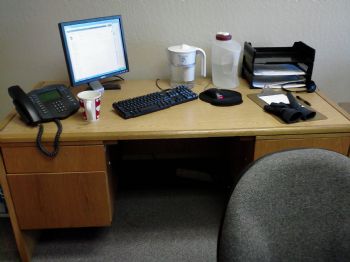 Oh, and one last picture from the old phone. Our work restroom has this odd little side room with a full length mirror. I think that's the first time I've taken a picture of myself in a mirror. I'm behind the times!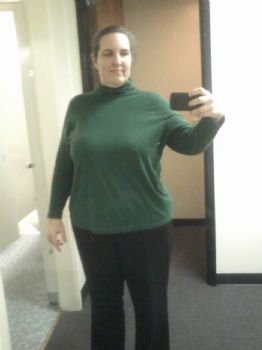 It's also mid-month. Five full months of using SparkPeople daily. Uploaded new pics in my swimsuit and one in my gym clothes on my page. It's my new low today, so I may bounce back up a little before I go down more, but as of today I'm touching 40 pounds lost.





(LOL! That emoticon is 40. How appropriate!)

It's been a fun ride so far, for sure! Thanks everyone for sharing this journey - the companionship makes it better.



First Page
1
2
3
4
5
6
7
8
9
10
11
12
13
14
15
16
17
18
19
20
21
22
23
24
25
26
27
28
29
30
31
32
33
34
35
36
37
38
39
40
41
42
43
44 45 46 47 48 49 50 51 52 53 54 55 56 57 58 59 60 61 62 63 64 65 66 67 68 69 70 71 72 73 74 75 Last Page

Get An Email Alert Each Time BLUE42DOWN Posts