| | |
| --- | --- |
| | BLUE42DOWN's Recent Blog Entries |


Monday, December 26, 2011
Today was pretty busy unexpectedly. I set off in the morning to attend the mass at which my daughter's youth choir was singing. It's a pleasure to get to listen to her in the group, even if I feel kind of odd man out in the pews.

We left there to head to another church, the one in which she was baptized and that her grandmother has gone to. Reason? She had purchased a cross necklace and wanted it blessed before gifting it.

That done, we went for food (Subway sandwiches) then back to my place. Get there, and my bestest friend wants some time online - so for a couple hours I played a game with him as my daughter browsed on my old computer. She then searched up how long it would take to ride out to where her brother works, a coffee shop called "It's a Grind". He's been talking up a Tea Latte Press that she really wanted to try.

Away we go, getting off at the stop she understood it to be. Nope, no such coffee shop. Hmmmm...

Luckily, I had my laptop with me, and with a little quick free wifi from a little nearby restaurant, we were back on the bus heading for his place. Asked the bus driver and turns out he knew EXACTLY where it was and even graciously dropped us off right outside rather than having us walk back from the stop.

She loved the drink. We talked a bit with him as he worked, then headed back. The mass I'd attended was actually one they'd filled in for another choir group that was out of town mostly - and they had their own youth mass in the evening. We said goodbye as she got off there and I continued home.

Then more online time with bestest friend.

Scurrying to get food tracked, walking alone and with daughter tracked, read blogs, post in teams, etc. And now it's a mere 10 minutes to midnight.

Feels like I got nothing done today, and if measured by productive stuff, maybe I didn't. But I spent the majority of the day enjoying time with daughter and friend and even got to see my son again. I call that well-spent.


Good night (or even welcome to a new day for those further around this world than I)!





Saturday, December 24, 2011
Sometimes the information we learn here is greatly useful in ways or places that are entirely unexpected.

A few weeks ago, BOOKWORK27S had asked for fellow Sparkers' comments on gall bladder surgery. I didn't answer, as I didn't know anything about it at all. But, being the sort of person I am, I went searching for information - learning a bit about gall bladder stones in general, symptoms, and treatments. (Yes, I'm that crazy Sparker who actually reads those health A-Z articles if they interest me.)

So, why the thank you? I went to visit my son and daughter this afternoon - figured an hour or two for coffee to order the shirts / hoodies they want would not conflict with family. Turns out family already had a crisis in progress. Their Abuela (Spanish for grandmother, but they actually call her Mama') had been sick much of the night, nausea and throwing up. Their uncle took her to the hospital maybe an hour before I showed up. The diagnosis ... gall bladder stones.

Knowing what I had learned recently, I was able to reassure them somewhat that in most cases it can be addressed without anything severely life-threatening; that surgery to remove it could possibly be necessary, but is reasonably routine for doctors. (She's in her 70s, and has had at least one stroke, so they were rather nervous about anything that could put her into the hospital.)

It was nice to actually KNOW something about it and not be just trying to comfort them blindly, perhaps wrongly saying everything would be okay if it was worse. As the nausea and vomiting was new (not an on-going symptom), she has hopefully been seen soon enough to avoid the worse results of letting it continue like that.

So, not quite as Merry a Christmas as they'd hoped. And oddly, becoming a bit of a tradition they don't like (someone always seems to get sick or hurt on the Eve). But thankfully a Christmas they can celebrate rather than grieve.


May all those of you celebrating Christmas or Hannukah or the Holidays in any form be safe, well, and warm. And may you remember the blessings of being alive, the blessing of having family and/or friends, the blessing of having foods around you have to say "No" to or "Just a sliver".

Peace to All.





Saturday, December 24, 2011
I took my camera along this afternoon when going for a 2-mile walk to get some shots of what the Los Gatos Creek Trail looks like (as compared to the Guadalupe Creek Trail I've blogged about before).



This one is about half a mile into the trail - and unknown to me at the time includes the lone water fountain along the way.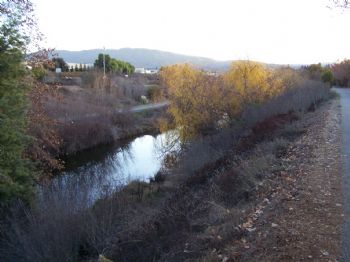 A peek at the creek and the trail on the far side. It's much harder to see the water in the summer, as you might imagine.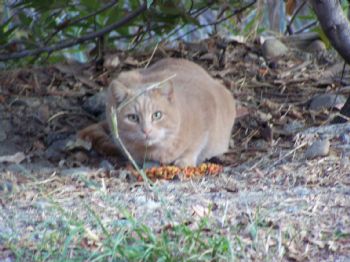 One of six stray cats I saw along the trail. On my way back, he was out in the road and actually followed me a short way.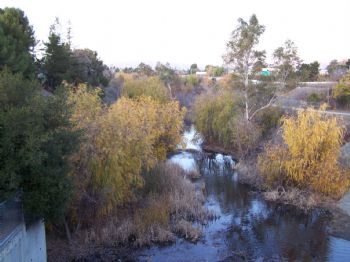 After the 1-mile marker, there's a sudden slope up to a bridge. The creek has a mini-lake on the far side of the bridge with a dam under the bridge over which the excess falls. This is a look from the bridge back along the creek - the left side being the trail I came on and the right the far side trail I could take.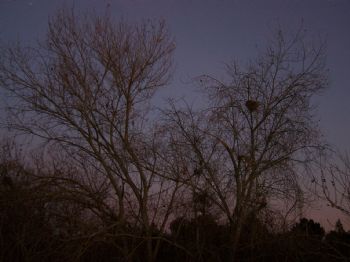 Right near the beginning / end as the sun was setting behind me, these are some bare trees. The clumps in them are abandoned nests from the spring.

I also took some pictures of some birds, possibly American Coots, but none came out well. One surprised me by submerging completely - the first time I just saw the ripples and thought someone nearby had tossed a rock. Then as another bird swam near, suddenly there were two birds. I watched more carefully and saw it submerge again ... even seeing bubbles rise to the surface in the middle of the expanding ripples. Took it a while to surface with its catch in its beak.

I could not get the camera ready in time for the three separate groups of Canada Geese that flew overhead. Two groups were rather scattered, but one was in a perfect migration V. Of course, being Winter ... they aren't really heading any further South. California is part of their wintering range.

I'll definitely have to take the camera along in the Spring / Summer. The difference is just incredible.

However, this does give an idea of why the Guadalupe Creek Trail somewhat disappoints. Here, it's almost possible to forget about the city ... except for the dull hum of the freeway (on the far side of the far trail).





Friday, December 23, 2011
First off, a very big thank you to everyone who read my blog, all who chose to Like it and those who responded in one way or another.

I think the responses were the best part - because I learned some things and had a few new random thought paths created by some of them. I also headed around to the SparkPages of all who replied and left comments, read more blogs, and just appreciated this community all the more.





============================

Welcome to Winter (or Summer for those Sparkers on the other half of the planet). Today is the Winter or Summer Solstice, the day when the sun (sol-) stops (-stitium) moving North and starts moving South or vice versa. It is the longest or shortest day of the year.

In fact, for those who live on the Arctic circle, the sun only peeks halfway over the horizon at midday. Those who live closer to the North Pole might not even see the sun for a day or more, the sky merely lightening and dimming with a dusk and dawn that is sunless. (The Antarctic circle would see the sun only dip halfway under the horizon, but there's very little land - and those staying at a camp in Antarctica would be closer to the South Pole and potentially have the sun only dip in the sky, not setting fully.)

All this happens because earth does not rotate around a point exactly up and down compared to the sun. We've probably all seen those pictures of the earth's axis at some point in our school years. Something I don't remember ever being taught back then, but learned because of my fascination with astronomy, is the tilt (or lack of) for other planets in our solar system. Three besides earth have similar tilt, three have almost no tilt, and two actually are tilted so the spin with one side always facing the sun and the other side never facing it.

Now, the Solstices and their annual opposites, the Equinoxes (when day is the same length as night), are when we consider our seasons to change. Of course, the seasons don't abide by our whims and it gets cold or hot based on many factors, but we humans do like having a way to say "it's officially Winter" or "it's officially Summer".

So, on that note:

Welcome to Winter (if you're in the Northern Hemisphere)!







Welcome to Summer (if you're in the Southern Hemisphere)!











Wednesday, December 21, 2011
I find this really fascinating; I'm not sure why. Maybe I just have an oddly unique perspective on it from the deliberateness of my weight gain.

Normally when a person gaining weight, they don't go into every day thinking "I hope I gain a pound this week". They don't plan their meals and do their grocery shopping to make sure they get those necessary extra calories. They don't avoid mirrors and pictures with the thought "I don't want to see myself until I weigh more". They don't berate themselves and feel ashamed because they ate too little. They don't consciously decide "I'm going to park right in front of the store so I don't burn as many calories."

In fact, while they have bad daily habits, such as 32-64 oz. of Coke / Pepsi a day, a day in which only a single 6 oz. can is consumed is meaningless. It isn't a failure that they didn't have as much some days.

Unless they're actually thinking about the food-to-weight connection at the time, they spent very little time worrying about whether they had one donut or twelve.


Now swap that person to a weight-loss mindset, and it's (swiping the Lewis Carroll title) "through the looking glass". Except, it's not even a looking glass. It's a (not-so) fun-house mirror. Everything becomes hyper-distorted.

One misstep and it's like they've stepped on a land mine. There's shrapnel flying everywhere, and they're on the ground pitifully murmuring "I'm done for. Go on without me." That single 6 oz. can of Coke one day is the iceberg that sunk the Titanic and they're going to go down with the ship.

WHY!?

Do we forget that gaining weight was also a journey? An easier one, for sure, since it depends on bad habits, not doing, and not caring. But it was a journey just as filled with days or weeks we didn't gain a pound, we didn't binge or overeat, we didn't stuff ourselves sick.

Seriously! While there may be some who accomplish this, most of us do not gain 1-2 pounds a week steadily or on average. For example, given that I quit caring about 15-17 years ago, probably starting around 175 at the time, if I had gained 1 pound a week, I'd weigh around half a ton (1000 pounds).

The reality was more about up some weeks, down other weeks, some days eating way way too much, some eating very little. (A comment on the "very little". I've had weekends where the only thing I consumed were mugs of milk or chocolate milk. A full 8 cups of chocolate milk only adds up to around 1260 calories. I can't even say I had that much. I had no thought in mind about weight loss. I just didn't want to bother cooking, and milk is very satisfying and filling to me.)


=============

Then a realization came to mind. When we talk about a journey, I think some think of it as a road trip. Get in a car, plug a destination into the GPS, and follow smooth paved roads from start to finish.

This journey is almost never like that. The car's a heap-o'-junk that we can't trust to start from day to day, the GPS constantly loses signal or turns us all about, and the roads, IF they exist, are full of pot-holes, ruts, missing signs, bridges out, and every other possible delay imaginable.

If we're expecting the former, that whatever we're doing is the magic bullet of weight loss, every single pitfall in our path is going to slow us and we are going to become very disillusioned and discouraged fast. In fact, we're likely to hit the gas hard and hope to just plow through, instead miring ourselves deep in what we hoped to avoid.

If we're expecting the latter, we drive a whole heck of a lot slower, we pay close attention to the road and steer around the pitfalls we see, when we fail to avoid one, we get out, assess the damage, get back in, and continue, now watching for that kind of pitfall again ahead of us.


Long story short, we've got to make sure we haven't distorted our view of what our journey will be like. Whether SparkPeople is our first ever attempt to lose weight or feels like it's our last hope, getting to our destination WILL have pitfalls. We will get stuck in potholes, run into tree branches, have cows blocking the road, turn down a dead end, get turned completely around, and feel more than once like we're never going to get there.

Expect that. Plan for that.

Straighten out that looking glass or fun house mirror and take a long hard look at what the journey is honestly likely to hold.

CAREFUL! Don't get bogged down in the immensity of how many road hazards there are to avoid or that one of them up ahead somewhere looks like the Grand Canyon. There is time between now and then to get the car running better, collect resources, look at maps, ask for help, decide to drive around, work out however that massive issue will eventually be handled. It's a long journey. Those hazards aren't immediate. Only the nearest ones will matter immediately.

But that honest look can save us a lot of heartache because the trials and tribulations will be far less likely to stop us dead in our tracks if we knew they'd be there and acted early to minimize their harmful impact.



First Page
1
2
3
4
5
6
7
8
9
10
11
12
13
14
15
16
17
18
19
20
21
22
23
24
25
26
27
28
29
30
31
32
33
34
35
36
37
38
39
40
41
42
43
44
45
46
47
48
49
50
51
52
53
54 55 56 57 58 59 60 61 62 63 64 65 66 67 68 69 70 71 72 73 74 Last Page

Get An Email Alert Each Time BLUE42DOWN Posts