| | |
| --- | --- |
| | BIKECHIC1's Recent Blog Entries |


Sunday, September 16, 2012
I didn't have time to do my blog yesterday as I was just too busy, I did do my food tracking and fitness though.

Went to work yesterday morning and when I got home I thought I would clean the car inside and out, didn't get chance to clean the motorbikes though as it took me a good couple of hours to do the car and hubby and I had planned on going for a cycle ride in the afternoon and time was ticking on. We got on the bikes and cycled to Rother Valley Country Park and back in 2 hrs, it's about a 16 mile ride there and back, so that was my fitness for yesterday although it was supposed to be a rest day. I absolutely love it when I've worked hard at exercising and I can feel it, it gives me such a great sense of achievement, I don't even have to get off the bike half way up the lane which is a steepish hill and push it to the top anymore, although I'm still quite slow I manage to stay on right to the top and in a middle gear not a low one...everytime I see an improvement which spurs me on to do more



We got back home mid afternoon and after a good stretch and a hot bath I got ready to go out, we went to see a friend, it was his 70th and he still does his re-enactment and plays in a rhythm and blues band and all of his musician family and friends were doing a jamming session 8 - 11, it was a hour and a half there and a hour and a half back, so when we got back it was very late as we also gave a friend a lift but what an amazing night so many talented semi-pro musicians in one place at one time, I can't remember enjoying myself so much in a long time. I was a good girl there too, I actually only had 2 glasses of cidre, then nothing after that....if that had only been a few weeks ago I would have virtually drunk the bar dry



When we finally got home still buzzing from the night I finished updating my nutritional tracker and fell to sleep quite quickly, stayed in bed until 10.30am

so still got my 8hrs shut eye.

When I got up this morning I thought, I would weigh myself expecting to have put on a bit of weight but no I've actually lost another 2lb

I couldn't believe it so I weighed myself twice more just to double check and yep, I've lost 2lb.

Just had a rest day today...well, when I say rest day what I actually mean is I didn't do any physical exercise, I just prepared Sunday lunch (roast dinner) and a bit of gardening for an hour, it was very therapeutic.

I have had a really good couple of days and I just hope I get more days like these, where I'm happy to be a loser.





Friday, September 14, 2012
Did another 2hr gym session in between shifts today and even managed to cook myself a healthy lunch. Definitely need to weigh my food as I can so easily get carried away when serving it up.

I've weighed myself today too and was surprised by a 2lb loss.....yay me!!



Got my yoga class too this evening at 6pm, really looking forward to it, it was a great workout last week and hoping for much of the same today.

Nothing really eventful happened today.

Met all of my goals, eaten healthily, not piled food onto plate like I normally do.

Looking forward to the weekend even though I'm working tomorrow morning, hoping to either get out on pushbikes in afternoon or go on a long walk, really miss the old poochie for stuff like that






Thursday, September 13, 2012
Did a 2hr gym session this morning, felt really good. Managed my calorie intake still struggling with portion control though, it's driving me mad!!

Had a really good pilates session also this evening, it really does work the deep muscle tissue that free weights or weight machines can't reach...wow!!

Feeling more energetic although I'm going to get the doc to check my thyroid levels as sometimes I do feel wiped out and just want to sleep, I have been blaming depression for so long but suddenly realised I don't actually feel down, just tired, brain fogged and struggling to drop the weight...I have been borderline as far as the thyroxin levels are concerned but I haven't actually been tested for a couple of years now, so do need to get it checked...asap.
I've read somewhere it's due to iodine levels in the blood, so trying to find out what kinds of food to eat and see if that helps, I know seaweed is high in iodine but I've tried it and didn't like it, maybe there's a supplement I could take with seaweed in it, something else I'll have to try and find out :)








Wednesday, September 12, 2012
Ok, so I've been away from Spark for a few months but the good news is I actually haven't slipped, if anything I've improved my eating habits and increased my workouts by including gym work, zumba, pilates and yoga and I'm still doing my climbing plus cycling now and I'm loving it.

I have weaned myself off of sugary foods and now only eat foods with natural sugars such as fruits, I'm also doing really well on the alcohol front having just 1 or 2 small glasses of wine or cider on the odd weekend.

I'm still motorbiking and still loving it, I've started buying fitness magazines too to help inspire me.

I'm loving the new me...I do still need to lose weight though. At the moment I'm concentrating on eating the right foods and am struggling with portion control, one of the reasons I came back so I can track how much I'm eating.

I have found the most amazing self help book but at the moment called : Willpower, Rediscovering our greatest strength by Roy F Baumeister & John Tierney. It's brilliant and would recommend to anyone.





Thursday, July 26, 2012
I thought I would tell my story of how my bad habits started as it might just help me along my journey, I suppose that some of you might even relate to it, I am slowly finding out that some of the blogs I read from other fellow sparkers have a similar tone to what I have been and still am going through.

As a child and young girl I was very active, gymnastics, dance, climbing anything and everything that was sturdy enough to climb and even sometimes what wasn't. My dad was a very strict authoritarian man (he had a strict/bad upbringing as a very small child), children should be heard and not seen, "do as I say not as I do", kind of person, he would even quite frequently hit my mum, so we were very scared of him, he liked to cook as that is what he used to be in the navy as a young man, so when he cooked we were never allowed to leave an empty plate (it seemed as if he took it as a personal insult). It wasn't a particularly happy home life but saying that I mostly enjoyed my childhood (luckily, dad worked away a lot).

At the age of 7 my mums mum came to live with us as she had started to develop Alzheimer's and despite having 11 children no-one wanted to take responsibility for her but neither did they want her going in to a home, so mum looked after her but it wasn't just mum that looked after her it was me too, if mum was working I would have to baby/nan sit my grandma and sister, if mum wanted to go out (and she did, regularly) I had to baby/nan sit but it wasn't just babysitting it was bathing, dressing, preparing her meals/snack, feeding her if she needed it all from the ripe old age of 11.

If I wasn't at school or baby/nan sitting I would be out playing across the road in the park, practising my gymnastics with my friends or on the swings or climbing trees or onto the toilet block roof, exploring the park and the adjoining fields at the bottom, making dens, fishing for tadpoles, I didn't really think about food but then I moved up to the senior school and it kind of went downhill from there.

When we were put into our new classes all the friends I went through infant and junior school with were split up into different forms and so slowly I lost my treasured circle of friends, so I stopped going out as much and the activities slowly petered away and eventually stopped, I would spend most of my time in my bedroom either reading or listening to music out of the way of my dad and little sister, who I used to get saddled with more often than not, mum and dad went out a lot at the weekends and all day practically on Sunday, I hated Sunday roasts they were mostly burned and the veg over cooked but I daren't say anything or leave any otherwise I would get a swipe for being ungrateful. I always had to wash the pots on a Sunday after the dinner and I swear dad used every pot and pan in the cupboard, my sister when she got a bit older was supposed to dry them but usually only did a few and I ended up finishing them.

I used to get really down and bored a lot, I hated it at home so I turned to food it started off with biscuits with a cup of tea or a bar of chocolate, I would squirrel them away upstairs and eat them on my own where no-one could see me, then it would be crisps but not just one packet, oh no, it would two, three or sometimes even four, then it would be a sandwich with a bag of crisps followed by a glass of pop, always eaten in my room, then it started being two sandwiches(4 slices of bread) with two packs of crisps...etc. etc. you can see how it spiralled until all I seemed to be doing was eating rubbish. I hated cooking and baking I had no interest in it what so ever, we were never allowed in the kitchen when meals were being prepared or cooked, dad didn't allow it just in case we got hurt, so we never really learned anything about food, the only thing I liked about food was eating it.

Mum used to make snide comments about me being too big for my age, at 14 I was a size 14 with large boobs, I hated my life, I hated how I looked, I hated mum and dad, I hated my spoiled brat sister because she got away with everything I did not and I even got into trouble because of her. I just hated everything, I hated everything so much that I tried to end it all at the age of 15, by taking an overdose of paracetamol, I wasn't successful all it did is knock me out for 3 whole days, my parent just thought I was ill (this is the first time I have admitted to doing that).
I know, I was lucky I didn't do any permanent, lasting damage and I have never tried it since although I have at times in the past thought about it on numerous occasions, not so much these days as I am more in control.

Funny though as much as I hated being at home with my parents I didn't actually move out until I was 20 and pregnant with my first daughter but when I did, things started to change a little bit, I yo-yoed a lot with my weight and what I ate, I would lose some of the weight but not in a healthy way, by virtually starving myself or just having liquids or just certain foods but I would always, always end up putting it back and more besides.

I had started smoking from the age of 8 as my babysitter then would go into the downstairs toilet with her friends and have a cigarette, she would say, "have a drag of this cigarette so you can't tell on me and if you do I can say you were smoking too", so like an idiot I did but she did that every time she babysat by the time i didn't need a babysitter I was hooked and although I stopped through all of my pregnancies, I always started again apart from my last, I stopped for good but then I piled the weight on, not just pregnancy pounds, I was substituting food for cigarettes, I used to think, "that's ok, i can lose it later" but never did, I would try this diet, that diet, starvation all sorts of things but I never exercised and that I think is the key, you need to exercise if you're going to keep the weight off, learn to love yourself, learn to love life, enjoy getting fit, enjoy your food but make mainly good choices rather than bad but most of all FORGIVE YOURSELF!!! You are lovable....I LOVE YOU!!!

Anyhow that is the short version how my food addiction began.

I am doing quite well up to press, I have the odd lapse now and again but nothing to bad.
Did my run this morning for 30 mins, swim for an hour, had a good talk with myself last night and we've decided I need to buck up a wee bit more on my eating habits, which we've put into plan from today.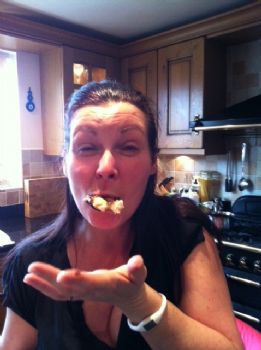 First Page
1
2
3
4
5
6 7 8 9 10 11 12 13 14 Last Page

Get An Email Alert Each Time BIKECHIC1 Posts