| | |
| --- | --- |
| | BIKECHIC1's Recent Blog Entries |


Saturday, June 23, 2012
Started today off really well, got up and went out for my run as normal, everything went really well, had a healthy breakfast of poached egg on weightwatchers wholemeal toast, went to work as normal everything went well, got a bit peckish so on way home I tucked into an apple, had one coffee with semi skimmed milk at one clients home and a black coffee at another felt really chuffed, getting used to this healthy eating malarkey :) Got home sorted out the rest of youngest daughters bedroom, hoovered it, cleaned it, dusted it, put all the clothes off the bed back on hangers and into the wardrobe, hoovered the landing, hubby got home about 12, 'let's go to Grindleford and take the dog for a walk', I suggested, 'ok', agreed hubby, got ready hopped into the car found a parking space put boots on got the dog on his lead and off we set, over the rocks close to the river, up the steep hills climbing over tree roots and fallen branches, loving every minuite feeling good that I'm getting in extra exercise, spent just over 2hrs walking and scrambling up and over rocks, didn't feel tired out or out of breath, brilliant.
We start getting close to where we'd started and there's a café there, a bit of a greasy spoon but it does do lovely food, 'fancy a milky coffee', hubby asked, 'oooo, yes please but only half a pint', I reply, 'do you want anything to eat? I'm having a chip butty' says hubby, and damn it!! even though I'm trying to muster all my strength I fall but I think a small one if I have a small one it won't be as many calories, 'I'll have a kids chip butty please', hubby comes back with the milky coffee and the ticket for the food, it's not long before our number is called and he goes to fetch it, he comes back with a LARGE!! WHAT!!, no way, what happened to the small, oops, I forgot :( Even though he did eat some of the chips for me, I couldn't resist eating the rest and the bread cob too. The good thing is that it hasn't sent me over my calorie intake....phew!!!!!

So all of the calories I burnt off I've now put back on.....one step forward, three steps back.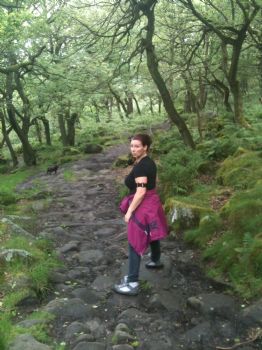 Friday, June 22, 2012
Well I go to the foot of my stairs, I wrote out a whole blog and it hasn't posted all about how my problems with food started :(




Thursday, June 21, 2012
How do you keep the cravings at bay? Do they ever go away or will they always haunt me?

These are just a few questions I need to ask because although I think I'm doing ok on the craving front sometimes I get really strong urges that consume me and it takes all of my will power (of which I haven't that much to start with) to stop myself from pigging out on all the bad stuff I really like, chocolate being at the top of that list.

Now don't get me wrong I'm not denying myself the odd treat and that keeps my cravings quite happy for most of the time but every now and again the feeling comes over me and I want to consume everything and not just chocolate or sweet things, savory things too.

The mornings are the worse times if I have a cup of coffee in the morning which I do, sometimes I have coffee with one of my clients when I have finished that's when it hits me the most as I used to have a cup of coffee and a bar of chocolate or a bag of maltesers but now I save my treats for later in the day when I have more time to savour them.

My savory downfalls are speciality breads, cheeses, olives and the such like, I could sit and eat a whole bread and loads of cheeses.....yum,yum especially with a glass of wine or two :)

I no longer buy that kind of food now as I'd be tempted to eat them all in one go but my hubby likes his chocolate and cakes and won't give them up, he doesn't seem to have the cravings like I do and sometimes doesn't touch his chocolate and things for days and days, admittedly they are hidden away from plain sight in a draw in the fridge but I still know they are there and sometimes it's torture.

All I can do is try and stay strong and pray :)




Wednesday, June 20, 2012
good morning everyone, well what a busy day I have ahead this morning. I've already been for the usual morning run, now I'll soon be off to work, I then have to pick up my youngest daughter take her to see the doctor in town, drop her off when done then go home pick up the dog and take him to the vets all within the space of a couple of hours but instead of getting down about it and feeling hard done by, I'm trying to work out how I'm going to fit it all in and looking forward to the challenge :o

My hubby thinks I've gone mad, it's good to keep them guessing ;)




Tuesday, June 19, 2012
Got up at 4.45 as I usually do in a morning, didn't want to get out of bed felt a little bit sick and almost climbed back into bed and went back to sleep but thought no, that's what I used to do and it's not gotten me anywhere apart from the state I'm in now so I pushed on, donned my workout gear and running shoes and off I went for my usual morning run....I'm so glad I did, I would have felt guilty about it all day and it helped clear my head although my legs still hurt from the bike ride on Sunday and the cardio workout that I struggled through yesterday, I ran through the pain barrier and although I was tired when I'd finished I was really pleased with myself.

I motivated myself by thinking about the new running shoes I'd bought at the weekend, what a waste of money it would be if I didn't get the use out of them, good incentive :)

The healthy eating is getting somewhat easier and I am starting to see and feel the difference, especially when I put my motorbike trousers on tonight they weren't as tight and I didn't get the muffin top look, yet another reason to keep pushing on :)


First Page
1
2
3
4
5
6
7
8
9
10
11
12 13 14 Last Page

Get An Email Alert Each Time BIKECHIC1 Posts