| | |
| --- | --- |
| | BIKECHIC1's Recent Blog Entries |


Monday, June 18, 2012
Ok, so last night we went to the karaoke night with friends it was a great night and yes I did have a drink or 2 or 3 or 4, oh alright I had 5 G&Slimline T's but I amazingly didn't go over my calorie intake just how great is that!! Oh and yes I did get up and boogy (in a fashion) I even managed to drag hubby up for a couple of slow ones, what a great night, what great people. We were made to feel welcome by everyone and I mean everyone, even strangers spoke to us and by strangers I mean the other patrons of the pub that weren't with our friends. The other plus side was that everyone that got up and sung were really good singers (hand on heart) I was amazed, the lady that was doing the karaoke had THE most amazing voice and so did my friend, I'd never heard her sing before.

This morning I was awoken by the alarm as usual at 4.45 to go for my run but unfortunately due to the affects of the alcohol I was feeling a little bit delicate somewhat and it was lashing it down with rain outside so I turned off the alarm, rolled over and went back to sleep, NOT GOOD!!! So here it is I am now going to change my alcohol consumption, I can't let it disrupt my workout routine any longer, so from now on I am only going to have 1 maybe 2 glasses at the most then stick to fruit juice it's just not worth waking up and feeling like death warmed up. I can't say that I'm giving it up altogether as I know that's a goal I won't be able to keep, this is where the baby steps come in yet again.

I am now going to do a workout at home from a DVD, for core strengthening, so it's not like I'm not going to exercise today at all. plus there's the dog to walk and the housework of course, I think I'll give the bike a miss for a couple of days as I'm still feeling a bit saddle sore after yesterdays cycle:)

Today was my weigh in, I've lost 2lb and lots of inches from all over my body, it's great I can really see the difference, here's hoping I can keep it up.





Sunday, June 17, 2012
As usual I was up at 4.45am to go running the unusual thing was hubby came with me, did the usual route and managed to push it just a little harder today. When I got home I prepared the Sunday roast dinner.

About 9am the push bikes came out and after doing the checks we did a 20 mile round journey to Rother Valley Country Park along the Chesterfield to Killamarsh Transpennine Trail, it was really difficult in some places especially the hills. I haven't been on the push bike for about 3 or 4 years so when I first got on it I thought there's no way I could ride it especially all the way to Rother Valley but I managed and the further I went the easier it became, after a few miles it was like I'd never been off of it.

It was a lovely ride, lots of people either walking, cycling or running almost every one with the same purpose and most of them friendly and spoke a "good morning".

I do plan on doing it again sometime in the week so hopefully it will get a lot easier each time
another great way to stay fit and active me thinks :)

Going out later to see a friend doing her kareoke turn, so I might even get some dancing in, who knows :)





Saturday, June 16, 2012
I woke up at 4.20am this morning, donned my workout gear and running shoes and pushed through the pain barrier to finish my run, despite the drizzle. I felt really elated when I got home if somewhat a little sore, took the dog out for his walk immediately after, feeling really good.

Went to work at 7am for a few calls full of beans and in a really good mood, I'm sure my clients thought I was on something....well they'd be right, I'm high on life a feeling I haven't had for such a long time, what a buzz even my hubby likes the new me, the positive attitude is wonderful, I haven't had anegative thought for a couple of weeks now and no matter what difficulties I find myself in I can now see the bright side to it :)

After work we went and bought the new running shoes so I'll let you know how I get on with them tomorrow after their first voyage, I tried them on in the shop and they felt really comfortable but it's always different when you're actually wearing them for an activity.

I also bought some new walking boots as my friend has my old ones from when we went away for the weekend, I'd only gone and left them in the cabin, luckily she'd spotted them and picked them up for me but I haven't seen her yet to collect them, oh well!! so we decided to go for a walk even though it was really throwing it down with rain and I mean torrential at times, we decided to walk to my parent along the canal, we are so lucky to live so close to it, it's beautiful and it's made extra special with all the wildlife along it, I don't think I ever really appreciated it before, now I love it. Then we walked back despite my dad trying to persuade us to let him drive us home.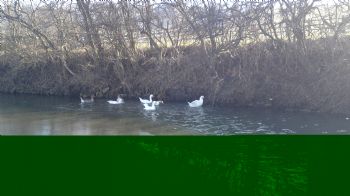 A good day despite the very wet weather :)






Friday, June 15, 2012
As I said yesterday I was using today as a day off from running mainly because I have a really full work load today and the blister on my heel but will be picking up the slack tomorrow after I've been out and bought a boat load of blister plasters and new running shoes, I'll be back tomorrow :)

Ate more for breakfast this morning by starting with homemade muesli with dried fruit, nuts and seeds plus fresh banana. The bad weather we've experienced today doesn't do much for the low mood but I'm going to fight through it, hopefully if the rain does eventually stop I'll take the dog for a walk if not then it'll be rain mac and wellies out and go by my lonesome but I don't mind go off and listen to some music as I go along....singing in the rain!! The show must go on :)


I have managed to up my calorie intake today which is an improvement over the last few days and I even managed to get in a couple of glasses of wine tonight with dinner without going over, now I just need to take in a few more calories and carbs for the full benefit.
I do like my treats and I love the fact that by using the SP nutrition tracker I'm able to do that without going over it's a great way to stay in control.

I've decided that today is an official day off from exercise as the weather is absolutely appalling but I will be out there tomorrow come rain, shine or high water :)








Thursday, June 14, 2012
It is now day 4 and everything seems to be going fine, struggled a bit today, didn't really get enough to eat as I've been to see my eldest daughter and helped my youngest one move into her new flat so in the circumstances I suppose I did well.

I did manage to get my run in though but will be having tomorrow as a rest day as the blister on my heel is now really bad but will pick up some blister plasters and buy some new running shoes tomorrow ready for Saturday. At least the up side to being really busy is that I haven't really thought about food...good or bad

I had a sneaky preview this morning on the scales and measurements although I'm still the same weight I do seem to be toning up which is good as although I was exercising a bit before I never seemed to move the inches, where as now I can visually see the difference when I look in the mirror even though I've only been doing it for just over a week



Tomorrow is my busiest day at work so we'll see how I fair then.



First Page
1
2
3
4
5
6
7
8
9
10
11
12
13 14 Last Page

Get An Email Alert Each Time BIKECHIC1 Posts