Monday, June 11, 2012
Hi everyone, Just a quick intro:

Ok, so I get told on a regular basis that I'm not what they call "overweight", right so what would you call overweight? A lot of my clothes are getting tight, I feel lethargic and down as well as tired most of the time. I'm unfit although I like a drink now and again, I don't smoke but I do like my food and even though I try and eat quite healthily I more often than not eat chocolate, take aways or fast food, a couple of nights a week, I tend drive more than walk mainly because of the nature of my work (community carer).

My husband has got high cholesterol even though it's not too bad at the moment, he tends to close his eyes to the fact that we're becoming lazy in a lot of ways.....sound familiar yet?

Right so at the moment or rather for the past week I've been getting up at 4.45am to get ready and go for a jog, a very slow start but I'm getting there. We are lucky enough to live very close to a canal and jog down there early when no one is around to see me as I'm very embarrassed about anyone seeing me trying to jog. I also have real body issues.

This is one of the main reasons for joining Sparkpeople not only for support but to help me track what I'm doing and to see where I'm going totally wrong.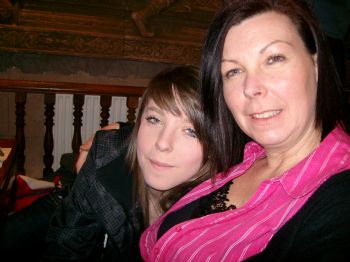 The photo is me at my biggest I was almost a size 18, apart from my pregnancies, which we won't go into right now.

I will try and blog each day to keep track of what I've done and to help support and encourage other people so if you want to message me please feel free. xxx