Wednesday, April 06, 2011
I have come across multiple instances recently where a person refuses to eat ANY fruit because all fruit is BAD for you. I understand a lot of fruit is high in sugar and can affect your glycemic index in cases of having diabetes or pre-diabetes. But refusing to eat ANY fruit is unfathomable to me. Fruit is what gets me through the day when I need a quick snack, am craving something sweet or need to increase my fiber intake. Yikes!

In a timely fashion, I received this article in an e-mail newsletter today: commonsensehealth.com/Diet-and-Nutrition/F
ruits_List_with_Fruit_Nutritional_Valu
e.shtml

It breaks down the nutritional benefits and concerns for certain common fruits.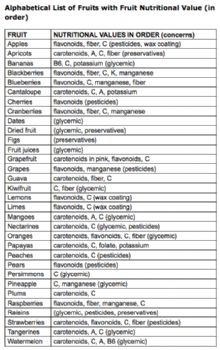 Why the trend to go to the extreme of outlawing an entire food group these days?!?! No meat, no eggs, no carbs, no FRUIT? This is one thing I LOVE about SparkPeople the most. They teach you to eat a healthy, well-rounded diet (If you are willing to listen), not eat too much of one food group or another, make better choices, feel good about food - it is nourishment for your mind, body and soul. My belly is happier than ever about what I feed it and my body is showing it. I've started wearing size 10 pants that I haven't worn in a long time. (down from 12/14 in three months) All from eating lots of good foods. I'm rarely hungry between meals, and if I am crave healthy snacks.

I just get worked up about all of the fad and extreme diets people torment themselves with! I truly feel for them. It saddens me to see friends lose weight and gain it back repeatedly. I know that it is up to a person to change their lifestyle on their own and commit to it 100%. I don't mean to sound judgmental, but talking to a person who thinks eating almost nothing a day is good for them, it upsets me.

I wish I could help all of the poor *hungry souls*... If you are one of them, please remember to feed your mind, body and soul. Your body will thank you, and so will I! I don't need to be a health expert to know that starvation is NOT good for you.