| | |
| --- | --- |
| | BIGGIRL2082010's Recent Blog Entries |


Sunday, January 30, 2011
Yesterday, I had plans to go skating mid-afternoon with a friend.

She and I took lessons together, but I've had a ton more practice.

Anyway, I bundled up and headed downtown (a 2 hour trip from home on public transit), met her at the rink. She took one look at the rink and gasped: "So many PEOPLE!"

So we decided not to skate after all.

Went off to watch a movie instead - watched Tron Legacy in Imax 3D.

Nice. Fun.

The only moment of panic occurred when they wouldn't let me take my skates into the theatre, but made me leave it with guest services. Who didn't even tag it and give me a tag, but just wrote my name on a slip of paper and stuck it in one skate and took the skates away to be locked up!

Came out when the movie was done, demanding my skates - and the gal NOW manning the counter goes, "Good thing you gave us your name - a LOT of people left skates here today!"

DUH! This is why you need a coat-check-like system!

Anyway, I got my skates back, so I am happy. And resolved to never have them hanging around my neck again - will stick 'em safely in the backpack next time.

So. I walked a lot, but no skating yesterday. Dang.

Well, the next week should be okay for skating - think I'll do some of that every morning, although it is supposed to be rather cold.

Have a great week, everyone!





Friday, January 28, 2011



Right.

It feels like that's all I write about these days.

Oh, wait.

That IS all I write about these days.

Probably because ice skating pretty much rules my life these days, at least the bits of it that are left over after work and sleep!

You know that saying about the difference between interest and commitment? That when you are interested in something, you do it when it's convenient, but when you are committed, you accept no excuses, only results?

I guess that's the difference.

Weight loss? For me, that is an interest.

Dancing? Ice skating? Hula hooping?

Each of those is a commitment.

For each of those things, I have to MAKE the time. And for each of those things, I DO make the time.

Others would (and do) say that I am nuts to wake up at 4:30 just so I can go skating before work.

I would say they are slightly nuts NOT to do something every day that feeds their souls and makes them want to laugh for the sheer joy of being alive.

There are parts of everyone's day that, really, just plain suck. Things we do that we wouldn't do if we could avoid doing them.

So, isn't it up to each and every one of us to put some joy into our own lives, too?

Ice skating is my current vehicle for joy.

And I'm loving it enough that I may want to consider ice dancing if I get good enough at the basic skating.

I've been watching all sorts of ice skating videos on YouTube, and while hockey looks like fun and figure skating (like in the Olympics) seems very elegant and beautiful, it's ice dancing that I find totally captivating.

To be able to move so eloquently and elegantly with a pair of blades attached to the bottoms of your shoes - wow!

So there's a maybe-intention.

Someday, I'll try ice dancing.

For now, I am having loads of fun with the crossovers.

Forwards crossovers are, as I said, becoming much easier.

I was really surprised at how well I am doing the back crossovers, though. In fact, this morning, they were working out so well that I began doing one left-over-right backwards crossover, and then one right-over-left crossover.

Again and again.

It was rather exhilarating.

And then I was watching some more YouTube videos a few minutes ago and discovered that that technique even has a name - a crossroll! Hmmm.

Once I feel comfortable with the back crossovers, I think I want to try the Mohawk, too, as an easy way to change directions instead of just spinning around on one heel as I am doing these days.

And now, I find myself falling asleep.

Okay, given that I was up at 4:30 and that it's now almost 11, it isn't surprising that I am sleep-typing. :)

Have a great weekend, everyone!






Thursday, January 27, 2011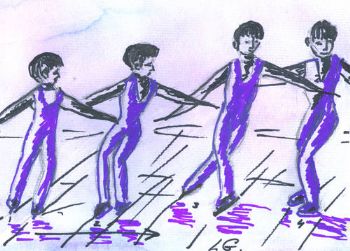 I've been watching YouTube recently, trying to figure out how to do backwards crossovers. Watched all the tips from the ExpertVillage guys ... my favourites are these two: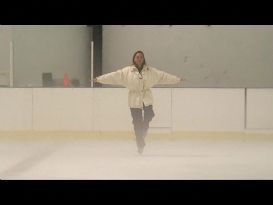 and



Both are very clear about how precisely to do those backward crossovers. Better yet, they have a series of videos building up to actually DOING those crossovers, starting with the actual introduction to skating backwards, then moving into backwards swizzles (or "fishies", as I first heard of them!), then skating backwards in a circle, learning to lift the free foot off the ice, finally demonstrating the actual crossover - all done with perfect form.

So I've been watching the videos. Bit by bit, I've been practising some of the suggestions, a little more each day.

My forwards crossovers are still not perfect, but I can feel them getting easier each time I do them, so I've been focusing more on getting the hang of the backwards skating, and of skating in a circle.

Until this morning, I hadn't been able to convince my brain that I *could* trust my entire weight to one foot while skating backwards, so, needless to say, I hadn't actually done any backwards crossovers.

Today, I skated for an hour, doing my usual mix of forwards skating, gliding, fishies both back and forwards, a little backwards skating, and a fair amount of going in figure 8s - first forwards (doing crossovers several times on each circle, then reversing direction on the other circle and continuing to do forward crossover), and then backwards, just going in little circles backwards, trying to get the feel for keeping the inner leg on the outside edge of the skate, pushing off with the other foot and trying to take enough weight off *that* foot so I could pick it up at the end of the swizzle.

And not once had I managed to lift up the outer foot high enough to cross over the other foot, neither going clockwise nor counter-clockwise.

And then, after the hour was up, I said "just 5 more minutes" and decided I was doing a backwards crossover.

That, apparently, was all it took. I promptly successfully did my first almost-recognizable backwards crossover.

Slightly stunned, I tried again. Yep, it worked again.

Never being one to give up while I am ahead, I tried doing a backward crossover in the opposite direction.

That worked, too!

It was a fun 10 minutes more after that, just doing backwards crossovers counter-clockwise, then clockwise, then doing a figure 8 again of forward crossovers, clockwise and counter-clockwise. Then more back crosses.

Yep.

I am doing backwards crossovers.

They are NOT perfect.

But I am doing them.

Yesterday, I could only *dream* about doing them. Today I know what it feels like to do the back crossovers.

Big difference.

Really small efforts, and a very slight push into areas outside my comfort zone.

Whee.

How do YOU think my work day went, after that kind of fun start? :) Yep, you would be right. :)

Hope you had a great day, too!






Monday, January 24, 2011
This morning was C O L D !!!

I was in the groove, so just woke up, got dressed and headed out the door, was at the skating rink by 7. Yiiiii. It was COOOOOOLD!

I did skate, but it was far from a good skate this morning, all the little icicles kinda froze out my mood. :)

Did half an hour and decided to pack it in - my fingers and toes were NOT enjoying the weather (-20 or so!)

So I unlaced the skates, got back in my runners, and headed off to work.

Oh, well. Tomorrow is supposed to be some 15 degrees warmer, so hopefully it will be a MUCH better day to skate!






Saturday, January 22, 2011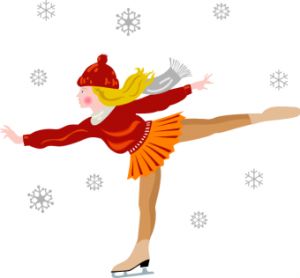 Yep.

Been doing LOTS of that!

Every morning this week, I left home at 5:30 a.m., got to the rink by 6:52, and was on the ice by 6:55. And every morning I skated until 7:45 or as late as 8:20.

It was a GREAT week.

The workouts really help get my head in place for the work day, and the actual skating was very zen.

Early mornings are wonderful.

The air is crisp and cold.

The sun isn't even UP by the time I start skating, so most mornings I get to watch the sunrise - on foggy mornings, that sun really does look like a huge fireball!

There are windy days and calm days.

There are days when the ice is smooth as silk and days when it looks like the figure skaters and hockey stars have just stepped off for five minutes - leaving it all cut up.

And yesterday, i couldn't even *see* the ice because of the 2-inch layer of snow on top!

Whatever the day, though, the skating has been great.

My form is definitely improving, I can feel myself being ever so much more confident on the skates.

My crossovers are starting to look a LOT like crossovers - the right-over-left crossovers are way more elegant than the left-over-right ones, but I am getting there.

I can actually do a half-decent backwards skate. Still practising getting my left foot to move as prettily as the right one does. :)

And I'm gaining speed on the regular old forward skating and even on the crossovers.

Confidence DOES come from practice, practice, practice and then some more practice.

All I can say is, I am SO glad I went out and bought the pricey skates this winter. Every time I used to think about wearing rental skates (leather, figure skates, but not well maintained, and usually way too tight for my ultra broad feet!), I used to cringe. And this is presumably why I never skated again after taking lessons some 12 years ago!

This year, two colleagues and I signed up for skating lessons. Private lessons, at that - and it worked out really well.

Interesting, the colleagues both enjoy the skating, but have been unable to find the time to just GO skate.

The other day, we went out together and it was easy to tell I'd had the most practice - they were as wobbly as I remember being on the early days.

Ah, well, to each his own. I know they both have other things they love doing just as much as I love the skating - for me, this is my own little slice of heaven every single morning.

Private ice time. The sunrise. The wind in my hair. The feeling of the wind trying to dry out my already dry skin. Feeling those little bumps in the ice where another skater was trying out a new jump or a snow-plow stop.

Hmm. Gotta stop typing so I can get dressed and go skating. :)

Have a wonderful week!




First Page
1
2
3
4
5
6
7
8
9
10
11
12
13 14 15 16 17 18 19 20 21 22 23 24 25 26 27 28 29 30 31 32 33 34 35 36 37 38 39 40 41 42 43 44 45 46 47 48 49 50 51 52 53 54 55 56 57 58 59 60 61 62 63 64 65 66 67 68 69 70 Last Page

Get An Email Alert Each Time BIGGIRL2082010 Posts