| | |
| --- | --- |
| | BHSKITTYKATT's Recent Blog Entries |


Thursday, June 12, 2014
So, this year so far has not been too well fitness-wise. The longer commute since I started my new job last August has eaten into my schedule. I didn't lose, but I managed to maintain until April when I started school. I've gained 5 lbs since then.

But I've been crawling my way back. I'm trying to re-figure how to fit fitness into my schedule. It's been difficult with two jobs and school, but I'm still working on it. I've been focusing on strength training more lately in order to justify my gym membership.

I'm also trying to eat healthier. I haven't been bad, but I haven't been good either. The husband recently had a cut in hours, so he has more time at home to cook, so I've been planning meals and sending him the recipes to prepare. His cut in hours also gives him more time to do other errands that I simply do not have time for.

This first quarter for me is almost over. I plan to hike Blanchard Mountain during one of my days off between quarters. I always hike that at least once a year. Here's hoping for sunny, clear weather so I can enjoy the view at the top!




Thursday, December 12, 2013
So today, I heard some tragic news. My beloved grocery store is closing. The Market on Lakeway starts its liquidation sale tomorrow.

No, this won't throw me into a food desert or anything...there's actually a closer store that is a mere two blocks from my house. But it's not MY grocery store.

It's been amazing watching the store transform over the years. It started out as a Cost Cutter, which is where my family started shopping when we moved to Bellingham when I was ten. A few years ago, it was remodeled into The Market. Earlier last spring, it underwent another remodel. It still seems strange that they would throw that much money at it, only to close down less than a year later.

This grocery store, it was a dieter's and ethical food lover's dream. After the last remodel, almost the entire produce section went organic. You know how stores like to put the expensive brand-name stuff they like to push at eye-level? Popular brand-name mac-and-cheese was relegated to the bottom shelf while organic, whole-wheat, healthier alternatives took the prime shelf real-estate. Heirloom black beans were available in bulk, as well as organic peanut butter, rice, dried fruits, and everything else you could imagine. There was hormone- and antibiotic-free local meat available. There was a honey bar and an olive oil bar. The deli had a sizable vegan section -- like, one third of the display case was dedicated entirely to vegan, not just some sad little corner of it. They had a large selection of gluten-free cupcakes for those who needed it; sometimes the gluten-free selection was even larger than the normal selection.

Best of all, the impact on prices from all the emphasis on organic goods was negligible. They went up a little, but not as much as you would expect. Maybe they didn't go up enough and that was the problem; I don't know. But it was divine.

It also had a very decent wine room and an entire walk-in cooler dedicated to beer. Just sayin'.

The meat department guys were fun to look at, too. And they worked in the MEAT department. You can't get any better than that!

Now, I will be tasked with finding a new store. I've found one that has the fresh-ground peanut butter machines. (The idea of going back to buying peanut butter from a BRAND has become horrific to me. I am past the point of no return!) I know of another store that has the milk from my favorite local dairy, Twin Brooks Creamery. I don't know if I will ever find everything all in one place again, though.

I will miss the staff, too. The fact that they are announcing this closer this time of year of all times...it leaves a bad taste in your mouth. I genuinely like most of the staff there. I'd happily write personal letters of recommendation for any of them; they are just that awesome.

Farewell, The Market on Lakeway. You will be missed.





Friday, October 18, 2013
I like hiking. This past season I aimed for a day hike a week, which I think I almost hit. While I enjoy hiking, my fitness tracker seems to flip out with angry red text every time I log a 4+ hour hike.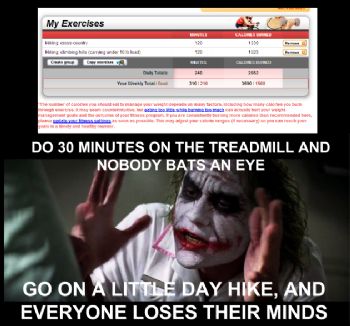 Tuesday, September 17, 2013
So this morning I realized I've been in a cycle that hasn't been good for my waistline.

Somehow, we've stopped stocking the kitchen. I will see it is out of food, and I will be tired and order delivery. By the time I have the time and energy to go to the grocery store, I no longer have money to spend on groceries, but I will have a few dollars so I'll hit up the drive-thru instead. Payday rolls around, but I'll be too busy to shop, and so the cycle repeats...

The one saving grace is that my new job feeds us employees. It's nothing fantastically healthy, but it's nothing really unhealthy, either. We get fed things like cabbage rolls and beef stews and chicken and stuff, not to mention we get a salad bar as well.

Anyway, with the weather cooling off we can do more baked things. We bake a lot of dishes, and we had a hot summer and didn't do that as much. I've had a talk with the Hubster about what dishes we used to eat as staples (broiled tilapia, low-fat spinach lasagna) that we can start to phase back in. Today we had broiled tilapia with veggies.

I've put on about 5lbs over the last couple months.

I want to reverse that trend. I haven't weighed in for a few weeks, so tomorrow I will do that as well as sit down to make a real meal-plan for the next week or so.





Tuesday, September 03, 2013
So, hi there. I haven't blogged in a while. I haven't been super active on SparkPeople all summer. I've been tracking, but that's about it. Life has been interesting.

The fact is, my old job was stressing me out. It was a dramafest. My boss had her "favorite" employees, and I wasn't one of them. Not being one of her "favorites" meant basically being cut out. Important info wouldn't get passed to you. Employee picnic invitations would be "forgotten". I wasn't the only one. It was becoming a fairly toxic environment, and it was upsetting and stressful. I was about ready to go to HR.

I didn't, though, because I got an awesome new job instead! I'm now working at a resort that's just reopening after sitting vacant for 8 months. The coworkers are awesome. The management is awesome. The work is more challenging than before, but it's a good challenge. It's happy stress instead of heartbreaking stress. (The job has some nice perks and benefits, too!)

I had my old job for eight years. I'm not missing it!

So yeah, I've had the new job for about a month. I'm finally starting to feel settled in, so now hopefully I can start to feel like I'm getting my life back on track. SparkPeople wasn't the only thing that fell to the wayside. I haven't done a proper checkbook reconciliation in a WHILE. Hubs has been doing most of the chores, and he's had trouble keeping up. I was in a real funk there for a bit, and then I was super busy with a new job, and now I need to start getting everything back together again. (I haven't even been checking my email!)

I haven't slacked on the fitness, at least. I've been doing pretty dang good on that front. I've spent much of the summer hiking (I just finished an eight mile hike yesterday around the Chain Lakes area of Mt Baker Wilderness). I think hiking has been one of the only things keeping me somewhat sane this summer.



1 2 3 4 5 6 7 8 9 10 11 12 13 14 15 16 17 18 Last Page

Get An Email Alert Each Time BHSKITTYKATT Posts