Sunday, January 20, 2008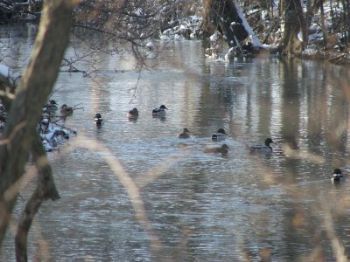 Having a fun weekend here in the midwest. Today we woke to 6* f and man it is COLD! I went out to do chores this morning and had to grab my big down-coat it was so cold! All the farm kitties were huddled together near the feeding dish. The bunnies are all nestled in their straw keeping warm. Good day to stay cozy in the house near the fireplace.

I have a new diet buddy for the week - HIKERMOM. Not sure what my 'offical' job is but I will do my best at encouraging! I do know I am happy to meet another great achiever here at Sparks! If I could lose 40 pounds this year like she did last year I would be extremely happy. They have some fun things going on at the 2008 Challenge board at Sparks. Lovely girls!!!!


We have out of state friends staying with us so we are spending most of our time visiting. I fit in my exercise yesterday but today I am gonna skip the routine. I have worked out every day this week and will continue tomorrow. Last night we ate out at our favorite Mexican restuarant so I put in my mind before we got there that I was gonna put some chips on my plate and seconds on the chips! I also picked out a low fat dinner choice before we got there that way when I sat down I didn't even have to look in the menu to be tempted to eat something else! My biggest down fall with the Margaretta's! Can't eat Mexican with out some tequila.

Today we have some light snacks (smoked salmon) and a fabulous salad planned. I am making home made lasangna loaded with veggies and some of my homemade sauce. The red wine and the bread are my biggest down falls. I will have to plan to sit a piece on my plate and not GO Back for more!

WELL.... looking forward to planting this spring. I will share a bunch of the new bulbs and seeds I have on order in my up coming blog.... low on time today!

Happy Sunday everyone!