| | |
| --- | --- |
| | BE_RADIANT's Recent Blog Entries |


Wednesday, January 06, 2010
I'm on a quest for finding "the perfect" plan-resolution for the year.
Perfect in the sense of what I really want, in the sense of what really suits me, and what really matches my likes and dislikes. I don't wanna get myself trapped in all the "i have to... just because" madness, like: this year, I HAVE to exercise. Well, I DON'T HAVE TO, but it's good for me if I do it, so I might as well go for it. That's the idea: a "new year resolution" that's ALL ME and not the radio-station-resolutions that we've bombarded with from everywhere since the clock stroke midnight on Dec. 31st of last year...

Of course, I want to succeed, I want to excel in what I do, I want to be healthy, I want to treasure the relationships I have with myself, my better half, family, friends, dog, etc, I want to glow with health and burst with energy. I want to stay creative and be good to myself so I can be of real help for others.

And I'm figuring out the means of getting to all these, step by step, no rush!







Monday, January 04, 2010
Came across this quote by Deepak Chopra today:

"Everyone has a purpose in life ... a unique gift or special talent to give to others. And when we blend this unique talent with service to others, we experience the ecstasy and exultation of our own spirit, which is the ultimate goal of all goals."

Came in... handy, so to say, since I've got no New Year's Resolutions this year. A little to tired to make lists, a little to frighten to think ahead, a little to confident in myself, a little to far ahead on my track... I experienced too much last year - both good and bad, waaaay to much that I can usually handle , so I'm giving myself a break. A break from making lists and resolutions, that is, and not a break from striving for a better everything.

And maybe I'll stumble across my 'purpose'... and who knows... maybe I'll be wise enough to know that that's that.




Sunday, December 13, 2009
Huge giant round cliché: lost at the crossroads, mastering the theory, getting tired with the practice, too few hours of sleep - hence the coffee - hence the headaches - hence the advil, no time for grocery shopping, sick and tired of the same old day (ohhhhh, good ol' Janice Joplin...)

Need time alone, need to start fresh, need to re-organize, re-prioritize, need time to touch bases with myself, seems that I-myself have changed a lot (from food preferences to... lots of other things) lately but also I-myself didn't take the time to acknowledge it.

It's not about taking breaks, as I thought in the beginning. It's about changing the strategy...

Hopefully, the late and quiet Sunday night hours would be of some sort of help...





Friday, November 13, 2009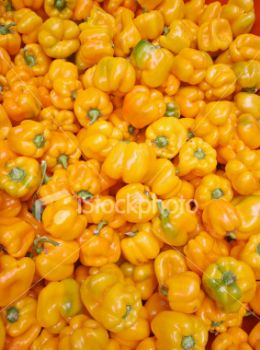 I love sweet peppers; the yellow ones are my favorites. They're one of my staples, my "couldn't live without" :))

It's said that they protect us against free radicals, reduce the risk of cardiovascular disease, promote lung health, have a protective effect against cataracts, and offer protection against rheumatoid arthritis.

It's known to have ~ 50 calorie per whole pepper (which weighs ~ 180g), ~12 g of carbs and ~ 2g of fiber, packed with Vitamin C (~ 300% of the RDV!!!); and then there's the Calcium - 2%, the Iron - 5%, the Vitamin A - 7%. That's for the yellow ones.
The red ones jump as high as ~95% of the RDV for Vitamin A!!!
All of them are also rich in vitamin B6, folate, thiamin, Vitamin E, potassium and manganese.

I simply love them chopped in salads, or as sandwich base for cheeses and spreads (instead of bread!), or just cut length-wise in stripes and snacking on them.








Thursday, November 12, 2009
Some can say I'm a quote junkie. Well maybe I am, but there's a great deal of help I get from them. Time and place are important too, but sometimes I read the most random things while being in the most random location, and then, when time's right, it just pops in my head and keeps me going. Or keeps me from falling. Or both.

I also subscribe to the Daily Kick in the But - ohhh yessss, it's exactly what the name implies - the daily quote newsletter from Runner' World. I love it!

Today it quoted:

"Believe that you can run farther or faster. Believe that you're young enough, old enough, strong enough, and so on to accomplish everything you want to do. Don't let worn out beliefs stop you from moving beyond yourself."

[John Bingham, "Tools and Rules," Runner's World]

And it applies to anything, not just to running (by the way, I haven't been running in such a loooong while, miss it much though, but focusing on other means of training for the moment). And it's so true, so simply put yet so deep:


***** Don't let worn out beliefs stop you from moving beyond yourself*****









1 2 3 4 5 6 Last Page

Get An Email Alert Each Time BE_RADIANT Posts