| | |
| --- | --- |
| | BESSHAILE's Recent Blog Entries |


Thursday, May 30, 2013
Yesterday Himself and I took a trip down to the Norfolk Botanical Gardens, in, of course - Norfolk VA. (Not Norfolk UK)
norfolkbotanicalgarden.org/

We had an unforgettable visit there nigh on to 30 years ago but in spite of it's relative proximity, we've never been back! This is not good, considering Himself has to drive down to Jamestown half a dozen times a year. What's another 20 miles?

When we went in the 1980's we didn't explore the whole place. It was August and we were just traveling on to another destination so we stayed only an hour or so, but while standing in a beautiful green enclosure along the canals, a tour boat puttered by and I lusted to have my own boat ride. There wasn't time then but I made sure we took one yesterday - all the more reason to wonder why I took so long to go back - except you have to get to Norfolk on an interstate highway and I hate driving on them.

The gardens are right next to the airport - in fact, both were built the same year - and both are really easy to get to. You just take the Norview exit off of 64 and turn left on Azalea Gardens, drive about a mile and turn right. Voila!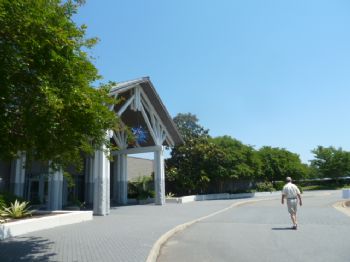 Talk about water features - this place is threaded with canals and a lake so of course boat rides are offered.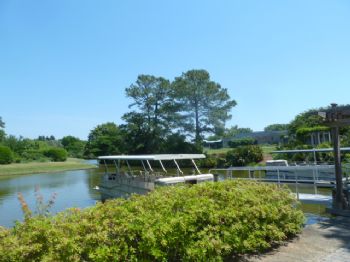 You betcha - I got barefoot every chance I could.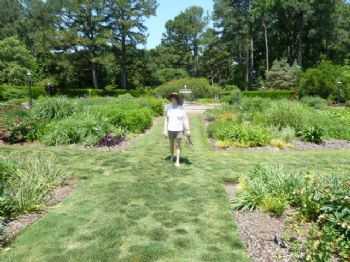 There are fountains everywhere.




The azaleas, daffodils and camellias are past but the roses are in full bloom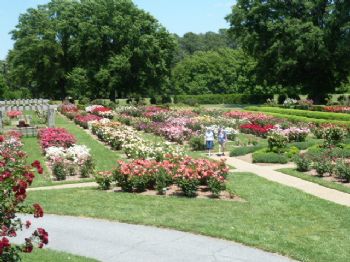 This one is Bill Warriner Rose - a florabunda - and a complete bouquet on a stem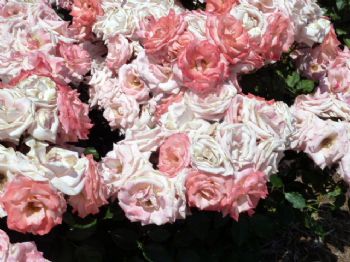 Yes. I was swooning with the beauty of it all. LOL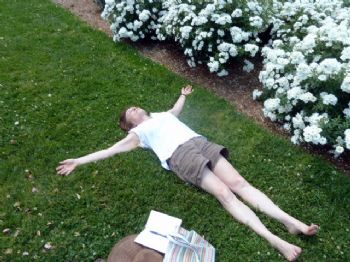 Hydrangeas were just coming in -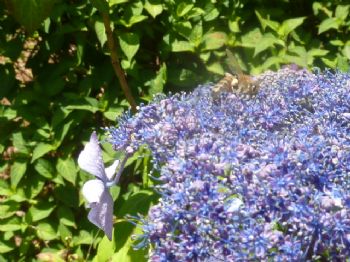 Including a climbing one!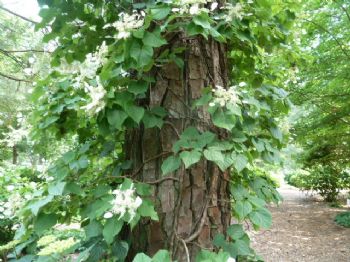 We simply had to take a boat ride down the canals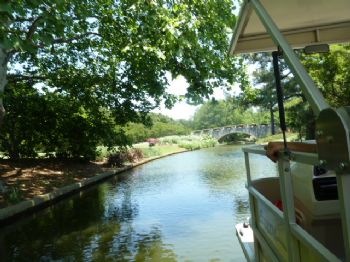 Where we found a rare green heron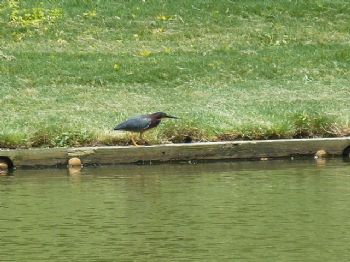 We also road out onto Lake Whitehurst - a spring fed fresh water lake not half a mile from the Chesapeake Bay!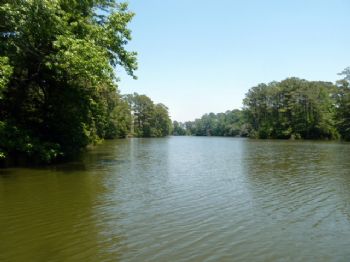 We walked through the butterfly maze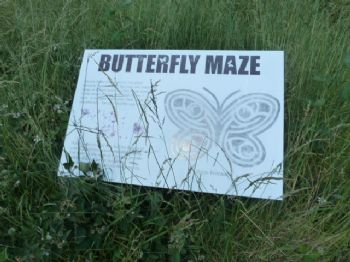 Through the Virginia Native Plant garden where we found some things never change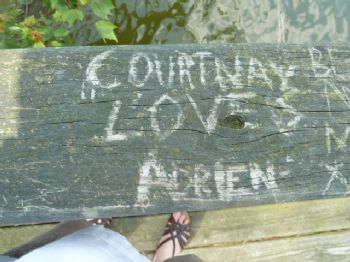 and deep into the Enchanted Forest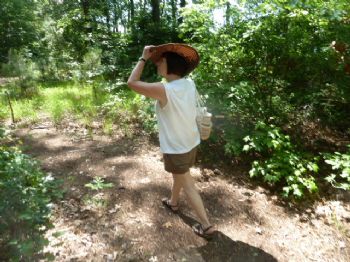 Where you can see - Other Things never change either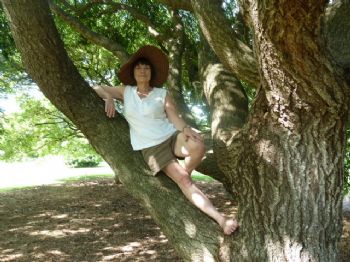 Yes. It's true. If there is a tree to climb - I shall climb it.

We stayed at the garden till 5 o'clock and then went to a Golden Corral for dinner where, yes, I did indulge, but not beyond the caloric limits. I'm learning how to handle myself in these buffet type restaurants at last.

This was a perfect mid-point celebration for my sort-of stay-at-home vacation. I seem to be spending an awful lot of time in the car for a staycation but oh my - this drive was so worth it. I won't let another 30 years go by before visiting these gardens again.

I hope you enjoyed the tour.







Sunday, May 26, 2013
I've pondered this question before, both here, on some earlier blogs, and just walking down the lane thinking about things. In many ways I approach managing my good health much the same way I manage my money. I also think I am a little better at managing money - which doesn't have as much emotional baggage as other aspects of healthy living, nor does it taste like Cheetos - or chocolate. In fact - money doesn't have any flavor at all - which is probably why it's easy to have a fairly simple routine when it comes to handling money. It goes like this:

1. Know what's in the bank
2. Know what things you need to pay for and when - and pay them first
3. Never ever dip into reserves for anything but cliff hanging dire necessities
4. Save for expensive things that cost more than you have
5. Spend whatever's left over on anything you want

I try to apply this to my making healthy choices every day - with, perhaps not quite the success I would like.

1. Find out - and know what I weigh, what shape my body is in, and how I feel in general pretty much every day. That means getting on the scale every day. It also means checking in on other physical sensations.
2. Know what and how much nutrition, sleep and exercise I need every day - and durn it all - get it. First. Before I eat dessert or Cheetos or extra junk calories or sit around watching TV.
3. Do Not Binge
4. Save up some calories (or exercise a little more) if I'm going to a foodie event
5. If I've done all the above and there are any calories left in a day's total - go ahead and eat the M&Ms or the Cheetos or whatever, till all the calories are gone. Life is supposed to have little treats in it - the operative word being "little".

So. A cute little comparison - but of course, we all know life is not that simple. With money - if I don't pay the bills on time my credit score will plummet - and if I don't pay them at all, the electricity gets turned off. On the other hand, if I don't eat all the vegetables my body needs - I will feel a little off, but only I will know. There's no nutrition collector knocking on my door, no exercise police, no food nazi.

Still, I use the analogy as a way of assessing if I'm still on my healthy living streak. And yesterday I really did not stay on my healthy streak. The day wasn't a total disaster, but I made more lazy insolvent choices than a healthy person would have. I didn't eat any vegetables at all - unless you count 4 olives - which were so salty, mm mm delicious - I always feel like they should be in the candy category. Yes. I had lots of fruit - but no other vegetables. And though I did get in a nice long walk in the beautiful May sunshine - I didn't reach my daily exercise goal. And I lay around like a slug for large chunks of the day.

So. I am on vacation. It is alright to be a bit of a slug. I don't think any single day is a deal breaker, even if it is a streak stopper. I can always start a new streak today. I've never aspired to perfect attendance in any aspect of life. What I want is MOSTLY healthy days. And for me a healthy day means following all five of those healthy steps. Yesterday I did not - Today I will.






Friday, May 24, 2013

RB (tugging on LB's skirt) Hey. Hey.



LB (busily scribbling on a notepad) Hmmm. yeah, inaminit



RB Watcha doin'. Hey. Hey. I'm feeling funny.



LB Yeah, yeah, be with ya in a minnute.



RB No. Now. I'm getting scared. What are you doing?



LB (Looking up from the notebook) I'm making a list of everything we're going to do on this vacation! Lookee!



RB Waaaaaaa! You don't love me any more.



LB (Looking shocked) What? Of course I love you - you're the other side of me. What's wrong?



RB It's our VACATION and you're making one of those awful TTD lists! I want to play!



LB Well, yeah. sure. I'm writing that on the list. See? Here? Number 8 ... PLAY



RB You're crazy. You can't schedule play. Play means you aren't responsible for anything. Play means fun. Play means you don't have to accomplish anything!



LB So. Yeah. so? who says you have to accomplish anything when we're playing?



RB I know you. You will say No Play before ticking stuff off that list. I know you. this will be nothing but chores and werk and werk and chores.



LB No it won't. Look at the rest of this list. See?

Clean House
Work on the kitchen cabinets - organize those last 2 messes
Work on the spare bedroom - one hour a day minimum
Work in the garden
Work out
Read
Draw
Play
Visit Mama



RB Yeah. I see that you want to work almost all the time. Werk in the kitchen werk in the garden werk out. wekr werk werk I hate this list.



LB What? Don't you like a clean house? I thought we'd agreed that house cleaning is really just caressing our favorite possessions - the ones we bought or collected and brought into our lives.



RB Well. Yeah. I do love all our stuff. I just wish there wasn't so much cleaning to do.



LB Yeah. I understand that. But we live with guys. And dogs. On a farm. Down a dirt lane. It's just the way it is - there's cleaning to do and we have to do it. Besides - it only takes a few hours a week. You know that.



RB (sighing) yeah. I know. but it's #1 on the list. what kind of vacation is that?



LB Oh. well. Yeah. I see. but don't you want to start this vacation in a sparkly clean house?



RB I guess so.



LB Let's see how things go today - we can put this off till tomorrow



RB Thanks. But there's still too much work on that list.



LB Well - don't you want to work in the garden? don't you want to have that spare bedroom ready for summer guests? Frances and Audrey will be here in 3 weeks.



RB (sighing again) yeah. I do want them.



LB so - if you want it - you gotta go get it.



RB I just wish you didn't have so much work on that stupid list. I feel like the whole vacation will be nothing but work. I'd rather go to work where I don't have to work so hard.



LB Oh. Hmm. I see. Hmmm. Yeah. Okay - how's this for a Better List?

Start with a beautifuly sparkly clean house

Play in the kitchen cabinets - toss out all that crap we hate and create beautifully functioning organized spaces for everything we want. Never be ashamed if someone opens a cabinet door again.

Begin the transformation of the spare junk room into an oasis of organization and calm - maybe even take it over for our bedroom - it's bigger than the one we use now. Sit down with those boxes of family photos and letters and decide how we will store and share them. Own that space. Make it ours. Retrieve it from the Lord Of Chaos and Shame.
Dig the soft crumbly earth in the garden and nestle those little vegetable plants in their new homes where they can grow delicious food for summer meals on the porch.
Give our body the exercise it longs for - stretching, moving, lifting - everything that makes it feel vigorous and thriving.

Read

Draw

Play

Visit Mama



RB Ooooo. Yeah. That's a MUCH better list



LB (smiling) Well good. I'm glad you like it. Man – this is going to be a fabulous vacation.



RB One thing more, though. Can you put Play first?



LB (laughing) You betcha! Love you



RB Love you more









Sunday, May 19, 2013
I don't know what I'd do without them. The perfect candy. The perfect junk food. The perfect substitute for almost anything ... except Cheetos, of course, but they are my crack cocaine. We won't talk about them.

But Bananas. oh man. I eat a lot of bananas and yesterday I ate ... hmm. well. truth? I only ate 3 which is normal for me. But yesterday I was cranking up for a big Library Event (it was a big success, btw) and part of my duty was to bake about 400 cookies (slice'n'bake refrigerator style - hey, I'm good but I'm not a martyr). I make them small because most people would rather have many cookies than a lot of cookies - that is - most people feel like they've had a treat if they can eat 3 or 4 or 5 cookies, not 3 or 4 or 5 ounces of cookies. It's a numbers game. But to feed a crowd, and to watch your waistline, 5 small cookies is always better than 5 big ones.

A kitchen full of fragrant cookies, though, is a terrible temptation. I always give myself permission to eat one while I'm baking them, and I used store bought dough so I could pretend that there were deadly microbiotic germs in the raw cookie dough - hence the WARNING on the package. If I'd made my own dough I would have eaten some raw - which may be as deadly as the store bought but I wouldn't think about it.

The rest of the day was a slow build to Party Anxiety - which I always have when I'm hosting a function for work. I might get excited about hosting a home party, but I've done enough of them to know that everything will work out just fine. Besides, a private party is all about people who are already pretty much in my daily life. A Library Function is different. Not only will acquaintances and even strangers be coming (or worse, NOT coming) but there will be an unknown guest speaker. One always hopes she'll be entertaining but one doesn't always KNOW.

and then - there's the whole "job performance" aspect of hosting an Library event. So you see - on event day there is always the chance I'll try to calm myself with SUGAR and FAT.

But not as long as there are bananas. Bananas are SWEET. and they are FIBROUS. and they are cheap. and soft so they go down easily. and they have such a distinctive flavor that ... really, you don't want much else after eating one... at least, for a short while. And by then, you might have gotten caught up in doing something else.

Love me some bananas. What would I do without them?

So, what's your go-to food when you know you're going to eat mindlessly?





Wednesday, May 15, 2013
I am not a great one to actually copy the words of another here - unless they are brief quotes - but I am going to make an exception today. I subscribed to Martha Beck's daily quotations and each morning one of them comes into my email box. They are nearly always worth remembering - and they usually have that familiar Martha Beck Wide Swings tartness to them. I am not a tart sort of person but I can appreciate it when I read it.

She is also the person who introduced me to the concept of right brain/left brain dichotomies - and taught me how to get them to talk to each other. Neither of those "brains" is the whole me. I am both and I know my life only works when they are cooperating, accepting of the conflict built into both natures, committed to making it work.

You can find out how to get your right brain talking to your left and your left brain listening to your right in her book The Four-Day Win. She makes it into a fun sort of game - a little exercise that moves you from one place to another.

Today, in her daily quotes she offered another interesting little game or puzzle or exercise. It struck me as all three - and I wanted to share. Because I believe that one of the issues we have when it comes to losing weight AND keeping it off is that we don't believe we deserve, don't believe we can, don't believe it's possible. We are from fat families. We have too much to do to spend all this time on ourselves. We are losers.

In short - we quit wanting so we won't be even MORE disappointed. Here's Martha Beck's recipe for DESERVE - not dessert! I'm going to do this. Maybe someone else out there might want to give it a try too.

QUOTE FROM MARTHA BECK:



Yearning + Trust = Happiness

Right now, make a list of everything you yearn for. Make sure that you realize that your yearning is for the emotional sensation that the experience would bring you rather than the form itself. Make another list of things you feel you deserve, but don't believe you'll ever get — things like good luck, a soul mate, a really great haircut. Again, focus on the essence of the experience, not the physical form.

Now try a small thought experiment. Go through this list item by item and allow yourself to trust that the thing you love not only will come, but has already connected with you through the barrier of time. Notice any fear that arises to tell you that the thing for which you yearn will never come to you. Notice the choking, tensing or other form of contraction in your body when you focus on your disbelief. This is the body's response to a lie. Give yourself a short space of time, say one minute, to take your attention off your disbelief and focus instead on the love of this thing that has not yet happened. Feel the warmth and openness of your life when you believe that your connection with this thing is real, solid, and inevitable.

~The Formula for Happiness: Insight From Martha

And HERE'S THE LINK:

marthabeck.com/2011/09/the-formula-f
or-happiness-insight-from-martha/

Remember - Keep Wanting!



First Page
1
2
3
4
5
6
7
8
9
10
11
12
13
14
15 16 17 18 19 20 21 22 23 24 25 26 27 28 29 30 31 32 33 34 35 36 37 38 39 40 41 42 43 44 45 46 47 48 49 50 51 52 53 54 55 56 57 58 59 60 61 62 63 64 65 66 67 68 69 70 71 72 73 74 75 76 77 78 79 80 81 82 83 84 85 86 87 88 89 90 91 92 93 Last Page

Get An Email Alert Each Time BESSHAILE Posts