| | |
| --- | --- |
| | BESSHAILE's Recent Blog Entries |


Friday, April 12, 2013
Well. Here is a conundrum. I have been on the long journey towards the land of good health. ( imagining here a sort of Disney-esque green field with forests near by and a trickling blue stream. There are talking bunnies and fawns and flowers in flat primary colors – maybe some tweeting birds fluttering around, bringing ribbons to twine in my hair. Definitenly have on a princess dress with a tiny waistband.) It's a broad landscape – with room for a number of "numbers" A weight range, fitness/activity points, numerical goals, even dress sizes. I slipped through the door by getting within 2 lbs of my goal – but I hadn't actually reached my goal. I was still walking there but had not arrived. Another cinematic image – Dorothy in the poppy field outside the land of OZ.

And Wednesday I came down with the stomach bug that laid Himself low on Monday. Needless to say, very little has passed my lips. A few bananas and some toast, part of the BRAT diet pediatritions used to prescribe for babies who'd been sick. I am now 2 lbs below my 150 goal.

BUT

Let's face it – I got there by throwing up. So. Do I count it anyway? Or do I wait till I'm back in the saddle, so to speak. Eating solid meals. Making wise choices. I would like to touch that bulls-eye and move on with Other Things – but I don't want to "win by a technicality". I think I shall wait till my official weigh in day – which is Tuesday and it's at the WW meeting. I'm sure to have gotten well enough to eat normal meals by then and if I'm "at goal" I'll count it and change my ticker on the blog page. OTOH, if my home scales say I've stayed the same I'll just wait until May when I would normally weigh again.

But I have to say - it was a lot of fun to see that red needle on the left side of the scale.



I'm still a little wobbly, though I am heaps better. I have work at home, so I've decided to take another day off. It's Friday and no need to infuse the library with any residual germs. This is one virus I would hate to pass on. Short – but brutal.





Tuesday, April 09, 2013
Did you - DO you - ever hear that? I sure did/do. Especially as a kid I learned that you get along better if you put a lid on it. And I'm good at it. I have enough of a natural analytical mind (Left Brain School Marm) that I can usually find my way around, under, through - issues. Whenever I've taken those quizzes - you know them, the ones that ask "Are An Emotional Eater?" I always click NO. I don't binge - at least not the way I've heard people describe a binge - eating till you're sick, getting up in the middle of the night to find a 7-11 to buy snickers bars, scarfing down a pie and then baking another one and eating a slice so nobody will know you ate a whole pie.

Wait a minute

I did do that once - when I was pregnant but that was nearly 40 years ago.

so no. I didn't think I was an emotional eater. I did know I was a boredom eater.

BUT WAIT!

I'm almost never bored.

So how come I got all the way up to 199 lbs back in 1996? For that matter, how come I've bounced back up pretty high so many other times.

Ahh.

What I didn't realize is that I have a powerful but stealthy Wild Child Right Brain who will make herself known. If I'm not paying attention to her - she will just get bigger so I can't miss her! No - she won't binge. No - she doesn't grab the box of chocolates like Andrea McCardle did in the movie Three Weddings and a Funeral after winning the pity party story. But she will nibble and snick and snack and whisper "Just this once" and "We can start tomorrow" so sweetly my somewhat lazy School Marm Left Brain will go along.

I've recently had an opportunity to look back over my weight history and I realized that everytime my life hit rough patch, I got fat. At 10 I had the world's most evil school teacher who so tormented me and terrified me that I grew to 100 lbs. At 14 my parents put me in a school I didn't want to go to (that Left Brain Wild Child really did get in with a wild crowd) and I got all the way to 180. In both of those cases I just grew taller but I also grew happier as time went on and I finished high school with a cute figure ... although I didn't know it. I can only tell you so because I've looked at photographs of me back then. At the time I still thought I was fat. But that's another story.

In my 30's, 40',s and 50's I've had my share of troubles - quite like anybody else - and each time I donned fat to protect me. Still, I never thought of myself as an emotional eater. I figured I was a victim of genetics, advertising, weak will, indulgent Left Brain. Well. A victim I am not, but all of those things did contribute to my weight issues. It's just that, another major component in my struggle with weight has been EMOTIONAL EATING!

There. I've said it. I know the enemy and she's mine, holding a bag of M&Ms. It's my dear little Right Brain Wild Child who's feeling unacknowledged. So she acts out. And when she feels like her needs are being met, she cooperates with the weight loss effort and here we are - right where we wanted to be - at goal.

The important thing to remember now is ... to not forget her. To check in regularly and see
that she feels like she's being listened to - acknowledged - getting her needs met. It's all about playing fair with both sides.

And the next time I see the question "Are you an emotional eater?" I'll say "You Betcha!"





Monday, April 08, 2013
Woo Woo. There's actually a post I've been meaning to write ... and I'll get to it sometime this week - but I just had to post about a surprise NSV I got yesterday.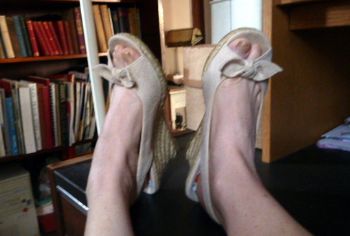 Shoes! My shoes! My (slightly high) platform wedgies that should have fit so well but that I have never worn because they don't - they hurt my feet and legs - don't! All this fitness and strength training I've been doing coupled with carrying around less weight overall made these cute shoes not just fit but feel great!

I'm wearing them today.

Warm weather is here at last after the longest coldest spring I can remember. Yesterday afternoon I had a few hours alone and I pulled out the two big tubs of summer clothes and went shopping. I tried on tops and skirts and dresses and shorts. I tried this with that and that with this. I tried belts and jewelry and shoes and that's when I discovered that shoes I used to think about wearing but did not - because they made my feet hurt or my knees - didn't do that any more. My strong legs and good balance and toned muscles keep it all together and those shoes are just fine.

and there is another Big Pile of things to give to the Goodwill. Only one thing is just perfect for my cousin - it's really more her sort of red than mine. She's cherry red. I'm tomato.

And I sat down with Himself and pointed out that we own clothes we never wear. Anything we think we like gets 12 more months and if we don't wear it by then - out it goes - no matter now nice it is. This is a no loitering closet.

Happy Monday to you all! May you have a NSV this week.





Friday, April 05, 2013
I love it when I get that lightbulb moment -


that ah-ha sensation as a new idea, a new way of looking at an old issue, reveals itself to me in perfect clarity. This morning Spark People sent me one of those treasures in Dean Anderson's article "How to Use Rewards to Get the Results You Want"
www.dailyspark.com/blog.asp?post=how
_to_use_rewards_to_get_the_results_you
_want
Rewards have always been one of my struggle issues. I find it conflicting to refuse to give myself something I can afford and somewhat neurotic to deny myself something because I have decided I am bad or a failure. The "bad" and "failure" designations are ... well, not me.

Of course, I find the idea of "giving" myself something I can't afford sets up a conflict of such proportions in my head that I see it sort of explodes and becomes an impossibility. (Love me some money management, you see.)

When all is said and done, I am more like Ruskin who said, "The highest reward for a man's toil is not what he gets for it but what he becomes by it."

So how do rewards fit into a weight loss/weight management life? Ahhh - by not tying it to a scale. Not tying it to numbers. At least, not tying it ONLY to the number on the scale. Tie the reward to actions needed to live a healthy life - in other words .... get this ... Reward Those Healthy Choices!

Uh. Duuh.

Okay I know. You already got this. But for me this message was like a firework display, shedding colorful light on an issue that has eluded me.





And it's particularly apropos in light of the work I'm doing to get stronger. Working with my personal trainer yesterday I pushed through some amazing physical barriers. There was a moment when I began a lift and hit a feeling of added resistance and then pushed through without any pain at all - though it took additional mental and physical effort I didn't realize I had. It was a magnificent experience - a Lifter's Push akin to the Runner's High.

As I read Dean Anderson's article I thought - Oh. Yes. That's the sort of thing that deserves a reward. A magnificent action chosen by me that took 100% of my abilities - and ... I did it! And best of all is that - having made that extra effort I am walking around, 24 hours later, still feeling so proud of myself.

And I think THAT is the greatest reward I could give myself.







Wednesday, April 03, 2013



Yesterday was my one month weigh-in at my Weight Watcher's meeting. Yes. I do use both WW and Spark People to reach my goals. I figure I'll pick up any tool I can find to get where I need and want to be. And I weighed exactly what I weighed last time - 151.2. That's within the 2 pound spread that WW allows and still be able to count myself "At Goal" It was SUCH fun to be there with friends and to celebrate that first step in my new adventure.

But just because I've met the WW goal doesn't mean I'm stopping here. I kind of like this goal achieving thing and I've got New Goals I'm excited to start striving for. One is actually a different weight goal. I've mentioned this before - I'm an inch shorter than I was 9 years ago. I think I will be more comfortable at 145 lbs, so I plan to continue to eat at a weight loss level of about 1500 calories a day.

But I have other goals and the one most dear to me is to do 25 deep full body push-ups. When I can do that I'm going to treat myself and a girlfriend to a 2 day jaunt to Virginia Beach - this summer - with a stay at one of the pretty beach hotels. I have always hated push-ups and yet always had a strange attraction to them too. As I've been working this year with the personal trainer at the gym I've realized how much stronger I am. Two sets of 25 deep full body push-ups just doesn't seem that out of my reach any more.

Another goal I want to achieve this year is 12 months at maintenance. I'm thinking about creating a visual display of that one. Maybe special stickers on a chart that show each month I've kept the weight off. I'll think about it this week and see what I can come up with.

The big fun part of this is emotional boost being able to keep that weight down in spite of the 2500 calorie birthday dinner on Saturday. Staying at goal for a month is proof that I can live a life with celebrations in it without having to wear extra pounds.

Something to think about. Today. At Tara.

Happy Hump Day to you all.



First Page
1
2
3
4
5
6
7
8
9
10
11
12
13
14
15
16
17
18
19 20 21 22 23 24 25 26 27 28 29 30 31 32 33 34 35 36 37 38 39 40 41 42 43 44 45 46 47 48 49 50 51 52 53 54 55 56 57 58 59 60 61 62 63 64 65 66 67 68 69 70 71 72 73 74 75 76 77 78 79 80 81 82 83 84 85 86 87 88 89 90 91 92 93 Last Page

Get An Email Alert Each Time BESSHAILE Posts