| | |
| --- | --- |
| | BESSHAILE's Recent Blog Entries |


Monday, April 08, 2013
Woo Woo. There's actually a post I've been meaning to write ... and I'll get to it sometime this week - but I just had to post about a surprise NSV I got yesterday.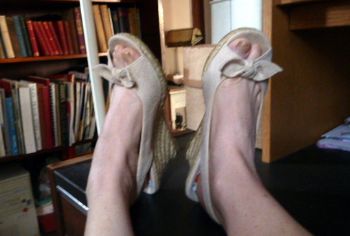 Shoes! My shoes! My (slightly high) platform wedgies that should have fit so well but that I have never worn because they don't - they hurt my feet and legs - don't! All this fitness and strength training I've been doing coupled with carrying around less weight overall made these cute shoes not just fit but feel great!

I'm wearing them today.

Warm weather is here at last after the longest coldest spring I can remember. Yesterday afternoon I had a few hours alone and I pulled out the two big tubs of summer clothes and went shopping. I tried on tops and skirts and dresses and shorts. I tried this with that and that with this. I tried belts and jewelry and shoes and that's when I discovered that shoes I used to think about wearing but did not - because they made my feet hurt or my knees - didn't do that any more. My strong legs and good balance and toned muscles keep it all together and those shoes are just fine.

and there is another Big Pile of things to give to the Goodwill. Only one thing is just perfect for my cousin - it's really more her sort of red than mine. She's cherry red. I'm tomato.

And I sat down with Himself and pointed out that we own clothes we never wear. Anything we think we like gets 12 more months and if we don't wear it by then - out it goes - no matter now nice it is. This is a no loitering closet.

Happy Monday to you all! May you have a NSV this week.





Friday, April 05, 2013
I love it when I get that lightbulb moment -


that ah-ha sensation as a new idea, a new way of looking at an old issue, reveals itself to me in perfect clarity. This morning Spark People sent me one of those treasures in Dean Anderson's article "How to Use Rewards to Get the Results You Want"
www.dailyspark.com/blog.asp?post=how
_to_use_rewards_to_get_the_results_you
_want
Rewards have always been one of my struggle issues. I find it conflicting to refuse to give myself something I can afford and somewhat neurotic to deny myself something because I have decided I am bad or a failure. The "bad" and "failure" designations are ... well, not me.

Of course, I find the idea of "giving" myself something I can't afford sets up a conflict of such proportions in my head that I see it sort of explodes and becomes an impossibility. (Love me some money management, you see.)

When all is said and done, I am more like Ruskin who said, "The highest reward for a man's toil is not what he gets for it but what he becomes by it."

So how do rewards fit into a weight loss/weight management life? Ahhh - by not tying it to a scale. Not tying it to numbers. At least, not tying it ONLY to the number on the scale. Tie the reward to actions needed to live a healthy life - in other words .... get this ... Reward Those Healthy Choices!

Uh. Duuh.

Okay I know. You already got this. But for me this message was like a firework display, shedding colorful light on an issue that has eluded me.





And it's particularly apropos in light of the work I'm doing to get stronger. Working with my personal trainer yesterday I pushed through some amazing physical barriers. There was a moment when I began a lift and hit a feeling of added resistance and then pushed through without any pain at all - though it took additional mental and physical effort I didn't realize I had. It was a magnificent experience - a Lifter's Push akin to the Runner's High.

As I read Dean Anderson's article I thought - Oh. Yes. That's the sort of thing that deserves a reward. A magnificent action chosen by me that took 100% of my abilities - and ... I did it! And best of all is that - having made that extra effort I am walking around, 24 hours later, still feeling so proud of myself.

And I think THAT is the greatest reward I could give myself.







Wednesday, April 03, 2013



Yesterday was my one month weigh-in at my Weight Watcher's meeting. Yes. I do use both WW and Spark People to reach my goals. I figure I'll pick up any tool I can find to get where I need and want to be. And I weighed exactly what I weighed last time - 151.2. That's within the 2 pound spread that WW allows and still be able to count myself "At Goal" It was SUCH fun to be there with friends and to celebrate that first step in my new adventure.

But just because I've met the WW goal doesn't mean I'm stopping here. I kind of like this goal achieving thing and I've got New Goals I'm excited to start striving for. One is actually a different weight goal. I've mentioned this before - I'm an inch shorter than I was 9 years ago. I think I will be more comfortable at 145 lbs, so I plan to continue to eat at a weight loss level of about 1500 calories a day.

But I have other goals and the one most dear to me is to do 25 deep full body push-ups. When I can do that I'm going to treat myself and a girlfriend to a 2 day jaunt to Virginia Beach - this summer - with a stay at one of the pretty beach hotels. I have always hated push-ups and yet always had a strange attraction to them too. As I've been working this year with the personal trainer at the gym I've realized how much stronger I am. Two sets of 25 deep full body push-ups just doesn't seem that out of my reach any more.

Another goal I want to achieve this year is 12 months at maintenance. I'm thinking about creating a visual display of that one. Maybe special stickers on a chart that show each month I've kept the weight off. I'll think about it this week and see what I can come up with.

The big fun part of this is emotional boost being able to keep that weight down in spite of the 2500 calorie birthday dinner on Saturday. Staying at goal for a month is proof that I can live a life with celebrations in it without having to wear extra pounds.

Something to think about. Today. At Tara.

Happy Hump Day to you all.





Monday, April 01, 2013
I'm starting a new streak of living each day as healthily as I possibly can. I started one 37 days ago and though there have been some days when I knew the entire day was not a perfectly healthy day, I'd always made more healthy choices than UNhealthy ones. This weekend I really can't make that claim. It was a birthday weekend that fell on a holiday weekend so excessive dining opportunities abounded. I knew this and had prepared some strategies, but not enough. So what went wrong this weekend?

And what went right?



WRONG - On Saturday I really did want to go to that all-you-can-eat restaurant and Himself is always good for one and it was the day before his birthday anyway and it was going to rain on Sunday so who wants to drive away from Paradise in the rain? But I knew the dessert table was going to tempt me beyond resistance. In fact - I was intending to indulge in some sweet goodness. But I also knew that the desserts, while looking varied, were actually going to taste sort of ... commercial - and maybe even bland and a little metallic - although sweet. I knew that - but conveniently forgot it. I also knew that one slice of carrot cake from an all you can eat buffet would equal 12 points or 600 calories. And I could have remembered that their ice cream is always watery - and Ice Cream is an important food group. So I chose and chose and chose all those high calorie things and durn. None of them really tasted good enough to give me that 'I HAVE BEEN REWARDED AND INDULGED" feeling.

And when that's what you've been wanting - that's what you've been planning for - that's what you actually gave yourself permission to enjoy ... and you don't get it? BAAAAAD NEWS.

And now, feeling deprived and let down, along came Easter Sunday with all it's memories of candy laden baskets (Yes I know - there is a deeper meaning to this day but I am talking about my heathen wild child right brain with memories of chocolate bunnies and unlimited malted milk robin eggs and BLACK JELLYBEANS!!!) And so along came another

WRONG - I didn't purchase enough of the right kinds junk food to make me feel festive!
What's that?
Yes.
I had plenty of healthy choices in the kitchen - fruit, whole grain breads, low fat cheese, crispy vegetables. But it was a Holiday and a Birthday. There was no exciting treat candy goodie around. Nothing to feel special and rewarded and 9 years old. I spent a good bit of time indoors on a rainy Sunday afternoon looking for that candytreatgoodyyummy sensation.

And what happens when you are craving something and it's not there. You know, don't you? You wander around eating everything and anything that might slake that sugar-lustful thirst. I gnawed my way through the kitchen eating mostly fruit. But what I wanted was Chocolate Bunny.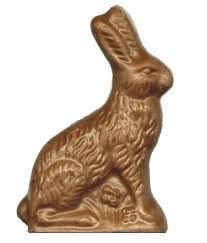 (Oh chocolate bunny - come to me)

Now - 2 Russel Stover chocolate bunnies are 600 calories. 60 robin egg malted milk candies would have equaled 600 calories. I can eat a lot of robin eggs but I don't think I could have eaten 60. I think 20 of them would have satisfied my sugar lust. But there was no amount of bananas or oranges that would hit the spot. I know. I tried them both. Lots of them.

Obviously I am going to indulge myself with sweet treats - which is my illusive holy grail. But I owe it to myself to indulge in the treats I really like, the ones that are really good, the ones that will actually satisfy my longing. The second rate sorta stuff - even if the quantity appears to offer me endless options - will always disappoint me and even too much healthy food is too much. If she doesn't get at least a little bit of what she wants, my inner brat will always throw a tantrum in the kitchen.

Ah well. That was then. This is now. And there were RIGHTS, as in:

RIGHT - packed a healthy lunch on Saturday
RIGHT - walked all over creation
RIGHT - took the dog for a second walk on Sunday
RIGHT - did my 11 pushups. (today it is 12)

It wasn't a total wreck of a weekend - but it was not a healthy choice weekend. The best thing I've done so far - the healthiest choice I've made in the aftermath of the debacle is to analyze the situation, figure out what I really wanted and store the wisdom I've gleaned from this thoughtful process for next time. Because next time I will go ahead and have the chocolate bunny and quit looking for it in my empty kitchen. Yes. Next time I will buy More Candy!

Besides, what could be more fun than starting a New Streak on April Fool's Day?






Tuesday, March 26, 2013
Over the past few days the subject of courage has nudged it's way into my consciousness. My own courage, or lack thereof, is my weakest attribute, followed closely by procrastination. It's a lack of courage that keeps me from starting a lot of things that I think about doing. It's the fear of failure. It's the fear of setting expectations in other people that I may not be able to maintain. It's the fear that I'll make someone else angry and then won't have the mental adroitness to defend myself. It's the fear of finding out the fantasy activity isn't so hot after all and now I don't have my mental escape destination any more. Fear - followed by procrastination - "I'll think about it tomorrow - at Tara"

Mind now, I'm not afraid of all sorts of things. I never fear getting up in public to speak - which is supposed to be the #1 fear of the general population. Nor am I afraid to a new hobby - especially if it's an art genre. (and thank you for those compliments in my last post. Worry not - I don't sell my self short. It's just that I had to learn it all - none of that drawing came naturally to me)

But I am afraid of stuff. I'm most afraid of being caught up in a wrangle. And of cruel words. And last week I knew I had to beard a lion in her den (do female lions even have beards?) The moment I thought about it I quaked and had to drag my brain back. I even promised myself a reward as soon as I did this daunting task. I told myself that once I'd made the phone calls, gotten the confrontation over with and done my best, I could buy that lovely neutral red jacket I'd found at Macy's on my Monday shopping foray. It was even on sale! All day Friday I kept pricking myself with reminders to "make that call". By closing time, I'd chickened out.

I spent an uncomfortable weekend knowing that Monday I would have to do the unpleasant task I put off on Friday. And on Monday we had wet slushy snow that threatened my ability to even go to work and do this daunting task. But the snow quit, I got to work and I put on my big girl panties and tackled this confrontation.

Only to be deflated and elated by finding out that everything I asked for was going to be given to me. Unlike last year, when the whole process played out in a humiliatingly public arena, this year I need only be present. I may slide into home plate unnoticed! It was all I could do to keep from reeling. In fact, once I was out of the building and down the block on my way back to my own office, I did a skip and a shout and then a happy dance!

Facing fears is an important part of winning this weight battle. Facing fears often reveals misconceptions about reality that block our own natural courage. Facing fears also lets us know exactly where we stand. If things had turned out differently for me yesterday, at least I would have time to regroup. recruit my support and step back into the arena. I may even have suffered a complete defeat - but I would not have died. I would only have had to make a new plan for how to live within a defeat. And sometimes, like yesterday, facing fears shows me that things are different this time. Things will go my way with ease and grace. and truth to tell - I'm still glad I wasn't in that public arena when I did my little happy dance. That sort of thing is a private act and deserves to be witnessed only by blue skies (or snowy ones) and the neighborhood cats.

Facing fears is part of a healthy life every bit as important as eating nutritious food and exercising your muscles. And it must be a topic of interest to many because not only did Pixilicious post about it today but Oprah made it the lead topic for her April issue of O magazine. Yesterday I ate within my calories/points, I got in lots of exercise and I faced my fears.

and you betcha - I ordered that jacket. I already know it's a perfect fit and it fills a serious gap in my wardrobe.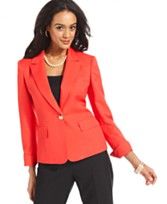 Be bold my friends and face your fears. You'll feel so much better.



First Page
1
2
3
4
5
6
7
8
9
10
11
12
13
14
15
16
17
18
19
20
21
22
23 24 25 26 27 28 29 30 31 32 33 34 35 36 37 38 39 40 41 42 43 44 45 46 47 48 49 50 51 52 53 54 55 56 57 58 59 60 61 62 63 64 65 66 67 68 69 70 71 72 73 74 75 76 77 78 79 80 81 82 83 84 85 86 87 88 89 90 91 92 93 94 95 96 97 Last Page

Get An Email Alert Each Time BESSHAILE Posts