| | |
| --- | --- |
| | BESSHAILE's Recent Blog Entries |


Saturday, August 23, 2014
No doubt about it, I'm an autumn baby. My birthday is in September (I like to celebrate all month long) and I live in the south - in the muggy buggy sleepy swampy coastal land of Virginia. Secretly ... well, not really all that secretly ... I am proud that I can endure a tidewater Virginia summer. But most of all I have always been glad to see those mosquitoey days draw to a close. I can't wait for the crisp bite of a north wind, the clear blue of a humidity free sky - I even like the song of the cricket - so long as he stays outside to do his wooing.

It has always been a mystery, why so many of my friends (including Himself) prefer the summer and sigh wistfully at it's closing. Till this year. This year we have had AIR CONDITIONING! I have only spent one summer in my life living in a place that was air conditioned and I had a sore throat all that summer. So I have always known what the weather is like out there. I have always felt the stifling heat of a second floor bedroom, gasping beneath a wet washcloth on my chest as I waited for sleep to take me away from the hotness. I have kicked off the sheet in my sleep. I've gotten the ice pack out of the freezer and wrapped it in a towel so that I could lie on it till my chilled blood circulated through my body to cool it down.

Not This Year.

This has been a summer of closed windows, clean floors, bug-less window sills. This year there have been no stuck dresser drawers, no mildew spores creeping across leather shoes and no no-see-ums whining in my ear. But this has felt like the year without a summer. This year, since I haven't "felt" summer, I can't really feel like there has even *been* a summer. I know. It's a Right Brain Thing.

And here we are, facing the last week of it. (you might think summer lasts till the 21st of September, but ask any 4th grader and she will tell you it's over on the first day of school) I feel like I've been caught off guard.

And what does this girl do when she is caught off guard?

She pulls out her Notebook and Starts A New List!

First I listed all the wonderful things that have filled the past 10 weeks. Then I wrote down everything I could think of that I want right now. And then I started the list of steps I need to take to get the things I want right now.

And number one on the list - no duh - is to drop the added lbs that an air conditioned summer has allowed to creep back onto this body.

ooooo. Notice how I found SOMETHING ELSE to blame for the weight gain?

No - just joking. The weight gain came from choices made over and over and over again. One more bite; an extra ice cream bar; wine AND dessert at the same meal - two days in a row. Hel-OH-oh.

But there is nothing like a new month, a BIRTHDAY month - heralding in a New Season - to inspire a girl to revamp her could-be-more-healthy lifestyle. First on the agenda is to do a new assessment with my WW ActiveLink activity monitor. I will start that tomorrow. The initial assessment was done at a time when I was lifting weights with a personal trainer. I haven't done that since my shoulder problems flared up in December. I can plug my little monitor in to the website and it will assess my daily activity and suggest ways to improve it. I'm ready for a fresh start and new challenge.

Second will be to commit to eating in the weight-loss zone. I know what that needs to be. Time to be like Nike and Just Do It.

Between those two choices runs the golden path to the body I really do want; the body with the energy to do all the other Fresh Start Things on my Autumn 2014 list.

So. That is my pumped up post for a Saturday morning - at the tail end of August in my Year Without a Summer.





Friday, August 08, 2014
A sudden shift in the universe has lifted the stress off of my shoulders. A potential family issue melted away like ice in the summer and a new county employee came by with an idea for a cooperative project that really pumped me up. It's got The Brains whispering excitedly. Wanna hear?

* * * * *



Whoa. Was that a victory last night?



Shhh. Don't talk so loudly. I think it was but we don't want to tempt fate.



Well. It sure felt like a win. And if we had to hear some weird back-handed insults as SomebodyWeLove conceded defeat , well, who cares.



Yeah. That's just little boy talking. I remember reading somewhere that when you tell your kid "don't do that one more time" you have to be prepared for him to do it one more time before he quits. I think that was what happened last night.



Well. It was all I could do to keep from laughing out loud ... in fact - in the end we were both laughing.



In the end we were ALL laughing. Whew. Dodged that bullet. Man - I've been sick with worry about that issue.



Yeah, me too.



And how about that new Parks and Rec guy? Isn't he something?



Oh la, yes! all of a sudden we are going to have so durn much fun this fall I can't stand it.



(with a huge grin) Think of all the planning we can do. All the lists! The power point presentations we get to make! Think of the explosion of productivity and interesting work.



Feel the excitement. Feel the joy we'll be able to spread around town. I feel like dancing.



So what do you think. Can we start one of those Whole Town Loses Pounds things - the sort of thing we've read about in People magazine - with this guy? Rope in the hospital? And the schools?



Oh yeah. Cool.



Something like 2015 lbs gone in 2015? wouldn't that be fun?



It feels like it'd be a ton of fun!



OMG yes! A ton of fun found, a ton of weight lost.



Well I wish now we were going to work today just so we could share that idea with him.



LOL Finally get a day off and now you want to go to work?



Well, we are going in to town. We could give him a call.



I know we could ... and maybe we will - but it's an idea that can wait till next week.



Oh please. don't let the momentum die out.



If we stop by his office we may get delayed buying all that reunion stuff. You know we have that appointment at 12:30 that we really can't miss.



Oh. Yeah. Okay. Well. I won't whine and insist just so long as you promise to remember.



I swear I will. I'll send us an email immediately so we'll remember on Monday.



Fair enough. Now - let's go have a great Friday.



You betcha!

* * * * *

Well. Isn't that interesting. so if you read about my little town in People Magazine next year - remember - you heard it first, here.






Tuesday, August 05, 2014
In looking for something else deep in my blog archives I found the first post I'd ever made from The Brains. I hadn't realized I'd been doing this quite so long - but then - in my 60's now I tend to forget just how long ago something happened. It ALL seems like long ago.

Anyway, rereading the first Right Brain/Left Brain conversation woke them up and now they're chatting. Let's listen in:


* * * * *




Hey look at this! A record of our first conversation! Isn't that cool?



Well - that's not exactly true - we have always communicated.



You would say something like that.



Just stating the facts, m'am



Huh. And missing the point. It's the first time I ever had a chance to articulate.



(smiling) True. It was good to hear what you were thiniking



I wasn't thinking. I was feeeeeeeling. Nothing more than feeeeeeeeling


You nut. But yeah - it was great to hear in words I could understand - what you were feeling. It's so hard for me to understand your feelings when they just come as ... well ... feelings.



I know. I can feel that too. Or rather - when you're not trying to hear me I get all tense and feel worse and worse ...



Yeah - till you act out and consume an entire bag of cheetos.



heh heh. Haven't done that in a while, though - because you ARE listening to me a lot more now.



(looking sanctimonious) I do my best.



(giving RB a pinch) Smartypants



Just teasing. And I am really glad to hear from you too, because when I do listen - well - I can be me - only better. Like last night. Remember? How we were sinking into the black and gloomy pit, arguing with Himself. All the Iron Gates were clanging shut. but we really have to not just work this issue out but carry the day. And after a while I just shut down and quit answering.



Yeah. I did notice. And was just beginning to feel hate and rejection. It was awful. Till you opened up the channels and let me flow into your mouth so I could say the right words.



Yeah. Boy. That was magnificent. You were really fabulous.



(blushing) Thanks.



But we're not out of the woods yet. We still haven't actually won this fight. And we must.



Sigh. Yeah. I know. But maybe we've figured out how to win it.



You know, I think you're right. Hmmmm.



(nodding, smiling gently - peacefully)



Hmmm. Hmmmm. You know you're absolutely right. This looming argument has been so daunting - so ...



I know. I feel it. I've been almost sick about it. Yet afraid to bring it up. Afraid to go there because ... gad - that man can swamp us with words.



I know. And I really think he's .... well ... well ... so WORDY.



(laughing) And so WRONG!



(laughing with her) Oh la. He is, isn't he?



And we really have to change his mind.



Yes. we do. Sigh. Oh well. We have time. Thank God we have time.



uh oh. I can hear you now. "I'll think about it tomorrow. At Tara"



LOL. Well. you're the one who pushes me to procrastination. Besides, I don't think I'll think about it all that much. I think I will tap into your deep honest true good strong and CORRECT feelings and let you do the talking.



Woo woo. Me? Cowardly me? In charge?



(smiling) yes. You. Cowardly you who will still do what's right when it has to be done.



Oh. My. what a nice thing to say. (gives LB a kiss)



(hugs RB tightly) We're a team, aren't we?



Yes. We are. And we'll get this thing sorted out. I feel it in my bones.



And I know it in my heart.



So. How about that spa visit in Colonial Williamsburg. Don't you want to do that again?



Oh la yes. But we're a little short of cash right now. And time. That's an even scarcer commodity.



Oh but wait! Isn't a window opening up in that 3rd week of August?



Oooo. It IS. Hmmm. Let's talk to Suzanne today. I'm sure she'll want to have lunch with us. Let's just see what we can plan.



Sounds good to me.



Great. Off to werk we go then. High ho, High ho. It's off to werk we go.

* * * *

Well. Who knew? Those two brains can really come up with some plans when they work together. I never know what's going to come out of one of their conversations but my goodness, I really ought to listen in to them more often.

Now it's time for ME to get to werk. Ta.








Saturday, August 02, 2014
I hear the brains chattering. Sounds like they have some issues. Let's listen in.

* * * * *



Hey. It's August 2. Don't you think it's time we wrote something?



Why are you always picking on me! Go away. Waaaaaaaahh



Yeah. I thought so.



You thought so, you thought so, you thought so.



Yeah. Now I know for sure. Something's wrong. Spit it out.



(gasping hard breathing) Leave me alone



No. We can't be happy if you aren't happy. So what's got you feeling so bad?



I feel like a failure



You do? Why? You're so cool? I mean – we're so cool so you have to be cool.



I didn't do the things I said I'd do in July.



Oh. Well. Yeah. But I didn't either.



No duh.



Don't be snippy. They were just ideas, you know. Not set in stone. Besides. How did we know it was going to be such a weird month.



I'm ashamed to post that I didn't do what I said I'd do during the month of July. And it sounded so cool. And I wanted to feel like people admire me for doing such cool stuff.



So. Don't post that you didn't do what you said you'd do. Who is making you feel so obliged?



I don't know. I just feel. And I feel ashamed.



oh. well. I don't know anything about that. I never feel ashamed.



No. you don't feel anything. You and your old left thinking brain.



eh. we are what we are, right?



Sigh. Yeah. I feel fat.



Oh. well. I bet you do. I know we're ... well ...



BORED. I'M BORED BORED BORED. I'm tired of tracking. Tired of everything we eat. Tired of everything.



I know. I'm actually bored too. You know that boredom is a mental as well as an emotional state.



Well – I guess I did but what I do know is that I feel cranky and bored and uninspired and fat.



I looked. We aren't fat. But we are probably aren't eating all that well either. Not so bad, mind, but not great.



What did you look at?



The scale. It's only up about 3 lbs.



UP! The scale is UP?!?!???



Oh come off it. You knew it was. You had to. You feel crummy. Heck. Even I feel crummy. We always feel crummy when the weight goes up. It's just that ... it's only up a little bit. We can stop that in its tracks.



THIS WEEK HAS WEIGH-IN DAY!!!!



Get a grip. We like to weigh in at goal but we aren't going to die if we don't. It's only feedback.



You don't understand.



No. You don't understand. I understand. You feel and maybe you forgot that you ate fudge and ice cream and French fries and




WAAAAH.



(putting her arms around waling Right Brain) Shh shh shh. It's okay. You know that neither of us has ever valued perfect attendance. That was true in school. It's true on the job. And honey, it's true for weigh in too. We may be a little up this week, but we can get it back down by next week.



NO NO WE HAVE HOSKINS REUNION NEXT SATURDAY



Sh sh sh. That's okay too. We never overeat at that anymore. We haven't for years.



Oh. Yeah. I forgot.



But you didn't forget how we handle it do you?



No. We make sure we talk to everyone at the reunion before we eat any food. And by then, all the good stuff is gone and we're not that hungry anyway.



Right. So we'll be fine at TheReunion. And you may not have noticed but this week, when we've just eaten like ordinary Americans, with French fries and BLTs, we've always just eaten till we're no longer hungry and we've actually tracked it.



(drooping head) Yeah. Who knew a BLT was 18 points.



Well – we know now, don't we.



Yeah.



So. anything else bothering you?



Well. There's that thing at work.



Ugh. Yeah. Well. Nothing we can do about that, now, is there. We're just going to have to let it play out the way it will play out.



Sigh. Yeah. I guess.



And you will stop dreading to go to work? Just accept that as one of the things you can not change and all – like that prayer.



Sigh. Yeah. I guess.



It's NOT your fault. Or mine. We can NOT make people be smart, good, wise, perfect. Heck. We can't even make ourselves be that. So quit stressing about it.



Sigh. Okay.



(tickles Right Brain) Stop it.



(giggling a little) Okay.



(making the sign of the cross) Te absolvo



(eyes twinkling) Thank you Father Left Brain School Marm



(grinning) So here's a thought about August – see if it feels good to you. I do think we need to change out our eating in some way but I don't know how yet. I keep hearing about things that sound interesting: ThePlan, Whole30, Anti-Inflammatory Diet. But I don't know enough about anything. So what if we just do this. What if we eliminate artificial sweeteners and limit sugars and drink half our weight in ounces of water ... for 31 days?



Oh. Hmmm. That means no sodas.



Yeah. I know. But we might buy a soda stream thingy that makes carbonated water.



Yeah but didn't that scientist say carbonated water made our tooth enamel wear away.



Yeah. She did. Hmmm. Well. Heck. How about just doing without sparkling drinks period?



Well. It sounds okay. I like water. And I feel like the artificial sweeteners are making me sort of .. icky. How much do we have to limit sugar?



Oh. I don't know. Maybe 100 calories? That's about 6 tsp a day.



Hmmm. I'm not sure if I can or even want to dig out all the sugar info off the labels. Not for every single thing we eat. It's starting to feel bad.



Well I certainly don't want to make this into some sort of punishment. I'm hoping it'll feel so easy it'll be fun. Or at least so easy we don't really notice. Giving up sodas will be the hardest.



Yeah. I don't want another month to end with me feeling ashamed. Maybe we ought to just say no artificial sweeteners and 75 oz of water. I WANT to do those things.



Hmmm. Alright. That's good enough for me. Hey – usually it's ME who offers the compromises.



(grinning) I guess I'm learning from you.



(grinning back) I guess we're learning from each other.



* * * * *

Well. I'm glad they've got that all sorted out. Looks like they have a Plan for August.





Saturday, July 26, 2014
Summer always looks so long and carefree, stretching out across the calendar when you hang your new one in January. Alas, when it actually gets here it can zip by in a twinkling, leaving you sitting by the curb in September wondering "Wha happened?"

I work in a public library and we are busier than a one armed paper hanger in June, July and August. It takes a concerted effort on my part to participate in summer as well as to serve the needs of all those others seeking summer enjoyment. Yesterday I made that effort and what a glorious day it was.

Somewhere on the Internets I saw a photo of a bike, parked along a country road, and I had a lust to go bike riding. Himself and I have talked, now and then, about biking down one of the old railroad beds that have been turned into bike trails. A little research turned up a Rails to Trails park within an easy drive from home.

High Bridge Trail State Park.

www.dcr.virginia.gov/state-parks/hig
h-bridge-trail.shtml#general_information


Not owning a bike didn't deter me a whit. I found a wonderful bike rental right in Farmville beside one of the trail entrances.

farmvilleva.com/business/business-di
rectory?
sobi2Task=sobi2Details&catid=171&sobi2Id
=629

the fact that it was still under construction didn't keep the owner from renting us very VERY smooth coaster bikes.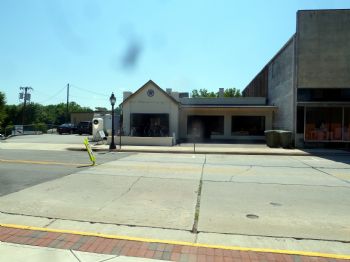 Himself hadn't ridden a bike in a long time and though I use the stationary bikes at the gym - they are just that. stationary. So we were both a little nervous about riding away from the rental shop, especially on such brand spanking new bikes, for fear we'd topple over. But the adage holds true - once you learn to ride a bike you never forget. Off we pedaled onto the white gravel path.




We'd had a heavy rain the day before and the sky had that washed clean look to it - fresh, cool breezes wafted scents of pine, greenery, moist earth all about us.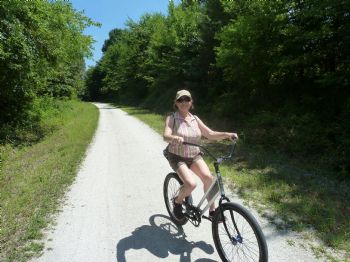 The star attraction of this 31 mile trail is the former railroad bridge over the Appomattox River. It's half a mile long and I believe, 120 feet high.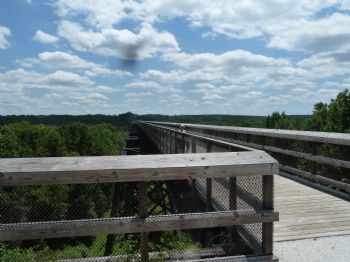 this is the 4th bridge to link Farmville to Prince Edward county. The Civil War era bridge was built on brick pilings and had a double deck - with the train on top and a wagon road below. You can still see some of the brick pilings. (hope this photo loads in the proper orientation)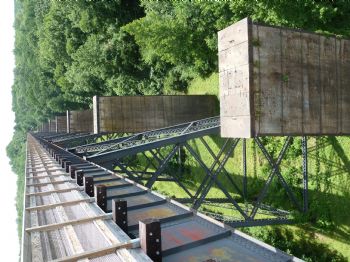 We could hear the river rushing as we got closer to it - and then suddenly there it was, sparkling over some rocks.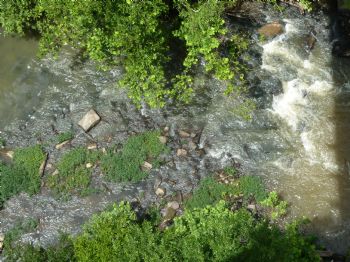 There didn't seem to be any other rapids along the river so I wonder if these are artificial ones, created by the rubble of previous structures. Mostly the river was a smooth brown snake weaving through the green treetops.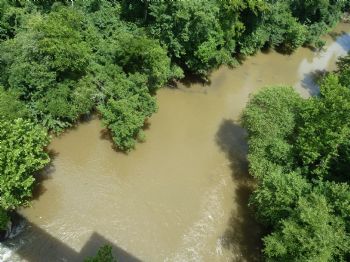 There are many places where the old railroad crossed highways and country roads so you can pretty much ride the trail in 4 mile chunks. We went about 8 miles from Farmville to Rice - which is a pretty little railroad town of about 30 19th century houses



and a brick church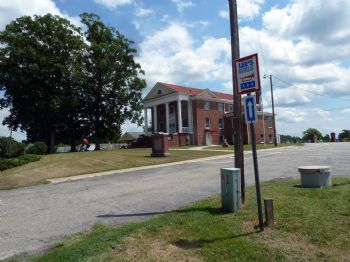 We took our time. We stopped often to have a snack or sip some water. We peered over the bridge for a bird's eye view of the Virginia countryside.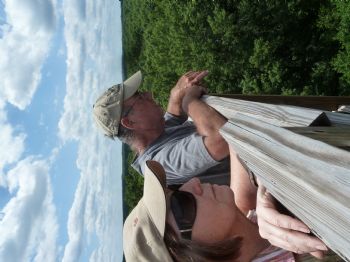 And we had some quiet time of just being where we were, pedaling easily, in no hurry, just soaking up the feeling of sumertime and peace, unscheduled, un-driven, and un-organized.

The quiet ride back gave us many treasures, not the least of which was riding up on these two babies, out for an afternoon browse.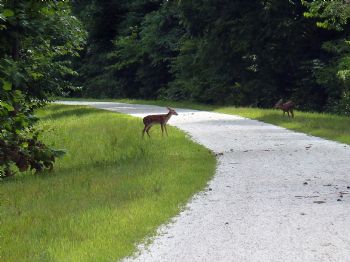 It was a perfect afternoon. Just what you dream of having on a golden sunshine summer day.

Namaste




1 2 3 4 5 6 7 8 9 10 11 12 13 14 15 16 17 18 19 20 21 22 23 24 25 26 27 28 29 30 31 32 33 34 35 36 37 38 39 40 41 42 43 44 45 46 47 48 49 50 51 52 53 54 55 56 57 58 59 60 61 62 63 64 65 66 67 68 69 70 71 72 73 74 75 76 77 78 79 80 81 82 83 84 85 86 87 88 89 90 91 92 93 Last Page

Get An Email Alert Each Time BESSHAILE Posts