| | |
| --- | --- |
| | BEKKASHAY's Recent Blog Entries |


Monday, August 16, 2010
I thought I would do a quick blog this morning...I feel like I hit another milestone in my weight loss adventure :) My daughter is 4 years old. When she was 2 years old we took her to Cedar Point. Cedar Point is a huge amusement park close to where I live if you havent heard of it. Anyway, she LOVESSS it! They have TONS of rides for her age, and on alot of them the parents have to ride too. When she was 2 years old I couldnt ride about 95% of them with her. Most of them have a sign that say 275lb weigh limit per car (or swing or whatever). When we went last time I was at least 270lbs and my daughter was 20-something lbs. I had to watch as my husband took her on everything. The one ride I could go on with her (a submarine ride), the worker tried to put the lap bar down over our laps and it wouldnt fit. Well NOT THIS TIME! I was completely nervous but I rode all the rides with her :) no problem! I had my husband stand and watch and every lap bar, seat belt etc fit me no problem :) My daughter is small and only a little over 30lbs...so I would read the signs that said "maximum 275lbs weight limit" and smile...my daughter and I combined are not even 200lbs now :) It felt good !! LIFE IS GOOD and its makes this all worth it :)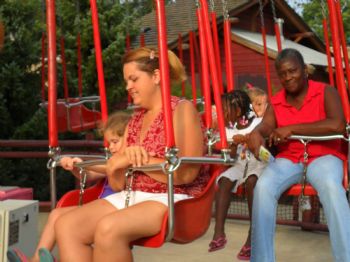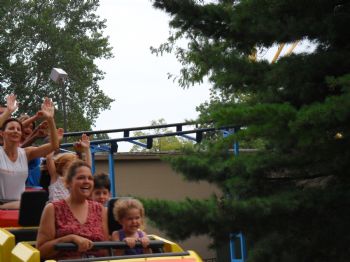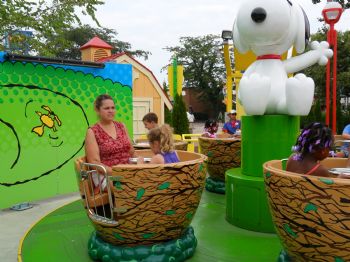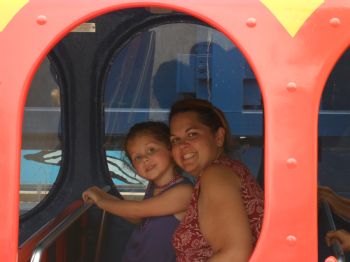 (this was the ride that the lap bar would not fit on, I had a good 10 inches or more of space this time :)





Thursday, July 15, 2010
I thought it was time for another blog :) I am approaching my 18 month Spark-aversary in a few days and I am just reflecting on my journey. If you have read my previous blogs you know I have actually been on Sparkpeople for several years, I have just been committed to it for 18 months straight and I am down 110 pounds :) I have at least 24 pounds to go and every morning I wake up and pinch myself! I started this with 134 pounds to lose, its something that I just cannot wrap my head around!! I often ask myself 'How did this happen?" The last 18 months have been somewhat of a blur. See, I have tried to lose weight my whole life. Why did it work this time? I often tell people that the physical part of this (the eating right and exercising) is the easier part. The hard part is all emotional and I think that is the part that I am still struggling with everyday. I don't really know what it was that made me 'stick to it' this time. Obviously, I credit Sparkpeople (and if you read my blog two blogs ago you will see everything) but it had to be something INTERNAL first. I still have a VERY poor body image, I am still self-conscience where ever I go...when I am anywhere in public I compare myself to everyone else and tell myself "I am almost at a normal weight" or "soon I will be normal like everyone else" but in all reality (as my husband points out), I am often the smallest person in the room (or store or whatever). With obesity such an epedemic now, I just want to help everyone! At 164 pounds I shouldnt be the smallest in any room! I also think its very ironic that since the age of 13 (when my mom took me to my first Weight Watcher meeting) I have spent thousands of dollars on weight loss programs, and the only one that has worked for me (Sparkpeople) was COMPLETELY free! I think that ALONE has taught me that no matter where you go, no matter how much money you spend...YOU have to be ready..no expensive food or program is going to do that for you! I was always worried about the scale at Weight Watchers, or drinking a Slim Fast Shake EVERYDAY for two meals (and being starving), or always EATING Nutrisystem food...I was never worried about MYSELF. I have learned in the last 18 months that I need to hold myself ACCOUNTABLE! I weigh in (in my home!!) every Friday morning and I BUST MY ASS to lose every week. There is nobody MORE disappointed then me if I go in my bathroom on a Friday morning and do not lose. Before I was just disappointing a Weight Watcher employee or a friend I was trying to lose weight with or whatever, I was never disappointing MYSELF...so that is what I am coming to terms with. I AM IMPORTANT and worth it and everything I have gone through is WORTH IT. This really is ALL ABOUT ME, and I am SOOOO all about EVERYONE else. Its tough. Now that I have been rambling on and on, the other thing I wanted to ask "How did this happen? to everyday , is that I am an official runner :) thanks to C25K :) I could not run the 30 second intervals at first and now I am running at least 2 miles a night! AHHHH How did this happen?????? I am signed up to run my first 5K race on August 4th! I have amazing friends that have pushed me and I am sooo excited that this is my life now! I have so much energy and joy and I am NEVER on the couch anymore like I used to be. I am LOVING the first summer of my adult life where I am wearing shorts everyday and my legs are tan :) And according to my four year old, she is so proud of me- She had told me that I am no longer "fat-fat" I am just "medium-fat" hahah Thanks for that Gabriella :) I am working on it everyday for ME but also for you to have the healthiest mommy :) Thank you for reading and please continue to email me and ask questions ! I am here to help, keep on going, its ALL WORTH IT I PROMISE :) This is a happiness and sense of accomplishment I have truly never experienced :) XOXOXOO Bekka


164 in my summer shorts :)
Still working on the thighs and arms-but I know NOW I will get there and I am just enjoying my journey :)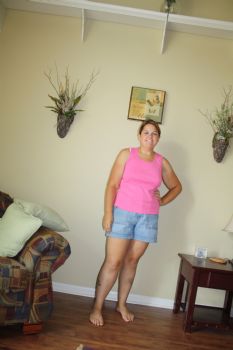 Wednesday, May 19, 2010
The love and support and reaction to my last blog is overwhelming to me! So in response to so many of my Sparkers asking for a few more details on a few things from my list, it has led me to write another quick blog for you guys!! The biggest question I got was on how EGGS were my biggest weight loss tool in regards to food. There is no big secret and magic recipe (so I hate to disappoint). But it is proven that eggs will keep you fuller and longer than most other foods and if you start your day with them you will burn far more calories throughout the day. Another study where overweight or obese women followed a low-calorie diet that included either eggs or bagels for breakfast, those eating eggs lost 65 percent more weight and reduced their waist measurement by 83 per cent more than those eating bagels. So this is what I do: I eat 2 eggs at 11am about four days out of the week. I usually eat them with some sort of reduced fat cheese and wheat toast (with spray butter) or a whole grain English muffin. I change it up everyday. I will do omelets, scrambled, egg sandwiches, poached etc. I really donít get sick of them. If you are active and workout it is safe to eat that many eggs. You will burn off the cholesterol. On the days that I do not eat my eggs I have a headache, I am starving all day and I will ALWAYS go over my calories. AND if I weigh in the next morning I will NOT lose. SO thatís how they help me. I stay full until dinner most days and its awesome! (I will typically go into dinner with under 500 calories). So I hope that helps! I have also gotten questions for my chicken pot pie recipe! I eat this AT least once a week for dinner! Its healthy (except for the crust, I am still trying to figure out something more low cal), its SUPER filling and you donít need any sides! YUM! So here is that recipe:

This makes three large pot pies. I make them individual in the small baking dishes!

2 large boneless skinless chicken breasts
1 Tablespoon dried parsley
1 can reduced fat crescent rolls
2 cans chicken broth
2 large carrots (sliced thin)
1 small onion (chopped)
1 container of fresh mushrooms (I used one and a half because I love them, quartered or sliced)
1 potato or sweet potato (optional, its okay in there, I do it sometimes Peeled and chopped small)
1-2 celery stalks chopped
Any other veggie you like!

In a large pan place whole chicken breasts with seasonings on both sides (optional: I use Mccormicks All purpose salt-free seasoning). Pour the two cans of broth over the chicken and boil until chicken is done. Remove chicken and cut in bite size pieces. Save broth.
Next, put a small amount of oil in a pan(I just use the chicken pan). Add carrots, celery, and potato and sautee for about 3 min. I sprinkle LOTS of salt and pepper on everything. Then add the rest of the veggies(mushrooms and onions and any other veggies you want). Sautee about 6-7 more minutes. Sprinkle flour all over the veggies. Cook and mix for one min. Add ALMOST all the broth (I use about 1 and 3/4 can.) Add parsley. Keep on medium about 10-15 minutes and stir frequently until thick. Fill your three dishes with the mixture. Use two of the crescent rolls for the top of each dish (I roll them out thinner). I put spray butter on the top and salt and pepper. Bake at 375 for 10 min. then ENJOY!! They stay hot for hours! Just a warning! Also they just started making Pillsbury crescent sheets....so those are a little easier and save a few calories. Here are a few pics:
The dishes: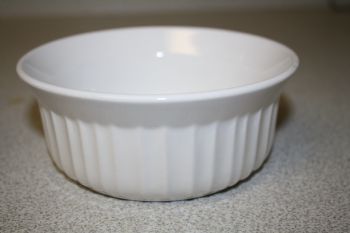 YUMMY (almost done on the stove)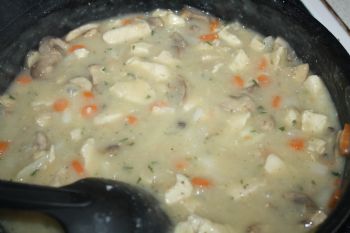 Finished product-ENJOY!!




One final thing I was asked alot-about how I space my food and days out. This has to be different for alot of people and it took me a LONG time to figure it out for me. But M-F I do 1100-1200 calories a day, then on the weekends I don't count and have a few 'bad' meals. During a typical week day my day is like this:

Breaksfast 100 calories (granola bar or something like that)
Lunch 300 calories (eggs, soup, frozen meal typically)
Snack 100 calories
Dinner 500 calories (some sort of chicken, a starch and a veggie or two veggies)
Snack 300 (usually two snacks- something crunchy and then fruit and cool whip!

Hope that helps. I do 60 minutes of cardio each night, at least 6 six nights a week!!

Thank you again for all the support! I LOVE YOU ALL!!!!! xoxxo Bekka






Friday, May 14, 2010
AHH! I lost 100lbs! It just doesnt seem real! I mean, who really loses 100 lbs??? ME!!! Thats who!! Its taken 16 months and its been more of an emotional ride than a physical one but I have done it MY way and I am so proud of myself !!!I made a list of the 100 peoples, places, things, and accomplishments that have helped me achieve my success. I just wanted to share this list with everyone who has asked me for help, who has told me that I inspire them, to those who have encouraged me along the way, and for anyone who is at a weight where they feel hopeless after failing so many, many times like I did- YOU CAN DO THIS!!


Exercise-
100. My Ipod Touch (could not survive without it!!!)
99. My stationary bike (my only piece of workout equipment, I got it for $25.00 off of Craigslist)
98. my Skecher shapeups :)
97. Walk Away the Pounds and Leslie Sansone
96. Wii Active
95. my hand weights
94. power walking every night when its warm out to one of the 4 parks within a few miles of my house to meet my daughter and husband.
93. Richard Simmons
92. Jillian Michaels
91. riding my bike outdoors with my brother in the summer
90. C25k Podcasts!!!

Food- (all the foods I have needed to succeed!)
89. eggs (biggest weight loss tool that I swear by-ask me about it!)
88. Parkay spray butter (other big one)
87. strawberries
86. Skinny Cows
85. Lean Cuisine
85. mushrooms, onions, and carrots (favorite vegetables)
84. Tyson Frozen boneless skinless chicken breasts
83. sugar free Jello
82. Lite Cool Whip (frozen please)
81. Lauras Lean beef
80. 100 Calorie packs
79. Smart Ones
78. Josephs Flax Pitas
77. Flatout
76. whole wheat breads
75. fresh garlic and garlic powder
74.microwave popcorn
73. salt and pepper
72. McCormick seasonings
71. Diet soda (I know that°¶s not a great thing, but like I said, I did this MY way :)
70. Fish once a week
69. One or two splurge meals during the weekend (a must -do so that you do not give up!)
68. My homemade chicken and vegetable pot pies
67. Limiting carbs when needed
66 my Chinese stir fry
65. Granola bars
64. Healthy Mexican food
63. Sherbet at Mickeys
62. Red meat only once a week

People-
61. First and FOREMOST- Michelle Hart (1234MICH1)- my best Spark friend in the whole world, we talk all day long, we started at the same weight and we are finishing together. My biggest support, inspiration, and true FRIEND!! LOVE YOU girl and you are AWESOME! I thank God for bringing you into my life!
60. Which brings me to GOD! I have prayed everyday during this journey and he has heard me. I feel like I dont deserve all this success and happiness and then he reminds me that I do.
59. My Ann-one of my best friends since 7th grade-My first Weight Watcher partner-we are doing this girl and my thumbs are permanently sore from all the texting we do everyday, but I couldnt do it without you! You are awesome and you are going to be a gorgeous bride next month, cant wait- and we are going to look good at your bachelorette party this weekend :) !! XOXO
58. My Operation: Bikini -Spark team members!! Thank you for joining my team- you are all awesome!! Please join my team, we are a great supportive group of girls!! (shout out to Kendra, Haley, Diane, Louie, Melody, Fran, etc etc)
57. Michelle-(GR8TBEFITAT42)- My other spark bestie!! She turned me into a runner (almost) and we are training for a 5k! You have pushed me and inspired me in ways you will never know!! I have needed you through all of this and YOU ROCK!!I cannot say enough nice things about you!! THANK YOU! XOXOXO
56. ALL MY SPARKLING SPARKERS!!! You have inspired me and encouraged me every step of the way xoxox, Kat, T, Becky, Diane, Fran, Nicole, Mandi, Anna, Michelle, Jae, Amber and Zircadia (my two biggest inspirations when I started!), and the 1000s of others that has ever left me messages and words of encouragement! I know I cant list you all but I appreciate you SO much!!
55. My Facebook Friends that have encouraged me! I know I will forget some of you but BIG shout out for all the encouragement to Lisa T, Mandi, Loren, Dawn, Laurel, my cousin Tabitha, Jo, Patti, Jessi, Nicole, Suzanne, Shelley, Beth I., Heather, Julie, Becca, Samantha, Ellissa, and Theresa (love ya girl! I will see you at the beach this summer :).THANK YOU THANK YOU THANK YOU FOR ALL THE LOVE AND SUPPORT AND PICTURES COMMENTS! THEY MEAN SO MUCH TO ME!!
54. MY MOM- for being my weight loss buddy and checking in with me and LISTENING and HELPING. For sending JUST DANCE and the words of encouragement. For telling me I look awesome everytime she sees me AND for always complimenting me - even when I was 274lbs she never treated me like that-words cannot express what that has meant for me even if I might not show it.
53. My dad and stepparents- my stepmom for introducing me to Leslie Sansone videos and the encouragement, to both of my dads for the encouraging words (and picture comments) and new nicknames. xoxo
52. My mother and father in law-for always telling me I look skinny even when I don't and the love and encouragement (and amazement) you have shown me through this all!! xoxo
51. My sisters Bethany and Rachel- for your kind words, for always saying "Geez have you lost MORE weight?" for sometimes calling me a BI-ATCH (haha), for telling me I was extremely beautiful before I lost the weight, and to Bethany for doing all my before and after pictures!! Both of you have done more than you will know for me and I want you to know I appreciate it - and I love you!
50. My Gramma Ginny, Dib Dib and Papa- for EVERYTHING and I know you are not just saying the wonderful things that you do because you are my grandparents;) !!
49. My Aunt Lori, Aunt Traci, and especially Aunt Mary- three of my biggest cheerleaders! Thank for all the compliments THANK you Aunt Mary for being SOOOO awesome!! You get it and I love you!! XOXOX
48. MY DONE GIRLS!!!!! ENOUGH SAID!!! XOXO
47. My 4-year-old daughter Gabriella Kendall, my reason for starting this (my reason for everything) She still likes to tell me I have a little fat left on my stomach ("not quite ready for a "kini"yet mommy'!) and that I still have big "chicken wings"under my arms but 'they are shrinking". Thank you Gabriella for the constant reality checks and for being mommys workout partner all these months! You have been more of a support than you could possibly imagine and I love you the most.
46. Mike- for going along with MOST of the changes in our household and allowing me to workout at night. Also, for annoying the crap out of me and telling me repeatedly that my bones are sticking out of my skin. Haha.
45.Jamie Oliver
44. Ruby
43.my neighbors nice comments, when they are usually just rude to me ;)

Things
42. MEASURING OUT EVERTHING I EAT
41. RECORDING EVERYTHING I EAT
40. TRACKING MY FITNESS
39. Sparkamerica goals and minutes
38. my food scale
37. My bathroom scale, its a love/hate relationship
36.The Climb
35. My DVR (I have no excuse not to work out at night because I am not missing my shows.)
34. watching my Spark Ticker go down :)
33. my measuring cups and spoons (PORTION CONTROL!!!)
32. my outdoor grill
31. rubbermaid containers
30. people telling me I inspire them everyday
29. calorie cycling
28. working at home-enables me to cook all my meals healthy
27. Self Magazine
26. C25K!!
25. no calorie counting on the weekends
24. my full length mirror
23. my fat pictures
22. THE VILLES (another huge thing) teams-taking my weight loss in 10lbs increments! MOST IMPORTANT THING I DECIDED TO DO!
21. blogging :)
20. Texting
19. The Biggest Loser (HUGE)
18. Sparkrecipes.com

Small goals I accomplished that have kept me going :)
17. BECOMING DONE GIRL OF THE DAY- wow!! Turning point in my life and it changed everything!!
16. being able to shop at the mall-anywhere:)
15. Rewarding myself with things
14. Going from a size 20 to 12
13. ONEderland!!!!!!!!!
12.Going from 1X to M (and in a lot of brands I wear a Small, WHAT??)!
11. taking my weight loss pictures every 10lb (HUGE!!)
10. Becoming a Sparkpeople Motivator-again..still pinching myself
9. Getting more energy with every pound lost
8. When somebody has told me that they are going on diet or sparkpeople because of me!
7. Being able to swing and slide at the park with my daughter
6. Selling all my clothes the second they get too big for me.
5. Knowing I can have baby #2 now (if I chose to) at a healthy weight
4.spacing my meals and calories out for certain times throughout the day
3. no longer being obese as of TODAY!!!!
2. Getting my wedding rings sized down four sizes :)
1. And since I have said it so many times, the #1 reason is SPARKPEOPLE.COM!!! I wish everyone could experience the love and support that I have gotten from this internet community!! IT HAS TRULY CHANGED MY LIFE!



I still have at least 34 lbs to go. When I started this journey 16 months ago, losing 100lbs would NEVER be anything I would even dream of accomplishing! It STILL hasnt sunk in. I STILL dont recognize myself when I walk by a mirror. I STILL dress the same as I always have. I STILL hide my stomach with my arms when I am in a room with other people. I STILL think I am the same size I have been for ten plus years. I STILL dont LOVE eating healthy food, and I STILL dont LOVE working out°Kbut I am a REAL person who loves to eat and if I can do it ANYONE can!! You just have to have the drive and determination and that was the one thing I lacked all these years while I was spending hundreds of dollars on weight loss programs and gimmicks! When I started this I pleaded with God to allow me to stick to Sparks for one solid month without quitting or cheating.That was the hardest month out of the last 16, but I did it (for the first time in my life). I still don°¶t know exactly how I got through it, but ever since that first weigh- in there was NO turning back. When I am running at night (YES! ME RUNNING!) I often think to myself 'why do you feel so happy'¶ Its a feeling I cant really remember having for so many, many years. I am excited to wake up in the morning. I am excited about life. I owe it to my friends, family, and Sparkpeople. I am here to help whomever I can and PAY IT FORWARD from this day on! Thank you God for getting me through that first month and every month thereafter! AMEN!

Starting Pic (I was actually about 10lb heavier than this)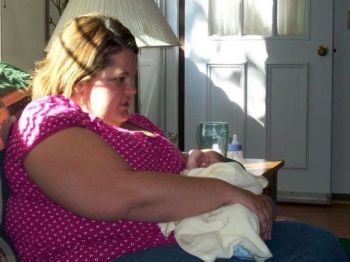 Down 100lbs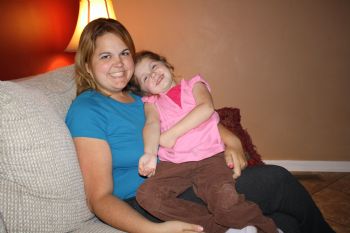 Before: My first sisters' college graduation two years ago(I am the huge girl in the pink):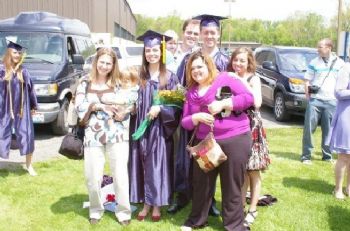 AFTER: My sisters' graduation last weekend (I am on the left)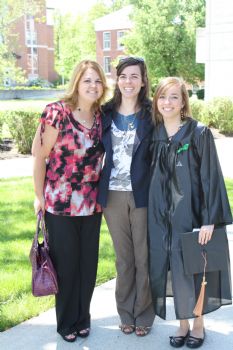 Friday, January 15, 2010
WOW! That is only word I can think of to sum up this past year! I joined Sparkpeople in 2007 at 274lb. It took me 16 months of reading inspirational Sparkpages and going on and off the program to actually commit on January 19th, 2009. On January 19th, 2009 I had hit rock bottom. Like most people I have dieted my whole life, tried every gimmick, every trick, Weight Watchers, Slim Fast, MediFast, Atkins etc etc etc. On January 19th, 2009 I started a program called Nutrisystem out of desparation. I ate two meals of it and realized it was just another program that would NOT work for me (it was un-edible!!). I just sat on the couch and cried. And cried. And cried. It was time to turn my life around. Again. Did I want to get to 300lbs? NO! Had I not decided to turn my life around that day, once and for all, I guarantee I would be at 300lb by now or in the near future!!! SO how did I do this? I came back to the only place that had helped me lose 14lbs in in the last 16months (I know, pathetic)....Sparkpeople!!
So, on January 19th 2009 I started my journey on Sparkpeople at 260.2 lbs. Did I think I would fail? YES! Did I really think I would lose more than a couple lbs? NO! But I did...as of today I am at a total weight lost of 87lbs ;) How did I get here? Most of it is a blur! But I will tell you that I took it ONE month at a time. And 10lbs at a time. I started exercising by doing 7 minutes a day on my stationary bike. That has turned into 60 min (plus strength training and other cardio). My ultimate goal when I started was 230 lbs :) HAHAH. That seems ridiculous to me, as I am not even happy being in the 180s right now! I would like to list the six defining/life changing moments for me in my weight loss journey this past year:

1. Putting on my first pair of shorts in August. I haven't worn shorts for 8 or 9 years in public :) And it felt great!
2. Fitting into a size 14 jeans and Medium shirt, after wearing tight size 20W jeans and a 1X shirt for 9 or 10 years :)
3.Meeting Michelle Hart. My bestest Spark friend in the whole world. We started at the same weight, we are the same weight now, and without her pushing me EVERYDAY I know for a FACT I would not be where I am today! We use our personal email and we email back and forth all day long and text each other support all weekend!!! We are convinced we may be long lost sisters :) I have ALOT of other Sparklers I couldnt live without too !! (shout out to my Ann !!)
4. Getting to ONEDERLAND!!!!! I think it had been 11 YEARS!! WOW, what a road!!! But we got there Michelle!!!
5. Just recently becoming the Done Girl of the Day!! HOLY CRAP!! I literally got hundreds and hundreds of emails, spark goodies, comments, and photo comments! SO freaking overwhelming, as I sat and read so many people praising me and telling me their stories of being so overweight and obese.....I just cried and wondered" Is this really happening to me? I am the girl who is almost 300lbs, why are they asking me?" It was the most touching and most rewarding day of my life! I LOVE YOU DONE GIRLS!! AND....finally
6.Becoming a Sparkpeople Motivator!! Again, I need to pinch myself....I get dozens of emails a day asking for help and advice....ME? ME?? It sooo strange!! I am the one that FAILS at weight loss!! But none the less, I am THRILLED and am trying to accept all of this!!!
What will 2010 bring?? Hopefully my weight down to 150lbs and maybe beyond (not sure yet) and more importantly, 2010 will be my year to PAY IT FORWARD. I want to help everyone get to the point I have gotten to (and beyond) and succeed!! I suck at this, and if I did it (after years of sitting on my butt and dreaming of being a Sparkpeople Motivator)...ANYONE CAN!! I LOVE LOVE LOVE SparkPeople, if you are reading this (STILL) get as involved as you can!! Track your workouts, track your foods, join groups, make friends!! I thank Sparkpeople, all my Sparkling Sparkers, my family members, and above all GOD for giving me my life back at 27 years old!! XOXOOX Bekka


Before pic...umm eww




First Page
1
2
3 4 5 6 7 8 9 10 11 12 13 14 Last Page

Get An Email Alert Each Time BEKKASHAY Posts