| | |
| --- | --- |
| | BEECHNUT13's Recent Blog Entries |


Tuesday, August 24, 2010
I have been super-focused lately on what I need to do.

Yesterday I exercised using the Wii Fit. I did the strength training exercises, and then I did some of the yoga exercises... you know, I really didn't give the Fit credit - the real exercises are quite a bit of work! The balance and aerobic exercises are pretty lame though. They're fun to play as games, but that's about it. Anyhoo, today I'm feeling a bit of pain in my quads, and my abs and upper arms are a little sore too - now, I have been doing pilates videos and RUNNING for the past 4 months... so I'm no wimp here!

Running... oh, it is so much better to run now that it's not sweltering outside! I ran on Sunday and today. Yesterday I walked for 3 miles. I love running. Yes, I actually love running. I can't believe it. I never thought I would, but I do! I remember dreaming about running... the free feeling I would have, as I bounded through the air (I was dreaming, so running was sort of like the moonwalk)... well, here I am. A runner. A runner who is getting faster too, btw.

I've been super-productive with my dissertation and manuscript. I sent my updates of my manuscript to one of the advisors today. I wrote one section, condensed another, and added 2 tables, along with a few references. My dissertation is also going OK. I've been looking up different scales and measures that I would want to include. I told my advisor that I would have a model and hypotheses tomorrow, but I'm not there yet. I have some ideas in mind, but not quite how I want to lay them out. I have the scales, but not the model or hypotheses. Who knows, I might be able to get something together before lab meeting tomorrow at 10:30am. But even if I don't make this deadline I set for myself, I will have it for next time.

I updated my vision collage... or whatever it is. There are hardly any pictures - I like the written word better. It's more stirring to me than pictures. Pictures make me jealous, and they allow me to compare myself to the people in them... I would hang pictures of myself instead, but there aren't many that I like.

HOLY F-ING CRAP - speaking of pictures. Yesterday before my walk, I put on my yoga pants and a striped tank top that I got from JAYNINNE, with my sports bra underneath. The shirt and the pants were both fitting (not tight or anything though), and I asked Airin if I looked fat in it (yes, I do ask my husband that - he will tell me if something makes me look pregnant, if I ask him honestly and I'm not moody - he has saved me many times from many fashion faux pas). He said that when I wear fitted stuff that I look thinner than if I wear looser clothes, and that my stomach was a lot smaller now. He said I probably can't tell because I never look at myself straight on in the mirror - I'm always a little twisted. So he took my picture and low and behold...

I am smaller.

I will post it when I get the pictures off of his phone. I was amazed. But yes, I am smaller. I'm fitting into more and more of my pre-pregnancy clothes.

Now, that smug little Wii Fit scale SOB says that I'm not losing weight. In fact, after my weekend it says I have gained weight... but little weight gains like that are only temporary, and I am not concerned. Yes, I ate way (waaaaaay) too much pizza and candy at my Mom's... and 3 days in a row I went over my calorie limit. But it's over and done with. And the entire time, I still exercised and drank 8 cups of water per day, so it's not like I was acting like a crazy fool or anything. I. Just. Love. Pizza.

I have finished 2 weeks of drinking 8 cups of water per day. This is definitely a record. I think 1 week was a record, but 2 weeks... that's F-ing amazing. Stop the presses.

Well... I guess that's it for now. I have to get up and exercise and go to lab meeting tomorrow morning, so I should get my beauty sleep.





Sunday, August 22, 2010
Wow, I ate some pizza and it was soooooo good but soooooooo greasy. Pizza is the only food that I can't not eat. I love it. And I can't have just one piece. Even if I make it myself and it's all full of vegetables and whatnot, I'll still eat 2 pieces. If it's Little Caesar's pizza, I will eat at least 3 pieces.

And I had some cookies. Thanks, Mom!

Tomorrow will be strength training AND a nice long walk, I think.

I did drink all my water today, although 5 cups were after 7pm. I'll get in all 8 cups, no matter what, but I do hate getting up at 1am to pee. For like an entire minute straight.

I was again fairly productive. I worked on finding some measures that I wanted to use for my dissertation. I want to have a model to work with for Wednesday's lab meeting. I also tried to figure out what the coding was for my thesis turned manuscript. The manuals are supposedly all online, but I can't find them. And there were like 10 different measures of, say, ethnicity (really!?), so I don't know which one they were talking about. Not that it matters since I couldn't find the information for the demographics. WTH is an ethnicity of 4? Irritating. Why wouldn't they just put that in the value labels in the database? It is an enormous study with tons of funding, and they couldn't hire someone to take two hours to enter value labels???

Anyway... so I hit a wall. I will probably have to ask my advisor where that information is, and he will take forever to get it back to me, if at all, after I send him 5 panicky e-mails. I hate working with him for that very reason. That's how it takes 5 years to finish a master's thesis. One unanswered e-mail at a time.

It's time to work on my goals. I made some a couple months ago, and never posted them. I have to look at them again to see what they even are. (MENTAL NOTE: put them up on the vision collage so you remember what they are!) In there will be finishing up that manuscript, working on a dissertation proposal, and then all the fitness and health goals. And the personal goal of not going f-ing crazy. I don't really know how to quantify "not-going-f-ing-crazy" but I think I can figure out a way.

I've been thinking a lot the past few days about my old friend Jon. He and I were super-close back in my senior year and my year off between college and graduate school. He helped me move into my condo. As it turns out, he really liked me, but I was going out with my ex-bf and so nothing came of it. Which was stupid, because my ex-bf was always busy with school and never around, and I ended up hanging out with Jon ALL THE TIME. We were both vegetarians who smoked a lot and drank beer. And played lots of chess, and video games. He pretty much taught me everything I knew about chess... and he was fun.

Anyhoo, I had broken up with another guy once for someone else, and ended up regretting it, so I vowed I would only break up with someone because of their own (non?) merit and not because I was interested in someone else. So even though I was interested in Jon, I didn't break up with my ex-bf.

Well... he got sick of waiting and ended up dating this girl, Jennifer. She was actually friends with my ex-bf in high school. And the dumba$$ told her - before they started dating - that he was in love with me. So she pretty much would super-complain if he hung out with me. She was very paranoid. I couldn't understand why she would want to be with someone that she obviously didn't trust, but he said she was only like that with me, and no other girls. In every other area of his life, she was totally cool. But not with me.

I tried to offer the olive branch - I invited her over, talked to her, hung out with them. And DID NOT try to grab Jon's penis or kiss him or anything. She would come home, and we would be fully clothed, as we had ALWAYS BEEN, playing video games. But not enough.

Then I broke up with my ex-bf. And then he was not allowed to talk to me at all.

Fast-forward a year, and I was engaged to Airin. I called Jon and pretty much said, "Hey, I'm engaged now... can I be your friend again?" and he said probably not, and that he shared a phone line with Jennifer and she would probably get mad if she found out we talked and to not call him anymore, but he would try to talk to her about it.

Well... that was over FOUR YEARS AGO. I haven't talked to him since. Three years ago I got married. One year ago I had a baby. And I still haven't heard from him.

I found him on facebook (damn you, FB!), and they're getting married... in 58 days, actually (someone was counting down on his page, I'm not crazy). I sent him a friend request a month ago, and I still haven't gotten a response. I don't think he really checks, because it says my request is still pending... or maybe he is ignoring it, I don't know.

BTW, I think it's funny that someone out there is jealous of ME. Like I'm the hot girl, or the prize. Because we all know how I feel about Airin's ex-wife... other than the fact I hate her guts.

So now I'm wondering what could have been. I talked about it with my friend Dan today - I would talk to Airin, but I wouldn't want him to take something the wrong way and turn Jennifer on me or something. What if I'd dumped my ex-bf sooner, for Jon? We would probably be broken up but friends, and I would still get to hang out with him. Or we would break up and I'd be angry with him or think he's spineless (he was very kind), and I wouldn't want to hang out with him anymore anyway. Or - gasp - I never would have called Airin a couple years ago, convinced him to move up to Michigan and marry me, have little Avery, etc... because I would be with Jon. And I'd still have my friend.

The fact that I can't have my friend... makes me want my friend back even more. And the fact that he is getting married in just TWO MONTHS gives me this sense of urgency to somehow find a way to tell him that I'm happily married with a family, but I miss my friend. And that if I could go back to - SEVEN! years ago, I would happily dump my ex-bf for him, because I didn't need some lazy spineless wimp that used to get mad at me when I smoked and would go home, and would never stay at my house, and was too scared to drive or ride a bike or rollerblade etc... I needed a man, and a good man, and he was. And I would have had fun with him longer, and I wouldn't be sitting here wondering how my life would have been different if I'd done what I wanted to do and not what I ought have done.

Oh well.

Stupid girlfriends. Stupid fiances. Why can't I invite my friend over for dinner and chess? I would love for him to meet Airin, and my family. He plays guitar, and Airin plays the drums, and I play the guitar really badly, and we could have fun. We could beat Ocarina of Time together - we never got to play that together! Oh wait... because Jon had a thing for me back in 2003.

So... that's what I have been thinking about, these past few days.






Saturday, August 21, 2010
So on Thursday the 19th I entered all the final grades for my stats class I was teaching - only half my class passed! Ugh! Oh well... I really have to say, with all honesty, that it's their faults. It is an 8 week stats course, and it seemed like the only ones that failed were the ones that came in late, left early, didn't show at all, didn't turn in their homework, or stared out the window during class - I watched them do it. So I don't feel bad. If you're not going to try, there is nothing I can do to teach you. You weren't born with a statistics book in your hand. You have to practice and learn.

Yesterday was Halen's second therapy appointment. He said they played UNO and Go-Fish, and talked. So I guess maybe the games were just an icebreaker. I'm not the type who makes big assumptions about what people's jobs entail, but as a developmental psychologist, I figured he might be interested in seeing what we were complaining about in the first place. But who am I? I think clinical psychologists are all crazy - at least they all seem that way in the graduate program at Wayne State. But they think us experimental psychologists are all lazy.

We are.

Last Friday I gave my advisor some updates to my thesis manuscript - we're trying to submit it for publication, but it needs a lot of work - to also update and give back to me so I could send it to another person, who is writing a large chunk of the introduction and discussion. He sent it to her. Gr... She sent me an e-mail saying "I can only do so much, I really need you to push and work on your sections." Which I was trying to do. But my advisor didn't give me the output for the stats, and I didn't have anything to go by. Now I have it, since she sent me his updates (why the hell didn't he send them to me!?). But I'm not happy that he made me look bad. She's going to be a recommendation letter someday. Now she probably thinks I don't want to work and that I like to hand in crap. Damn it, Ty. You always find a way to screw me somehow.

*Sigh... happy place happy place... don't egg your advisor's house...*

So, today I busted my butt and found some articles to expand a section of the lit review, and ran a bunch of descriptive statistics in SPSS. I'm going to update my sections of the paper and give them to her as soon as I can. And I'm going to explain that I hadn't wanted Ty to give her the updates yet... he was supposed to give them to ME so I could fill in the holes that I couldn't fill without some results... ugh... I'm so mad at him.

I also have signatures by my advisor (dangerous, I know), and the two faculty who were on my qualifying exam committee to be on my dissertation committee. And I have one more faculty I need to e-mail to ask. She's in another department. Then I need her to sign the form, so I can turn it in, so I can register for stupid dissertation credits, so I can hurry up and graduate already.

I'm still drinking my water - 8 cups per day. I have one more today to make 8, plus 3 cups of coffee and a cup of milk. It was a rainy day - good for coffee, but not good for drinking water. I like water on hot days. Who doesn't though? Why am I blogging such crap?

I'm also exercising, though I've been trying to lay off a bit this week. I was so sore from last week - I think I pushed a bit too hard. Today I ran 1.5 miles in the rain, and then I walked 2 miles pushing the stroller (which is a bit more work than walking normally).

Food... well... yesterday I went out to lunch with my friend David. I ordered sweet and sour chicken - I've wanted it for awhile, but I never order it because it's "so bad". And it came with a spring roll and fried rice. I ate almost all of it. I thought I was pregnant when I left, holy cow (chicken?). This morning my weight was up - duh - probably from all the salt and other goodness. Today I went over my calories by about 150 or 200... that won't kill me, but I need to stop overeating. Tomorrow I'm going to my Mom's, which means CANDY. I never get candy, except for when I go to Mom's house... it tastes better there for some reason. They like to order pizza too. I don't know if I can run far enough to burn the calories that I consume when pizza is involved.

I'm trying to deal with Halen a bit better. He doesn't like to listen, which gets me mad, because I really hate to nag. I had to tell him 3 times today to brush his teeth. He keeps watching baby shows that Avery has on while he's chillaxing in his baby swing. I have been telling him for the past month that he can't watch baby shows, but he still does it. Really? Nine year olds want to watch Blues Clues!? Honestly, Halen will watch anything if it's on the TV - he will get completely engrossed in the weather channel. I think it has something to do with him being so fricking dense.

So I got fed up and told him fine, if he wants to watch those shows so bad, even though he KNOWS that I tell him NOT to watch baby shows - then he may ONLY watch those shows for the next week. No programming for kids over 4. If me or Airin are watching a show, Halen can't watch it. He can't turn on his own shows. Only Wonder Pets, or Blues Clues, or Backyardigans, or The Wiggles.

I want to update my vision collage. It's not very collage-y. It has a lot of quotes. And then I got a few more:

"I'm not telling you it's going to be easy - I'm telling you it's going to be worth it." Art Williams

"Though on one can go back and make a brand new start, anyone can start from now and make a brand new ending." - Carl Bard

"Discipline is remembering what you want." -David Campbell

"A year from now, you may wish you had started today." Robert Schuller

"A vibrant and joyful life doesn't come from losing 10 pounds in two weeks, it comes from incorporating long-term habits and beliefs about food, fitness and your body that will bring sustainable health and well-being." Sheila Viers

And of course - picture time!

Here I am in June, making a wish... that I'm currently working on making a reality!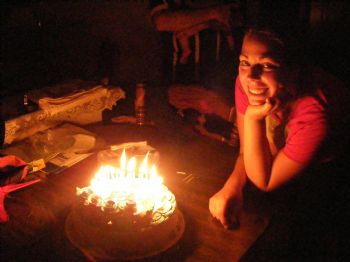 Thursday, August 19, 2010
Today I ran 3.55 miles. I ran really slow - only 4.8 mph. But I just relaxed and enjoyed myself, and it seemed to go really fast. I was surprised to find that I'd been running for 44 minutes. Not every day has to be the fast day - some days can just be the nice relaxing day. And I still burned 470 calories, which is pretty awesome.

The Wii Fit said I was back down to 173.1, so I did not want to kick it today. I love when it asks "Do you want to hear a fitness tip?" and I say no, and it hangs it's 'head'. I feel bad for it - but then I'm like "It's just an anthropomorphized scale, silly" and get over it.

I can't wait till I'm in the 160's again. Oh, that's going to be A-W-E-S-O-M-E... eeeep!

Today was the court date, where Megan was supposed to explain why she wasn't paying child support. I'm assuming she didn't go, because there was no phone call saying "I'll see you in court today" or "I'll see you later if you're a real man" or some bull crap like that. Airin doesn't want to deal with her - he just ignores her altogether. And it really pisses her off. Anyhoo, I don't think she showed up. Airin didn't think she would either, but then he was kind of wondering all day if she was going to drive by. He saw a blue Saturn drive by a couple times, and the driver looked like she could be Megan. She was probably driving to the car wash or the gas station on our corner, whoever she is. Airin said she had really bright pink eye-shadow - he could see it all the way through her car windows - and Megan wasn't the type to wear stuff like that, especially to court, so that probably wasn't her.

No, this was her chance to prove that she was responsible, and instead she has proven that she doesn't give a crap. She isn't interested in Halen's well-being, or whatever else she blabbers on about. She will never be able to get visitation, because of the bench warrant for her arrest - if she contested it in court, she would be arrested. Not that she was ever going to try for visitation anyway - for years, Airin basically had to chase her around with Halen trying to get her to spend some time with him. But she was too busy being a drugged out slut. Oh well. She loses.

Tomorrow is Halen's next therapy appointment. The psychologist wants to play UNO with him tomorrow and Halen is pretty excited about that. I think he's going to purposefully stack the deck to make Halen lose to see how he reacts - part of the reason Halen is in thearpy is because he cries too much over everything. And he especially hates losing at games. We'll see how he does tomorrow.

I am exhausted...

We would use child support money to feed Halen more: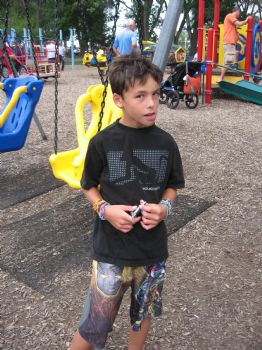 Wednesday, August 18, 2010
Today I bought a new planner. I liked that it was $6.99, and it has plenty of space to write a list of to-do's every day from June 2010 till July 2011. By July 2011, I will have worn out my first bikini, I'm sure. I'll be in my second bikini, I'm sure. I'm not sure, actually. But that's my goal. That's my story, and I'm sticking to it.

I used to use a green journal, and I would write a list of to-do's, with boxes next to each, and I would check off everything I planned to do. The lists would get really long. I was reading The Spark, and I had a lot of goals for the day: "Eat within 1500 - 1800 calories" (I was nursing), "Exercise 10 minutes", "Drink 5 cups of water", etc...

This is what I have for tomorrow:
8 cups water (still going strong - 9th day in a row that I drank 8 cups of plain water)
Calorie range (now it's between 1200 and 1550)
Run (I'm planning on 3 miles)

My planner is very different now from in the spring. Although I've barely noticed, I've been cranking up the healthy lifestyle habits over the past 4 months or so. I'm drinking 8 cups of water, PLUS coffee and milk - that's sort of new, but doable now. I'm staying within a lower calorie range. And I'm much more active - whereas I used to try to exercise 10 minutes a day, now I love to exercise. I run at least 3 days per week, plus I walk and ride my bike, plus I strength train or do pilates at least twice a week.

My new planner is going to help keep me organized as I start the fall semester in a couple weeks. It's going to help me to keep my health and fitness goals in sight, and it's going to help me do a little bit of dissertation work every day.

I've streamlined the health and fitness goals. I need to keep track of all the areas so I don't slack off, but I don't need to micromanage them everyday with huge lists to check off. I'll save that level of anal retentiveness for my dissertation...

Now that I have the exercise, the nutrition, and the water, I think it's time to work on something else. I've been thinking about maybe de-stressing a bit. I'm tightly wound. I'm stressed. Halen drives me nuts, I'm under a lot of pressure to graduate and find a job, even though the market is looking very grim, and I have this dissertation to write. And I teach. And we're sort of broke.

So I'm thinking about maybe doing some yoga something? Or meditating? I have a hard time clearing my head - ever. It's always going so fast... always. Even when I run, I'm thinking the entire time. When I'm not thinking about what I have to do, I'm thinking about things I already did and wondering if I did it right. I worry.

I think if I calmed down a bit it would help me to work better, to get along better with Halen (or at least not want to ground him forever), and to help me with my weight loss too.

Oh yes, weight loss. I was so happy with that smug little Wii Fit board when I was 173 lbs, but now I'm up to 174 or 175... for no reason. I know weight is just another measure of health, and not even a very accurate one. And that I'm smaller than I was even a few weeks ago - I can tell when I put on pants I haven't worn in a couple weeks because it's been so it. But I REALLY want to make those weight goals! They are feathers in my cap, and I love to see the downward trend in my weight loss chart.

I have a goal of 165 by September 11th. That's 8 or 9 pounds in just a few weeks - I don't think I'm going to make it. I was really unhappy when I realized I wasn't meeting that goal that I set for myself for MAY. Yes, I had a goal of 165 for myself for MAY 20-something. I completely missed that one, since I was over 180 at that time. But I've only lost 10 pounds since then, and we're getting to the end of August here in about a week. So... I figured, well by August I should have it... but I'll be even more conservative and make it September.

And here I am... my goal is less than a month away, and I have 8+ lbs to lose... I'm very lucky to lose 1 lb per week.

I know, I know.... it's just weight, and I shouldn't worry. I'm smaller, I'm fitter, I'm looking better, blah blah blah... BUT I WANT IT. DAMN IT, I WANT TO MAKE MY GOAL! I've never made a Sparkpeople weight goal - before I was pregnant, I was trying to get to 145. For over a year and a half. Now my goal is 165... my weight before I got pregnant (well, a little more than that)... am I ever going to make it?! Or am I going to have to reset it again?

Maybe I should meditate and do yoga and blog. I apparently need someone or something to babble to every so often. I need to let out all the things that go bouncing around my head all the time, every day, except when I sleep.

This is what I looked like about a year ago. I'm the one with bangs, on the left. The girl on the right is my friend Bayley - we trade weight back and forth. When I lose weight, she gains it. When she loses weight, I get pregnant. Hehehhe...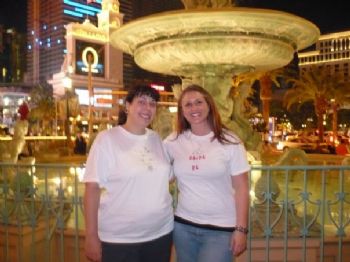 First Page
1
2
3
4
5
6
7
8
9
10
11
12
13
14
15
16
17
18
19
20
21
22
23
24
25
26
27
28
29
30
31
32
33
34
35
36
37
38
39
40
41
42
43
44
45
46
47
48
49
50
51
52
53
54
55
56
57
58
59
60
61
62
63
64
65
66
67
68
69
70
71
72
73
74
75
76
77
78
79 80 81 82 83 84 85 86 87 88 89 90 91 92 93 94 95 96 97 98 Last Page

Get An Email Alert Each Time BEECHNUT13 Posts