| | |
| --- | --- |
| | BECKYLIVES's Recent Blog Entries |


Saturday, July 12, 2014
From the beginning of the "newest" time on this rodeo circuit:

06/03/2014
244.7 pounds
Neck 16.5
Right Upper Arm 15.5
Left Upper Arm 14.5
Chest 40.5
Waist 48.5
Hips 50
Right Thigh 27
Right Calf 17.5
Left Thigh 26.25
Left Calf 17.5
TTL: 297.25

June 15th:
neck 16.5
r arm 15
l arm 14
chest 41
waist 44.5
hips 50
r thigh 28
l thigh 28
r calf 17
l calf 17.5
TTL: 271.5 inches
I didn't record my weight on my paper that day so I have no idea what I weighed that day.

07/12/2014
NECK: 17
CHEST: 43
WAIST: 43.5
HIPS: 49
RTHIGH: 25.75
LTHIGH: 25.5
RCALF: 18
LCALF: 17.5
LARM: 14.5
RARM: 15
TTL: 268.75
The other day I weighed in at 238. I'm loving this change!
What I've accomplished so far:
Weight loss: 6.7 pounds
Inches lost: 28.5 inches!













I'm so very proud of myself! I am putting in the effort and the time! I LOVE THIS!!!!!!!!!!!!!




Monday, June 23, 2014
Hello again everyone!

It's been a while yet again for a blog. Life has thrown me some curve balls recently but I think I'm getting where I need to be. I was pleasantly surprised to get on the scale this morning to see a decrease. I've been so frustrated with the lack of weight loss when I've been eating healthier than I've ever eaten. I think I was not eating enough food to be honest. This weekend was kind of a "oh the heck with it" attitude. I didn't track anything, was hoping to be mindful of what I was eating and within range. Surprisingly I made it through with a loss! Granted it was .3 but it put me below 240 pounds for the first time in a very very long time.

A while back I started taking thyroid meds. Synthroid, no generic, and all we've done is increase my dosage. I'm still constantly tired. No energy. Lethargic in a lot of cases. Saturday was my last dose. Yesterday I was just plain irritated and nothing snapped me out of being irritated. I snapped at Shari, my youngest, which is extremely rare for me.

So, today yes I'm sleepy, but I didn't sleep very well. I splurged on new sheets for our bed. Satin sheets. They were amazing, but kind of stuck to me a bit last night. So it was a weird night for sleep. However I feel more awake in my brain than I have for months!

As for the lifestyle change, I have a walking partner if I could just meet up with her! She's committed to walking Monday, Wednesday and Friday's. It seems like either she or I have something going on and just cannot make it! It's rather ridiculous! However, we're not giving up and we'll make it when we can.

Goal for the summer? Climb a 14,000 feet in elevation mountain. And if we don't make it that far? That's okay. We'll work toward next year!





Wednesday, November 20, 2013
rhondagessner.wordpress.com/2013/09/
02/a-killer-in-your-fridge-sweet-poiso
n-a-must-read/





Saturday, November 02, 2013
....I came across this: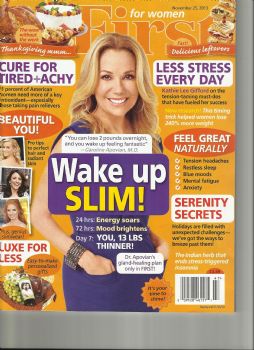 No. It wasn't Kathie Lee that made me look at the magazine. It was the top left side saying---"Cure for Tired + Achy"---what? That's me! There's a cure? So of course I had to buy it.

The article is on page 38. Page 1: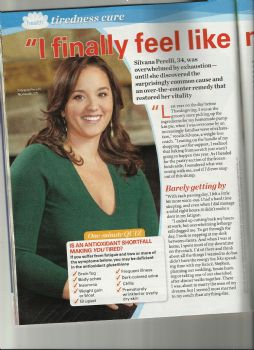 Now page 2: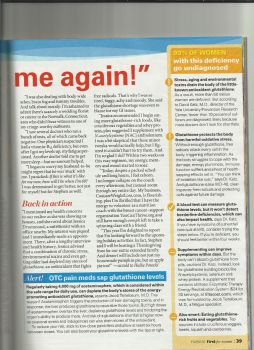 So, of course we can't read the article with my scan. I'm sorry about that, however check their website or go snoop through the magazine in the store, but read the article at least. I'm adding this to my regiment of supplements and such in the mornings. I'm constantly fighting a cold, constantly tired and always taking ibuprofen. And regardless of the fact that I'm taking energy vitamins, I still need an energy drink in the afternoon. They've become my friend lately. Matter of fact, Xyience Cherry Lime is being ingested now!

Here's a list from wikipedia of the top cruciferous veggies: Cruciferous vegetables are vegetables of the family Brassicaceae (also called Cruciferae). These vegetables are widely cultivated, with many genera, species, and cultivars being raised for food production such as cauliflower, cabbage, cress, bok choy, broccoli and similar green leaf vegetables. The family takes its alternate name (Cruciferae, New Latin for "cross-bearing") from the shape of their flowers, whose four petals resemble a cross.

Here's an actual list:
horseradish
land cress
ethiopian mustard
kale
collard greens
Chinese broccoli (gai-lan)
cabbage
brussels sprouts
kohlrabi
broccoli
broccoflower
cauliflower
wild broccoli
bok choy
komatsuna
mizuna
Rapini (broccoli rabe)
flowering cabbage
chinese cabbage, napa cabbage
turnip root; greens
rutabaga
siberian kale
canola/rapeseed
wrapped heart mustard cabbage
mustard seeds, brown; greens
mustard seeds, white
mustard seeds, black
tatsoi
arugula (rocket)
field pepperweed
maca
garden cress
watercress
radish
daikon
wasabi

As I was going through this, I eat about 4 or 5 of these veggies. Broccoli has become a favorite of mine. Cauliflower is a definitely hit! Cabbage is ok, horseradish is awesome, radishes are good. Kohlrabi I believe is the same one I grew up with in the summer time---it's delicious---and I'm curious about the broccoflower. Is that a mix between broccoli and cauliflower? If so, then I've seen it. Gonna have to try it!

I don't know if it'll help anyone else but it might be something to look into. I'll let you know on the 3rd of December the difference in a month.





Friday, November 01, 2013
So, some of you many know that I've got this thing that happens randomly where the connectors between my sternum and my ribs get inflamed. It's happening again this year. The swelling is painful and feels like a constant heart attack. This happens to women more than men. I have a theory. My chesticles are of good size and while my hubs likes this, I am not liking this so much. What can help reduce the pain? Less chesticles!

I've made a commitment (along with my hubs and his wife) with my friend Joe who was told by his doctor that he needs to lose 30-40 pounds or he's going to die-- (heart problems, not heavy just overweight) -- that we'd do it with them. So, in order for me to do any real working out besides walking, I've got to start losing weight immediately. My chiropractor really wants me to do a 5 or 6 SMALL meals a day plan with protein, meat and veggies only. 3 meals of meat and veggies and 2 snacks of protein shakes. He wants me to avoid sugar at all costs.

I've just bought all my veggies. Got the steak, onion, and peppers cooking in the crock pot for fajitas as one of my meals. The next step is meal planning. I am going to boil some eggs and cook up some chicken or turkey for salads for another meal. Beef stew is on the agenda for next week as we're going to be getting really cold and snowy. Chili soup might be a good option too.

As for my salads I call them veggie bowls. I make a huge salad with lettuce, spinach, cauliflower, broccoli (not this time, way too expensive today at the store!!), tomatoes, boiled eggs, a meat of some kind, onion, and now I'm adding butternut squash cubes to the mix as it's fall and a nice colorful addition to the salad! It takes me a long time to eat them because of all the chewing I have to do, but they're worth it. I add enough protein that I'm not all that hungry either.

Protein shakes with no sugar. Chocolate is my favorite. My chiro doesn't want me to eat any fruit as it's got natural sugar in it, which will actually kick in the other addiction in my body for bad sugars. (Does that make sense?) So, no fruit for quite some time until my body can lose that sugar addiction.

By putting this plan into action I should see some pretty good changes within a month's time. I've not started yet, but I'm starting on Sunday November 3rd. I've got to get a few more things at Sam's Club before I can officially start. I'll post my numbers on Sunday morning as my kick off. I track my chest (under the chesticles), neck, arms both upper and lower, legs both upper and lower, hips, waist, and weight.

The plan is to make sure I walk at least 20 minutes a day while doing this so I can really get some good benefits out of this. Plus walking works me up to running, where I eventually want to be.

Time to attack back and take my health back under control!






1 2 3 4 5 6 7 8 9 10 11 12 13 14 15 16 17 18 19 20 21 22 23 24 25 26 27 28 29 30 31 32 33 34 35 36 37 38 39 40 41 42 43 44 45 46 47 48 49 50 51 52 53 54 55 56 57 58 59 60 61 62 63 64 65 66 67 68 69 70 71 72 73 74 Last Page

Get An Email Alert Each Time BECKYLIVES Posts