| | |
| --- | --- |
| | BCGIRL74's Recent Blog Entries |


Saturday, February 26, 2011
So far so good. My hubby and are I going to a friend's house tonight to watch the hockey game, and I know there will be a lot of delectable goodies there. My plan is to eat a nutritious dinner at home, bring my water bottle along, sit as far away from the food as possible, and I'm bringing a homemade spinach dip (made with yogurt) with veggies for me and sourdough for everyone else. I've also entered in a mini-cupcake to my nutrition tracker. That works as long as I just have one.....I've got this!!

I got my hair cut yesterday; I went wild and got bangs! I probably haven't had bangs since I was eight. I love them when my hair is straight, but it'll be interested what happens after I wash it and it goes super curly again. Guess I'll find out tomorrow!

I'm heading out for a hike in the snow with my dog. We went two days ago, and it's amazing how much harder walking in the snow makes it. That's good, my butt needs it!




Friday, February 25, 2011
I've got this!!! That's my new mantra that I'm going to tell myself probably a million times a day when I'm struggling with junk food, not wanting to workout, any of the million excuses/reasons I have for not losing this weight.

I'm starting over again. I'm not discouraged about that; it just is what it is. Changing my ticker did really suck though. Oh, and I should mention that I have Meniere's disease which knocks me down for a while (severe vertigo for weeks at a time), but even though I can't workout while I'm in "attack mode", I can still eat healthy. I'm just coming off of an attack right now. I've been eating terribly for the last few weeks AND haven't been able to exercise.

New starting weight: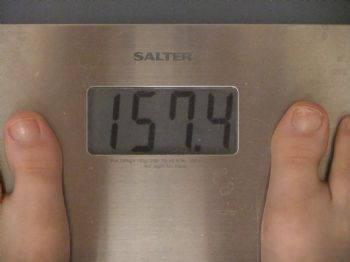 Starting measurements:
waist: 31.25
hips: 43.5
belly button: 36
right thigh: 25
left thigh: 25.25
right bicep: 11.5
left bicep: 11.5

Hmmm, my thigh measurements is what I want my waist measurement to be.

I have today's food plan made up and I'm going to workout in the afternoon after my hair appointment. I've got this!!

P.S. Fun goal for the week: Give myself a mini pedi....look at those beaten up toenails!!





Friday, August 27, 2010
I've had a sore hip lately. Not joint pain, but like tight muscle pain. Anyways, that motivated me to dig out some exercises I learned from my physiotherapist a few years ago for the same hip problem and to start stretching on a more regular basis. That means stretching every day versus stretching maybe once a month.

I discovered that I can no longer touch my toes! I was shocked! I swear even just a year ago I could. My husband, who NEVER stretches, can touch his forehead to his shins and grab the back of his ankles. What??!! So, that is my new goal. Well, that and to make this hip pain go away. Even after just a few days of my new stretching program, it's way better. My goal date for touching my toes is going to be September 22.

Oh yeah, and holy smokes, is Coach Nicole ever flexible!!





Saturday, July 31, 2010
I just got back from my MRI scan. Hopefully this will point my Dr. in the right direction for solving the vertigo problem. So far he's leaning towards Meniere's disease but hard to rule out tumors and things without having an MRI. I can hardly wait to get my results.
I'm so happy that I didn't freak out during the MRI. I'm minorly claustrophobic and have been experiencing anxiety since the whole vertigo thing started but the test was okay. Phew!
Oh yeah, and does anyone know if having chewing gum in your mouth will affect the MRI results? I can't believe I forgot to spit my gum out before I went in! You would think that the tech would have noticed when she reviewed the film before I left. She said the images looked really clear so I guess it was okay?? I didn't even realize about the gum until the hubby and I were in the parking lot and I blew a bubble. He was just like, "Are you kidding me??!" LOL. Maybe the tech thought, "This poor girl. She has the weirdest shaped abnormality in her mouth." The only reason I was chewing gum in the first place is because it helps with my anxiety.





Friday, July 16, 2010
So far so good. I haven't felt deprived, it's amazing how filling and nutritious real food is. I have had a couple of really bad headaches, which I am prone to anyways, and have been kind of grumpy and impatient (also naturally prone to....lol). I think it is just my body having withdrawals from the sugar, preservatives, chemicals and crap in the junk food I had been eating. On the plus side though, my skin is already looking better. I'm going to write out my meal plans for the next few days when I'm done writing this.

Two challenges that I anticipate coming up are 1. Hubby comes home today and we tend to eat worse together. It's time to change that and eat healthy together. 2. BBQ at a friend's house on Sunday. I'm bringing my own veggie burger and a giant mixed green salad. I might even bring some watermelon to have for desert so I can stay away from the birthday cake. The challenges I will be facing there are friends saying things like, "You only live once", "Just have a small piece". Well, I am going to put my earplugs in and just nod and smile.

I haven't been exercising at the intensity I would like. I've been having vertigo from Meniere's the last few days and I'm grateful that the attacks have been small and I've been able to move around at all. I'm always so worried that they'll turn into a big one and I'll be in bed for a week. YUCK!

I'm just going to keep on truckin'!



1 2 3 4 5 6 7 Last Page

Get An Email Alert Each Time BCGIRL74 Posts