| | |
| --- | --- |
| | BARIBAL's Recent Blog Entries |


Monday, December 07, 2009
So today I went to my body combat class afteraweek of absence. Many things plotted to keep me away from my workout. Pick one:

- Pierced tongue. Last week was sort of hard, not eating enough so I wasn't very full of energy.
- Partner got tattooes. So literally there was ink were sweat used to be. And since BC is a relationship-related-activity for us, this was a problem.
- 2 times we forgot the pass to get into the gym.

But today was great. It wasn't to hard, just fun. I was sweating a lot, and felt great. I'm back!




Tuesday, December 01, 2009
I fell off the wagon this last week. Not because I had been overeating, but I haven't track my meals lately. The reason for this is my brand new piercing that I had been wanting to get done for years. Yes, years! Last friday I finally got my courage and went for my long wanted tongue piercing.

The piercing itself wasn't painful, I'll describe it as "awkward". It was like a pinch in the tongue (not as painful as biting your tongue), then a feeling of "I have a f***** needle in my..!!!" and before I even finished that thought the all thing was over and done. Nice.

In the other hand, the healing process is a bitch. My tongue is so swollen that I have been eating foods I would normally never eat, like ice cream, popsickles, mashed potatoes every day... and very little of foods that are staple on my diet like meat, chicken, beans, WW grains, and the like.
So I don't even wanna know how much calories I have been eating, but I calculate something around 1,300 kcal, in a lucky day. Yeah, that low. So I'm probably loosing some muscle, but the good news is I had to make a new hole in my belt! This because i have been BEER-FREE for 5 days, yay!!!

So, about this piercing:

GOOD

- Easy to maintain a low-calorie diet
- Alcohol-free days without effort
- At age 29, I know I did it because I really wanted it and not for a fad

BAD

- Most calories are coming from crappy foods
- Tongue swollen, couldn't talk right for the first few days
- I had to learn how to eat all over again

There. Bye!





Friday, November 13, 2009
Yesterday I got my body fat percentage test results. Turns out I dropped almost 4% of BF in this 4 past months. Started at 27.9% and now I'm 24.1%. Go me, right? Yeah, sort of.

This last three months I was feeling really good about my fitness efforts and seeing results in how my clothes fit, my face changed from a "ballon" shape to a more normal shape.. you know, good progress. So good that I started to feel like me again, 4 years ago when I was at 11-12% body fat and had a "4-pack" (yeah, never got to the whole 6 or 8 pack back then).
So I was-- I am doing great, eating better, training a lot, and feeling like me again. Thinking about myself has a "lean" guy. Fitness role model. Super me. Ripped me.

But with this results, ugh- I don't know. This made me feel that I'm not fit, nor lean, nor ripped. I just went from "UBER obese me" to "just obese me". I felt like I was so close to the goal line, and now I see it soooo far away :(

Oh, well. Just got to keep at it. Yesterday I missed my workout, not because of this but because I was too sore from the last time. Today I have body combat class.

Last, I did the math and I have lost 2 pounds of muscle too. Crap.





Saturday, October 17, 2009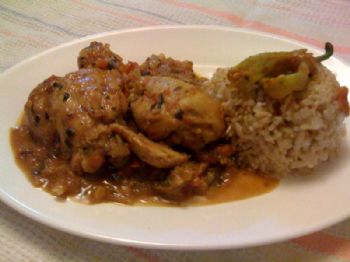 The idea of eating roasted chicken AGAIN today made me feel sick. So I search for a new chicken recipe, and found like 15 chicken curry recipes that I liked. Too bad, for any of those recipes I was missing 2 or 3 ingredients, or more, so I had to make my own recipe without knowing anything about how to make a curry.

It took me about an hour of work, but the result was amazing! Sort of creamy, tangy and very hot but good. Even my mom devoured it,and she really is a picky eater. Oh, and also made two huge batches of brown rice for the week.

Here is the link in case you're interested:
recipes.sparkpeople.com/recipe-detai
l.asp?recipe=788679





Friday, October 16, 2009
Last tuesday I made a change in my weightlifting workout and, even do I practically did the same routine as always, it really killed me.

I was reading the book "Practical Programming" of Rippetau, were he says that sets of 8-12 reps focus on hypertrophy and sets of less than 6 reps focus more on strength development. I agreed, but then it hit me: if I'm cutting down calories to lose weight, then why am I training for hypertrophy? Don't a need a calorie superplus for that to happen?

Now, I'm at peace with the idea that I'm not going to grow a lot in the next few months because my goal now is to lose excess fat. I eat accordingly, I do more cardio accordingly, but I didn't change my weightlifting routine!!

So on tuesday I corrected that. I kept the same weight, but instead of squatting 3 sets of 12 reps, I did 6 sets of 6 reps. Both workouts have the same amount of reps, but doing the second one changed everything! It felt more like, eh, cardio-like. I did the same with chins-ups, deadlifts, dumbbell chest press and called it a workout. So i left the gym feeling like it was cardio.

The next day, uh! I could barely move! So sore! I regain my ROM stretching all day long, and now its all better (except for adductors and trapezium, still in agony there), so today I'll give it a rest and do a Body Combat class, for tomorrow I'll pump the iron again!



1 2 Last Page

Get An Email Alert Each Time BARIBAL Posts