| | |
| --- | --- |
| | BARBIE176's Recent Blog Entries |


Thursday, November 28, 2013
The house has been so very quiet since my best friend passed away on November 12, 2013, so I found me a new lovable companion to help fill that quiet. I have named him Marv in honor of my best friend, Bill, who collected Marvin the Martian.

I was able to bring him home yesterday and so far we're doing fairly well. He is from the local Humane Society. He is a 3 year old Padderdale Terrier mix.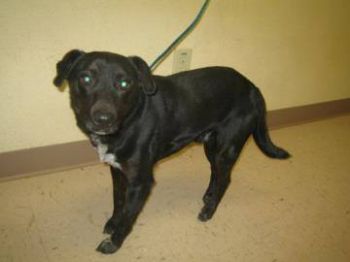 Tuesday, November 12, 2013
After fighting the battle against amyloidosis and multiple myeloma, my husband, William Thomas Leary, who was 71 years old, took his last few steps on this world. His son, Brian, and his wife, Debbie, have been in Roseburg for the last week helping me and my family, take care of him. All through his life he made a difference in those he met along the line, he always had a way to make lemonade out of lemons by his quick wit and his ability to make everyone laugh at the smallest of things. All the way to the end he had his sense of humor, even saying at one point, "I hope that God is a good chiropractor, cause my head is killing me". We have had a lot of good times these last few days being able to see all Bill's friends stop by and tell stories and say their goodbye's. It wasn't until yesterday afternoon that he became unresponsive. A week ago last Thursday he was still in the battle, but as things progressed, he started to get sicker and weaker. A week ago Monday, he announced that he was done fighting and wanted to go home, and we respected his wish. As the week progressed, he slowly slipped away from us, but still keeping his sense of humor all the way to the end. The man that has been my best friend for the past 9 years will be truly missed by a lot of people. He is on his way to a better place, where our Lord and Savior will be waiting with open arms to receive him. His mother Aggie, father Gordon, and granddaughter Mya, and all those friends of his that have led the way, are also waiting for him to arrive, and show him the way to a peaceful place in heaven.





Tuesday, November 05, 2013
Well, my spark friends, hubby has taken a turn for the worse. His kidneys have not been functioning very well. They put in a permaport for dialysis and he received two dialysis treatments, but his has continued to grow weaker and weaker. Yesterday they suggested to me Hospice at the same time that Bill was saying it is time for him to give up the battle.

So, today the hospital made arrangements to have him transported home and we have signed up for Hospice. The doctors are suggesting it could be fairly quickly, perhaps this week.

Anyway, it is a very difficult time for me and I am very sad, but please continue to pray for our miracle.






Tuesday, October 29, 2013
Hubby got moved into a regular room today. He still isn't able to get out of bed, at least he can't by himself. We were able to get him to stand for a couple of minutes this evening between CNA and I.

He still has a ways to go and we are going to be requesting rehab before he comes home, but at least he is making progress.

They are talking about starting him on dialysis this week so we will see if and when that starts. His kidneys were working at 50% but hubby said today the kidney doctor said they had improved a little so we'll see how that goes.

He has to get stronger in order to be able to go through the stem cell transplant, so we are working on that.

Anyway, I took advantage today and went to my yoga class. Felt awesome. Tomorrow I am hoping for Zumba.





Saturday, October 26, 2013
I just wanted to let all of my spark friends know that hubby seems to be pulling out of it this time. Tuesday and Wednesday it was looking like we may have to make a decision whether to take him off the ventilator and probably say our goodbyes, but on Thursday morning they woke him up, took him off the ventilator, and he was breathing on his own and alert. He is still very tired and sleeps a lot, but last night they moved him out of ICU into PCU.

I know we still have a long road ahead of us, but it is looking much brighter at this point. They gave him two units of blood on Wednesday and a lot of his numbers are looking better than they have for a very long time. Now if we can just keep those numbers up.

I miss you all, but I want to thank you all for your prayers, thoughts, and support.



1 2 3 4 5 6 7 8 9 10 11 12 13 14 15 16 17 18 19 20 21 22 23 24 25 26 27 28 29 30 31 32 33 34 35 36 37 38 39 40 41 42 43 44 45 46 47 48 49 50 51 52 53 54 55 56 57 Last Page

Get An Email Alert Each Time BARBIE176 Posts