| | |
| --- | --- |
| | BARBARA_G's Recent Blog Entries |


Saturday, August 21, 2010
My apologies to all for not posting and keeping everyone up to date! I had an ongoing computer malfunction. My keyboard broke a long time ago and I just recently got a new one, and go figure, the new one I bought was defective. Hence I repaired the new one, something I was trying to avoid in first place! Thatís lifeÖor at least itís mine. Not much has been going right this Summer. Iím not complaining, just reporting.

Most of all Iíve been and am ill. I was doing fantastic in June (besides my bad shoulder) and was so happy. Towards the end of the month I began to get severe dizzy spells. I finally went to the doctor and was diagnosed with Benign Positional Vertigo. Itís an inner ear disease which causes vertigo, dizziness, and fatigue, and there is absolutely nothing benign about it. Further recuperation is highly variable in terms of time, if recuperation does occur. What bothers me most is not the dizziness but the fatigue. I have a hard time just keeping up with daily matters. However I am better than I was a month ago. I also was very depressed in addition to the physical limitations. IĎm learning to live with it however.

As if this were not enough I probably got a ďbugĒ a couple of days ago, and am at home in bed with all the symptoms of a stomach flue. On the other hand it may be a severe IBS attack. Whatever it is, I am incredibly tiered and spent the last couple of days mostly in bed, but am beginning to feel better.

Anyway this is how life has been going for me. More has gone wrong, but Iíve listed the worst. Of course itís miserably hot here in Tucson at this time. Yet Iím surviving. I wont let it get me down. However as far as my online presence is concerned I need to set priorities and use the little energy I have on day to day chores like cooking and cleaning. I made another doctors appointment. I want my health matters more aggressively dealt with. Iíve done some research and am informed and know what to ask and what to demand. Once I feel better Iíll be back online. Advice is appreciated.

Weight wise I was somewhere in the 180ís but am back to the low 190ís. Iím working on that. I think currently if I can just stabilize my weight Iím doing very well.

I sincerely miss everyone. I truly just donít feel well. The moment I feel better Iíll be back. Iím sorry.

Sincerely,
Barbara





Thursday, May 20, 2010
Wednesday

Food: Stayed within calorie range! Yay me!

Exercise
Total: 120 YES!
Aqua Aerobics/Aqua Jogging:0
Walking: 75
Physical Therapy: (have to rest arm)
Environmental Exercise:0
Step Aerobics: 45

Birthday Countdown: 20 Days to reach 199 lbs goal weight

Yesterday was a really exciting day for me because of all of the wonderful comments people made on my progress blog/photos. Thanks to everyone for your kind comments. I feel so honored that one person actually chose to post my photo on their refrigerator for motivational purposes. I donít think anyone has ever done that before! Thanks Spark Friends!

So far my birthday countdown as a motivator is working. Only 20 days left. It really helps to have a short term goal. I donít feel so overwhelmed anymore. One thing that also is helping me allot is eating a grapefruit after dinner. It seems to kill any and all cravings. And since itís that time of year, I have a plentiful supply of free organic Tucson grown grapefruit!

I was going to do a two day birthday hike but because of my arm probably wont be able to do so. Iím trying to avoid the birthday dinner/cake thing. I wanted to celebrate my birthday with a healthy hike and healthy food and perhaps some time to contemplate life. Anyone have any ideas?

I got rid of three kitchen trash bags of clothing yesterday. That included all of my much too big underwear. Now Iím wearing mediums. Next month will be bra month. Someone told me that Target is the place for bra shopping and that Consumer Guide, or a similar source, rated them equally good as more expensive name brands. So I will give it a try. I actually can move my clothes into the dressers in the closet now! Iím thrilled! Iíll have so much more room. Iím not done yet, but it was a good start on getting the closet organized.





Wednesday, May 19, 2010
Tuesday

Weigh In: 204 lbs for a loss of 1 lb for the week. A total of 114 lbs lost on SP. 5 lbs to go, to reach my June goal of 199 (Total weight lost 196+lbs)

Birthday Countdown: 21 Days to reach 199 lbs goal weight

Food: Stayed in Calorie Range.
Exercise
Total: 140 min (Finally made my 120 min goal, Yay!)
Aqua Aerobics/Aqua Jogging: 80 min
Walking: 60 min
Physical Therapy: (have to rest arm)
Environmental Exercise: 0
Step Aerobics: 0

I started to clean out my bedroom closet thinking about Siriradah and Colleen. While doing this I found the biggest pair of pants I used to wear. I purposely saved them. Other than that I give away whatever is too big for me if itĎs still usable, so I donít have clothes to regress into. Iím very proud of this photo. Please realize I weighed 400+ lbs at one time (not sure exactly how much I was cause my scale no longer measured it) and barely fit into those pants anymore. Matter of fact they were skin tight and the legs reached barely below my knee! Thanks so much Carol for taking the photos. For larger photos see my photo album.

Wearing my size 10 pants: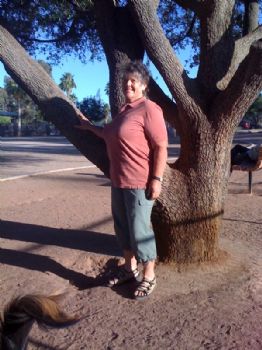 Wearing my biggest pants ever: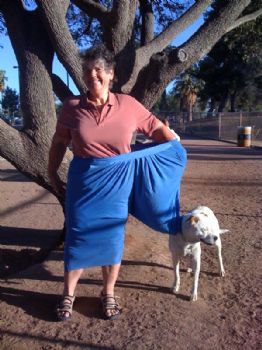 I feel really good about beginning to clean out my bedroom closet. I did not even have room in it for my clothes! It will take me a few days to get it all organized, but in the end I finally will be able to use it as a closet for my clothes and not just for storage. So a bunch of stuff will be donated and recycled this week. Thanks Siriradah for your blogs about ridding yourself of non essential items. After reading it so many times idea is sticking with me. Thanks Colleen for sharing all the housework you do. It inspires me to do more!

I started a countdown to my birthday to get and keep myself on track. Iím following the Mayo Clinic ďdietĒ and will do my best to eat the 1200 recommended calories a day. (My nutritionist recommends the same amount of calories) Lately I have been fudging allot with calories while exercising less. I hope the countdown will motivate me to stick to my goals at least 80% to 90% of the time. Iím not trying for perfection. I also will do my best to exercise 2 hours a day! I hope to increase my weight loss from 1 to 2 lbs a week. I have three weeks left to my birthday. At that rate I will achieve my bday goal of being in the 100ís! A number I have not seen since my late teens or very early twenties! Iím not quite sure anymore. My next goal will be to make it to the 170ís which will take me out of the range of being obese. Then Iíll work towards a healthy BMI.





Tuesday, May 18, 2010
Day 592

Monday

Food: Stayed in calorie range

Exercise
Total: 105 min
Aqua Aerobics/Aqua Jogging:0
Walking: 60 min
Physical Therapy: (have to rest arm)
Environmental Exercise: 0
Step Aerobics: 45 min

I started the day by seeing my physical therapist for my shoulder and arm. I got a lecture on respecting my body and something about pain receptors being there for a reason, and was told not to exercise. But to be honest it sounded more like the background noise when the adults are talking in the Peanuts cartoons. Iíve already adjusted my exercising enough in my opinion. I certainly wont quit walking and I donít think the post-op rehab or arthritis class in the pool will hurt either. As I told him what aggravated the arm was the arm exercise bike he put me on last week. I told him I should not be doing that. But he would not listen. He tried to put me on it again but I straight out refused. Come to think about it, he just was on the defensive. In his defense my diagnosis has changed from last weeks and what initially was diagnoses as a torn muscle is now probably more correctly diagnosed as tendonitis. And I believe treatment for the two are not the same. But what do I know.

To my great surprise I got an email from the Department of the Interior in regards to my treatment and refusal of a pass at Sabino Canyon. I only emailed them on Saturday. I can truly say that at this moment I am truly happy with the government. Not that it will last. But Iíll for the moment at least believe that they really are here to help us. I may not have to stage a protest after all. Though it would have been fun to do, except for the darn heat! Maybe Iíll try to work on resolving the issue via emails until Fall. And if I donít get the appropriate action by then, it will be the perfect weather for a little protest. I wonder if SP has a calorie count for protest activities.

I was miserable most of the day due to eating too many apples on Sunday. I'm saying this in the sincerets way: Don't ever binge on apples. You will regret it! As will your tummy and other parts of your body.

Other than that I did not accomplish much. But I improved on my exercise (my physical therapist is wincing) and I stayed within my calorie range. However that range is rather liberal at this time, especially given how much less active I am. But right now I donít seem to have it in me to be in a more restrictive mode. Iíll have to see how my weigh-in goes. I may make a bigger effort in regards to eating less if it does not show progress.





Monday, May 17, 2010
Sunday

Food: Went over planned calories but stayed under 2000. I can live with that.

Exercise
Total: 60 min f
Aqua Aerobics/Aqua Jogging:0
Walking: 60
Physical Therapy: (have to rest arm)
Environmental Exercise: 0
Step Aerobics: 0

I had big plans for yesterday but at least I did manage to walk the dog I the morning. That was my biggest goal for the day. I did a little cleaning and straightening up, but not nearly as much as planned. Instead I visited my friend Mary Jane and then went grocery shopping. I bought a huge amount of fresh fruit of which I kept some and the rest I repackaged in a gift bag and left it at my daughterís place for her birthday. I have another gift for her but she has to pick that one up.

Later in the day I visited the dog park and one of the people there saw me wear a sling and shouted at me, from a distance, now what did you do, did you break your arm? (for those of you not in the know itís just tendinitis) I got some exercise performing my ďcivic dutiesĒ at the park. And went home and at a very healthy dinner.

I followed that with a very healthy dessert of apples. Just that I did not stop at one. They tasted so good I finished off the bag. But I DID walk the dog in the morning.



1 2 3 4 5 6 7 8 9 10 11 12 13 14 15 16 17 18 19 20 21 22 23 24 25 26 27 28 29 30 31 32 33 34 35 36 37 38 39 40 41 42 43 44 45 46 47 48 49 50 51 52 53 54 55 56 57 58 59 60 61 62 63 64 65 66 67 68 69 70 71 72 73 74 75 76 77 78 79 80 81 82 83 84 85 86 87 Last Page

Get An Email Alert Each Time BARBARA_G Posts