| | |
| --- | --- |
| | BAMOM19's Recent Blog Entries |


Monday, July 23, 2007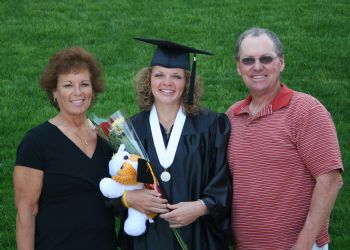 Well, Mondays are a test of wills for me now. I start at the gym at 7:30 do my weight training, than 50 minutes of spinning(of which today our instructor was the devil I swear!), than proceed to yoga class(which one would think is easy, but you would be thinking wrong!). I finally arrive back home around 12:30. While it sounds a bit overwhelming, I definately enjoy the challenge and appreciate the different disciplines needed to do all three programs. Also, the yoga really helps with tightness, I woke this morning with a twinge in my lower back and was happy to see it was gone after yoga class.

I'm still at the 152 weight, and realize if I'm to move past it, I have to be stricter with my food. So, starting today, I'm going to eat "cleaner" and see how that works for me.





Wednesday, July 18, 2007


Well, it's been a while since I posted last, I'm happy to say all is well with me. I have been extremely busy these past few weeks planning and preparing for my daughter's graduation party. We held it on the 14th and it was a huge success. We had so much food and I was really good about what I ate.

I've been experiencing a great deal of pain in my bad knee, of course getting ready for the party saw me on my feet from the time I woke until after dark (and then some). The pain was so bad that it was interrupting my sleep every night. During this hectic time I didn't miss a workout--even when my spinning class got interrupted by an emergency visit to the dentist to replace the crown I had just "flossed" off--so I'm really proud of myself for that.

I'm starting to switch up my cardio by doing an occasional run(did 5 miles yesterday) and riding my bike(rode for an hour and a half the day I had to go to the dentist). I think it will help with my knee to do some different things.

Now that things have calmed down a bit, I will be back here daily!




Sunday, July 08, 2007
Well, this has been an excellent week. I've really been vigilant about my food, and exercise has also been amped up. It's funny how easy it is to slip into old bad habits with food. Thankfully, I've been completely dedicated to my cardio and strength training or else it would have been a disaster. I am still trying to incorporate a second cardio workout during the evening, but I did add yoga to my Monday workouts, and found that I really like it. I'm hoping to work one other class of yoga in as well...

Imagine someone regularly tying small weights around your ankles as you try to climb a mountain. Doesn't sound fair, does it? But that's exactly what you can do to yourself, a little bit at a time, if you don't watch out. When you think of who and what is standing in the way of your dreams, it's easy to forget your own responsibility. Even the best of us can be guilty of unknowingly hurting our own progress. Procrastination, lateness, being disorganized, pessimism, not being honest with yourself, severe self-criticism, downplaying achievements, focusing only on weaknesses while ignoring strengths, keeping goals a secret, demanding perfection, giving up after a small setback--these are all ways you can make it tough to be (and do) your best. Smart systems, the right attitude, and a promise to keep going no matter what will make a world of difference.

The above comments are so true and if I look back on most of my life, that's what I was doing to myself. It's still a daily struggle to remember to be proud of my accomplishments and not feel critical of my body and things I did in the past, but I am working on that. I feel comfortable with myself more than not comfortable and most times I'm pleased with the way I look. But there are those moments....





Thursday, June 28, 2007
To reach your goals, you need to be a strong leader of yourself. That means making sure you live up to the promises you made to yourself and to others. Your goals are important to you. They'll also require some work. If you could put one person in charge of your most personal, most precious goals, would you hire someone who looks for the easy way out or just talks a good game? Or would you entrust them to the person who willingly takes action and does whatever is needed to make it happen? You can handle the job. Prove yourself trustworthy by showing up every day with your sleeves rolled up.

I must say that sticking to your promise is an extremely rewarding thing to do. In fact I believe that during this journey, knowing that I've stuck to what I set out to do is just as rewarding as the weight loss itself. Just knowing that I'm capable of doing anything I want to is a very freeing thought. I finally understand that it's up to me and only me to do what is right and that I'm not a victim anymore. Wishing to lose weight, just doesn't work, and there are no short cuts or alternate routes to take. The only way to do this is to eat properly and exercise daily. Getting your mind around the idea that you are not depriving yourself, or missing out on anything, but instead are living a most spectatcular lifestyle is the major hurdle in getting there...I'm on my way.





Wednesday, June 27, 2007
Well, today was another example of how my healthy habits are easily kept these days. Today, I had to drive my mother to a Dr's appt at 11:00 am, that meant I couldn't do my normal routine at the gym. So, I got up at 6 am went and lifted and took the 8 am spinning class instead of the 9:30 one. I felt so great to have gotten everything done by 9:00 and was able to meet my obligations to others for the rest of the day, without cheating myself.

It's amazing what we are capable of if we only try!



First Page
1
2
3
4
5
6
7
8
9
10
11
12
13
14
15
16
17
18
19
20
21
22
23
24
25
26
27
28
29
30
31
32
33
34
35
36
37
38
39
40
41
42
43
44
45
46
47
48
49
50
51
52
53
54
55
56
57
58
59
60
61
62
63
64
65
66
67
68
69
70
71
72
73
74
75
76
77
78 79 80 81 82 83 84 85 86 87 88 89 90 91 92 93 94 95 96 97 98 99 100 101 102 103 104 Last Page

Get An Email Alert Each Time BAMOM19 Posts