| | |
| --- | --- |
| | A_BIT_AT_A_TIME's Recent Blog Entries |


Tuesday, April 09, 2013
Atkins
Fit For Life
Weigh to Win
Weigh Down
Diet for a Small Planet
Weight Watchers
Cabbage Soup
Cantaloupe
The Lord's Table
Glycemic Index
Alkaline Ash
Let's Do Lunch


I was awake through the night, coughing a bit, and as I was trying to get back to sleep I got to thinking about diets (you know how your mind sort of rambles when you're tired but awake?). I wondered how many diets I've tried. The ones listed above are all that I can remember but I'm sure there are at least a couple I've forgotten.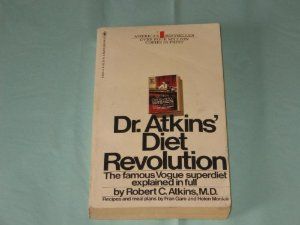 Each of them had good lessons. The meat marinade from the Atkins diet is a recipe I still use. The Atkins diet put me into ketosis almost immediately and I didn't like what it might be doing to my kidneys, so I quit it. But I remember that I did lose weight in that short time.





Fit for Life introduced me to a number of diet myths that I think are still being perpetuated today. Of course, I didn't know they were myths (or, at least, unsubstantiated). They sounded good at the time. I think I got the concept of drinking hot lemon water for breakfast from that book, although I don't drink hot lemon water for breakfast very often. The debate still rages about whether drinking water before or after meals is best, among other things. And there was something scary about their eyes.





Weigh to Win at Weight Loss was **probably the best diet book ever**. It's not the author's fault that I didn't have the staying power to follow the recommendations. It was an honestly-written, humble account of a woman who lost 120 pounds in a year by simply choosing to eat better and exercise more (walking, I think). It wasn't judgmental or rigorous, it was just a common sense plan to eat more green stuff and less white stuff. This book did not get the acclaim it deserved because it *was* so simple. I wonder what the author, Lynn Hill, is doing now.





Weigh Down by Gwen Shambling was a diet that some of the ladies at church were doing. It was, I think, one of the first "Christian" diet books so everybody jumped on board. Never mind that it was legalistic and harsh, it was "Christian". I really tried to get through it, because it was "Christian", but I couldn't. I always felt like Gwen was standing over my shoulder beating me with a stick for not living up to her standards for living like a "Christian". The myriad of other issues that have come to light since the book was published just confirms to me that however much it was promoted to be, it was NOT a book that a Christian woman should be taking advice from. But the concept was sound - find the truth about how to eat/live from God's Word. I learned from that.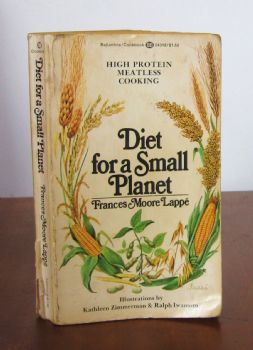 Diet for a Small Planet is another book that single-handedly perpetuated a myth - the myth of food combining. I'm too lazy to grab the book off the shelf and look it up, but the whole idea of combining foods in order to "create" complete proteins was tenuous and has been stretched out of recognition as "gospel" ever since. I may disagree with the concept, but that was the book that introduced me to legumes. I had never eaten a lentil until I started trying recipes from the Small Planet book.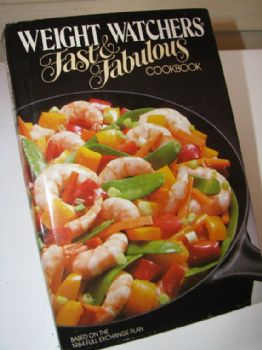 Weight Watchers - oh, how to sum up WW in one small paragraph? When I joined WW they had just started the points system. I was familiar with their previous program because I had acquired several of their older cookbooks along the way, so I was expecting calorie-counting to be featured. But no, it was points. OK, well, we count points instead. And we carry around our little booklets and our little slide ruler thingy, and our little circular spinny thing and count points before we purchase anything.

I was faithful to it - after all, I was paying good money and I was going to make it work! 3-point desserts and 100 kcal snacks. Bathtubs of vegetables - salad greens and fresh beans, carrot sticks and...in the course of three months (and about $120) I lost *nearly* four pounds. Not quite four pounds but I rounded it up so it would look better. Don't get me wrong, WW works for some people. I'm just not one of them. I remember looking around at one of the last meetings I attended and seeing the same women, also not losing very much. I still have my little pouch of booklets around here somewhere.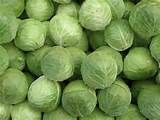 Cabbage Soup - probably the most popular diet on the planet - I mean, who hasn't tried the Cabbage Soup plan at least once? Even my grandmother had the CS diet pasted inside one of her cupboard doors (her copy was typed...not printed...typed, as in, by hand, on an old IBM Selectric). I loved the CS diet - I love cabbage soup. And I would eat it religiously. And It would bloat me up like a hot air balloon but I would keep eating it. And as soon as I finished it, I would gain back the 4 or 5 pounds that I had lost, until the next time I tried it. Sigh.




The Cantaloupe Diet was a one-page article that my Mom found in one of those grocery-store/check-out stands women's magazines. She isn't really overweight but she thinks she is and she sent me a copy of the article to try along with her. The basic premise was to eat half a cantaloupe and then wait a couple of hours before eating anything else each day. The first week I lost 5 pounds! I was thrilled. So was my Mom. By the third week I was really tired of having cantaloupe for breakfast and then waiting 2 hours to have coffee. I messed it up by drinking coffee and eating english muffins with jam. I gained 5 pounds.






The Lord's Table is an online, interactive course that deals with eating and your relationship with God. The focus is not on food or weight loss but on your heart. It promotes taking responsibility for your weight and taking responsibility for your walk with the Lord. It was everything that the Weigh Down program was not. But at the time I was still in rebellion - I wanted to be in control and wasn't willing to work the program the way it was designed to be worked. I wanted a how-to list of things to do and didn't want to have to think about living for God. I made it through about 3 weeks of the course, and I don't remember losing any weight. But neither did I do the work that needed to be done. And here we are, several years later still dealing with the weight and the issues. Funny how that happens.


Glycemic Index and Alkaline Ash diets were things that intrigued me enough to buy a couple of books - I even managed to read one of them - but I never got into it. I know I got as far as printing out lists of "acceptable" foods. But I also know that I didn't actually follow it strictly enough to be able to say I used the plans. My interest in these diets was prompted by the Food & Nutrition program that I took in college - understanding how food is used by our bodies to produce energy fascinated me and I am still keen to learn more. But the knowledge never made it into "application" and thus never made any changes to my diet or weight.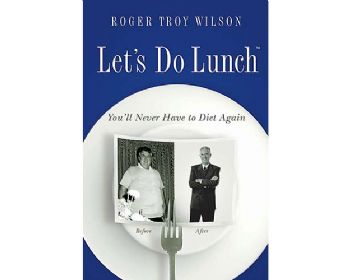 Let's Do Lunch is a not-for-profit diet book that a bunch of homeschool moms (of which I was part) decided to do as a group. It's a good story of how one man changed his eating habits and shed excess pounds (like me, he was about twice the size he should be) by eating less junky/white food, among other things. One of the key things I remember from the program is the use of frozen grapes. He advocated eating frozen grapes whenever you were hungry between meals - and for him it seemed to work. I couldn't do it. At the time I had never heard of GERD but I couldn't swallow more than 5 or 6 grapes without feeling ill. Now I know why. I can't eat many raw fruits and could never eat as many grapes as that man said to eat. One of the homeschool moms on our forum lost a LOT of weight following that book, so I'm sure it works, just couldn't stomach it (pun intended) ;)


There were a few other things I tried - I remember one diet that came with a set of cards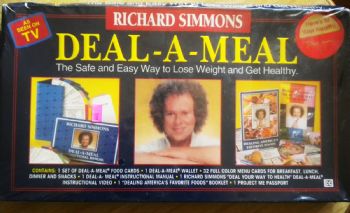 (not the Richard Simmons Deal-a-Meal - I never tried that one) but something very similar. I am always drawn to colourful, visual things so I probably bought it because it was pretty. I know I never used it.


And there was another Christian program - First Place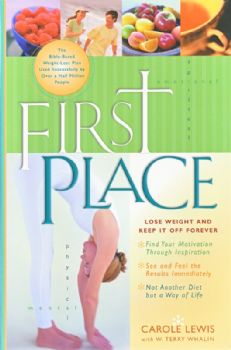 book, notebooks and CDs that came in a little plastic briefcase. I was going to do that with another woman but she backed out of it and I was stuck with the unused set (which is still upstairs in my closet).



This one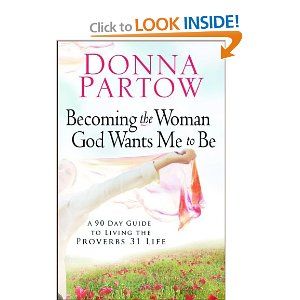 Donna Partow's Becoming the Woman God Wants Me To Be. I got six weeks into it. 6 weeks! That was pretty good for me! But it accumulated *so* much each week - the list of things to remember, track, do, change, avoid, plan, increase and generally follow seemed exponential! A growing stack of lists (there are still sticky notes on just about every page listing all the things I was "learning" for that day/week) of things to do. It was way too much to handle - there was no slack time to just let lessons sink in. Every day a new lesson, a new challenge - get it and move on, but don't forget to keep it going. WHOA... I really liked it but I was quickly out of my depth and I put it aside. I still have all the daily emails (she doesn't run the program any more) and I look back over them from time to time to pull out nuggets or tips.


And another book that I read but didn't really take anything away from it: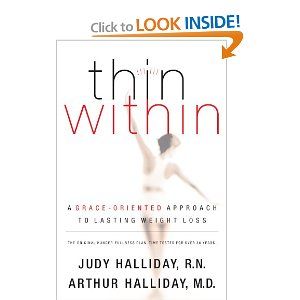 And another that I just remembered -- it wasn't so much a diet as a resource. A little too much psychology for me.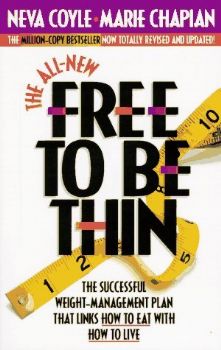 I know I'm forgetting some... (if you've read this far, thanks for sticking with me)

But the common thread amongst all these: I didn't do them. One reason (excuse?) or another but I didn't do them. As HAWTGRANNY2014 said yesterday (or the day before) there are all sorts of internal reasons for not losing weight and until you start dealing with those the weight is not going to come off.

Let's face it - I have hundreds, if not thousands, of dollars worth of diet resources at my fingertips (although I STILL can't find my Leslie Sansone Walking dvd!) and I STILL haven't lost the weight.

It's not about the resources. I need to find out what it IS about.



Friday, March 15, 2013
I have MS, left side weakness, brain fog (more like brain numbness), bladder issues, along with the vertigo and vision problems etc. It can be a challenge just to get out of bed safely some mornings. One morning I didn't get out of bed safely and wound up breaking my knee. Just getting out of bed!

And remembering words - common words, like table and TV - some days I just can't pull those words out of my brain. It's like a giant game of charades (do people still play charades?)(they call it something else... but I can't remember what, of course!)

" Would you pass me the 'thing' on the 'whatchamacallit' with the 'doohickeys', you know?..." and my family guesses again and again and again until someone finally puts it together...oh, the TV remote! (that was a bad example because the remote is in the center of the room and it's not far to reach it when I need it) but that's how the conversations go...meanwhile I'm gesturing wildly and my family is looking at me with blank, puzzled expressions while they try to understand my thought processes.

MS wouldn't be a big deal, I guess, if I knew it wouldn't get any worse. So far it's manageable; it's a big inconvenience, but manageable. I have a sympathetic doctor who has not pulled my driver's license (yet) and doesn't insist on any treatment I'm not comfortable with. It's more the fear of what COULD happen... I *could* become so dependent, unable to do anything for myself. I'd have to rely on others for the most personal of care-taking. And that would, quite frankly, suck. (that's as close to swearing as I get, by the way).

I would hate that. The flesh hates that, having to submit. We spend a good portion of our lives not wanting to submit to God. I am learning though, that through submission comes freedom.

If the MS got worse, there would be no point in railing against it, just as there is no point in railing against the weather when a thunderstorm rolls in during your picnic. It is what it is.

It's what you do with it that counts.


Friday, March 15, 2013
Seems unachievable (just being honest) and at the same time seems like it would be incredibly amazing to lose that much.

Starting with small but permanent changes. Last night, had three pieces of pizza at supper. Wouldn't have missed that third piece. Next time I'll take two.

Need more salads.

Hate drinking water - have a very small bladder!! Sipping it all day I usually manage two 12oz cups per day... upping that to 3 12 oz cups shouldn't be difficult.. First thing out of bed I had 4 oz of water and it felt good.

50 pounds by Sept. I think that will be my mantra - I know it's not exactly right to focus on the weight but it's easier to say than "I need to completely overcome my emotional eating and avoidance tactics in the next six months"

50 pounds by Sept.

I can do this.
1

Get An Email Alert Each Time A_BIT_AT_A_TIME Posts