| | |
| --- | --- |
| | AWILL09's Recent Blog Entries |


Monday, May 31, 2010
So….I didn't make it to the gym Friday evening, so I decided to go Saturday. No big deal right?
WRONG! It all started with my scheduled girls' night out at The Cheesecake Factory. Since I ate like a pig earlier in the day (see previous blog entry lol), I decided on one drink. Well, I arrived late (as freaking usual) and was feeling peckish, so I ate an appetizer with a glass of sangria. It was my second time trying sangria; my first experience was awesome and was looking forward to trying it again.

I enjoyed the Sangria. It was sweet, tangy, and the various fruits in it added a wonderful kick. I was feeling good, having a great time, and knew what my plans were after departing: Hitting the gym I really, really looked forward to it. I left the Cheesecake Factory at 10:30 pm.

I arrive home at 11:00 after making a few stops. By the time I arrived home, I had a MASSIVE headache. It was borderline migraine, which I get every blue moon. I took some meds for the headache and lay down, knowing I would be okay Saturday and to continue with my plans of going to get my hair done and running errands. I woke up feeling nauseous the following morning, so I took some Pepto Bismol and ate a light meal before my appointment.

I should have stayed home and nursed myself back to health. My stylist re-twisted my locs so tightly I couldn't see straight from the pain. The only relief I had was when I went under the hair dryer for 50 minutes. (Hooray for thick, coarse hair! Lol) by the time I left the salon, I was dizzy and nauseous! I sat in my car with the AC on max blast for 5 minutes. I barely run the AC, but I did Saturday! LOL it was the only thing that saved me. Later that evening, I'm still feeling like crap and nothing relieved the pain. My hair-tight, head-in so much pain that I couldn't stand the sound of my own voice! I was terrified…I thought I may have suffered an aneurysm or something…no way a drink would put me in such a horrible state, lol. It felt like a combination of morning sickness, a hangover, and food poisoning, which I have experienced ALL three lmao. Even taking my prescribed medication didn't help!

Long story short-Saturday night, my toilet and I were on a too friendly basis, you know what I mean? Exercising was not an option, but I was confident I will be better Sunday.

Yeah, right. I feel better somewhat, and I WILL be in the gym, no matter what my head and stomach says. I'll carry a barf bag with me just in case. Lol! At least I am able to tolerate the sound of my voice.






Friday, May 28, 2010
Working in a corporate setting is stressful. From dealing with belligerent clients with unreasonable demands to working closely with people who demonstrate tidbits of insanity, many wonder and revel at folks such as yours truly for maintaining some level of sanity. ROFLMAO
Lately, it's been difficult to maintain sanity and control over temptations…Seems like every damn week there is a brunch, luncheon, birthday celebration, baby shower, congrats on (insert whatever here), etc! lol Or someone makes brownies or other scrumptious goodies (yes, I am referring to my former crush and his wonderful domestic demonstration of baking goodies,DAMN HIM LOL) to share with the team. What is a person on a weight loss journey to do? My participation has decreased dramatically, but it's so hard to resist…
Especially when the buffet is set up RIGHT BEHIND YOU! Sheesh! I'm hit with various delicious aromas, the constant badgering "How come you're not participating?" question, followed by the awkward "Ahhhh" response and the slink away hovering over their calorie-laden plates that they have to demonstrate SUPERHUMAN strength to carry because its piled so damn high with artery-clogged foods when I explain that I am changing my lifestyle and trying to better myself. And the traffic…lol I have to wait patiently for the grazers to meander through after they've touched everything after licking their damn fingers so I can proceed to my destination. SMH SMH SMH! LMAO
Today, I participated in the latest glutton fest (lol) today because one of my buddies is leaving the company after 2 years of being a Temp. It's a bittersweet parting because the team she's leaving desperately needs her since they're understaffed…Two weeks ago another person resigned, which in my opinion the heffa should have been fired LONG AGO LOL! So, it's difficult to watch an already struggling team take more hits. I told the Section Manager of said team that I am willing to learn their process to help with their ever increasing workload and she wants to take me up on my offer….but MY Manager hit the roof! LOL it's a LONNNNNNNGGGGGGGG G story that entails accusations of employee stealing, favoritism, and various misunderstandings.
I truly want to help because..if I may be honest without sounding arrogant: I know my job like the back of my hand. I've been in the department the longest and I am the only one trained on all systems we utilize, so while I am a vital part of my current team, I am capable of working for both departments with little to no ease or interruption of my daily responsibilities.
Why isn't my fellow team mates trained on everything as well? LOL…Moving on!
Back to today's glutton fest: I admit that I indulged. I am afraid of tallying my actual calories ate today! LOL Plus, I have a girls' night out scheduled at the Cheesecake Factory, one of my favorite places! I was so looking forward to a Kobe Burger, but I seriously doubt I will be eating anything tonight. I feel like a stuffed pig, all that is missing is the apple in my mouth. LOL knowing me, I would eat the damn apple.
Regardless of my plans for tonight, I'm going to the gym. Hell, it's a must right about now! A Saturday visit may be in order as well. Since my gym is 24/7, I'm there at the wee hours of the morning, and I got to know the cleaning crew since I'm usually the last person exercising like an idiot at 2am, knowing damn well I have to get up in a few hours for work. SMH sad, sad, sad! However, I like the early morning exercising. I shower at the gym after my sessions. Once I walk in the door, put away my items, I'm asleep before my head hits the pillow! I have to do something…lol I have to shed the glutton fests of the past somehow.






Thursday, May 27, 2010
I was chatting with my best friend at work Monday and unconsciously, I clasped my fingers behind my back.
I've never done that before...Rather, unable to do it. It didn't dawn on me…until I held that stance for 10 minutes. I couldn't believe it. I went back to my desk, sat down, and clasped my fingers behind my back again to make sure I wasn't imagining things, and to see if I experience arm fatigue. I was able to hold the stance again...comfortably!
WOOT! PROGRESS BABY! LOL I'm freaking happy about this! So I am doing something right, hallelujah! Later that night, I told my daughter and she said that she noticed that I've lost a few inches because when she hugs me, she's able to wrap her fingers around me, and her fingers meet!
HOLY CRAP, WHY DIDN'T SHE TELL ME???!!
Since this discovery, I clasp my fingers behind my back every day with a huge grin on my face. This small victory keeps me going and I want to do more. With that said, I've decided to set a goal: To be able to clasp my arms behind my back comfortably! I want to accomplish this goal by my 34th birthday in September. Sounds feasible, right? Let's hope so!
I also want to do something nice for my birthday this year. If financially able, I want to have a "ME" weekend. My b-day falls on a Saturday, so I think I will schedule a few days off from work and look into booking a hotel room for the weekend. Or maybe a weekend at Hard Rock Casino...either way, I want to dress up and hit the town! Lol I'm looking for the right dress and heels…Not sure on the color lol. It's been a long time since I've worn a dress….hmm, the more I think about this, the better the idea! I want to go all out this time because my past birthdays have been a bust since turning 30. Lol My worse bday memory: My 30th bday. A horrible storm came through and flooded my area. My car was destroyed. I was all dressed up and ready to party. Since then, lol downhill! Last year: Nothing. I was too afraid to do anything. I watched TV all night. Sad, I know lol. Along with a new outfit, I want to do something I have never done: Color my hair.
Wait..nah, highlights will be suffice! Lol I've finally settled on a color, now all I have to do is get over my fear and do it! Lol I don't know why I am so afraid to color my hair, but its something I've always wanted to do. My daughter has less fear than me..the girl wanted to dye her hair purple! LOL SMH like that was going to happen! I'm all for self expression, but purple hair..unless she's a treasure troll or an anime character, no dice!

Well, off to workout! Have a great night fellow Sparkers!








Monday, May 24, 2010
Another late night entry! I'm a night owl who has a day job. lol SMH. I don't know how I function this way, but it works for me.

Earlier I was surfing the web for motivation pics, and as I came across images of women of all shapes and sizes. I thought about my own shape. Every woman has one, and I am blessed to have curves. This one particular picture stuck out, of the model Tera Lynn...(I believe that is her name). This is one gorgeous, curvy sista!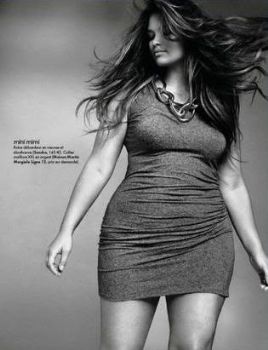 I thought about the women in my family and they too were curvy, especially my mother and her mother. They were my first exposure to beautiful women. My mom was a stunner-She stood exactly 5', roasted almond complexioned, shoulder length hair (Weave-free lol) and she had the shape of a coca cola bottle. My grandma-A slightly taller version of mom, but the color of café con leche, with short, stylish reddish brown hair. I swear, my grandma was a bad chick! lol. She had men drooling over her of all ages! lol I will admit that my grandma looked better than my mother. She was gorgeous and stylish.
I remember when I was 6 I was looking at pics of my mom, and I realized that I did not resemble her at all. My sister-yes. Me-not in the least. I took after my father's side. Don't get me wrong, my paternal grandmother is beautiful, but she has always been a big woman, in weight and height, and her daughters took after her.
So did I, minus the height! lol Anyway, I started to cry. I cried so hard because I was the dark, chubby, ugly girl. My mom, hearing me crying, came into the room and asked me what was wrong.
"I don't look nothing like you." I wailed while pointing at the picture of her in a black, figure hugging dress with her long hair in soft, black waves that caressed her shoulders and her light makeup looking oh so natural. The smile on her face exuded a confident, beautiful woman who had a bright future ahead of her. She smiled and sat down beside me and said "You're a little girl, the only thing you need to worry about is going to school, keeping your room clean and being a good girl. You are my daughter, and you may not look like me in your eyes, but in mine, Its like looking in the mirror. Now stop crying and clean your room." She hugged me and went to prepare dinner.
lol she was a neat freak. Did she make me feel better? Nope. I didn't believe her. I know what I saw in the mirror, and her image wasn't it! In my almost 34 years, I have been told that I look like my mom ONE time, and that was 2 years ago. Over the years, I never accepted myself.

With that said, since the beginning of the year, I'm trying to accept myself more. I accepted my dark skin long ago. I love it. I never accepted my size and hair. My hair is thick and coarse, and I hated it because no matter what I did to it, especially relaxing it, it never lasted. It always looked horrible. Going natural has been the best thing for me. I love my hair more than ever! The 3 issues I had with myself I managed conquer 2. The last one, is the big one. lol.

Now that I am exercising regularly and eating healthy 80% (lol I hope) of the time, I came up with an Acceptance Creed. I wrote it today, and it is subject to change lol! Its mine and I'll do what I want!

Anitra's Acceptance Creed-May 24th, 2010

1. I accept that this is a lifetime weight loss journey. Taking everyday slowly and being patient is key.

2. I accept that this journey will have good and bad weeks. Its part of life..my life.

3. I accept that this is a challenge, and will face this challenge head on with vigor and a positive mindset.

4. I accept that I may fall off the wagon. I'll carry a portable mattress with me at all times to catch me when I fall, so I could get up easy. lol

5. I accept that not everyone will be supportive of my lifestyle changes. Don't let the door hit ya where the Good Lord split ya!

6. I accept that I will never be a slim girl. Being healthy is what its all about.

7. I accept my curves and embrace them. I am blessed with this body and its time for me to be more appreciative of this body.

8. I WILL accept that I am beautiful in my own way, and its about time that I believe that I am beautiful.

9. I accept that it will take some time to reach my goal. I will make this journey an adventure, and not dwell on my slow progress.

10. I will use this journey to get to know the REAL ME, and share me with this wonderful world. Existing is a thing of the past. Living is what's up.

Yeah, its silly, but, its ME.

Have a great Monday fellow SPARKERS!







Monday, May 17, 2010
Its actually 12:19..lol

Anyway, I'm still working out at the gym, going 4 nights instead of 3. I was sitting around doing nothing on my off nights anyway, why not work out? Besides, I need a distraction...my thoughts are driving me insane lol! I wish I could turn them off so I can have a moment of peace. My weight loss journey is my main thought. I know I have a long way to go, but its like every where I turn, everything I do, my weight dominates my mind. My moods go up and down, and when I think about my weight issues and on top of finding my life's purpose, I grow even more depressed. I've hidden behind my weight for so long that I feel lost now that I am trying to step out of its shadow. Between weight loss and finding purpose, I am bound to be a permanent fixture in a insane asylum. LOL

You know, I realized that I haven't chatted about my former crush in quite some time! LOL Well...I am happy to say that we are great friends! I've been hanging out with him and other friends and I will admit that they are a lot of fun! We go clubbing, to the beach, etc. He wants me to start going to baseball games with the crew, and I happily accepted. LOL I don't like baseball, but I need to be more social..and open minded. Plus, I have SO much fun no matter what we do. He's still single...I will be honest, I am HAPPY about that lmao! YEAH YEAH, I still have a soft spot for him, I always will-He's just that awesome. We chat all the time, have lunch together, and we talk about common interests. We LOVE muscle cars...avid readers, love chocolate chip brownies (He makes a batch and brings them to work at least 3 times a month-DAMN HIM LMAO), and we found out that we share the same personality type! What sparked our closeness is we ended up on a work project together. After working with him I realized that I can look into his eyes and form coherent sentences! Its so refreshing. I am glad we're friends. I love hearing him chat about his family and his childhood antics, I love chatting with him period. Being around him and my other friends truly inspire me to become a better me, come out my shell and learn to trust people. I'm glad they're in my life.

ok, now that you're updated--back to the topic!

Wait, random thoughts...DUH ANITRA lol But on a serious note, I am more determined than ever to lose weight and find my life's purpose. Its like I woke up from a long ass slumber, a matrix in a sense. I know once I achieve my weight loss goals I will be more confident, but being comfortable being ME is important also.

Question-Have you ever felt like you...aren't really YOU? The you YOU know...isn't YOU, but YOU don't know what makes YOU...YOU? Does that make sense?

See what I mean? I need an off switch...SMDH LOL

I would love to hear what my fellow sparkers think. Help a sista out! LOL

Off to bed..Have a great night and HAPPY MONDAY!








1 2 3 4 5 6 7 8 9 10 11 12 13 14 15 Last Page

Get An Email Alert Each Time AWILL09 Posts