| | |
| --- | --- |
| | AUNTRENEE's Recent Blog Entries |


Saturday, November 21, 2009
7:33am

Dad's up right now. We're going to go uptown for breakfast before we go to Galesburg and Elmwood. We don't have any cereal in the house so we have to go up and get breakfast.

Looks like it's going to be a beautiful day. Clear skies, sun shining, warm. At least it's not going to be raining and cold. Had too much of it this past week. At least the farmers can get out and get the crops out if they don't have any standing water in the fields.

God Cares
by Marianne Farningham

What can it mean? It is aught to Him
That the nights are long and the days are dim?
Can He be touched by the griefs I bear
Which sadden the heart and whiten the hair?
Around His throne are eternal calms,
And strong, glad music of happy psalms,
And bliss, unruffled by any strife -
How can He care for my little life?

And yet I want Him to care for me,
While I live in this world where the sorrows be;
When the lights die down in th path I take;
When strength is feeble and friends forsake;
When love and music, that once did bless,
Have left me to silence and loneliness,
And my life-son changes to sobbing prayers -
Then my heart cries out for a God who cares.

O, wonderful story of deathless love;
Each child is dear to that heart above;
He fights for me when I cannot fight;
He comforts me in the gloom of night;
He lifts the burden, for He is strong;
He stills the sigh and awakes the song;
The sorrow that bowed me down He bears.
And loves and pardons because He cares.

Let all who are sad take heart again,
We are not alone in our hours of pain;
Our Father stoops from His throne above
To soothe and quiet us with His love.
He leaves us not when the storm is high.
And we have safety, for He is nigh.
Can it be trouble which He doth share?
O, rest in peace, for the Lord doth care.

8:38pm

We never went to Elmwood today. We had to go to the Ford dealer for the hope of actually getting a 2010 Ford Ranger. Dad is trading in the 2002 Ford Ranger that we have if the price is right. The closest place that they can get one is in Des Moines, Iowa. The color of the 2010 is called Torch Red. But I call it Target Red.

I got to take Lady for 2 walks today. I was hoping for more but ended watching (actually starting it) a movie and did some knitting. I'm not sure about tomorrow. After church and getting lunch at the restaurant uptown, we are going to dad's oldest brother's in Abingdon. Oh joy!

I have been going on YouTube and playing the same music video over and over again. P!nk's "Funhouse". I have no idea why I keeping on playing it over and over again. It has a great beat to it.

I'm kind of glad that we didn't go up to Elmwood today. I had a little case of the runs today. I had 3 - 12oz cups of French Vanilla cappuccino today. That's more than I usually drink from Target. But we were waiting for a phone call from the Ford dealership at Target. Plus I needed something to drink. Don't worry, I'm not going to be wide awake whe it's time for bed. I'll be able to sleep very well tonight.

I reall need t oget my 2 jeans hemmed up. Colder weather is upon us and I need to wear long pants. Even though one pair is a Size 26W and the other is a Size 22W. I'm going to see if a friend of ours can hem them up for me. She has in the past.

Had to get some more flea medicine for both pets. I had to give the dog another dose for this month because of the fleas.




Friday, November 20, 2009
8:01am

Well the sun was shining but the clouds have covered it up. Plus there were areas that had fog. We had very little fog but not as bad as other places.

Be True
by Horatius Bonar

Thou must be true thyself,
If thou the truth wouldst teach;
Thy sould must overflow, if thou
Another's soul wouldst reach!
It needs the overflow of heart
To give th lips full speech.

Think truly, and thy thoughts
Shall the world's famine feed;
Speak truly, and each word of thine
Shalle be a fruitful seed;
Live truly, and thy life shall be
A great and noble creed.

The friend that I talked to last night online was overweight but she weight more than I did. She had that same surgery that Al Roker had. She lost 161lbs. She weighed 311lbs. She weighs 150 now. I'm jealous because I'm 60lbs away from that. She wasn't fat when she was little.

I was trying to figure out why yesterday was so important. I still haven't figured it out. I have stopped thinking about it but still haven't figured it out. Even today. But I figured it out.

This coming Sunday would of been my great aunt's 92nd birthday. We lost her 5 years ago this month. She was my mom's aunt (my mom's dad's sister) and where I get my first name. Edra. Renee is my middle name.

What are you thankful for this year? I'm thankful for my health, my family (human and animals), and a home to come to. There are others but that'll make this blog very long.

I have the foot rest up on dad's recliner and Lady is laying between my legs. She has her head on my right leg and is asleep. I had her in my lap all morning long. She does this when she's with dad.

Our church is going to start decorating for Christmas this coming Sunday. We will finish the following Sunday. Our Christmas service is going to be on Christmas Eve evening at 5pm.

9:04am

Dad is still in bed. I don't blame him. It must be the Tylenol with codine that he's taking.

A little while ago, I had both Lady and Tigger in my lap. The past few mornings that has happened. Dad has that happen everyday. Tigger would jump up in dad's lap first and then Lady would get up soon after. Sometimes she'll put her head on Tigger's body. It doesn't bother Tigger one bit. I haven't gotten the chance to get a photo of that yet. But have other times though but Lady wasn't doing what I want to get a photo of.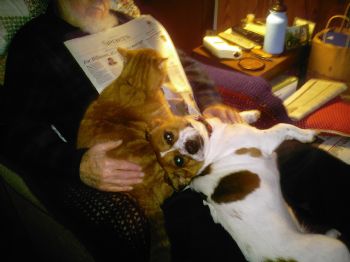 I still don't knwo what we're going to do for Thanksgiving yet. We haven't been invited to anyone's house yet. I'm hoping that we do. I hate not spending it without any family around. I hope that we get invited soon.

I'm watching a Dyson commercial and it's reminding me that I need to vacuum the house. No, we dont' have a Dyson. We have a Bissel that works a lot better and it's a lot cheaper.

12:14pm

Dad finally got up. Now we're up at the restaurant. He's going to eat lunch even though he had a bowl of cereal not too long ago. I'm having the peach crisp with ice cream. I had a pb&j (again) when he was having the bowl of cereal.

The restaurant is busy. Busier than usual. Well it's Friday and it's closer to the weekend.

I didn't get the chance to vacuum the house. If we don't go anywhere after we get done eating and seeing if we have to get any parts for the garage here in town, I'll do it then. If we have to go and get parts, I'll do it after that.

9pm

Well, we finally left town. We went to Bushnell for supper. This is the first time we left town all day. I know that we're going to leave town tomorrow. We're going to Galesburg to get a few things and then to Elmwood for a funeral (the minister that I mentioned who did my mom's grave side sevice in 2006). They're having the visitation before the funeral.

It looks like it's going to be a beautiful night. But it's going to be cold. It's already 34 degrees in Avon, IL.

I took Lady for 3 walks today. Would of been 4 if I didn't waste my time on the computer. I was looking up stuff for dad on the computer.





Thursday, November 19, 2009
8:32am

I'm having stomach problems this morning. I believe that it's either the antibotics working out of my body or I drank too much Gatorade yesterday. It might be the antibotics because I usually don't have this problem with Gatorade.

In the Shadow of God's Hand
Suggested by Dr. George Sweeting

To the child of God who's walking
Close beside Him in the way,
Who is trusting Him completely
And obeying Him each day,
Like a shadow from His hand,
There's a place of sweet release;
In the midst of tribulation
There is rest and perfect peace.

There are shadows all around us
As we move along life's way,
Cast by fears and disappointments,
Bringing times of deep dismay;
But the shadow of God's hand
Is not ever far away,
When I step into its confines,
There is peace throughout the day.

When the heat of tribulation
Causes weariness of the soul,
When in weakness I would stumble
As I cross some rocky knoll;
Then the shadow of God's hand
Brings release from anzious care,
And my fainting soul is strengthened
As we fellowship in prayer.

In th shadow of God's hand
There is freedom from all fear,
For the shadow's my assurance
That His hand is very near.

Dad got to take a shower this morning. This is the first time since his shoulder surgery a week ago today. It (the shoulder) doesn't seem to be bothering him. The only time it's bothered him was the days after the surgery.

5:45pm

Today was another long day. Dad had a chiropractor appointment. Plus we did a few other things while we were up there.

Found out yesterday that the minister who did mom's graveside service passed away. He was suffering from cancer. He was 67.

I took Lady for a walk a couple of hours ago. I was going to take her for another one but time slipped away. She's asleep right now. Just wish that I could take one.

I can't believe that Thanksgiving is a week from today. It seems like only yesterday we celebrated New Years.

8:44pm.

I'm starting to get a little tired but I have a few more things to do before I go to bed. Plus I'm chatting with another friend that I haven't seen since she was a little girl. When she was at least 6 years old.

Tomorrow is going to be a beautiful day. The sun will be out and in the mid 50s.





Wednesday, November 18, 2009
7:27am

It's a cold day again. I hate it. I can't even take Lady for a walk. It's suppose to rain today but it hasn't since I've gotten up.

I cannot wait until I do my exercises at cardiac rehab. I can tell that I need to do them. I will feel better after I do them.

10:52am

Dad's up and almost ready to leave the house. All he has to do is to eat his breakfast and do his breathing treatment.

When I took Lady out befor dad got up, I noticed that the sun was trying to come out. I hope that it does so it can help dry up everything. Espeically all the standing water.

I have no idea on what we're going to do today. I'm hoping that one is for me to do my exercises. If not, we may have to go to that salvage yard we went to on Monday. If we have to, let's hope that we don't get stopped by a train like we did on Monday.

1pm

I guess that I won't be doing my exercises today. Not enough time to go up and do them. It takes me over two hours to do all of them. Plus dad hasn't aske me if I wanted to do them.

I'm still not sure we have to go up to that salvage yard yet. The owner of the garage hasn't came back from lunch yet. The vehicle that we got the item for has been picked up not too long ago.

I'm really starting to feel that I've lost 30lbs. My abs are a little sore and I'm getting fuller a lot quicker. I had a sandwich and a piece of pie (okay so I splurged) for lunch ad a bowl of cereal for breakfast. The cereal was the last of my favorite cereal, raisin bran. I'll fix myself a peanut butter and jelly sandwich on bran bread for breakfast in the morning.

Somehow I'm really gasy today. I have no idea why. I haven't had anything that would make me this way. I know that it isn't the raisin bran that I had for breakfast or what I had for lunch.

We're up at hte garage and dad fell asleep while reading a car magazine. But the nap didn't last long. Must be the medicine that that the doctor perscribed.

8:34pm

Today has been a long day. We never left town. I know that tomorrow is going to be a long one. Dad has a chiropractor appointment tomorrow and I'm hoping to do my exercises while we're up there.

I took Lady for a walk today and I wish that I had my heavier coat on and gloves. It was a bit cold out. She's laying next to me asleep. She usually does that when she goes for a walk. Especially when she has more than one walk.

I've had a good feeling about my weight loss. I had so many good feeling that I lost count after 10. They were running into each other.

9:19pm

Lady put a smile on my face tonight. I was helping dad clean his shoulder and put a new dressing on it. Dad had his heart shape pillow in the chair and she had her head on thatpillow. I'll put a photo up when I get them off of my camera.

Dad is thinking of trading in our 2002 Ford Ranger (black) for a 2010 Ford Ranger (torch red). He's going to get a standard shift transmission with a 4 cyl. The standard gets better gas mileage than a automatic. The automatic gets 24mpg and the standard gets 27mpg. That's a whole lot better than what we hav now. Ours gets at least 18 to 20mpg. The hightest was almost 22mpg. That was going to Minnesota the first summer we had it (2007).

I'm chatting with a friend of mine that I haven't seen in years. She lives in Michigan. We're both on Facebook.





Tuesday, November 17, 2009
6:13am

I finally broke my plateau!!! I am no longer at 215lbs or at 25lbs lost. I'lve lost 30lbs and at 210lbs. I'm so proud of myself. I wasn't sure when I was going to get here but I have. This is the most weight that I have lost in my entire life.

Dad's up but I'm not sure if he's going to be staying up. He isn't usually up this early. Yesterday he was but he had an excuse then. I don't think that he has any appointments today. Unless he's getting prepared to go to the salvage yard that we were at yesterday to take a core back from a vehicle.

Today is going to be another gloomy day. It's raining and a little windy right now. The weather report says that we're suppose to have this rain for another 48 hours. The weekend looks nice.

Never Weary
by James Edmeston

Through the night be dark and dreary,
Darkness cannot hide from Thee;
Thou are He, who, never weary,
Watchest where Thy people be.

I'm sitting in dad's recliner with the foot rest up. Lady is laying on that. She thinks that she needs to be near me. She does this with dad.

I think that my mom is smiling down from heaven. I think that she'll be happy with the amount of weight that I've lost. And she's cheering me on.

7:13am

Looks like dad is staying up. He's in his room getting dressted. So he must be getting ready to the salvage yard that w e were at yesterday. Plus we don't have any milk for our cereal. And I told him about my weight loss.

A Christian Home
by Author Unknown

Where family prayer is daily said,
God's Word is regularly read,
And faith in Christ is never dead -
That is a Christian home.

Where father, mother, sister, brother,
All have true love for one another
And no one ever hates the other -
That is a Christian home.

Where family quarrels are pushed aside
To let the love of God abide
Ere darkness falls on eventide -
That is a Christian home.

Where joy and happiness prevail
In every heart without a fail
And thoughts to God on high set sail -

Where Jesus Christ is Host and Guest,
Through whom we have eternal rest
And in Him are forever blest -
That is a Christian home.

10:28am

Dad and I are in Galesburg. He has to get his monthly blood test. Even though he had one before his shoulder surgery.

Dad is doing fine. Just wish that we could get the sling to stay where it should be. I'm going to wait until we get home to fix it because he's going have his coat on and off while we're up here in Galesburg.

The rain is making me sleepy. Too sleepy. I'm about ready to fall asleep where I'm sitting.

5:16pm

Even though I've lost 5lbs, I ate bad for breakfast and lunch. If you want to know what I had, look at my food log. I'm not sure what I'm going to eat for supper yet. I know that it's not going to be much since I'm not hungry.

I've told a lot of people how much I've lost and they congradulated me. They don't know how it made me feel after they told me that. Dad was one but he wasn't too happy. Besides he wasn't fully awake yet.

I took Lady for a walk this afternoon. There was no rain but there was wind. That was hard to walk in especially in a full length skirt with splits up the sides. I can't wait until it dries up and warms up.

7:51pm

I was thinking on my total weight loss. The amount that I have lost is the amount that Lady weighs. 30lbs. That's amazing. This makes me want to lose more weight. I want to be there for my two nieces and two nephews in Minnesota. I want to be there for when my brother in Ohio gets married and has a family. I don't want to end up the same way my mom was.

I got to see my therapists at cardiac rehab. I told them that I'm hoping to come back to do my exercises between tomorrow and Friday. I am excited to go back. I need to go back.

8:30pm

I had a coughin spell after I got out of the shower tonight. The reason for the coughing is because of my sinuses draining. At least they don't hurt when I do them. The coughing I mean.

I am so nervous right now. I'm 10 lbs away from 200lbs. I haven't been this small in years. I can't tell you when the last time that I've been this small. I am so nervous that my body is almost numb. I should be nervous. I should be happy.

My supper tonight came with chips. They are high in fat and salt. Plus I'm trying to cut down on my potato intake. And my bread intake. When I get a sandwich that has a bun, I clean out the top part of the bun. I don't even eat that part. It gets thrown away. Whenever I go and they see the extra bread on my plate, they don't ask me why. Some of them know that I'm trying to lose weight and some don't.

I have been given a SparkComment and a SparkGoodie tonight congradulating me on my weight loss. It makes me feel great. Really great. Kind of helped me on getting rid of some of the nervousness. It helped me to keep on going on what I'm doing.

Well, it looks like Rebecca is off of the Biggest Loser. I was hoping that she would stay for another week or at least until the final. She deserves to be on there longer than Liz.

I know that this blog is long but I'm so happy that I broke my plateau. Who wouldn't be this happy?



First Page
1
2
3
4
5
6
7
8
9
10
11
12
13
14
15
16
17
18
19
20
21
22
23
24
25
26
27
28
29
30
31
32
33
34
35
36
37
38
39
40
41
42
43
44
45
46
47
48
49
50
51
52
53
54
55
56
57
58
59
60
61
62
63
64
65
66
67
68
69
70
71
72
73
74
75
76
77
78
79
80
81
82
83
84
85
86
87
88
89
90
91
92
93
94
95
96
97
98
99
100
101
102
103
104
105
106
107
108
109
110
111
112
113
114
115
116
117
118
119
120
121
122
123
124
125
126
127
128
129
130
131
132
133
134
135
136
137
138
139
140
141
142 143 144 145 146 147 148 149 150 151 152 153 154 155 156 157 158 159 160 161 162 163 164 165 166 167 168 169 170 171 172 173 174 175 176 177 178 179 180 181 182 183 184 185 186 187 188 189 190 191 192 193 194 195 196 Last Page

Get An Email Alert Each Time AUNTRENEE Posts