| | |
| --- | --- |
| | ASTALANYA's Recent Blog Entries |


Thursday, July 09, 2009
A recent messageboard topic on tips for first-time gym-goers stirred my thoughts this morning while I savoured my regular routine of a cup of tea. I reflected upon the hurdles faced when we begin this path, and few appear more daunting than the gym -- though I put calorie counting right up there, and the new, rather daunting awareness which comes with just how many calories are in a slice of Giordano's pizza.

Facing the coordinated regulars in a group class can be enough to send me running for the consolation of the stationary bike, which though a steady friend, fails to give me the same cardio burn as leaping around, bending, squatting, and dancing my way through a grueling routine for an hour. Let's face it, the Y's group classes burn far more and keep me focused much longer than anything if left to my own devices. But realizing I have the roundest tummy or happen to be off the beat more than anyone else is incredibly daunting.

And given my limited experience, since I've been "off" for a good three weeks from doing a gym class, I can say unquestionably it doesn't matter one whit. Getting all worked up about what people think about me proves to be a waste of energy, brainpower, and focus best turned upon breathing regularly or getting those weights in tandem. (I'm terrible at that, sometimes, especially when distracted by "Oh darn it, I'm doing this wrong!" thoughts.) No one else really pays attention to you. They're watching the instructor or their own weights or space around them.

This is a hard lesson to learn when first starting out, I admit. But there comes a point when you can stress over whether you look like an idiot or if you're feeling the burn in the right place. My goal is more and more to get a better workout, specifically where it counts. Now that I'm a little past the awkward stage, improving my form means more than if I just messed up. I've learned if I'm off from the rest of the class, don't sweat it and keep going. Everyone knows I'm new. I haven't been here with the rest of the ladies since April doing the same routines. Releasing anxiety is *so* important.

It's a lesson I have to regularly learn, and Spark messages go a long way to reinforcing positive, healthy behaviour. So what if I messed up? Nothing is impossible and at the end of the day, I just spent an hour in aerobics or 35 minutes lifting weights correctly, grimace or no grimace.

Good luck, first-timers, and I hope to see you back next week.




Monday, July 06, 2009
When I realized my last blog entry was dated for nearly two months ago, it saddened me considerably, especially since I haven't been consistent through the later half of June with working out. I can blame a 10 day vacation in Canada for that, but in the end, it's time to look forward rather than staring back at a heap of "meant to do" and "could have beens."

Today my brother and I will go to the gym, and I intend to put in my hour-long workout to meet my goals for the day. Maybe we'll swim against one another in a competitive challenge, maybe we'll both bike or something on the machines. The YMCA is great for permitting me three guest-passes, and I resolve to get involved in the classes this week instead of balking at the times they happen. Maybe going to bed earlier so I rise gracefully as I did this morning will be the key but I have to get control.

I went to the doctor and saw my weight hasn't changed -- just 10 lbs lost, but I suppose that's something to be proud of. But I want to be in the 160s, and hitting 140 by September at least. Therefore I will use this time to motivate myself and stop worrying about what I haven't done these past fourteen to sixteen days. Excuses may be plentiful but in the end, it's my body and my routine I control.

So let's make the most of it.




Wednesday, May 13, 2009
My challenge this week is pushing myself to do better than I have last week. Small steps get us to our goals better than mighty leaps, but I am one of those people who finds herself mid-stride expecting to clear a great chasm instead of taking another route. It's probably the product of high expectations and the "instant results" generation I belong to.

Take, for example, my fitness circuit. Today I pounded out 35 minutes or so on the stationary bike at the Y, but came away feeling less tired, sweaty and exhausted than I did from the strength training the day before. Even though I was hitting 125 RPM by the end for a full two minutes, I didn't get the same burn. Obviously I need to up the settings to get my heart in the anaerobic zone (and who says you don't learn anything from the blog articles...). Still, it's getting myself to recognize that.

My levels seem so variable. Sometimes I have tons of energy and other times I can barely lift 30 lbs. with my arms. I do not know where to find the means to overburden my body without going extreme, and trying to mentally convince myself another 5 minutes of biking (or 2 of running), let's do three more pulls on this machine, let's not eat that cookie can be a little difficult.

Is there a better way to manage this? I find organizing a fitness plan to be a little less advantageous than following a circuit. I know interval training gets high marks, but it's again finding the way to measure these bursts and make them happen that eludes me.





Saturday, May 09, 2009
"To dare is to do." It's a good quote to live by.

Today I think it summarizes very well. It urges me to go farther than I have, to stop thinking about all the reasons why I cannot and just do it. Nike knew what they were about choosing that as their slogan. A trainer I met with at the YMCA on Friday led me to a valuable point during our conversation. I could be done my goal in the time I spend coming up with limiting reasons or growing wishy-washy on a decision.

Today's lesson lay in a silver, black, and red frame that for months hung from a hook in my garage. Such grand ambitions I had about this bicycle and all the things I was going to do with it last summer, none of which I actually achieved. Seeing yesterday's post probably gives a very strong indication of what actually happened. I did all my research about a subject I became enamored of, discovered the bike I wanted at a very modest discount during the height of bicycle-riding season, and promptly ignored the desire to be able to make 10 to 20 miles in one trip after some practice.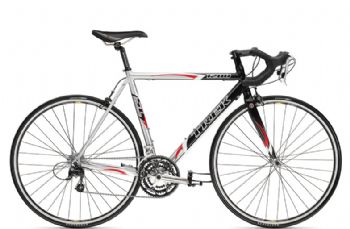 The bike came down the other day, with a cracked reflector from getting it over the hook, and my derriere has been planted on it almost every other day. When I feel my cardio has been insufficient for the day or I am officially on a strength training day, this steed has become my faithful companion. The trip from my house to the library directly clocks in at 1 mile each way. I've done that and roamed around the adjacent subdivision with all its winding roads on three occasions in the past week, staying out for at least ten minutes to qualify for calorie burning.

Last time, I pondered going all the way to Bailey Road, which is the first major cross-street up from us. High in traffic and a major thoroughfare, I wanted to use back roads to get safely there. My incentive would be getting my nails done at Salon 21. It's the closest facility though the one I normally go to is several miles down the road by car, and it seemed appropriate. Eventually I wanted to ride over to Spokes, the local bike shop, across Bailey for some distance. J saw a bike team riding up our road led by two people with jerseys from the shop on Thursday, and advised I look into a beginning rider's group. Sound advice.

I gave myself to the weekend to do two things, on account of it being lovely (and obligated to drive downtown for a Mogwai concert, limiting my available time).

1. Ride to Bailey.
2. Ride to Spokes.

Yesterday I tried #1, but I couldn't figure out how to get there because I couldn't find a through road. I felt I should be able to do it. Today I got on my bike after eyeing up Google maps and determined the shop was 3 miles away by the correct route avoiding all the crazy traffic built up on a Saturday afternoon. I leapt on my bike, put my feet to the pedals, and started off. I got to Spokes easily enough, found out they were swamped and was asked to come back Monday or Tuesday to discuss the biking group.

Serendipity, really, as it means I'll do it again.

They tightened my kickstand and gave me two free reflectors to replace the one I broke on the front wheel taking the bike down. Not matching the ones I have but good enough, and definitely made me feel good. I rode across back to the Bailey bridge, and instead of crossing the river and going straight home, I turned down the bike/jogging path. I'm so glad I did. Contrary to my beliefs the lower half of the trail is not closed and I swept along the river at a moderate bore, actually breaking into heavier breathing than I had up to that time. I stopped at the light, and turned around rather than heading up that hill.

But I broke both the things I set out to do - get to Spokes, cross Bailey via a new, safe route - and one other thing. I got 7 miles total in.

I could be sitting back at an intersection deciding if I really wanted to go that way, or I could be pedalling myself there. I chose the right path today.





Friday, May 08, 2009
Sometimes positive motivation works when I have a clear goal in mind. I like to say, too often, that I lack any sort of willpower. And yet, when it comes down to it, I got myself through an international move in three weeks (from time of resume submission on a lark to physically crossing the border), figuring out immigration on my own without relying upon a lawyer, and renewed my passport. This draws me to the conclusion I may not be totally as undriven as I like to make myself out to be.

This time it needs to be my body, and I cannot stop just as soon as I reach my stated goal (lose 45 lbs.). I like to get the components I need for whatever goal together, throw it all into the pot, and then presumably forget about it. My hobbies can be a testament to that, which means the sticking power proves my greatest threat. I can start with all pistons firing but the gas sometimes runs out when something bigger, better and brighter comes along.

To counter that, I've made a visual commitment to myself in some ways. In this case, I went out and bought a pair of shorts from Nordstrom Rack I had been eyeing up and thinking about sporadically for the better part of three weeks. I am digging the "board" clothing lines lately, since I think they personify more health and the radiant vitality I am aiming for, plus they suit more to my age and interests (or wishful interests) than trying to look like a glitterati 20 year old clubber. Volcom is my brand du jour, though I have eyed up O'Neill and Roxy at Pacific Sun just as often. This all started with an Australian magazine article, a scan I read at girlwithasatchel.blogspot.com/ (Girl with a Satchel) blog. I'll get to that, one day.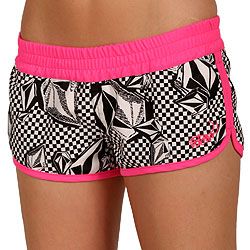 And here they are.

Point is, I decided rather than _reward_ myself, I was going to motivate myself.

Besides, those shorts might not be there when I was ready to wear them. And I assure myself, I am *going* to be ready to wear them by summer's end. Ideally they will be too loose around my thighs and require the next size down but I truly want to find my legs toned enough that I wouldn't be embarrassed to wear them to the store, riding my bike, or walking about on the weekend. Right now I'd be fairly mortified.

I admit the colour is bright, the design a bit out there... but that's the whole point. Something that draws attention will reinforce to me, that, hey, I am healthy. I am doing the right things. One of these days I will be the girl with the glowing skin and assurance walking around the gym, and it won't be too long. I was scared, too, I did my job wrong. Sure, we all make mistakes, but I was so doubtful I could get it done.

Those same doubts never hit with the project for immigration. Why do they haunt me in day-to-day activities? I am going to nip that in the bud. This is a material reward, and I shouldn't need them, but it points me where I will go. I want to fit in my favourite Seven for All Mankind jeans. I want back in the upper 20s sizewise again.

And my ultimate reward, I think, may be running down Moonlight Beach in San Diego with my best friend, carefree, full of energy, realizing I not only look good but I feel good.

And knowing then, in my heart, yes, B and J and N were right all along.

It just took 10 years to accept.



First Page
1
2
3
4
5
6
7
8
9

Get An Email Alert Each Time ASTALANYA Posts