| | |
| --- | --- |
| | ASHNIKOLE's Recent Blog Entries |


Tuesday, November 27, 2012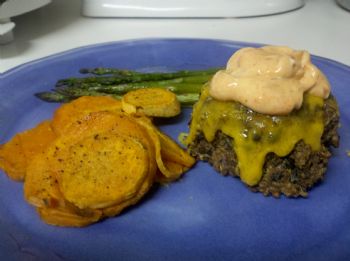 Today is day 1 of my week without meat. One of the reasons is that I'm just plain tired of chicken! I don't generally eat read meat so I'm basically cutting out chicken and fish. In the past my body has responded positively to meatless days so I'm going to try it for a week and see how I feel. This won't be a long-term change but it could be a good jumpstart for my metabolism.

One of the benefits today is that I was inspired to put together the beautiful meal that's pictured above. I made a spicy black bean and quinoa burger from scratch, topped it with cheddar cheese and also made a Srirachi mayonnaise sauce. The sides are baked sweet potato chips and grilled asparagus. My total meal was under 450 calories and I feel great!

Did anyone else have an inspired meal today?





Wednesday, January 11, 2012
"To move into the lead means making an act requiring fireceness and confidence. But fear must play some part...no relaxation is possible, and all discretion is thrown to the wind." Roger Bannister

This is an excerpt from the book Born to Run by Christopher McDougall. I highly recommend this even if you are not interested in running. There are many lessons that can be applied to every aspect of our lives.




Friday, August 05, 2011
...who goes balls to the wall when she commits herself to ANYTHING. She throws every ounce of her amazing focus and determination into achieving her goals. When she decides to lose weight she exercises multiple times a day, tracks her food religiously and has amazing results immediately. She recently did the same thing with her business. She spent 8 weeks focusing on bringing in new business and blew everyone away with her immediate success. In fact, her fellow real estate agents can't get over how well she's done. The problem is that she throws so much energy into achieving her goals that she gets about half way and comes to a dead stop.

Ok, enough, you know it's me by now

. So here's the deal. Since I started sparking I've realized I throw myself into this vicious cycle of busting my buns to lose weight, I do really well, and then I fall off the wagon. Then a few weeks later I'm fighting to get back on and it takes FOREVER to get back on track. I did this with my real estate business as well. My husband lost his job again, I lost my assistant position the same week, so I put everything I had into building my business. Now I'm burned out, discouraged and I've completely psyched myself out. I know the signs, I saw it coming, and yet I wasn't able to prevent it. I also have no idea how to get out of it. This is obviously the last piece to my weight loss puzzle and it also applies to my success with my career.

Today I\m going to focus on getting out of my own head. I'll let you know how it goes.






Saturday, March 26, 2011
For about the past year I've been OBSESSED with making food from scratch. Pies, cookies, muffins, fancy chicken and fish dishes, the list goes on and on. Recently I've started to focus on using as many natural ingredients as possible. This way I know what's in the things I'm eating. Luckily hubby loves to be in the kitchen too. In fact, he helps out AND cleans up.

This week we decided to make our own almond butter. We already buy huge bags of almonds to keep in the pantry and jars of almond butter are just too expensive. So after looking at a few recipes online I decided to settle on just almonds - no honey, sugar, or oil. After roasting the almonds on Wednesday night, I started playing with the food processor and it was a complete disaster! We actually melted a piece of it. Apparently my food processor isn't powerful enough for almonds! Next I started making very small batches with the Magic Bullet. It worked well but it took FOREVER.

Today I had some more time so I decided to try it again. Short story is, the regular blender did the job but I still had to do it in small batches. If you're thinking about making a nut butter I would definitely recommend doing a lot of reading and getting a lot of tips. I'm not an expert yet, but I do make a pretty yummy nut butter.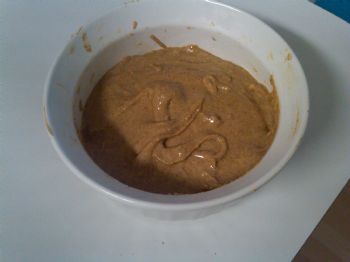 Thursday, March 24, 2011
Before I leave for the gym...

Instead of giving something up for Lent, I made a vow to myself that each day, I would be "better" than I was the previous one. To me this meant focusing on my diet, exercise, attitude and business. Yesterday I ate very well, but felt emotionally down, took a (probably much needed) rest day from my workouts, and did little for my business. Today I again have eaten well, released my negative thoughts (via previous blog) and done some business planning. The next piece is to go to the gym and WORK OUT HARDER THAN I EVER HAVE BEFORE. That's a tough order to fill but I'm up for it. Talk to y'all tomorrow. I'll be too worn out to do it tonight

.


1 2 3 4 5 6 Last Page

Get An Email Alert Each Time ASHNIKOLE Posts