| | |
| --- | --- |
| | ANGELCITYGAL's Recent Blog Entries |


Friday, November 01, 2013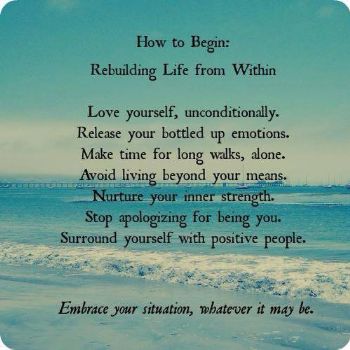 I didn't start out to gain anything. Certainly not to rebuild my life. I was much more focused on what I didn't want than what I want and value. I started out to lose weight. I started out to ditch the fat, the unhealthy habits, the fatigue and malaise. I was all about what wasn't working in my life.

Somewhere along the way, that began to shift. I started not only imagining life without the things I don't want, but getting excited about what I was building. I started getting excited about the creative possibilities. Sure, following my food plan and fitness regimen was causing my body to drop pounds, but darned if I wasn't also getting *strong*. I began to crave more physical strength, and stamina, too.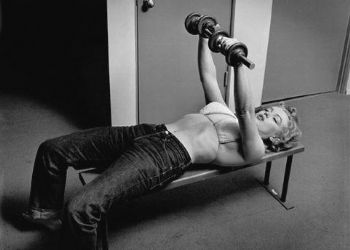 I began to see this process as one of rebuilding my life as the physical strength I am building also became a metaphor for emotional and spiritual wellness. Now I see these areas of health as so intertwined that taking care of any one of them causes improvements in every aspect of my life. And I really don't know how this works, but the more effort I put into taking care of myself (following my food and fitness plans, getting enough sleep, drinking water), somehow I have *more* time and energy for work, parenting, and general "getting stuff done." How is it that self-care causes me to have not only more emotional availability, but also more time for things that matter?

I've been working lately on letting go of unhealthy attachments -- relationships that don't serve me, and also allowing my ex to get under my skin. I have to keep in contact with my ex (we share our daughter), but I don't have to let her push buttons. As I let go of attachments and expectations, there's room for new relationships and happiness -- or just room for the now. Deep breath (again). Instead of focusing on what I don't want in my relationships, the more I build on what works, or what makes me stronger, the easier it is to let the unnecessary or unhelpful fall away. This weight management journey is a powerful and agile metaphor.

I'm truly grateful to be on this journey of health and fitness. Thanks, Spark Friends!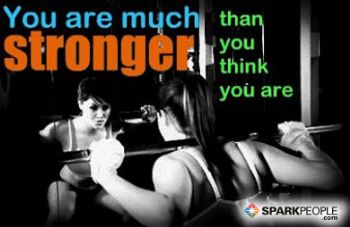 Wednesday, October 23, 2013


This week has been a roller-coaster, emotionally. I'm experiencing elation at reaching my goal weight and dream clothing size. At the same time, my ex has been pushing buttons. It's old stuff -- I can't trust her with money (one big reason we divorced), and I suspect she's being financially irresponsible in ways that will affect our daughter, sooner or later. She talks to me with the old tone of voice, bullying and dismissing my concerns. It makes me anxious and irritable. I've had trouble sleeping and find myself engaging in repetitive worrying.

On the other hand, I've got nothing but good things happening in my career and family life, and all is truly well in my world, despite my ex's poor behavior. And frankly, it's hard for me to tolerate all that good stuff sometimes, too. Sometimes, "too much" goodness makes me anxious, imagining the balloon will pop and I'll be left with broken shreds.

So I'm faced with a choice -- I could continue to fret, imagining catastrophic scenarios that haven't happened and probably won't happen. This is what my mom calls "borrowing trouble" from the future. I could stay so wound up that I don't sleep. I could be tense and anxious all day long. When I'm in that state, it's so much more likely that I'll try to cope with the anxiety in old familiar ways. The obsessive worrying and insomnia are parts of a picture that also includes overeating to self-soothe. It's a vicious spiral into deteriorating self-respect and more worry.

I notice that as I think about my old ways of coping, excessive worry and over-eating to self-soothe, the feeling in my body is heavy. That way of being creates tension, blocked energy, tightness in my chest, and a general feeling of "stuckness." Carrying those habits feels heavy, and feeds overweight, too. Those are good reasons to be with the feelings in a new way.

I could take the same situations (weight loss success, pride at work, my ex's antics) and just breathe. I could use the skills I've practiced to create success -- discipline at work, in my weight management program, and in my budget, self-love, rest, exercise, prayer and quiet time -- to manage this intense week.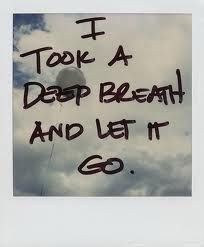 That deep breath feels amazing.

"When I let go of what I am, I become what I might be." -- Lao Tzu





Sunday, October 20, 2013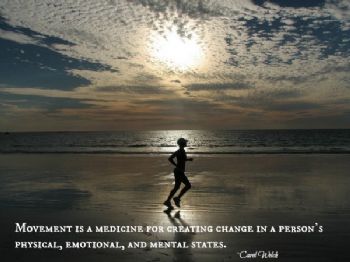 I have learned that I require movement. This is still a surprising concept to me. I was the kid who hated PE class. Picked last for teams, I was clumsy and non-competitive. I thought I hated exercise. In college, I would swim laps to pass the time while other friends were working out in the weight room or taking karate class. Eventually, I noticed that it was stress-relieving and rather lovely. But after I graduated college, I had no money for a gym membership, and working so many hours left no time for "optional" activities.

Now, in my 40s, I'm rediscovering what I was on the verge of really integrating as a very young woman: When I move, I am well. In every sense, I am well when I get activity often. My attitude is brighter, I am uplifted and optimistic. I parent with more patience and enthusiasm. I love my work, and am much more efficient. I sleep better. I laugh more, I am more confident and happy. And it is easier to follow my food program. Everything goes better when I move at least 50 minutes five or six days a week.

And I like it. I 've found activities that I truly enjoy, most of the time. That doesn't mean that I don't have to talk myself into my workouts sometimes. I do. But once I get started, I am having a good time. I like the challenge. And I like the way I feel.

My advice to anyone starting to change their eating habits or improve their health is to also start looking for ways to have a good time moving. Walk 10 or 30 minutes per day. Take a fitness class. Do a yoga video on YouTube. Check out the SparkPeople fitness videos. Many fitness activities can be done at home if you're shy of exercising around others. And if you want to benefit from the social aspects of exercise, but don't want to join a gym, invite friends over to do a fitness video or go to a park where others are working out. Experiment with lots of things until you find a few you can smile doing. You don't have to love them. But dread is bad for fitness outcomes, so find things you can at least have a good time doing. Loving your exercise activities can come later. In the beginning, notice how moving is good for your soul.

Get out and move this week! Have a beautiful week, friends!






Monday, October 14, 2013


We have to stop talking about weight loss. The "lifestyle change" we're all creating cannot be fully present as long as we're focused on what we don't want. "I don't want this 10 or 100 pounds hanging around. I don't want these love handles. I don't like my post-pregnancy belly. I am embarrassed by my upper arms. I am so out of shape. I can't walk/run/lift weights. I have too much loose skin." We've all had a litany of complaints about our bodies -- the things we want to change, the things we don't like to see in the mirror or on the scale. So we keep talking about them, thinking about them, focusing on them. We keep saying "no" to our bodies as they are today.

And let's not get started on all the ways we say "no" to food. "I can't eat that. That's not in my plan."

How would the journey be different if we focused on "yes?" What if we were driven, not by rejecting ourselves, but by embracing positive changes? What if the "yes" to good health, good food, good activity, and most of all, self-approval, was burning so much brighter than that old self-loathing? What if we tried every day to tap into the self-approval, the longing for health, the joy of life, and let that be our fuel for this weight-management journey?

I'm starting by switching my language from weight-loss to weight-management and health-maintenance and other positive terms. I'm also focusing on what I can do, right now, to advance my progress. That doesn't come from castigating myself for past actions with my body. It follows that longing to be healthy, strong, vital, and active.

Have a beautiful week, friends!






Sunday, October 06, 2013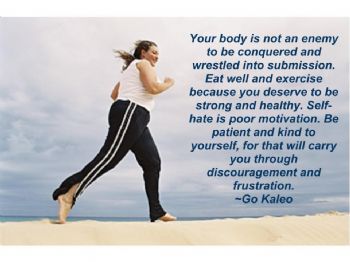 Have you, like me, sometimes thought of your weight management journey this way? "If I could just get my body to do x, I'd have my act together..."

I'm learning to interrupt these thoughts. I've become convinced that the more I give my body appreciation, the better success I have. I certainly feel better.

Thinking of my body as separate from me -- as if there's some distinction between me and my body -- is maintaining the illusion that allowed me to get heavy in the first place: What I do to my body is just an action on a "thing." The illusion says what I do to my body has as much to do with my personhood as what I do to my car, my dishes, my desk. Sure, I could make a mess with things, but that wouldn't affect who I am as a human being.

Of course, the truth is (as science has been demonstrating repeatedly in recent years) there's a profound mind-body connection. What I do to my body not only affects my physical health, it affects my relationships, my mood, my emotional wellbeing, and even my spiritual health. Who I am is directly influenced by my relationship with my body. How I treat my body is a direct precursor to how I will interact with others, how I find meaning in life, and how I feel about matters mundane and sublime. The results I get in life are directly related to how I feed my body, the activity I give it, and my self-talk. Bottom line, the more I love my body and cultivate a healthy, respectful relationship with it, the better my life gets in every way.

"Loving yourself…does not mean being self-absorbed or narcissistic, or disregarding others. Rather it means welcoming yourself as the most honored guest in your own heart, a guest worthy of respect, a lovable companion." -- Margo Anand

This week, treat your whole self as a lovable companion. Have a beautiful week, friends.



First Page
1
2
3
4 5 6 7 8 9 10 11 Last Page

Get An Email Alert Each Time ANGELCITYGAL Posts