| | |
| --- | --- |
| | AMYBUTLER10's Recent Blog Entries |


Wednesday, July 30, 2014
It amazes me how the taste buds change.

It's been just one month since I restarted my journey with Spark, and along with that, my journey of healthy eating. We all remember those first few days, when we crave our junk food. When the healthy food tasted so bland, slightly unsatisfying.

Then gradually the change happens.

Sugar is not so appealing.
Fruits, vegetables, whole grains, and water seem to call my name now!

Today for lunch, a plain ear of corn, microwaved in the husk (for those of you who have not done it yet this way, you should try it!!!). Absolutely delicious, sweet, wonderful.

And then there were 2 wonderfully ripe tomatoes from the garden. Sliced on thin whole grain, not spread with mayo as i would have done last month, but with a drizzle of balsamic and some torn basil leaves. Oh my oh my. It was more that delicious.

Fabulous, absolutely fabulous.... and healthy to boot!

I'm just hoping there are tomatoes ripe for tomorrow's lunch!!!




Thursday, July 17, 2014
Ok, yes I know, the scale should not be a direct measure of how I'm progressing.




Yes, I know, I should not weigh everyday.




Yes, I know all of the answers, thank you.




But I've always been one to weigh every morning..... and I mean EVERY morning.




But I don't depend on the "progress" that the scale shows to boost me through the day. I know that it goes up and down 2 or 3 pounds from day to day, just naturally.




What I do watch for, and what excites me is the new lows. You know, that number that you haven't seen in a while, even though tomorrow morning it might be a little higher than that.... it's still a sign of progress.




PROGRESS!!!



So today I didn't have to go anywhere until afternoon, so I chose not to shower until later in the day. This being said, I wasn't sure what my morning weight actually would be (because I had my clothes on). I weighed anyway and was very pleased with it! I was prepared, though, for my afternoon pre-shower naked weight to be a little higher than it had been this morning (just accounting for food eaten, and water and coffee drank).



BUT....



But it was LOWER!



That's right, a new low was reached today.




Now because it is not actually a weigh-in day for me, I'm not tracking it officially, but I couldn't let it just go by without celebrating it!!!!





It would put my weight loss at about 13 pounds (13 pounds closer to my 75 pound goal!)



227.5 Woohoo for me!



I CAN DO THIS!!!










Monday, July 14, 2014
Checking this week's team digests, I discovered that I came in top five on 3 of the 6 teams that i checked for both spark points and fitness minutes. One team, I came in 1st place in both. You would think this would make me happy (since I've just restarted this journey 13 days ago).

But it actually made me sad. I have not, I thought, gotten an exceptional amount of time working out or accumulated spark points. This is what made me sad! If my attempt at fitness this last week was top five (even 1st place), what was everyone else doing?

How many of my teammates have fallen away???

I know this journey is a difficult one, a lifelong one. And we all have our weeks... our weeks of failure. I'm hoping, praying that this week is a better one for all of my teammates.

Saying a prayer for all of you!





Tuesday, July 08, 2014
Last night storms blew through the area. South of here, there were damaging straight-line winds and a lightening show that made the 4th of July fireworks look like amateur hour (but then the majesty of God's creation always makes our works look like amateur hour). Here at the house, then was barely even a sprinkle (and oh we need rain so badly). The picture shows my drive home from work as the sky was really lighting up.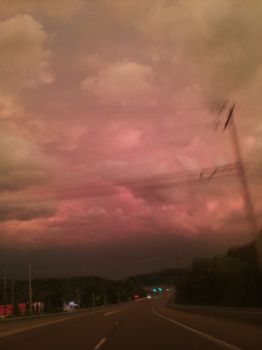 The destructive nature of the storm made me think of the destructive nature of my lifestyle over the last few years. I have chosen for several years to virtually ignore my fitness (or lack thereof). I have eaten what I wanted, when I wanted, and exercising when I wanted (which was NEVER). The 50 pounds lost Spark award is but a distant memory. For 2 solid years, my flesh blew through my life like a destructive storm, blowing damaging straight-line winds, and knocking out the supports of fitness that I had worked so hard to build.
But here I am. Working towards a 30 day streak, a 30 day fitness challenge. And I am on day 8, rebuilding that foundation.

A few weeks ago, I spent some time with my sister's family in Kansas, and while there I saw miles and miles of giant wind turbines.


Another reminder of the power of the wind.
Different this time.
Rather than a destructive nature, like the storm, a productive nature. Harnessing all of the good in the wind. Harnessing the energy, improving life.
And that is where I am today.... no longer a destructive storm with straight-line winds, destroying foundations, but a giant wind turbine, harnessing the wind.
Using the power for my good.
Blow winds, blow.





Saturday, June 29, 2013
Week 1 Day 2

CHECK-IN
Morning Weight: 235.3
Goals for the day: calories!!!
Water: 8+ glasses
Tracking everything.
Exercise: Going to Metamora and walking

Expected challenges: Eating out today with the family

Mood/energy level/feelings: ok, tired but hopeful that I can do it this time

Plan to keep me on track: knowing that I have to come back tonight and "check out" from the day.

CHECK OUT
Calorie total:

Fitness total:

Unexpected challenges:

What I did wrong:

What I did right:

How I feel/felt:


GOALS:
30 lbs in 10 wks:
Starting Weight 6/28/13
wk2:7/5/13 235 ( )
wk 3: 7/12/13: 232 ( )
wk 4: 7/19/13: 229
wk 5: 7/26/13: 226
wk 6: 8/2/13: 223
wk 7: 8/9/13: 220
wk 8: 8/16/13: 217
wk 9: 8/23/13: 214
wk 10: 8/30/13: 211
end of wk 10: 9/5/13: 208



1 2 3 4 5 6 7 8 9 Last Page

Get An Email Alert Each Time AMYBUTLER10 Posts