| | |
| --- | --- |
| | AMVBOB's Recent Blog Entries |


Tuesday, April 05, 2011
The past few weeks I could NOT have been less motivated to work out, eat healthy, even move off of the couch (DVR is bad like that). See previous entry.

But I think I finally found my motivation - interestingly enough, it came from someone ELSE'S motivation.

My boyfriend has been talking about doing a cleanse for a few weeks now. We were going to do this juice diet by Blueprint but it was freaking $65 a day and that just was not in the budget. He's one of the reasons I have a hard time getting motivated because there's always something to do, somewhere to go, someone to hang out with instead of working out. And we kind of enable each other in the eating department, whether its ordering a pizza at 10 pm or choosing Five Guys Burgers instead of making chicken at home. During the day I'll do well, drinking just a slimfast or getting lots of water, then at night he calls and says, "Hey, want to do sushi tonight?" and it's all out the window in a whirlwind of sake and wine and OH MY GOSH rolls.

He's been feeling the fluff lately too, though, and we decided to hit up GNC last night and see what they had to offer. We ended up both getting the GNC Total Lean 7 day fat loss kit (here www.gnc.com/product/index.jsp?produc
tId=4004135 ) and we started it today. Basically, you get 14 shakes (2 for each day), a vitamin packet for each day to help burn more calories, balance water weight, and give you energy, and a pre-diet cleanse drink for each day to clean you out. There are 7 bottles of cleanse, 7 pill packets, 7 chocolate shake mixes, and 7 vanilla. You replace two meals or snacks a day with a shake, drink the cleanse as a snack, and take the pills in the morning (all part of a 1500 calorie diet supposedly). The guy at the store told us he would do the pills and a shake in the morning, eat lunch as you usually would, then do the cleanse for a snack in the afternoon followed by your final shake in the evening. I liked that idea - it would allow boyfriend to still go to lunch at work and both of us would be drinking a shake at night so we'd be less tempted together. The diet plan that comes with the box varies it, some days the shake is lunch some breakfast some snack etc etc so hardcore followers or anyone who didn't have an idea of what to do could follow that.

I'll check back in and let you know how it worked for me, but if nothing else, it got me excited again. We went to the gym together yesterday and then grocery shopped for all sorts of healthy things. Salad, carrots, granola, hurrah! It might be just a placebo effect but if that's what it takes to get me going, I won't complain one bit. I needed a partner more than anything this time around, so hopefully he sticks with this too and we can go on this journey together.




Tuesday, March 29, 2011
I think most things, whether working or working out, require the slightest bit of motivation to get you going. Right now, I'm typing this blog to try and find the motivation to start my work day, but I've been having trouble finding motivation in all aspects of my life lately. It's not that things aren't great - they are! But I can't find any motivation to kick-start my diet/exercise routine.

What motivates you? It's CRAZY what HASN'T motivated me yet. You'd think any one of these things let alone the combination would get me serious about being healthy and active and yet I spend my nights playing on my ipad on the couch watching Biggest Loser thinking, "Man, I really should work out."

List of things that haven't motivated me yet (despite all odds):
-Gaining 25 pounds in a year
-Getting stuck in a dress at the mall
-Going up 3 sizes
-A closet full of (expensive!) clothes I can't even begin to put on any more
-$100 prize in a biggest loser contest between me and my mom
-Summer
-Buying a new bikini (and swimsuit shopping in general)
-My boyfriend mentioning how fat Mandy Moore's arms looked on HIMYM (and thinking mine were far worse)
-Buying all sorts of "diety" foods
-Staring at myself naked in the mirror
-Trying on shorts (or anything for that matter)
-Realizing I might have to go up a bra size??? (something I've yet to try)
-Being daily berated by wiifit
-Breaking my scale
-Changing my entire wardrobe to leggings (because they're stretchy!)

The list goes on and on. I've substituted buying clothes with buying shoes (they always fit!) and when I do buy clothes, I try not to get anything too expensive because, hey, I won't always be this big!

But seriously...is that true?

At what point do you just give up and say, Hey, I guess I'm this heavy now. Sure, none of those size 2 pants fit in my closet any more, I'll just be a size 8 or 10 now! I've bought new jeans to fit my new body, and I've started sizing up in shirts even (thanks to enormoboobs that have taken over the top half of my body). All of my clothes that actually fit are hanging on a rolling rack outside of my closet, with everything inside being questionably small.

So this blog comes to you in two parts - is there ever a time that you just accept your size? I haven't had any babies or anything, so I feel like it's not time for me to let go of how I used to be. And when I say "used to" let's remember that that was literally a year ago. Two years of unemployment has sent me on a downward spiral of pound packing. So if we agree it's not my time yet...that brings me to my second question.

WHAT IS YOUR MOTIVATION?

Goodness knows, if getting stuck in a dress at the mall and panicking, thinking you might have to call a sales associate or text a friend to bring in the jaws of life to get you out of there doesn't make some bells go off, I'm not sure what will. All I can think about is summer and laying by the pool and wearing my favorite khaki pants and fitting perfectly back into all of my beautiful sundresses from the Limited, but even that hasn't motivated me enough to get my butt moving.

What did it take for you to finally decide enough was enough? I've been doing this half-heartedly for so long. Is it just cracking down, finding the motivation from within, and then finally seeing results? I'm starting to realize two days of slimfast and one yoga session isn't going to make a big impact, but what's it gonna take? Maybe if I pay my boyfriend $50 every week I don't lose. Maybe if I have to give a favorite pair of shoes to charity. Maybe if I make my goal in 3 months I can get a pug. I have no idea what it's going to take but I need to find out. Soon.





Tuesday, January 11, 2011
Wow. I haven't written a blog post in nearly a year. Has it gotten worse?

YOU BET YOUR BOOTS IT HAS.

I'm tired of making excuses. Sure, I haven't had a steady job since March of 2009 and I've been laid off twice. Sure I've had an up and down of relationships, moving, and emotions. With that came 20 (or is it 30?) pounds and a whole mess of clothes I can't even squeeze into.

So, thanks to a biggest loser competition between me and my mom (winner gets $100, and without a job we all know I could use it to buy shoes) and a realization that I've spent THOUSANDS on a wardrobe I can't even try to fit into, I have to make a change.

No more eating enough for a small football team. No more spending my entire day on the couch in front of the internet. Less fat. More fit. That's my 2011 motto.

And now, for public humiliation purposes and my own motivation to get me to the after, here's a before picture! Now, I'm more than aware that a lot of girls would smack me in the face hard after seeing this pic and tell me to shut up about whining, but honestly, it doesn't matter how big I am, I'm jiggly. And that's jiggly unhealthy belly fat.

Plus, seriously. I'm really tired of only wearing pants with elastic waists.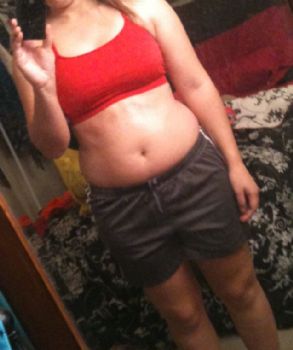 Tuesday, March 30, 2010
Whether it's because of work, school, relationships, or our own laziness, I think we've all fallen off the wagon a few times. After getting laid off last year and going through a series of fruitless relationships, I've finally found my way back on the wagon.

It's a slow ride, don't get me wrong. I expected to hop back in the gym after almost a year of NOTHING and just get fit and fab, but I've been really, really struggling. So much so that I don't even enjoy going. I know I have to do more than 20 minutes on the treadmill to get back into the swing of things, but I'm slow playing it right now. I also moved back home for a few months to get my feet under me after being out of work for so long, which means I pretty much just eat whatever my Mom and Dad do for dinner. Sometimes healthy...sometimes, tacos.

Just in case there's anyone out there that used to read this blog and maybe has felt the annoyance of falling off the wagon, I thought I'd let you guys know I'm back and planning on getting my feet back under me in the work out world as well.





Thursday, March 26, 2009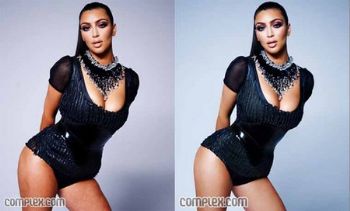 This week, that image has been making the blog rounds. From fitness blogs to gossip ones, EVERYONE is talking about this Kim Kardashian picture.

Apparently what happened was, Complex posted a group of her pictures on their website - but accidentally posted the picture on the left, instead of the picture on the right. Do me a favor and cover up the right picture for a second and just focus on the left Kim. Doesn't she look FABULOUS? I mean, I can see some skin inconsistencies and maybe a SLIGHT pooch, but she looks phenomenal. So when I saw this picture the first time (without the photoshopped version next to it) I didn't really see what the big deal was.

Then, Complex switched the two and put up the photoshopped picture. And man, what a difference. The graphic artists took at least 10 pounds off her, lightened her skin, cleaned up her hairline, and made her thighs look flawless. See the difference in the space between her arm and her body now? You have GOT to be kidding me.

Kim posted this on her blog about the photos: "I'm proud of my body and my curves and this picture coming out is probably helpful for everyone to see that just because I am on the cover of a magazine doesn't mean I'm perfect."

BRAVO, Kim. Sure, she could be caught up on her imperfections and the fact that everyone is pointing out how "fat" she is now, but instead she uses it to show everyone how BS the magazine industry has become. I mean, we get it! Pretty people sell magazines! But I think that people wouldn't have such unrealistic expectations of their bodies if we were bombarded by NORMAL images instead of these completely false ones!

Since I have taken publicity photos before, I've been subject to this photoshop effect myself. Our graphic artist at work put about a pound of make up on my face, took several inches off of my waist, even fixed my teeth. I was kind of annoyed by it, personally. The tiny waist made my hips look huge in comparison, my teeth are pretty close to perfect after braces already, she was just messing with their natural shape, and I don't LIKE the way I look with clown make up on. Clear up the skin a little, sure. Photoshop away stray hairs or broccoli in your teeth, fine. But don't use it to completely alter the way a person looks.

I think this is a good reminder that anyone can be a size double nothing with the help of a mouse and a talented artist. I'm proud of Kim for looking that rocking without the help of a computer! She went on in her blog to say that since then, she's been working on releasing her own workout DVD and she's in even better shape. I also am partial to her because she's 5'2". Short girls in the house!

I have to give Kim major kudos, because while she may not be a role model for girls in a lot of other ways, I think in body image she's definitely someone to look up to. She's embraced her amazing curves (and what most would call a ginormous behind!) and made it her trademark. While most of Hollywood is caught up in that malnourished praying mantis type body, Kim is reminding everyone that it's okay for a woman to have a SHAPE. Hell, it's more than okay, I think it's what you call NATURAL.




1 2 3 4 5 6 7 Last Page

Get An Email Alert Each Time AMVBOB Posts