| | |
| --- | --- |
| | AMETHYSTSTAR's Recent Blog Entries |


Thursday, November 08, 2012
First of all, WOW! People liked one of my blog entries! I am tickled pink!



Feeling better today. This was a bad bout of migraine. I am so grateful when they leave and I feel myself again!

I had a dream that included Spark People last night. It was an odd dream and the only thing that made sense was SP. I was on a first date with someone and the place we were visiting just happened to be hosting a SP event. There were hands on cooking demos...he made something with blueberries and it got a little over done! There was a little vendor area that had all the SP goodies and items for sale. Chef Meg was there and Coach Nicole. There were gathering places with little groups of people in clusters laughing, sharing and hugging. I smile just thinking about it and wonder if this means I may attend an event one day?

First on my list today of things I am grateful for is an idea that has become a practice...

The title of my blog comes from one of my favorite movies "Galaxy Quest." Being the trekkie that I am (and always will be), I adored this parody of Star Trek and it's fans. The "catch phrase" of Galaxy Quest is "Never Give up, Never Surrender!" This along with the favorite saying in "Meet the Robinsons," which is "Keep Moving Forward" juxtaposes with Spark People's mantra "1 step back, 2 steps forward." (for me anyway)

This keeps me going! This is why I am still here, even though I am making very slow progress. This is the reason I pick myself up time and again! Because this is a journey! Every journey has speed bumps along the way. Speed bumps remind us to slow down and pay attention to what we are doing. Sometimes we need to check our GPS and make sure we are going in the right direction; sometimes we need to stop and appreciate the beauty of where we are. Sometimes we need to look back to see just how far we have come. Then there are the times we need to stop and just be. We need to take a deep breath and stand still, becoming aware of who and where we are and to be grateful for the Joy of the Journey.

Number two today is my family. Included in my family are my friends. I am a loner by nature, content to spend time alone doing what makes me happy. I have a small circle of close friends that I love as if they were my family. People that know the worst and the best of me and love me unconditionally. Friends I can call any time of the day and night and know that they will come at the drop of a hat if I need them. They are the treasure of my life, As much as love my "real" family, I am much closer to my local family in many ways. I hope they know that I am always there for them as well.

I love quiet moments and I'm grateful for the lessons I learn at such times. This is a hard thing for me, as I always have the TV or music on. Perhaps it comes from living by myself. *Shrugs* I don't know. In any event, it used to be that I seldom allowed the quiet to embrace me. One day I read an article on how much modern society has lost with the constant and ever present noise in our lives. Have you ever surrounded yourself with silence? It's really hard to do if you live in a bustling city. I am learning to leave the tv off and my beloved music first thing in the morning so I have time to enjoy the moment and listen to my deepest self. But even then it is not toally silent, as my apartment backs the freeway.

The arrticle, (Which I saved and can't find at the moment) talks about finding a space in nature to go and just sit and listen to the quiet. Granted, it won't be totally silent, but imagine the things you will hear, that would normally go unnoticed. Imagine hearing a bee buzzing as it gathers nectar, or the hum of humming bird wings. Imagine the wind through the tress or the whisper of water dancing over rocks in a stream or brook.

Even with the cars in the background at home, I love my hour or two of quiet. It is calming, it is comforting. i love it when all I can hear the is the purr of my fur baby lying next to me or when I can hear her having a drink of water in the kitchen. Sometimes I am aware of my breathing and my heart beating and I am grateful for that. I am alive! What a miracle that is!

I challenge you to take a five minute break from noise. See what you notice, that you don't usually pay attention to during your day.

"The best and most beautiful things in the world cannot be seen or even touched - they must be felt with the heart."
Helen Keller

Brightest blessings,
Ame





Wednesday, November 07, 2012
I came home early yesterday with a migraine and didn't sleep much at all. (I've been up since 12:30 this morning. ) Hopefully I'll be able to take a nap in a bit.

So for today I am thankful for my job and the time accrued to be able to be home when not feeling well. I can't believe I have been a my company for almost 24 years. It just amazes me.

I'm grateful for my home. It is not easy, but I am so glad I can afford to live by myself. I'm happy that Shade is my roomie. She is the best (and easiest) roommate I have ever lived with. She loves me unconditionally and all she wants is the same. I can do that! *Smiles*

I feel so bad for my family and friends back east as they suffer through this new storm. I'm sending blessings their way and keeping them in my thoughts, heart, and prayers. As for Vegas... I'm super excited and oh so thankful that we will be dropping from the 80's to the 50's by Friday.

Bright Blessings,
Ame






Tuesday, November 06, 2012
I listened to Spark Radio this morning and totally enjoyed it! I look forward to more broadcasts!

I am so grateful that I come from a family that loves to take pictures! I have inherited that love and as I look around my home, I see & smile at all the reminders of how Blessed I truly am. I am my family memory keeper. When grandma died, mama gave me all the family photo albums. I have pictures as far back as my great great grandparents.

I especially love looking at the pics of my mama, grandma and grandpa of when they were growing up. It helps me feel closer to them now that they are gone. I have pictures of my sister, niece and nephew all over as well. Time has flown by so very quickly and I love seeing how beautiful my niece and nephew have grown up to be. Oh! Let us not forget the hundred of pics I have taken at Faire over the last 15 years! *LOL* Will I ever get them organized???

I am thankful I had a chance to watch a flock of birds yesterday morning as I pulled into work. They were almost close enough to touch and were oddly unafraid of me as I got out of my car slowly to watch them. I don't know what kind of birds they were, but being that close to them made my morning.

On a little bit of a vain note, I am so very thankful that my hair has grown back and is even a little thicker than it was pre chemo. It is longer than it has been in years and I have no intention of cutting it, any time soon! I am really enjoying it.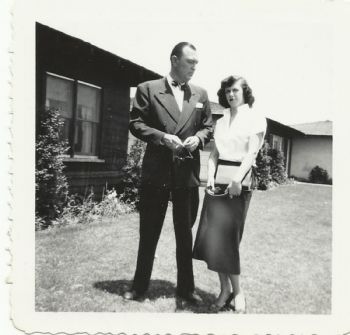 This picture is my grandpa and mama in 1951...*smiles*





Monday, November 05, 2012
I know I talked about it yesterday, but it bears repeating...I love this time change. I was up at 5:30, took a lovely shower, meditated (okay, attempted to anyway! *LOL), worked through my Spark Coach and am doing a couple of other program entries as well and I am not rushed! I am not stressed! I am relaxed and peaceful and have plenty of time yet to get myself ready for work. This so ROCKS! I am also going to begin getting up at 5:00 to get back into my morning workout routine. So, yes, I am repeating this as something I am so grateful for, as it sets the positive tone to my day!

I am grateful for the little pockets of joy that I find during my day! Little unexpected treasures that fill me with light and make me smile!

I'm so thankful that I have a job! I'm grateful that in this uncertain time, I am able to support and take care of myself. My heart aches for all those who are having difficult times finding work. I am so blessed!

Well, I am off to fix breakfast and throw my lunch together. Here is to a Marvelous Monday! I can't wait to see what the day holds in store!

Brightest Blessings,
Ame






Sunday, November 04, 2012
I love this time change. I can get up an hour earlier and still feel great! It is amazing how much difference an hour makes. I am unhurried, unstressed, and move gently through my morning!

I am so thankful for the wonderfully talented and gifted people who have brought such joy to my life through their books, music, art, and other forms of entertainment and education. I'm grateful to them for helping me expand my mind and indulge my imagination. I'm grateful for books, music and movies that I often get lost in. I love escaping to magical places though words and music. I love learning new ideas and having things to really think about. I can't imagine a world without these precious gifts. Life would truly be black and white.

I am thankful for the peace of morning. I love the time before life demands that I jump in. I love the peace, the quiet, and and the possibilities that are before me. On Sundays, I love Sunday Baroque on Classical 89.7. It enhances my sense of peace and brings me such joy.

I am very grateful that my little car is still running and gets me to and from work and the grocery store every week.

Time for breakfast and to jump into my day! I hope this finds you at peace and filled with serenity.

Bright Blessings,
Ame




First Page
1
2
3
4
5
6
7
8
9
10
11
12
13
14
15
16
17
18
19
20
21
22
23
24
25
26
27
28
29
30
31 32 33 34 35 36 37 38 39 40 41 42 43 44 45 46 47 48 49 50 51 Last Page

Get An Email Alert Each Time AMETHYSTSTAR Posts