Tuesday, January 17, 2012
We I have a new normal with the kids back in school. My 11 yr. old goes to a private school that operates on the university model. He goes to school on Tuesdays and Thursdays from 10am to 2pm. He didn't test into their math and he isn't taking an elective or PE since we are doing the MS 150. That means I teach math on T,Th. and I have to come up with a set of work for M, W, F. I also have to help supervise his work on M, W, F. So, I don't have complete control of my days when he is at home. what does that mean for my weight loss? I am just now trying to figure this one out.

I plan on participating in the PE with him. But, I have to develop a plan for the PE. I will need a rainy day plan since I don't like exercising outside when it is below 60 degrees or if it is so rainy that it would be dangerous. I may try to find one (or 2) of those stands that you put the rear wheel of the bike on so that you can cycle indoors with your bike. I also need to be stronger on my diet. I want to be eating within my calorie range and keep my meals healthy and well balanced.

The key is my motivation. I want to use my training for the MS 150 as a means to my goal of 140 pounds. I think that if I take it one day at a time, I will be able to start the ball rolling. So today, I will do a HIIT workout. For those of you unfamiliar with The Turbo Fire series of workout DVDs, that is a high intensity, interval training. There is a 15 minute class and these workouts are designed to help you get stronger at any sport or form of exercise that you do. I am only going to think about today, so , tomorrow I will determine and blog about what form of exercise I will do. It would be nice if someone could check in on me and make me accountable. I don't have anyone with a good enough memory to do this in person.

If you are willing to do this for me, let me know. I will take more than one person. We can make a group and I will help you with the same thing. Are you looking for a workout buddy? We can commit to working out at the same time considering time zones and then blog about what we did and take the heat from the group if we didn't workout on the days assigned. Let's make this the year that we realize one accomplishment that benefits our body, soul, and mind!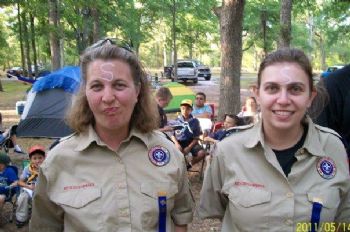 I am the one on the left.