| | |
| --- | --- |
| | ALIALI2013's Recent Blog Entries |


Wednesday, October 16, 2013
I went outside for my walk today, despite it being miserably cold and damp, it was raining, but I took my umbrella along, I wish I'd taken gloves, too and a hood.

Oh well, I made it through and am now back inside, trying to get warmed up again, and attempting to fix my mouse which stopped allowing the left click (I use it with my left hand, so that's the one that allows you to open other tabs, copy/paste, etc), and I can't figure it out. I've uninstalled it and reinstalled it, I've set my computer back a few days to see if that helped, I think the next step is to open up my computer and see if that's the problem

Oh well, if I don't return tomorrow, you'll know why...I blew my computer. *LOL*

Have a great day, everyone, and smile!





Tuesday, October 15, 2013
Well it's raining outside but I wasn't going to let that stop me, I went back to the exercise videos I used to do and did those, I guess I should be getting used to them because when the snow falls and it gets supercold, I'll be inside anyways.

I actually made it through them, I guess the walking outside is helping a lot, they seemed just a little easier than they used to be. Maybe I'll have to go to the next higher up level.

I'm still waiting for my DVD I won on the wheel, so I can try those exercises, I hope I'm able to keep up, and there's nothing that needs kneeling...I can't kneel my knees hurt like crazy in front when I kneel, I forgot what the doctor called it, but it's because of the 2 falls (directly on my knees) a couple years ago, one week after the other. Trust me, I tried kneeling for communion and decided no matter how much it hurt, I was staying kneeling. I mean if Christ can die for me on a cross, I can stand being on my knees long enough to take communion.

Well, back to the same ole, same ole, have a great day, everyone, and remember that smile, always!





Monday, October 14, 2013
I stopped down at the cemetery like I've done nearly every time when I'm in town, and read to my Dad again, just like I promised. I'm about 3/4 the way through the book with probably over 300 or so pages to go. It was beautiful there, the sun was shining between the walls of the mauseolem (sp) and it actually was warm there. I like to think it was Dad giving me a hug, because on my way into town I passed the Agrace building and started tearing up remembering the last day I saw him, last time I spoke to him, last time I held his hand. Even now, sitting here typing this I'm tearing up, but I know my Dad is in a much better place and is waiting for the rest of us. At least I got to tell him, many, many times how I loved him, and how proud I was of him, and most of all, that he was/is the greatest Father there could ever be.

That was when I'd promised that I'd finish reading the book I'd started before he passed away, so he could hear the ending. He always loved "Lonesome Dove", the book, the movie, and he was starting it to read once again, so I had to do that for him. I'm lucky, the book is 960 pages long, and I think I started on page 20 or so before he passed, and continued reading and will until I'm done.

I guess it brings me more comfort to be there, reading to him, because it's like he's right there, and I believe he is, just not in a physical sense.

My Dad and I were best friends and I'm so glad I have his sense of humor, his love for life, his way of smiling to people. I miss him, but he is still with us. I love you, Dad.

I made flowers for his birthday last year, he loved sunflowers, and I just had to do something. My sweet niece helped me by picking out things she wanted in the bouquet, too. It was a team-work thing.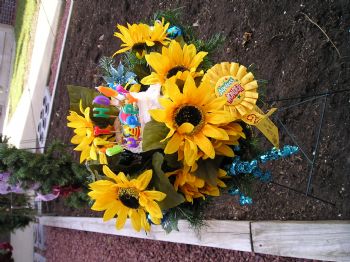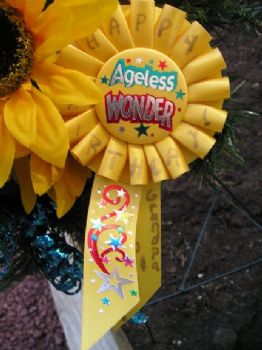 Sunday, October 13, 2013
Wow, what a difference one day can make, it was beautiful yesterday afternoon, now today I had to wear my jacket and I was still cool.

Our nephew is out planting winter wheat and my husband is mowing the lawn, hopefully for the last time this year, but it's hard to tell.

Had some guy run the stop sign and get onto the road I was walking on today, and race right past me. I wish I'd gotten his license plate number, but the cops wouldn't do anything anyways.

My soon to be nephew was nearly mugged in Milwaukee when he stopped for gas and a guy came up behind him, put a gun in his back and demanded his money and keys. The nephew kept looking straight ahead and noticed the guys arms go up for a moment and that's when he brought his head back, hit the guy in the face with the back of his head, knocking him down, then went over and was kicking him hard in the head. He said he saw something fly from the guys hands when he hit him and the guy fell.

He then decided the best thing to do would be to get in the car and take off..which he did. The nephew is going to school to be a heart surgeon, and was heading to his job at the hospital when it happened. He said even if he'd called the cops, they wouldn't do anything.

What do cops do anymore, I wonder that. No coming to deer/car accidents, no coming to accidents under a certain amount of damage, and not coming to help someone like that? Really?

Sometimes it makes you wonder what some people are being paid for.

Anyway, have a great week, and don't forget that smile!






Saturday, October 12, 2013
Heading out for my walk again, I forgot to add the bit of walking I did last night, but that was grocery shopping so I really don't add that.

I woke up around 7 am today and had the worse pain in my stomach/back, just all over and when I got up and walked around it finally went away. I think I may have been sleeping in a weird position and that's what caused it. I feel fine now, but that didn't help me sleep at all.

I'm hoping the rain holds off until I get back from my walk, it's been so beautiful out this year, that I find it hard to believe it's going to rain. Ok, so we had an overflow of rain at the beginning, but since then, it's been beautiful out.

I hope you all seek something to grasp onto and hold tight during this health journey, and never let it go. Remember, you don't need to please anyone but yourself!

This was one of our last years pumpkins..a candlelabra with a spider web in the lower left side. I tried to open up the area where the "flames" were. I love making pumpkins like this.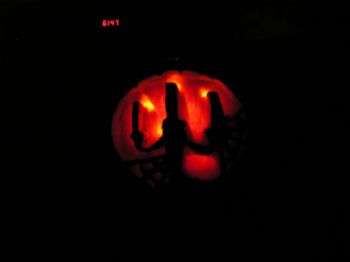 First Page
1
2
3
4
5
6
7
8
9
10
11
12
13
14
15
16
17
18
19
20
21
22
23
24
25
26
27
28
29
30
31
32
33
34
35
36
37
38
39
40
41
42
43
44
45
46
47
48
49
50
51
52 53 54 55 56 57 58 59 60 61 62 63 64 65 66 67 68 69 70 71 72 73 74 75 76 77 78 79 80 81 82 83 84 85 86 87 88 Last Page

Get An Email Alert Each Time ALIALI2013 Posts