| | |
| --- | --- |
| | ALIALI2013's Recent Blog Entries |


Thursday, October 10, 2013
Got up this morning and my upper thighs hurt, not sure why, I haven't really changed my exercise and I wasn't doing anything out of the ordinary yesterday, oh well, it's hard to tell. Just unsure if I want to take my walk, but I know I will. Won't have many warm days left soon, so I'll get out there while I can.

I know this morning I'll warm up good so I can maybe get rid of that pain, hopefully. Had my breakfast, so am heading out now, everyone have a wonderful day.





Wednesday, October 09, 2013
Yep, sitting here in Wisconsin, the sun is shining and it's 72 degrees out, what more could one ask for, hmm? It's been pretty nice the last couple of days, and I'm loving it.

Watched Supernatural tonight, I love that show, I think it's one of my favorite and has been for 8 seasons. I wish I could get cable and watch An American Horror Story (think that's what it's called), I watched the first two seasons and the new one starts tonight. Darn.

Anyway, having brats on the grill tonight, maybe the last time this year, and this weekend...guess what???? NOTHING GOING ON, I MAY GET TO REST!!

It's been so busy since May 1 this year, every weekend just about is taken up by something, but it's going fast. I wish time would slow down so we could enjoy it more.

Have a wonderful day, everyone, and don't forget that beautiful smile!





Tuesday, October 08, 2013
Well, am back in Wisconsin getting used to it all again (the weather, sleeping at my regular time, etc) and been taking my walk every day. It's been a LOT cooler out here than it was out there, but hey, I enjoyed it for a while. Not sure if I could take that hot weather up here during October, that's just not our Wisconsin!

Nothing much planned for today, I'd love to sit and relax all day long, but that's not going to happen, maybe one day. OH HEY, I may have this weekend free...not sure, but I'm thinking I do, then it's back to the same ole grind. :D

Have a great day, everyone, and don't forget that smile every day!

Enjoy the picture of the creek near our house, I've always wanted a creek running through our land and when I got married 31 years ago, I got one.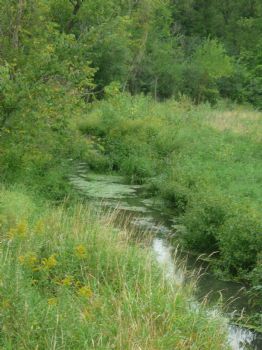 Monday, October 07, 2013
Had a great time flying out on my birthday Friday from Madison to Atlanta, GA (what a HUGE airport, one of the largest in the world), and then to Greensboro, NC. Our daughter and I got to the rehearsal just before it started, and while she was doing that, I helped decorate and I made the corsages for the ladies. We had such a great time, I used to make wedding flowers (with silk ones) as a business, and I loved getting back into it!

Then after we went to Little Italy to eat for the rehearsal dinner, and then to a comedy club to be harassed by the comedians because it was my birthday, and the bride and groom-to-be got it, too. We had a great time, then back to the hotel for Brande and I where we waited and got up for the wedding the next morning, helped finish decorating, then back to the groom's grandmother's house to get hair done, make-up, dressed and then back to the park for the wedding.

It was beautiful, when Brande and I went down there, we only knew the bride and groom, but by the end of the day we met a LOT of people and had a great time.

The plane ride back yesterday was without incident and gorgeous clouds, I loved seeing the clouds from above.

Amber (Bride) and Brande (our daughter, Maid of Honor)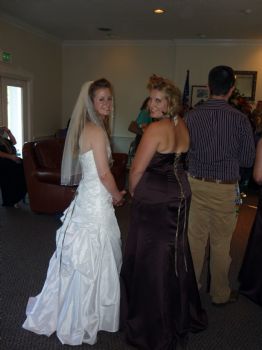 Brande on plane to Atlanta



City of Atlanta, GA as we came in to land.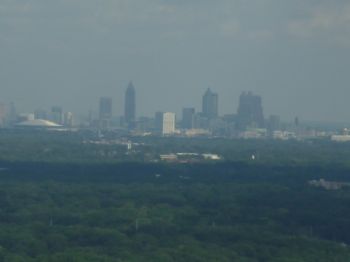 I hope everyone has a great week, I know I will. :)




Wednesday, October 02, 2013
I'm getting a little more nervous about this trip to NC mainly because I have no clue where we're going and I'm the one who has to drive!! I can't even remember the name of the little city where we're supposed to go (directly from the airport because the rehearsal is at 6 and we don't get in until 4 pm and then that's iffy). I have no clue how to get from Winston-Salem, to Rural Hall, NC, I'm going to get so lost, and no, I don't have one of those things that can give directions.

Breathe, I need to breathe, I'm sure everything will be alright, but still......College town, parent week.....yeah, I don't think I'll be breathing too easily.

Have a wonderful day, everyone, and remember to smile that beautiful smile!



First Page
1
2
3
4
5
6
7
8
9
10
11
12
13
14
15
16
17
18
19
20
21
22
23
24
25
26
27
28
29
30
31
32
33
34
35
36
37
38
39
40
41
42
43
44
45
46
47
48
49
50
51
52
53
54
55
56
57
58
59
60
61
62
63
64
65
66
67
68
69 70 71 72 73 74 75 76 77 78 79 80 81 82 83 84 85 86 87 88 89 90 91 92 93 94 95 96 97 98 99 100 101 102 103 104 Last Page

Get An Email Alert Each Time ALIALI2013 Posts