| | |
| --- | --- |
| | ALIALI2013's Recent Blog Entries |


Wednesday, October 02, 2013
I'm getting a little more nervous about this trip to NC mainly because I have no clue where we're going and I'm the one who has to drive!! I can't even remember the name of the little city where we're supposed to go (directly from the airport because the rehearsal is at 6 and we don't get in until 4 pm and then that's iffy). I have no clue how to get from Winston-Salem, to Rural Hall, NC, I'm going to get so lost, and no, I don't have one of those things that can give directions.

Breathe, I need to breathe, I'm sure everything will be alright, but still......College town, parent week.....yeah, I don't think I'll be breathing too easily.

Have a wonderful day, everyone, and remember to smile that beautiful smile!





Tuesday, October 01, 2013
It's a little cooler on my walk this morning, but at least I made it through. It ended up to be a beautiful day.

I've been on the phone to Madison airport and Atlanta airport, didn't get much info from Atlanta, but calling Madison helped tremendously. Guess we pay $10/day to park in Madison, and not a clue as to what gate we need to find in Atlanta, something about gate changes, etc. I just hope it doesn't turn out to be as crazy of a place as others have said.

Anyway, have a great first of October, and don't forget that smile to get you through!





Monday, September 30, 2013
Went to the anniversary, it was wonderful seeing everyone there, though I was a little sad, my mom and my aunt have 15 brothers and sisters (16 total kids) and only my Aunt Kathy, my Mom, and her brothers Roy, Merritt, and Robert were there. Kelly, Leo, Ken have all passed away. I guess reading it here doesn't sound too bad, but still 2 of her sisters were at CranFest (they missed our 25th anniversary for the same reason, someday they'll see how much these celebrations mean to us and sacrifice one year of cranfest for family). The two missing brothers were...who knows where, and no one has any clue why the 5 other sisters weren't there. What makes it sadder is the majority of them live within 20-30 minutes of the place it was held.

Anyway, back to happier things, we got a lot of the stuff put away at our daughters house, the fans are all in, and the internet is connected up...they're getting there. I painted the 6 horseshoes gold (after sanding the rust off of them), and now all I need is the ribbon. She's going to use them in her office for her horse/pony stuff to hang all her ribbons on.

I hope you all have a wonderful week, I'll be back tomorrow!





Friday, September 27, 2013
though I'm not sure whether I'm glad or not, this week has gone so quickly. Our daughter slept last night for the first time, in the new house. She said she didn't sleep very well, whether from being in a new place or her bf's snoring. :D

Her uncle (her dad's brother) is coming over tomorrow to put in new ceiling fans/lights in 2 bedrooms and the living room, it should be gorgeous; and they're hooking up their internet tomorrow, so she'll be able to get her homework research done. They're also putting blinds on the windows.

This is Gator, totally relaxed at his new house...the deer in the background, left is staying the night, too. :D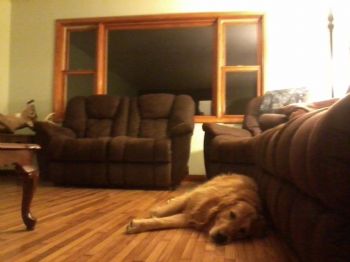 I'm so happy for them, tomorrow morning around 8 or 830 I'm leaving to get up to my Aunt and Uncle's 50th anniversary, I wasn't going to at first, but my sister asked if Brande and I wanted to ride up with her and mom. Brande can't go because of those coming over, but I'm going to ride up with them.

I hope you all have a wonderful weekend, and a great Friday! Remember, Smile!




Thursday, September 26, 2013
Well we got the winter cover off, the chemicals put in, and the cover back on, the only thing was the water had left only about 2' in the pool, so no using the pump until we get the water level back up to at least 5-5 1/2 feet; that may take a while. The pool is 6' or so, deep at the deepest, so it'll take a while to get it that full, all from our own hose/water. Little bit at a time, but we need to do it, otherwise there'll be no water by springtime. Amazing how much water has gone out of the pool, would never have believed it, but what can you do.

Went for a walk today, and wow..there are nutcases out there driving; one in particular was this pickup that turned the corner near me, slow, and then hit the gas suddenly and sent the peagravel flying all over. Who are they trying to impress, I definitely wasn't I figured another idiot driver, and I was right. Wow, how childish.

Ok, done with my little rant, back to smiling and enjoying the day, and I hope you all do, too.






First Page
1
2
3
4
5
6
7
8
9
10
11
12
13
14
15
16
17
18
19
20
21
22
23
24
25
26
27
28
29
30
31
32
33
34
35
36
37
38
39
40
41
42
43
44
45
46
47
48
49
50 51 52 53 54 55 56 57 58 59 60 61 62 63 64 65 66 67 68 69 70 71 72 73 74 75 76 77 78 79 80 81 82 83 84 Last Page

Get An Email Alert Each Time ALIALI2013 Posts