| | |
| --- | --- |
| | ALIALI2013's Recent Blog Entries |


Thursday, September 05, 2013
Today we celebrate 3 birthdays, my Husband, Rick; our niece, Breanne (who turns 18), and my cousin, Lenora, born on the same day and year as my husband.

It's going to be a fun day, we're taking Rick out to eat for his birthday, I finished the cake, but it doesnt' look as good as I thought it would. Oh well, as long as it tastes good.

I made an angel food cake, 2 small ones, put down one layer, put crushed strawberries in the center with a touch of whipped cream, then put the second layer of cake on and put colored whipped cream on top. I hope he likes it. We're going out to eat at Knute's tonight. It's funny, the owner of Knutes is Kerry Knutson...I have a cousin named Kerry Knutson (yep, same spelling) but they're not related. To have a guy, no, 2 guys with the name Kerry is unusual enough, but to have them both have the same last night...wow.

I hope you all have a fun filled day, I'll see you tomorrow!





Wednesday, September 04, 2013
I had clicked on one of the runners scrolling to read a sparkpage blog, because it had me a little concerned and I thought I could help. So I left a message, saying things like if you need someone to talk to, and some advice. When I went to check on how she was doing, she'd blocked me from the page.

If people don't want help, why would they post such things on the runner; I didn't say one negative things, I just don't get it. Oh well, I guess it's their loss, but at least I know I tried to help.

I had to go to the clinic today for my mammo, it went well, but for the fact I didn't have my appointment until next week. *L* But they arranged it so I went in place of someone who'd cancelled, so it actually turned out for the good!

Now this afternoon, our daughter called; they're moving into another house but the bad part is, the woman who lived there had cats in the house all the time, and the cats ruined the floor, the smell is horrible in the house, and it needs to be cleaned SO BAD!. This house was rented out by the daughter's bf's aunt, and she just made a total mess of the place, so I'm going over and help clean it. They have to replace the floor because the cats had messed in it so much! It's an old farmhouse, not real old, but old enough, and it will be beautiful, once everything's redone in it. That's where our daughter's ponies and horses are currently, which is wonderful, plus it's very close to where she got her externship, so that's another positive.

She's hoping to get moved in before October, but it's hard to tell.

Tomorrow is my husband, Rick's, birthday and I went into town and was going to buy a cake, but then I decided I'd take strawberries, crush them up, make an angel food cake, put the strawberries between the layers (I'll cut it in half), and then put whipped cream on top. I hope it turns out, since it's just a "wonder if I can do this" type thing. But I wanted it to be special for him...I hope it is.

I'll talk to you all tomorrow, have a GREAT DAY!






Tuesday, September 03, 2013
Well it actually didn't turn out as bad as I thought it may. Our daughter brought a small pet carrier for the kitten, and she was so good, slept a lot. She's really tiny, and Gator, her dog, watches over her, so she was good.

Athena, sleeping.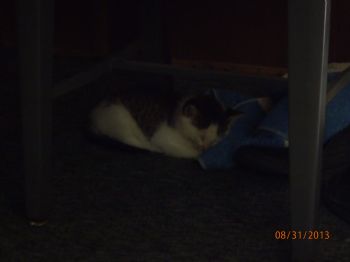 Athena sitting up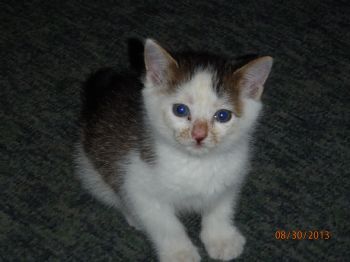 The weekend was so much fun; we had my husband, our son, daughter, her bf, brother in law, daughter's friend and her son in our trailer. My brother had his family (fiancee and 2 kids) in their trailer. Only bad part was the son of the daughter's friend plugged up the toilet and we couldn't use it Sunday night-Monday when we left. Luckily we had my brother's trailer above ours, so we just went up there. Plus, the 7 year old peed the bed, so had to bring back all the bedding with us to wash.

Kareoke Sunday night was great fun, actually got up and sang a few songs with some friends and cousins.

We had such a good time up there, it's going to be the last time for me, but for my Aunt and Uncle's 50th anniversary the last weekend in September.

Fishing & Fish:

Rick & Scott, with Scott's little bluegill he caught: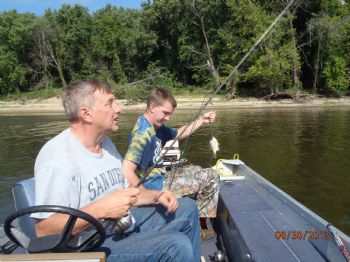 Brande (with Dan and Larry) and her bluegill: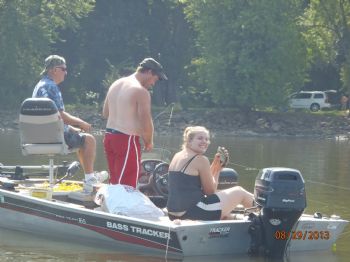 Fish caught (part of them) Friday: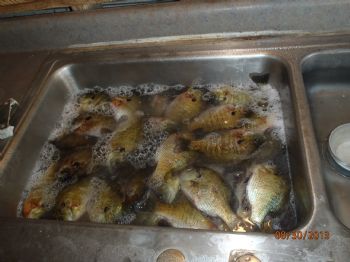 Fish caught Saturday: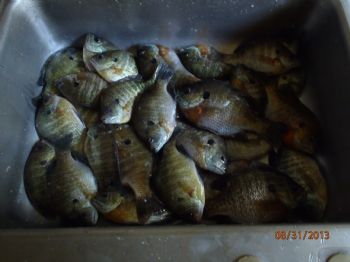 I hope you've all had just as good of a weekend as me, and are still in control of yourself! If not, never be afraid to ask for help, even if it's from me. :D

Have a great week! (downloading pics now, will post them as soon as I reboot)


PS: Had to add, I just found out, our daughter had gone for an interview for her externship for her Vet Tech degree, and she found out she GOT IT!! YA!!!!! It's in Brodhead, which is about 5 mins from where she now lives, so very convenient for her, PLUS it's a place she's been hoping to get a job once she graduates, so this is VERY POSITIVE!! Thank you, GOD, for answering this prayer!





Wednesday, August 28, 2013
Finished book 3 of the Codex Alera books and I loved it, I think it's the best of the series so far, but I still have 3 more books to go.

Today is very nice out, mid 80's so far, cloudy, so it made walking a lot easier, and nicer, there was a nice cool breeze, too. I love walking in that kind of weather.

I have to get the things together for potato salad, tomorrow I have to put it together and then make bbq to take up north. Found out my brother and his family have to leave on Saturday for a 50th anniversary, which is kind of frustrating. Was hoping, because we don't see him very often (he had to move to Ft. Wayne, IN because of GM closing in Janesville) that we'd have the entire weekend together, but his gf's family, someone has the anniversary. It would have been the first time I'd seen him since Christmas. Oh well, what can you do, right?

Our daughter and her bf will be up there, they're bringing a kitten, which I'm not looking forward to at all. A kitten has so many places they can get into in the trailer and not be able to get out, so I don't know what she's going to do about that. I suggested she leave it with someone, but that's a no-go.

I guess maybe I'm just in a bad mood right now, and this headache isn't helping, so I'm going to go take care of that. Have a great day, and I'll try to post before I leave tomorrow.






Tuesday, August 27, 2013
It was originally supposed to be cooler today, but they changed that, it's actually going to be hotter out and humid...typical Wisconsin summer, which we've not really had this year.

But on the good side, when we're going up to the trailer on Thursday, it's supposed to be cooler, upper 80's, lower 90's, so not bad. It's nice walking, because I've had the chance to read the series of books by the same author that wrote The Dresden Files, the set of books I absolutely love. These are a different genre, but I think I like them nearly as much, which at first seemed impossible. This 3rd book is really exciting, and I'm near the end of it. I can't wait to see what happens, probably find out tomorrow, then I'll wish I was where I am today, vicious circle. *L*

Anyway, have a great day, and an even better tomorrow, always look ahead for that beam of light, and smile!




First Page
1
2
3
4
5
6
7
8
9
10
11
12
13
14
15
16
17
18
19
20
21
22
23
24
25
26
27
28
29
30
31
32
33
34
35
36
37
38
39
40
41
42
43
44
45
46
47
48
49
50
51
52
53
54
55
56
57
58
59
60
61
62
63
64
65
66
67
68
69
70
71
72
73 74 75 76 77 78 79 80 81 82 83 84 85 86 87 88 89 90 91 92 93 94 95 96 97 98 99 100 101 102 103 104 Last Page

Get An Email Alert Each Time ALIALI2013 Posts