| | |
| --- | --- |
| | AKYOGALOVER's Recent Blog Entries |


Saturday, January 04, 2014
My oldest son had two friends spend the night, so I had four boys (three 8 year olds and my 4 year old) here last night. It was tons of fun, and they really kept me laughing. That is, until we got to about 11pm. I tried to sneak off to bed since they were all laying in the living room quietly watching cartoons, but they got their second winds and went haywire and didn't go to sleep until 1am. Then my youngest woke up at 2:30 and got in the bed with me. Then the cat started banging against my bedroom door like he was trying to break it down at 5am. Then, ALL THE BOYS woke at 7am!!

Really??!!

What fresh hell is this?!

Today I have unapologetically survived on sugar (in the form of a doughnut and two cupcakes) and caffeine (in the form of copious amounts of coffee). I managed to get an hour nap on the couch after our guests went home. It's so early in the year, I was determined not to start missing workouts, so after my nap I got up and did my challenges and then got on the treadmill for some cardio. The JJC calls for 30 minutes of cardio, so I figured I'd walk for half an hour and be done. Once I got going, though, I felt pretty good, and I even ran for a bit - probably 8 minutes total.

I think I redeemed my earlier food choices with dinner. Whole wheat pasta with marinara, but I threw in the little bit of italian sausage, pizza sauce, and black olives from last nights pizza making, plus some celery, onion, and mushrooms, and a can of whole tomatoes. Tasty, indeed.

Now, I have an additional 4 year old sleeping over tonight, so I must go entertain some boy children again. At least I think I'll have better luck getting them to sleep tonight, lol!




Friday, January 03, 2014
I forgot to post this when I started. These are my beginning measurements. We'll see how they improve in a month or so (probably sooner, because I get impatient).

Waist: 39.5
Bust: 44
Underbust: 36.5
Hip: 45
R Thigh: 25.5
L Thigh: 24.5
R Calf: 15.5
L Calf: 15.5
R Bicep: 12.5
L Bicep: 13
R Forearm: 11
L Forearm: 11

W:H Ratio: 0.86




Thursday, January 02, 2014
So, although I am tracking my food and trying to make more good choices than bad, I've decided that focusing more on being active is the way to go for me. With that in mind, I've taken on a few month-long challenges for January. After January, I'll re-evaluate and see if that sort of thing works for me.

1. As posted in my resolutions, I'm doing the squats and push-ups challenge from Facebook. I like strength training, so I expect this one to be easier for me to stick with. (It's also part of my desktop background, so I don't have to go searching for it every day.)

2. The Winter Wellness Challenge here on SP. This one is not totally fitness-related. Today's challenge was to to read an article. Thank goodness, because yesterday's challenge kicked my butt! Jumping around like a crazy person; my calves are sore today, lol.

3. The January Jumpstart Challenge here on SP. I started this one today, and the workout was hard for me, but not impossible.

All of these revolve around short bits of time, so I on't feel like doing three challenges is too much. I still got on the treadmill for a little yesterday and today to increase my step count.

Speaking of step count, I really, really like my SPAT. It is very motivating to me - more than I thought it would be! The fact that you have to have a workout (even if it's only five minutes) before it will sync each day kinda forces me to move, and seeing how far I am from my goals each day makes me want to get on the treadmill and get closer to the "finish line." So far, I'm very happy I bought it. My only complaint, and sort of a buyer-beware if you buy from Amazon: I bought from the Amazon warehouse, which means my tracker was used. It was quality tested, but I don't have a full battery. I've only had mine on a couple of days, and I've got 68% battery life. It did come with the extra battery, though. Just a small note there.




Wednesday, January 01, 2014
My computer desktop background: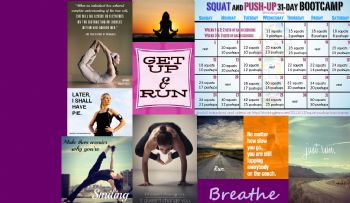 Happy New Year, everybody!





Tuesday, December 31, 2013
So, we were going to go watch fireworks at Kemah, but we weren't really feeling it, and the boys really just wanted to go home, so we settled for dinner at IHOP - because that's not a diet blowout - and a trip to the pet store to get gravel for their new fish tank.

I logged my overly large omelet and hash browns into my food tracker, and then got my Boston butt all dressed up to go in the oven overnight. Yay for pulled pork sammies on New Year's!

I didn't exercise today. I'm chalking it up to a sleep deficit. The past two or three days I haven't been able to sleep, and it's wearing me down! Oh well, I'm determined to start my year off right tomorrow. A good friend is coming over to enjoy pulled pork, cabbage, purple hull peas, and my glorious personality *snark*.

And because resolutions are the thing to do, here's my list:

1. I will do the squats and push-ups challenge (from FB) for the month of January.

2. Aim for at least SEVEN hours of sleep a night. Yeah, I said it! Me and eight hours don't meet very often.

3. Get my stuff listed in my Etsy shop. I'm so easily distracted, I'm finding it hard to sit down and take care of that.

4. Finish knitting my coat. It's gorgeous, and deserves to be finished.

5. Do something active most days. I refuse to be more specific than that, because then I feel penned in and I rebel, lol.


That's it! Are you making resolutions? What are they?


1 2 Last Page

Get An Email Alert Each Time AKYOGALOVER Posts