| | |
| --- | --- |
| | AILINEA's Recent Blog Entries |




Tuesday, October 26, 2010
We got back from Anaheim yesterday morning, and I STILL feel thrashed. But it was awesome. As a guildie said, "I've been to two epic BlizzCons. This year's was LEGENDARY." We met Mike Morhaime, Ghostcrawler, Oxhorn, Clint Hackleman, Daewin (of Polygamerous), and got to see Brigwyn (of Brigwyn's Corner) again. Cadistra had to go to the WoW Insider Meetup, and she got to meet several others. Felicia Day and the rest of "The Guild" cast was there, for example. She even gave her card to Ghostcrawler (and later to Hackleman who said he could use a new artist), so fingers crossed for the Cadi-cao.

As for myself and the diet/fitness changes, I wasn't really able to post or even count my food. I wasn't sure how with some of it! But things were just crazy-busy, so I did my best.

Before I left, though, I first put on the jeans I had been wearing when they came out of the dryer. They are size 14's. And even in that "freshly washed and dried, so they haven't stretched yet" state, they were just too loose to be comfortable for travel. I then dug out my size 12's. While they felt a *little* tight when I first put them on, they stretched by the time we were at the airport, and were comfortable all day! Dude, I'm down a size!

Of course, they were fitting a little more tight by the end of the trip (damn you, IHOP and not drinking enough water!) but all things considered, I think there's less "weight put on" and more "travel bloating" going on. Yesterday, in fact, my ankles were SO swollen from the plane (cross-country red eye flight...yay) that my socks left red marks. Ugh! They're returning to normal size now, but it was NOT fun.

I'm also very proud that with all the walking we did, I never really got winded. Sure, my legs and feet got tired, but aside from the "I've been on my feel ALL DAY" pain, I felt like I could keep going. I need to get on the bike to do my daily workout, but after walking ALL DAY (or at least, standing in line), doing 20 minutes on the bike will probably seem like NOTHING.

We're starting our Game On! diet/fitness/lifestyle THING today. Again, I'm a little annoyed that people "ARE NOT PREPARED!" (thank you, Illidan) when I've been pumping information at them. We're (The Guy and me) not exactly prepared either, but we had to eat or get rid of all the fresh produce still in the house before we left so we wouldn't come home to the smell of rotting vegetation and clouds of fruit flies. So we need to make a grocery store run, but otherwise we seem to be better off than a lot of the people who are joining in. Hey, I gave them plenty of time. At least some people have a reasonable excuse (going to BlizzCon), but the others? Nrgh...

That's where things are now. I need to rinse my smoothie glass and drink some more water. I need to get my exercise in and get a shower. Then we have to make a shopping list and go to the store. I still need to unpack! The day's almost over and I still feel like there's so much to get done.

But I'll leave you with an image...about half of my guild's BlizzCon attendees with Ghostcrawler!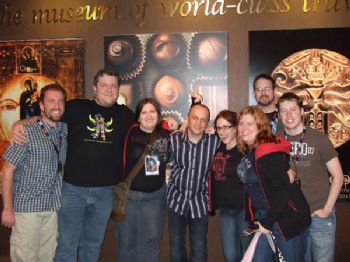 Tuesday, October 19, 2010
This time tomorrow, we'll be driving to the airport! I'm so excited! This will be the third consecutive BlizzCon I've gone to, and I wouldn't miss it for the world! We should have 10 guildies there, plus 4 more who live locally (but couldn't get tickets) who will at least be going to dinner with us.

In the meantime, I still have some things to take care of. I have one more load of laundry to do, I need to run the dishwasher so my water bottle is clean so I can bring it, I need to drag out the suitcase and computer-bag-backpack. I need to find all the chargers.

I am also concerned with staying on track with at least my food while traveling. I have the Spark food tracker app on my new phone, so that should help, but I know from experience that choices at the convention are fairly limited. On the plus side, I'll be walking A LOT so I'll be able to work some of it back off.

I know this seems to be all that I've been talking about lately, but that will change soon. Because when we get back, it will be all about stepping up with the fitness game!





Monday, October 18, 2010
We leave Wednesday, so there's still a lot to do.

Mostly, I'm trying to make sure that the Game is set up and ready for when we get back. I want to have confirmation/commitment by people, make sure they understand the rules, make sure they know what to shop for, and have their teams set before we leave so they can start pumping each other up.

But it's like herding cats.

I've posted to the guild "Got Game" blog, posted to Twitter, posted to our guild forum, mentioned it in guild chat, and said it over Vent: I need to know the final count of people who are joining, who is committed (especially to the competitive teams, although we have an "intramural squad" for people who don't feel like they can participate fully without dragging their team down due to circumstances like being at the mercy of whatever their parents cook), and I need to know that they understand the rules. I'm going to be gone for a week...I'll be in touch, but I don't want it to start off on the wrong foot or have people feel slighted because they "didn't understand" even though I've posted article after article and page of rules after page of rules.

Okay, let me back up...

A guildie found the Game On! Diet book ( www.thegameondiet.com/ ), and said it sounded up our guild's alley. We like to compete. We wouldn't have two Kingslayer raid squads (one with Frostwyrms) if we didn't want to do well in our endeavors. We have a couple people (myself included) who also enjoy PvP. We like being the best at what we do.

While it has its own diet plan, the idea is that players are grouped into teams that play against each other. You earn points individually by doing things like eating 5 small balanced meals per day, getting in 20 minutes of exercise, getting enough sleep, getting your water...essentially all the things that Spark People tracks too. At the end of the week, you submit your points to the Scorekeeper of your team, who averages your team's score together. The weekly scores add up over the course of four (or longer, if you choose to make it a longer playing period) weeks. At the end of four weeks (or your designated playing period), the team with the highest score wins...and yes, you play for a prize because you want to win something from the other team.

We're playing for in-game gold, but we're contemplating other prizes like making the losing team FARM UP (not just buy on the auction house) some of the rare pets like the Firefly from Zangarmarsh. Winning should be sweet; losing should hurt. You should be positively motivated to win (because you want the gold and the pet), but you should also be negatively motivated (scared sh!tless of letting your team down) to not lose.

So yeah, it's perfect for us, and friendly trash-talking is encouraged. ("You better be doing your dailies, because I just had another Perfect Day!")

Again, the only problem is that I've had a lot of people say, "Oh hey yeah, that sounds cool, I might be interested," and then nothing more. Seriously people...are you in or out? Because I don't want anyone on my team who's half-a$$ing it.

When starting some kind of new diet/fitness plan, there's a significant amount of preparation involved: What's your daily calorie intake? What foods are you allowed? What do you have in the pantry that you need to get rid of so it doesn't tempt you? What do you need to buy at the grocery store to refill your pantry with healthy choices once you've binged on all the cookies, candies, chips, and sodas to get rid of them? What type of exercise are you planning to do? Do you need new running shoes? New workout clothes (because the old ones no longer fit *cough*)?

I get the feeling there are some people who will just somehow expect things to magically happen, only to discover they are TOTALLY unprepared when we start.

If we end up with only half the people who originally expressed interest, that's fine. The Game does allow for people to jump in (and drop out, but hopefully it won't come to that) fairly easily. I just really want this to have a smooth start.



First Page
1
2
3
4
5
6
7
8
9
10 11 12 Last Page

Get An Email Alert Each Time AILINEA Posts