| | |
| --- | --- |
| | AERYFAERY's Recent Blog Entries |


Sunday, January 22, 2012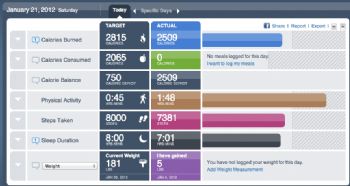 Today's BodyMedia Fit record.

Didn't quite meet my calorie burn goal today, but that's because I didn't get to ride too much today due to the poor conditions on the road. I almost made it. I've discovered that if I want to even get close to my calorie burn goal (about 2800 calories), I need to do some sort of structured exercise twice a day (in the morning before work, and then after work).

And just because I get asked, here is a day's typical activity:

Morning: Stair workout-I walk up and down my apartment building's staircase 5 times, doing 5 pushups at the top of each "set" (up + down). There's 10 flights. It takes me roughly 20 minutes and burns about 200 calories. I do this every other day. The other days I sleep in. I'd like to change that by taking an easy bike ride in the mornings (but its sooo cold out...)

Evening: I either do the elliptical for 30 minutes OR I run a mile and then lift weights for about 25 minutes.

Also, I ride a bike at work. In total I can average between 1 hour to 4 hours of actual riding.

Feeling a little bit better. Glad the week is over though. Even though it was a short week, it felt like it went on forever.

Since the weather isn't going to be very cooperative, I'd like to make it a goal to get at least 10 miles in on Sunday and Monday (instead of 25). I really want to meet my 100 miles goal for this month. If I break it up in chunks through the next week, I should just make it.

I'm getting stronger with the weights. I'm glad. I still find weight lifting very boring, though.

Goals for tomorrow:
-10 mile ride
-organize the stuff from my locker




Friday, January 20, 2012

Today's BodyMedia Fit record.

Yesterday was fairly good. Hit most of my goals with my BodyMedia Fit (finally). Got my stair workout in, had a decent breakfast, a low-key day at work and went to the gym after work. I was looking forward to getting some other stuff done when my boyfriend came stumbling home drunk, after having been jumped by a bunch of guys on his way home--they tried to steal his bike. He had a nice bruise on his face.

My stomach is in knots right now. I'm so furious and scared. This is exactly the sort of thing I worry about with him: he gets SO DRUNK while he's out, that he doesn't pay any attention to what is going on around him. He is LUCKY they didn't take anything from him. He never knows when to say no, or when to get a ride home. I've sent him to bed, because I really can't speak to him right now. I realize it's not his fault for getting jumped, but I knew it was only a matter of time.

He's also been very moody & snapping at me lately. I understand he is stressed and miserable at work, but so am I. He's drunk more often that he is sober at home. I think we're going to have to talk about this. It will not be pretty.

In other news, *breathe* breathe *breathe.

Goals for tomorrow:
-Elliptical workout
-Use up that ground beef!
-Remember to breathe.





Thursday, January 19, 2012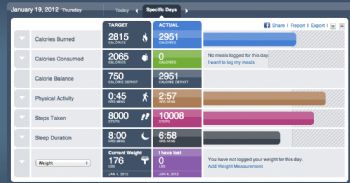 Today's Body Media Fit screen shot.

Still slacking on the blogging front. Oh well.

The depression cloud is lifting slightly. My ride date canceled, so instead I got a ton of stuff done at home. For the first time in almost a month, I *wanted* to get stuff done, which is an improvement over my "run away" mood.

Work is still anxiety-producing. Not much I can change there, except to take it one day at a time & to make sure I have stuff outside of work to look forward to.

Still drinking too much. I'm not ready to deal with that yet.

Goals for today:
-Stair workout (DONE! 20:32 minutes-new record! and 197 calories)
-Run (10 minutes) & weights (DONE! 1:03 hour and 460 calories)
-Spend 30 minutes cleaning the apartment-Derailed. Blog to follow.





Wednesday, January 11, 2012
Remember to breathe!

Goals:
-Stair workout (5 sets, with pushups)
-Run 1 mile on treadmill
-25 minute weight workout
-Stick to homemade meals





Wednesday, January 11, 2012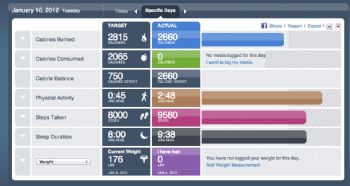 Body Media FIT Summary Screen Shot.

I didn't quite make my calorie burn, but I crushed the physical activity goal. This just demonstrates that my metabolism is a bit on the slow side. I'm a pretty active person (I ride a bike for a living), yet I still have to work at burning those calories. This means I need to be extra mindful of what/how much I eat. Also, I've been having some issues with the device lately, so it might be a little off. I also need to work in more "vigorous" activity. It seems the device doesn't really register anything except running as "vigorous", even if my heart rate is pretty high during the activity (I also use an HRM when I work out).

I did a stair workout this morning (10 flights x 5, plus 5 pushups at top of each set) and then did the elliptical after work. I had planned to run a mile and then do weights, but I was running out of time and the elliptical would have been faster.

Today was...okay. A bit stressful at work. I'm a fairly patient person, but I don't have an infinite supply; and by the end of the day I was just about empty. I nearly snapped at a few people because I was Just Done. I hate that, because then I start obsessing over whether I was being a bitch or not :-(

Even though I didn't want to, I went to the gym after work and now I feel a bit better. I'm distracting myself from those obsessive thoughts by getting some work done on a side project, and its working. I feel better.

Meals:
Breakfast: Berry Smoothie (protein powder, oatmeal, frozen berries, handful of baby greens, almond milk)
Snack: Coffee w/ skim milk & splenda
Lunch: Skipped due to work
Dinner: Chicken torta (so delicious) & plantains and yogurt.
Snack: 2 beers



1 2 3 4 5 6 7 8 9 10 11 12 13 14 15 16 17 18 19 20 21 22 23 24 25 26 27 28 29 30 31 32 33 34 35 36 37 38 39 40 41 42 43 44 45 46 47 48 49 50 51 52 53 54 55 56 57 58 59 60 61 62 63 64 65 66 67 68 69 70 71 72 73 74 75 76 77 78 79 80 81 82 83 84 85 86 Last Page

Get An Email Alert Each Time AERYFAERY Posts